E-Commerce SEO Best Practices for 2023 (Guaranteed to Boost Sales)
Adam Heitzman
March 6, 2023
When looking for new products or goods online, 70% of people start with a search engine like Google.
With the increase in competition among online retailers, it is crucial to implement effective strategies that can help your ecommerce website stand out from the rest.
One such strategy is ecommerce SEO. By optimizing your website for search engines, you can improve your visibility and attract more potential customers to your site.
In this guide, I'll walk you through the best practices of ecommerce SEO in 2023 to help you rank your products on SERPs and get your brand in front of the customers you want.
Let's jump in!
What is ecommerce SEO?
Ecommerce SEO — is it any different than a traditional SEO strategy?
Yes and no.
SEO (Search Engine Optimization) is the marketing practice in which you implement a set of best practices to increase your visibility on organic search results.
The goal of SEO is to generate more organic traffic and sales for your ecommerce business.
An ecommerce SEO campaign consists of doing the same thing (focusing on organic visits) with the following goals:
Driving more traffic to your product pages and ecommerce store
Building organic sales that you don't have to spend ad money to get
Creating better organic brand awareness on keywords/products
You might be thinking something like this: "My sales are fine, and many people find me organically already. Why do I need to put time and effort into ecommerce SEO?"
Well, it's extremely important to focus on because ranking your product pages or store content on the first page of Google takes work. Lots of it.
If you rank on the second, third, or even fourth page of Google, you won't generate much traffic (if any at all). Less than 1% of users ever reach the second page of Google.
Meaning you have to nail the best practices for many ecommerce SEO factors.
If you aren't doing any SEO but are driving organic traffic, then you are likely shooting far below your potential.
Let's discuss the best practices to guarantee more sales for your store.
Key Elements of Ecommerce SEO
To make the most out of your ecommerce website, you need to implement a comprehensive SEO strategy that incorporates all of the key elements. Just like traditional SEO, ecommerce SEO can be split into several sub-categories:
Keyword research: understanding how your target customers will search for you and the products you sell.
On-page: On-page optimization refers to the improvement of your site's code and content to improve rankings. It's called "on-page," as the changes you make are visible to visitors.
Off-page: Off-page SEO involves all the activities you perform outside of your site to improve results, such as link building.
Technical: Technical SEO is the practice of optimizing your overall website's performance to provide a better experience and, thus, increase your rankings.
Google Shopping: Optimizing for the free listings in Google Shopping. Read on for more details on how to do SEO for Google Shopping.
Incorporating these key elements into your ecommerce SEO strategy can help drive traffic to your site, increase conversion rates, and ultimately grow your business.
Let's break each of them down.
Boost Sales with the Trusted Ecommerce SEO Experts
Having trouble growing online sales? Partner with the Ecommerce SEO company that is a 4-Time SEO Agency of the Year winner.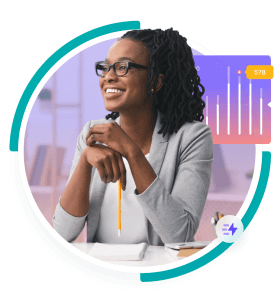 Keyword Research
Keyword research is a crucial component of any successful SEO strategy. By understanding the search terms that potential customers are using, you can optimize your website and content to better match their intent. This not only improves your search engine rankings but also increases the likelihood of attracting high-quality traffic to your site.
Investing time in keyword research allows you to identify long-tail keywords that are relevant to your business and have lower competition than broader keywords. This means that you have a greater chance of ranking higher in search results for these specific phrases. Additionally, by analyzing the volume and competitiveness of different keywords, you can prioritize which ones to target first.
But keyword research doesn't end with just identifying relevant terms – it's an ongoing process. Regularly monitoring and adjusting your keyword strategy based on changes in user behavior or industry trends can help keep your ecommerce site competitive and drive more traffic and sales.
In the next section, we'll explore some key tips for conducting effective keyword research for your ecommerce site.
Tools and techniques for conducting keyword research
Keyword research is a vital element of any successful e-commerce SEO strategy. But how do you go about finding the right keywords for your business? Fortunately, there are many tools and techniques available to help you with this task.
One popular tool for conducting keyword research is Google's Keyword Planner. This free tool allows you to enter a keyword or phrase related to your business and receive suggestions for other relevant terms that people are searching for. It also provides data on search volume, competition, and potential cost-per-click.
Another useful technique is to analyze your competitors' websites and identify the keywords they are targeting. Tools like SEMrush and Ahrefs can help by providing insights into your competitors' organic search rankings, backlink profiles, and top-performing content.
Finally, don't forget to consider user intent when selecting keywords. Think about what questions or problems your potential customers might have and what terms they would use to search for solutions. By focusing on these specific queries, you can create content that better matches their needs and interests.
By using these tools and techniques for keyword research, you can optimize your ecommerce site for the most relevant and high-impact search terms.
Identifying long-tail and short-tail keywords
Long-tail and short-tail keywords are two types of search terms that can help you optimize your site for both high-traffic and specific user needs.
Short-tail keywords are typically broad search terms, usually consisting of one or two words. While they may have high search volumes, they also tend to be more competitive and harder to rank for. On the other hand, long-tail keywords are more specific phrases or questions that users might type into a search engine. These terms may have lower search volumes but can lead to higher conversion rates since they match users' intent more precisely.
By identifying both long-tail and short-tail keywords relevant to your products or services, you can create content that appeals to a wider audience while also addressing specific user needs.
What is On-page SEO in ecommerce?
Google can't read a page like a human does.
When customers visit your ecommerce site, they can easily identify titles, descriptions, images, and videos.
Google doesn't.
Instead, search engines look at your code and identify "clues" that tell them what your site is about.
If you look at your site's code, you'll see a bunch of "tags" that categorize the actual content of your site. These tags help search engines understand your site and match your pages to specific search queries.
For instance, any text between the tag "<title>" will help Google identify a title.
The tag "<a href>" indicates a hyperlink.
On-page SEO is the strategic optimization of this code to rank product pages, category pages, and even your entire ecommerce site for a primary keyword (or a set of keywords).
Let's explore the most important best practices for on-page optimization.
Ecommerce title tags
Optimizing your page titles, meta descriptions, and header tags is crucial for improving your search rankings and attracting potential customers to your ecommerce site.
Your title tag on a given product or category page on your website looks like this in organic search results:

Title tags for ecommerce are the HTML codes that develop clickable titles/headlines for organic search results.
Title tags serve a few key functions when it comes to SEO impact. Title tags are great for providing relevance and increasing your organic click-through rate by appealing to customers searching for products.
For instance, the title tag above came up after a search for red basketball shoes.
The closer that your title tag relates to the keyword searched, the more likely users are to click.
One company was able to generate a 62% increase in organic traffic by updating their title tags for SEO.
Title tags are a critical ranking factor of on-page SEO for ecommerce.
Depending on what ecommerce platform you use, you should be able to easily edit your title tag for products, category pages, and more.
For example, on Shopify, you can find this in the search listing preview for your products:

So, how do you optimize it?
Here are some best practices to keep in mind when crafting a title tag for your store:
Place relevant keywords at the forefront title tags.
Include LSI keywords if applicable/natural.
Limit your length to 50-60 characters.
Create unique titles for every single product page/category. Never duplicate.
Consider utilizing your brand name at the end to develop better brand awareness.
Ecommerce meta description tags
Like your title tags, a meta description tag is an HTML code that helps explain the content of your page to users on a search engine. Unlike the title tag, you can't click on the meta description text.
This appears on organic search results as a paragraph description just below the title tag:

While inserting relevant keywords and context into your meta description is great, it doesn't directly boost SEO.
So, why is it important? Because it creates the context for the user and helps dramatically increase CTR.
In fact, one brand found a 48% increase in organic clicks by improving their metadata.
Optimizing your meta description to improve CTR takes testing and great copywriting.
Here are some best practices to follow:
Always include your primary keyword or keyword variations. They show up highlighted in bold to attract more attention.
Focus on compelling descriptions that generate clicks.
Keep your meta descriptions under 155 characters to avoid being cut off in search results.
Avoid clickbait since it can increase your bounce rate. A high bounce rate is a bad signal that could harm your ranking potential.
Like your title tag, you should be able to edit your meta description where you edit on-page data. The exact location will depend on your platform.
For Example, here's what the page looks like where you can edit your title tags and meta descriptions with BigCommerce: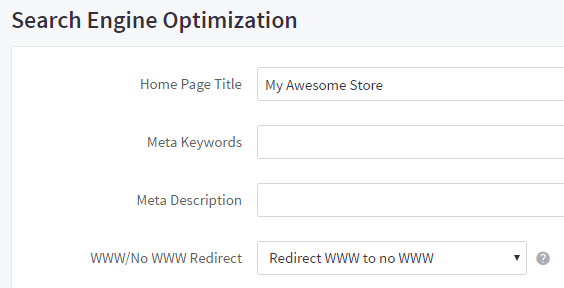 Search engine friendly URLs
If you search for anything on Google, you'll likely notice URL strings immediately:

Why? Because they display a company's brand name. And since they're highlighted in green, they draw your attention.
Do they actually make an impact for ecommerce sites? Absolutely.
A poor URL structure is confusing for searchers who are looking for your products and for search engines that are scanning your pages.
For example, when you analyze the following two SERP results, which product category page URL looks more appealing to click?
Are you drawn to the first one that's simple and contains just the keyword, or do you like the long-string URL with dozens of random number combinations?
Probably the first one.
Absolute URLs like the first SERP page are what Google prefers.
When optimizing URL structure, platforms like Shopify and BigCommerce even pack tools to streamline the process:

Here are some best practices to follow when creating your URL structure:
Place your target keyword in the URL.
Keep URLs as short and clean as possible.
Stick with absolute URLs rather than dynamic or date-based URLs.
Consistency is key. Stick with the same format on your entire store.
Category/product content
Content is king, right? Absolutely.
According to Orbit Media, the more content you produce in both B2B and B2C (ecommerce, too), the more results you get.
It's no secret that producing great content can help you build everything from brand awareness to real sales for your products.
But when it comes to category pages or product pages, what do you do?
Do you write a long-form blog post? Not necessarily.
Category and product pages are tricky. You don't want to have thin content and struggle to rank organically, but you don't want to bombard buyers with tons of writing just for the sake of search engines.
When it comes to product pages specifically, make sure to include high-quality images, detailed descriptions, and customer reviews to provide a comprehensive overview of the product. This not only helps improve search engine visibility but also increases the likelihood of conversions.
For category pages, consider organizing products into subcategories or using filtering options to enhance user experience and make it easier for customers to find what they're looking for. You can also optimize these pages by including unique content that highlights the benefits of each category.
When crafting your own product and category pages, here are some best practices to keep in mind:
Prioritize your top product and category pages first. Find your top pages in Google Analytics and make those a priority
Perform keyword research to find semantic words to sprinkle in your copy with a tool like Frase.
Include your target head keyword as the title of the page.
Optimize meta descriptions.
Keep it short, sweet, and informative. Make it enjoyable to read.
Rich snippets
Ranking on Google is great, but if people don't click on your pages, rankings won't help your ecommerce business that much.
Here's where rich snippets come in handy.
Rich snippets help search engines better understand your site's content and display additional information on search results (e.g. star ratings for reviews). They might look like this:

As you can see, rich snippets help you stand out in Google's search results compared to those pages that don't have them, which can increase your CTRs.
In terms of reviews, there are different types of snippets you can add, including author, item reviewed, ratings, and more.
You can explore the complete list of review snippets here.
The question is: How can you add rich snippets to your ecommerce website?
You can do it manually, but you need a bit of coding knowledge.
Fortunately, Google's Structured Data Markup Helper can help you implement rich snippets more easily.
Simply head over the tool, select "Products," and type in the URL of a specific product page.
Then, click on "Start Tagging."
Google will then show a "copy" of your site. You only need to highlight the data you want to display on search results.
For instance, if you want to display reviews, select the review section in your page and add relevant data (e.g. name of the reviewer, date of the review, etc.).
If you want to display star ratings, highlight the stars in your page and select "aggregate rating."
You can play with the tool and explore the different elements you can select.
Once you're done, simply click on "Create HTML."
The tool will provide you with a piece of code.
You only need to add this code into the HTML of your page and voila! Now you have added rich snippets to that page.
Boost Sales with the Trusted Ecommerce SEO Experts
Having trouble growing online sales? Partner with the Ecommerce SEO company that is a 4-Time SEO Agency of the Year winner.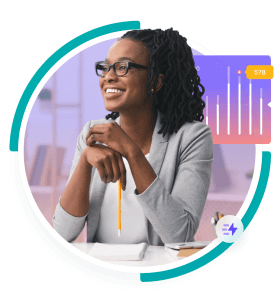 Internal links
Internal linking is a crucial component of any ecommerce SEO strategy. By including links within your site that lead to other relevant pages and products, you can improve user experience and boost your search engine ranking.
Not only do internal links help users navigate your site more easily, but they also provide context for search engines. By linking to related products or categories, you signal to search engines the relevance and authority of those pages.
When authoritative sites link to one of your pages, that site "sends" some of its domain authority to yours. This is called a "backlink."
The same happens when you add internal links from one of your most authoritative pages (e.g. your homepage) to another one.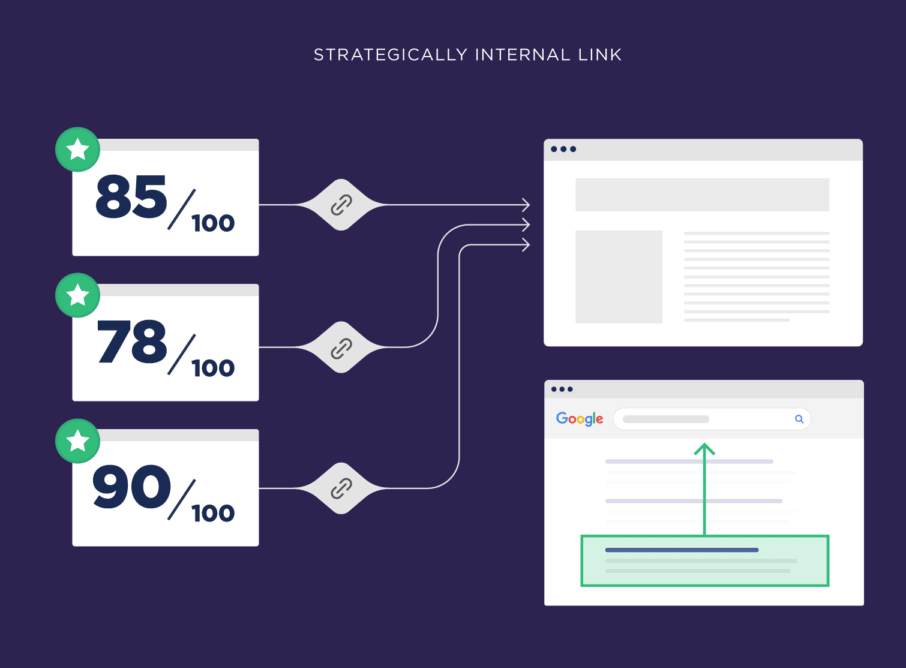 Sadly, most people focus too much on external link building and neglect their internal linking strategy.
To get results, you need to constantly add keyword-rich anchor text links that direct to your top-priority pages.
The navigation of your site is perfect for internal linking, as you're adding relevant links to your product pages naturally.
But you should also adopt a strategic approach to internal linking and deliberately add links in your product descriptions and other important content areas.
Remember: the goal of internal linking is to provide value for both your users and search engines. By taking the time to strategically link within your site, you can improve conversion rates and ultimately grow your ecommerce business.
What is technical SEO in ecommerce?
Now that you understand the basics and best practices of on-page optimization, let's step into technical SEO strategy.
What is technical SEO?
In short, technical SEO involves all the aspects of your site's architecture and servers, as well as how well search engines can crawl and index your site, including:
Site speed
User experience
Rendering
Website's size
Duplicate content
Broken links
And some others.
Let's explore the main ones.
Website architecture
Your site's architecture dictates how your content and pages are structured and organized.
This is crucial.
If your pages aren't properly arranged and structured, search engines might not be able to crawl them and index them correctly.
For example, if customers need to click on seven category pages before accessing a specific product page, search engines may struggle to find it.
Worse yet, that page won't get link equity passed down.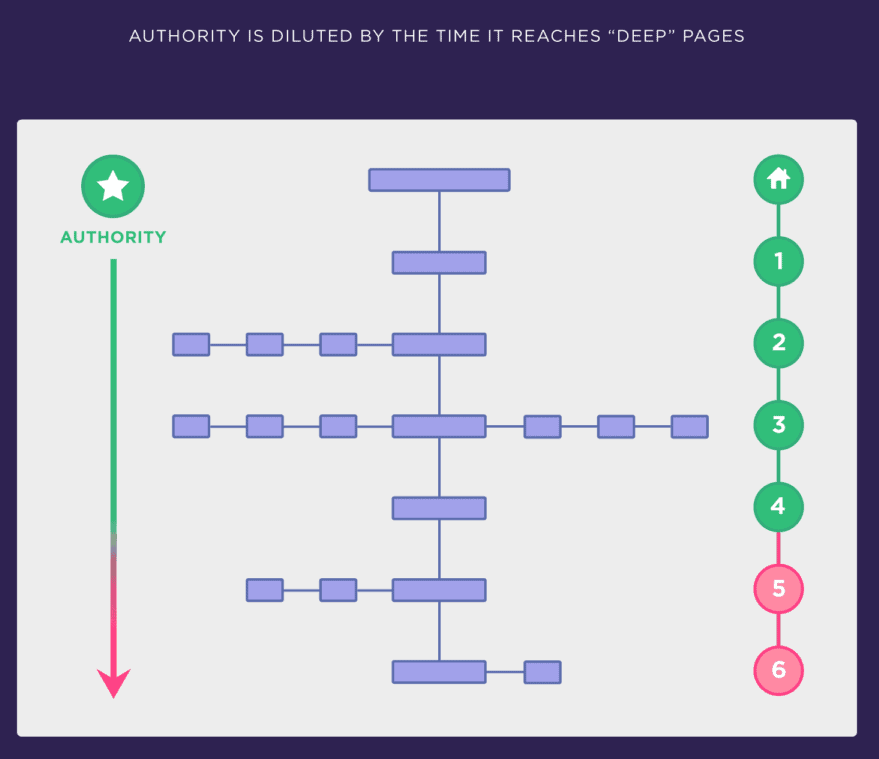 This is especially important for ecommerce sites with a large catalog.
The rule of thumb is that your domain authority should be concentrated into your product and category pages.
Here's an example of an optimized ecommerce website structure: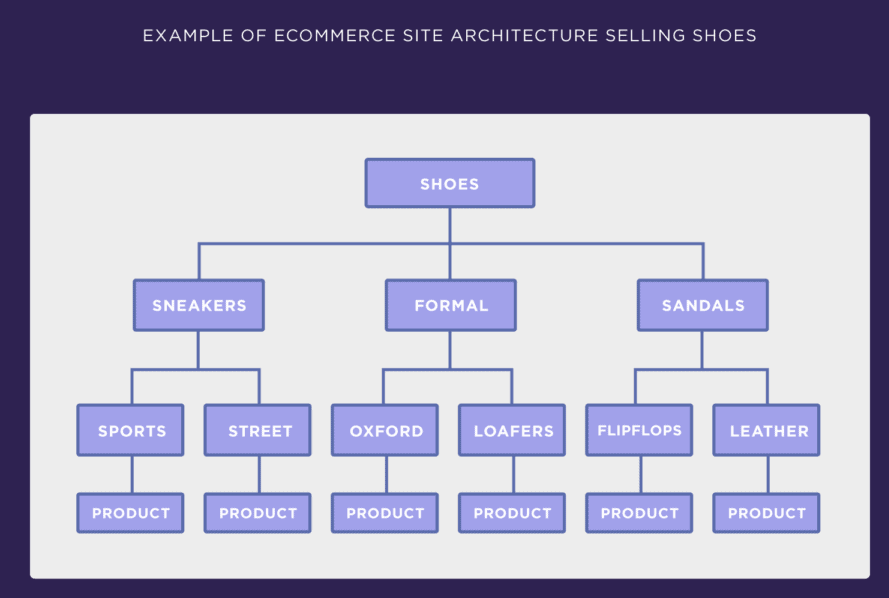 As you can see, it only takes four clicks to reach the homepage.
This type of structure comes with several benefits:
Better crawling and indexing: A simpler structure will help search engines crawl and index your pages much faster (and more effectively).
A simplified user experience: Fewer subcategories will help users find specific products in a simple way.
A more concentrated link authority: Reducing the number of "layers" in your site will help you concentrate link authority on your most important pages.
By implementing best practices for your website's structure and organization, you'll not only improve user experience but also increase your search engine rankings. Here are some tips to follow:
Organize your products into relevant categories and subcategories that make sense to both customers and search engines.
Use internal linking to connect related pages/products on your site.
Consider using breadcrumbs or a clear navigation menu to help users easily navigate.
Add an html sitemap referencing all the key pages
Number of pages in your site
Number of pages is a huge problem for most ecommerce websites.
Since you're dealing with dozens, sometimes even hundreds, of products, each requiring a unique page and content, your site can become a complete mess pretty fast.
Dealing with so many pages can create multiple SEO problems:
Duplicate content
Broken links
Abandoned pages
Increased complexity
The best way to get rid of this problem is by deleting non-performing pages.
If some of your products aren't selling or people simply don't find them, there's no reason why you should keep them.
A quick analysis in Google Analytics can tell you which pages aren't getting visitors.

Also, most ecommerce platforms, like Shopify or Bigcommerce, provide you with reports that help you identify products that aren't selling.
By eliminating these pages, you'll save yourself from tons of SEO headaches later on.
If for some reason you don't want to eliminate some pages permanently, you can create a single page containing those products.
Duplicate content
Since the release of Google Panda back in 2011, duplicate content has become one of the major challenges of ecommerce sites.
Most ecommerce sites use a unique URL for each product and product variation (e.g. size, color, type, etc.), which can create duplicate content.
Also, if you have the same product description on multiple pages, Google may see it as duplicate content, and that can hurt your SEO success.
Now, how can you find duplicate content on your site?
Platforms like Raven Tools and SEMRush can help you spot duplicate content pretty quickly.
Simply enter your website URL into the tool and it will show you a detailed report on your most critical SEO issues, including duplicate content.
Once you've identified duplicate pages, it's time to solve the problem.
You can do it in three ways:
"Noindexing" duplicate pages: Adding a "noindex" tag to a specific page tells Google to "ignore" that page.
Adding a canonical tag: Canonical tags tell Google that some of your pages are exact copies of a single page.
Producing original content: This is probably the most difficult solution, but also the most rewarding.
Poor content
There's a direct correlation between longer content and SEO results.
Research suggests that first page results have 1,447 words, on average.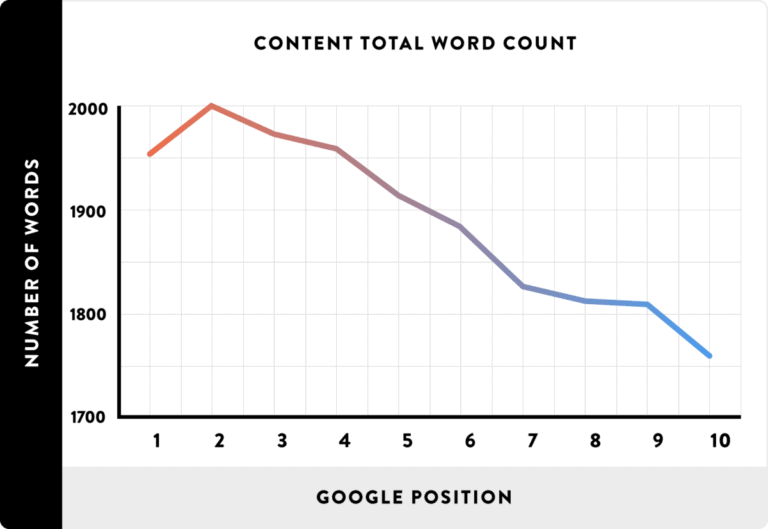 Tha said, the same study reveals that word count alone isn't enough. Content with higher "Content Grade" on Clearscope, a content optimization platform, seems to rank higher in Google.
According to this study, increasing Content Score by one approximates to boosting rankings by one position.
Clearscope measures things like competition and semantic keywords, which means that longer content isn't the answer. Comprehensive, relevant content that fully answers a user's question is.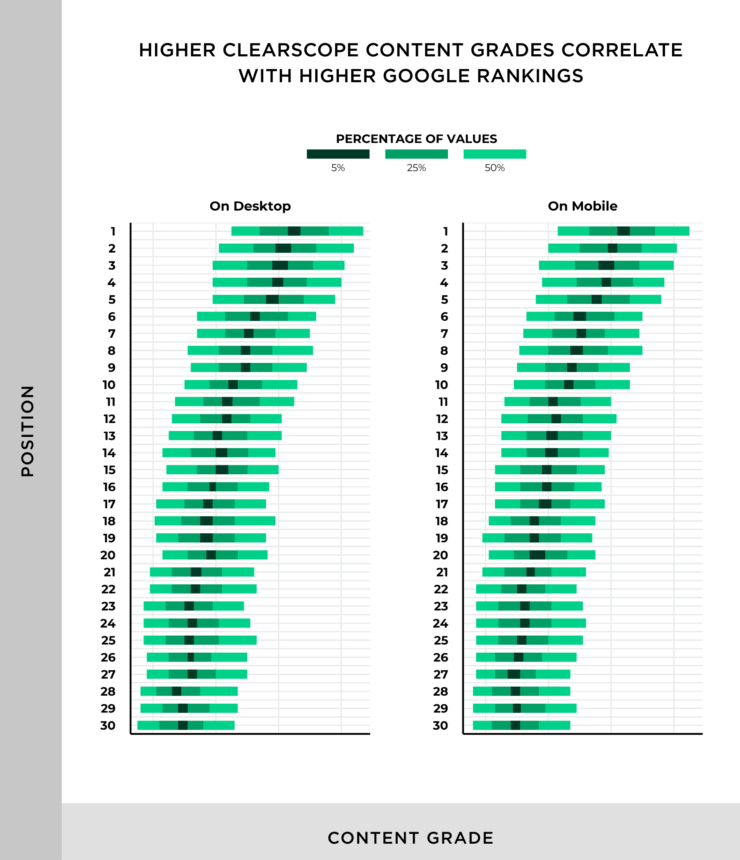 Here's the thing:
Producing this type of content is a rough task for most ecommerce businesses.
Most of your content is composed of product descriptions.
If you have 200 products in your catalog, how could you write 200 in-depth pieces of content?
Even though this is challenging, experts suggest that you should add, at least, 500 words worth of content in your product descriptions.
Most ecommerce businesses don't do it, so this extra work can become a true competitive advantage.
User experience
Improving your site architecture, eliminating non-performing pages, and producing high-quality content is crucial. But if users can't access that content properly, they'll have an overall bad experience.
Google doesn't like that.
Over the next few years, we'll probably see a dramatic correlation between user experience and search results.
Part of Google's algorithm is an element focused specifically on "Page Experience."
This update aims to improve user experience by measuring three main signals:
Largest Contentful Paint (LCP): How fast your content loads when users visit your site.
First Input Delay (FID): How fast users can actually interact with your content.
Cumulative Layout Shift (CLS: How visually stable your content is when users interact with it.
In other words, your site shouldn't only load fast, but also provide a smooth experience to users.
Unfortunately, covering these elements in depth is outside the scope of this guide. To learn more about Google's Core Signals, we suggest you read this guide from Google Search Central.
Boost Sales with the Trusted Ecommerce SEO Experts
Having trouble growing online sales? Partner with the Ecommerce SEO company that is a 4-Time SEO Agency of the Year winner.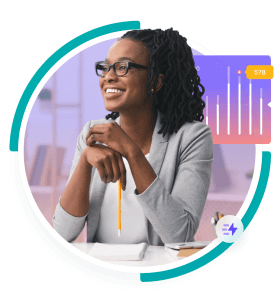 Mobile-friendly ecommerce optimization
Mobile, mobile mobile.
I'm sure you've seen the hype of mobile optimization just about everywhere.
But the truth is that it's not just hype anymore. Mobile is dominating online traffic now.
Last year, roughly 55% of worldwide traffic came from mobile. With more and more people using their smartphones to shop online, it's essential that your website is designed with mobile in mind.
If your website isn't mobile optimized and responsive, that should be priority number one for your mobile optimization.
On top of that, mobile page speed is critical for success.
What's the problem with being just a few seconds slower than the "best practice" for speed?
Bounce rates that go through the roof:
If your ecommerce site takes two or more seconds to load, your bounce rate can grow by up to 9%. If it takes five seconds or more, your bounce rate will be around 38%.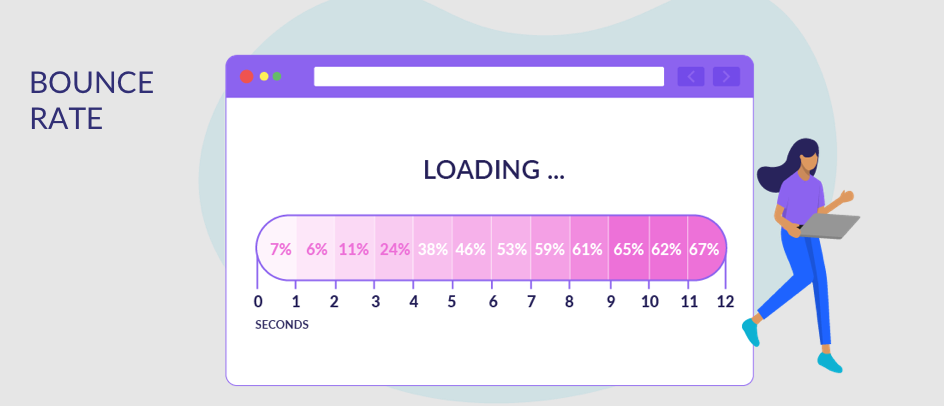 Roughly 35% of users' money is left on the table due to a poor user experience. Meanwhile, improving UX can increase your results exponentially.
To optimize your site's speed and performance, there are several techniques you can implement. One key factor is optimizing images and videos to reduce file size without sacrificing quality. You should also minimize HTTP requests by combining files where possible and reducing the number of plugins on your site.
User experience and conversion rate optimization in ecommerce are two peas in a pod. With that in mind, you have to make the discovery and buying process as smooth as possible. From UX to cart abandonment rates, optimization is key.
There is possibly no better conversion-optimized website than Rothy's. Even if you've never enjoyed shoes or you aren't a woman interested in women's shoes, exploring the site is enjoyable.
When you land on the home page, the site instantly greets you with a simple design that gives you two easy options: menu or shop all.
This is helpful because too many choices can be paralyzing for shoppers.
At the top of Rothy's home page, a dynamic and changing ticker displays instant value that reassures users that they won't experience common pain points.
As you scroll down, the options are again consolidated into product styles that are elegant and simple.
Clicking on individual products opens the product page directly in the window without directing you to another page that might take ten more seconds to load and result in a bounce.
The flow of the site and buying process is virtually unparalleled.
And for the icing on the cake, value is communicated at every single step.
That's ecommerce conversion optimization.
Here are some best practices that you can follow to ensure that you convert all of your organic traffic:
Site speed: Make your site faster and prioritize ease of use.
Navigation: Give fewer, simpler options to find products. Too many choices can cause friction.
Simplify checkout pages and focus on value: To avoid high cart abandonment rates, always address pain points before consumers have to ask about them.
Regularly monitor your site's load time using SEO tools like Google PageSpeed Insights or GTmetrix.
Link Building and Off-Page Optimization
Link building and off-page optimization are crucial components of any successful SEO strategy for ecommerce businesses. By acquiring high-quality backlinks from reputable websites, you can boost your search engine rankings and drive more traffic to your site.
But it's not just about the quantity of links – the quality matters too. Focus on building links from relevant, authoritative sites within your industry.
To build high-quality backlinks, start by creating valuable/shareable content that will attract the attention of other websites in your industry. To create shareable content, start by understanding your target audience and their interests. Use this information to develop relevant and engaging content that they will want to read and share with others. Consider incorporating visual elements such as images or infographics into your content to make it more appealing to readers.
You can also leverage social media platforms to share your content and attract more attention from potential link partners. Guest blogging on other websites is another effective strategy for building backlinks.
Remember, not all backlinks are created equal. Focus on acquiring links from reputable sources with high domain authority to maximize the impact on your search engine rankings.
Conclusion
SEO is a huge factor in ecommerce success.
Ranking your website, product pages, and content on the first page of Google will help you secure more organic traffic.
Beyond that, it helps you build brand awareness, which is a big factor in driving sales from organic search results.
Instead of only paying for ads to drive traffic and sales, you can do it organically through powerful SEO.
Focus on these best practices, and you'll drive more organic sales than ever before.
If you feel like you might need professional help to grow your revenue and increase online sales? Check out our ecommerce SEO service and partner with a company with a proven history of success.
Boost Sales with the Trusted Ecommerce SEO Experts
Having trouble growing online sales? Partner with the Ecommerce SEO company that is a 4-Time SEO Agency of the Year winner.