How to Improve Your SEO in 2024 [14 Proven Tactics]
Adam Heitzman
December 1, 2023
Editor's Note: This post was originally published in May 2020 and was updated in November 2023 for accuracy and comprehensiveness.
Search engine optimization (SEO) remains one of the best ways to get visitors to your website and boost sales in 2024. That's because more than half of trackable website traffic comes from organic search.
But you might be wondering how you're supposed to stand out from the crowd now that everybody and their grandmother are optimizing their websites for search.
Unfortunately, Google's frequent search algorithm updates make it difficult to keep up with the best tactics and strategies. And with SEO becoming a standard part of digital marketing strategies for most businesses, competition is fierce.
Today, our goal is to help improve your SEO performance for 2024. You'll learn several up-to-date best practices for crafting an effective SEO strategy to propel your site to the top of Google's results.
Let's dive right in.
1. Publish High-Quality Content
Content is the backbone of any successful SEO campaign and the heart of on-page SEO.
But you can't just pop any old content on your website and expect it to pay out SEO gold continuously.
You have to work at it. Like, a lot.
Given the abundance of content out there, you need to prioritize high-quality content that provides genuine value to search users. Content that fails to meet this standard simply won't gain much traction in the search results.
So, what do we mean by high-quality content?
Well, according to Google's official Search Quality Guidelines, great content has the following characteristics:
Experience: The content refers to the firsthand experience of the author in the relevant field
Expertise: The content demonstrates the author's extensive knowledge of the topic they're discussing
Authoritativeness: The content is published on a site considered a reputable source on the subject matter
Trustworthiness: The content comes from a reliable source with a track record of providing transparent and truthful information
In other words, by consistently producing useful and informative content relevant to your audience, you'll significantly increase your odds of ranking higher in the search results.
Content freshness is also an important consideration. It's a good idea to periodically repurpose or rewrite old content to ensure it stays up-to-date. Just make sure you're updating and not repeating. Google hates duplicate content.
2. Target Keywords People Are Searching For
When marketing to your audience, you have to understand how they think, how they shop, and, most importantly, how they search.
Once you understand what your target audience is searching for, you can optimize your pages for those specific key terms.
Tools like Google's Keyword Planner will show you a list of relevant and high-volume target keywords.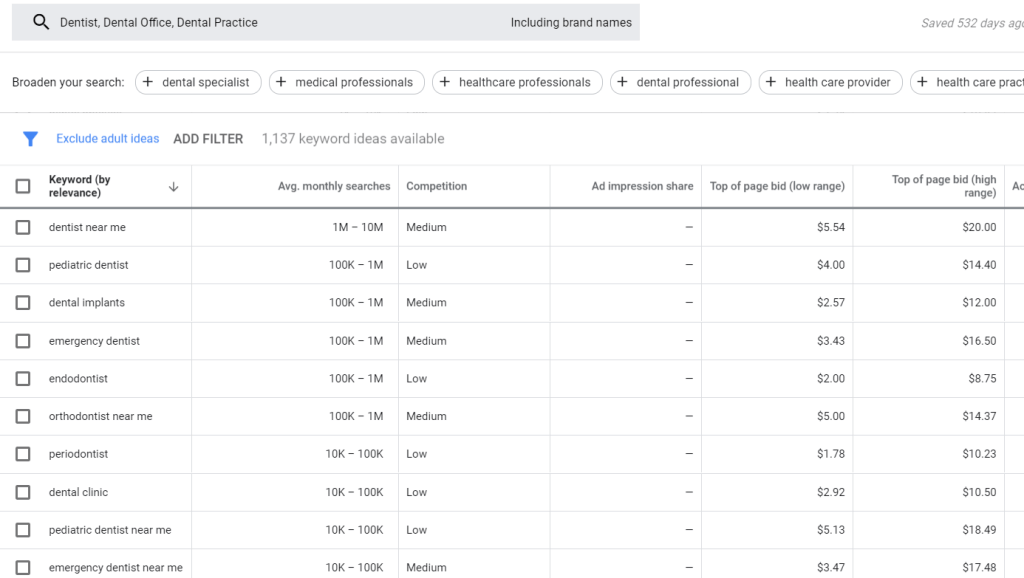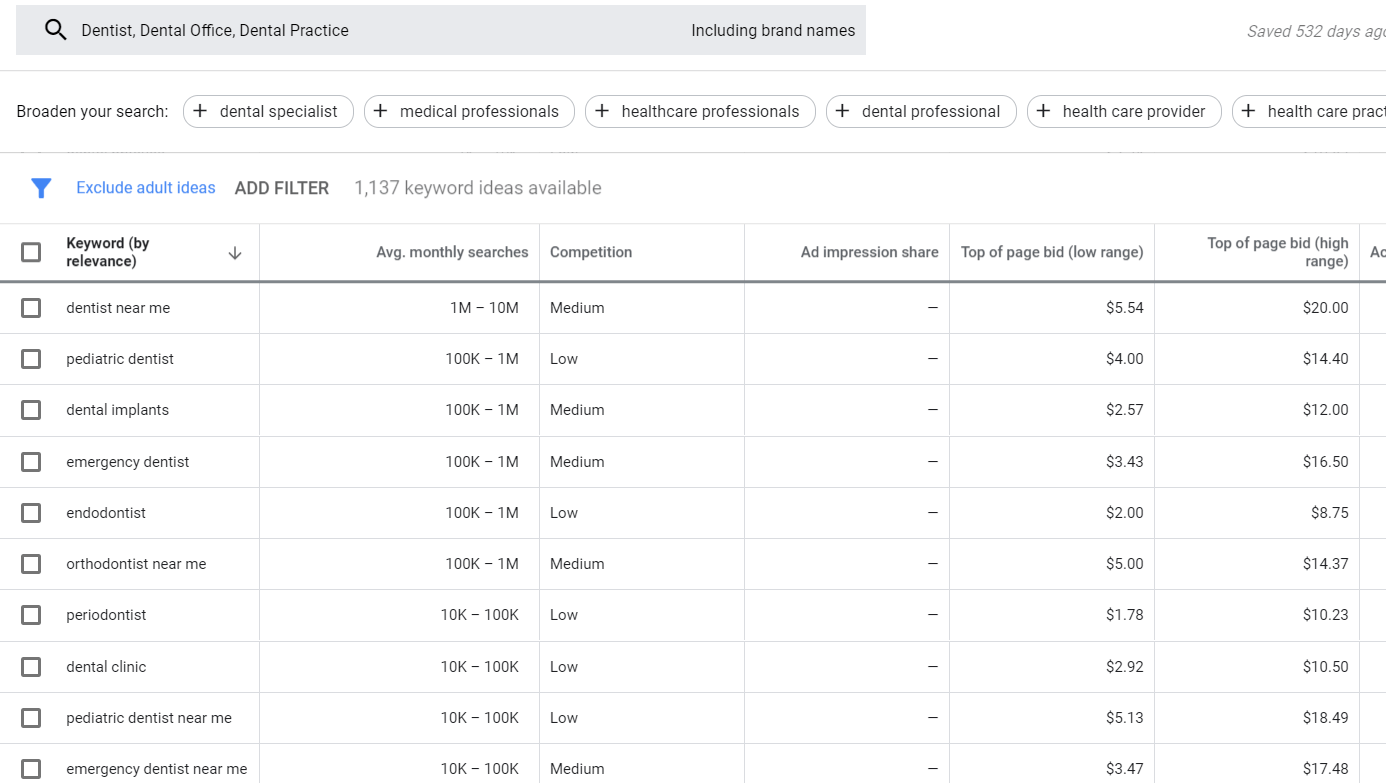 Remember, keyword optimization isn't a matter of shoehorning as many relevant keywords as you can into your content. Instead, you should take pains to ensure your content fully addresses the search intent behind your target keywords and incorporate those terms in a way that appears natural.
3. Improve the User Experience
Stellar user experience is essential when trying to get your website ranked highly on Google.
Think of it this way. Google is one of the most trusted, well-known, and respected companies on the planet. When you type a search into Google's search engine, you're getting a series of recommendations from Google.
If Google's number one recommendation was a site with weak content and a poor user experience, its reputation would take a small hit. That's why Google vets the sites it lists so thoroughly—which includes taking user experience into account.
So, how can you improve your user experience to impress both Google and your visitors?
Write short and easy-to-read paragraphs
Include headers throughout your content to make it easier to skim
Provide images as a visual representation of your content
Increase the speed of your site. The faster it loads, the lower your bounce rate will be
4. Ensure Your Site Is Responsive
Your site has to run smoothly on mobile devices.
That's not an opinion. It's an undeniable fact in 2024.
Mobile search now accounts for 63% of organic traffic in the U.S. That means the bulk of searches on the world's largest search engine are done on phones, tablets, and other mobile-ready devices.
What's more, mobile devices account for 60% of all global ecommerce sales.
As such, you must optimize your site for mobile users. Failure to do so will seriously harm your ability to rank on Google and convert visitors into customers.
5. Improve Click-Through Rate (CTR)
You want to ensure that users feel compelled to click on your listing when they stumble across you in the search results.
Besides increasing your rankings, there are a few simple methods for improving your organic CTR.
Create engaging title tags: Craft unique and enticing titles that accurately describe the content and contain your target keywords
Write compelling meta descriptions: Write clear and concise descriptions that provide more context about the page and encourage readers to click through
Use rich snippets: Implement schema markup to enhance your listings with additional information like ratings, prices, or author info
Optimize for featured snippets: Format content to answer questions directly to boost your chances of claiming a featured snippet at the top of the results page
6. Build Backlinks to Your Site
Backlinks are links from other sites pointing to yours (sometimes called inbound links).
Google relies on backlinks as a way to determine the credibility and authority of a given website. The more relevant backlinks a website receives from other relevant, high-quality sites, the more likely it is to rank well.
This means a backlink is only useful if it comes from a credible source with good standing on Google. It also has to be relevant to your industry. If you're a plumber and get a backlink from a video game review website, it probably won't help you.
Creating linkable assets is one of the best ways to earn good quality backlinks. These are resources that other people are likely to use when creating their own content on a related subject. Infographics, exclusive interviews, and industry research studies are all great examples of linkable assets.
Remember, you also need several internal links on your site connecting different pages to one another. Not only does this make it easier for users to navigate your site, but it also helps search engine crawlers understand what your site is about.
7. Demonstrate Expertise
Before Google recommends you to its users, it wants to ensure your words have weight and legitimacy. As we mentioned earlier, Google favors content that demonstrates expertise.
Creating comprehensive and in-depth blog content is one of the best ways to exhibit your brand's expertise in a particular field. The more you can thoroughly cover topics, providing unique insights and offering your perspective on relevant developments in your field, the more you'll position yourself as an authority. As more people discover, share, and link to your content, Google will recognize that other players in your industry value your brand's opinion.
8. Optimize Your Images
Google loves that you include images in your content. But unfortunately, it can't actually see images itself.
Google's search bots can see that an image exists, but they can't look at a photo of a firetruck and say, "That's a photo of a firetruck!"
So, it's up to you to tell Google exactly what's on your page. This means every image should contain a title tag and an alt tag. This is an opportunity for you to write a brief description of the image featuring a target keyword or two.
9. Incorporate Other Media
You're going to need more than just fancy pictures if you want to improve your SEO ranking.
There's a ton of awesome media that you can incorporate into your site. And Google will reward you for it.
Video content should be a central focus of your site. A massive 96% of marketers say video content is an important part of their marketing strategy. This isn't that surprising since people spend, on average, 17 hours per week watching videos online.
Google owns YouTube, the world's most popular video-sharing service. And they make it very easy to incorporate YouTube videos onto your site.
There's also audio content. Consider starting a podcast and featuring it on your site. Podcasting is a hugely popular medium, with 163 million podcast listeners in the U.S. alone.
10. Feature Outbound Links
Linking to other reputable sites helps increase your own site's credibility.
After all, it's one thing to make claims on your site, but it's another thing to back them up with real facts and figures.
It's all well and good to say that Barry Bonds has the most career home runs in major league baseball. But it's even better if you say that Barry Bonds is the all-time home run leader with 762 home runs—backed by a link to a credible source.
Remember, Google looks for outbound links in your content to make sure that you're double-checking all of your facts and offering valuable and accurate information to your readers.
11. Fix Broken Links
Google doesn't like broken links since they negatively impact the user experience. Broken links also indicate your content is outdated and poorly maintained, which harms your site's perceived credibility.
One way to avoid this problem is to only link out to reliable sources that don't change their URLs frequently. You should also conduct regular audits to ensure all the links on your site are live. Fortunately, you don't have to do this manually. Instead, a tool like Dead Link Checker lets you check for broken links across your site all at once. And the best part? It's totally free.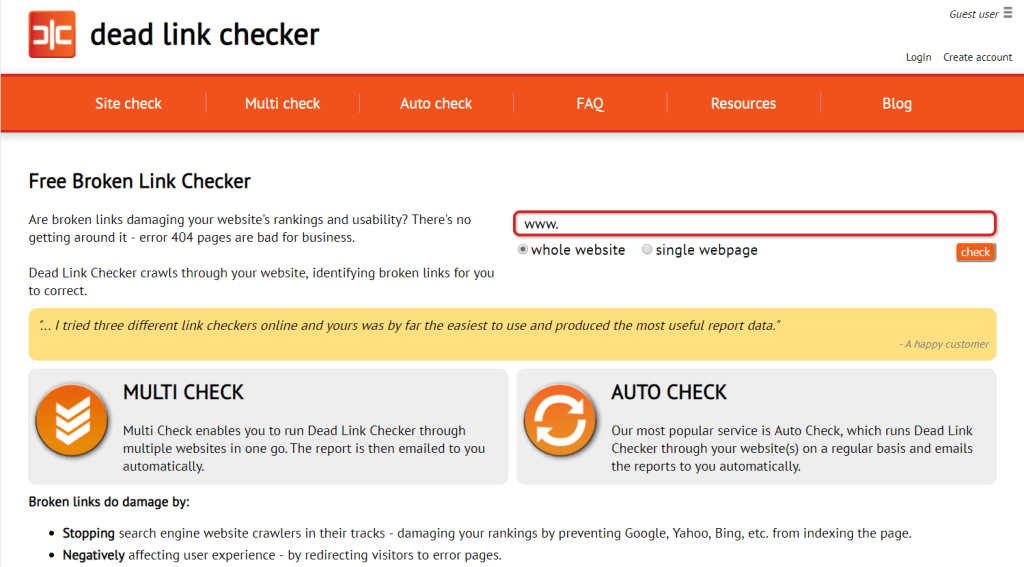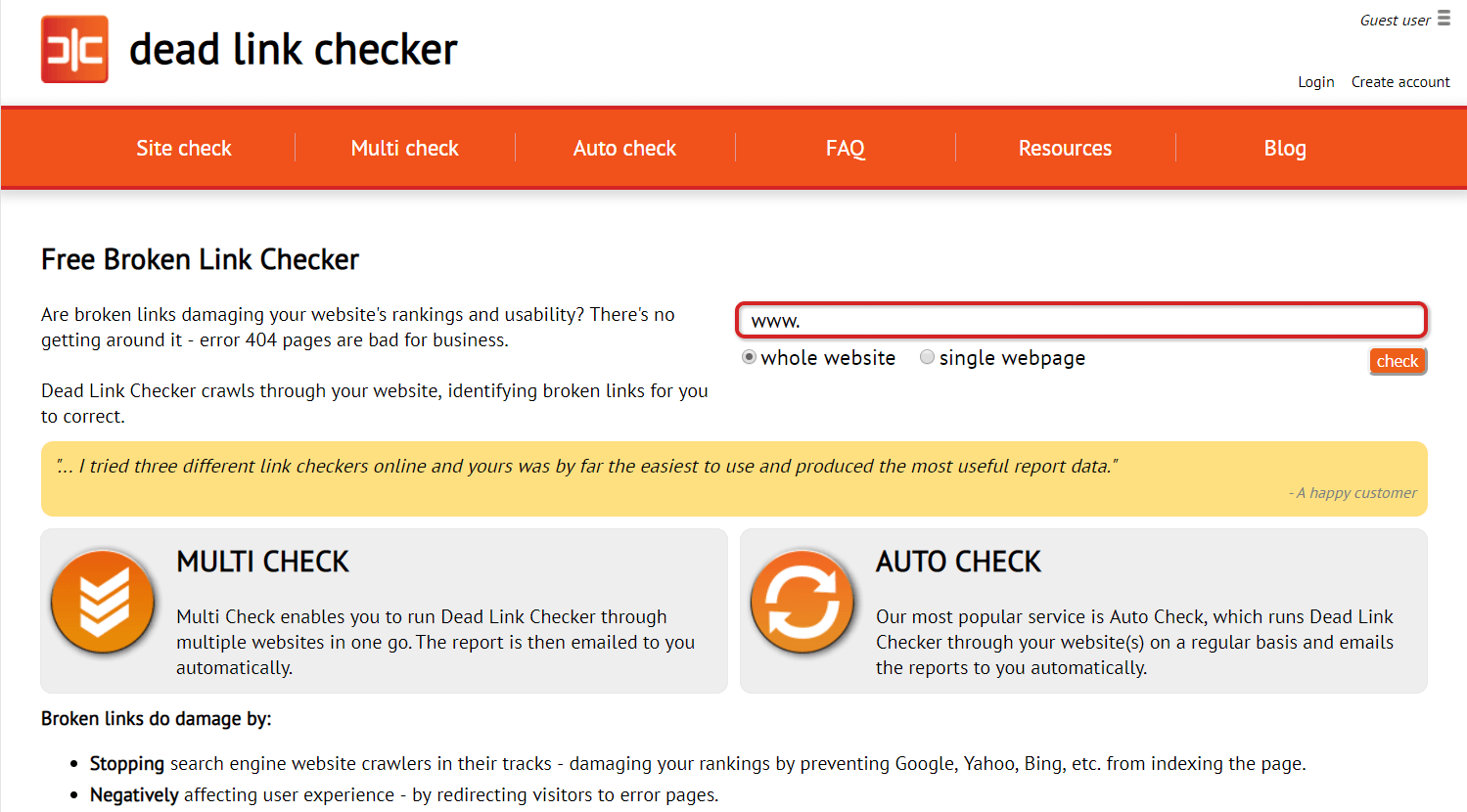 By keeping track of your links and making sure that they're all in working order, you should have no problem avoiding a potentially disastrous SEO pitfall.
12. Encourage Visitors to Share Content
Sharing is caring, especially when it comes to your website content.
You need a social media presence in the modern business world, and social media is built on the idea of content sharing.
However, social media can also be one of the most significant SEO ranking factors. If people share links to your site on social media platforms like Facebook, Twitter, and LinkedIn, your organic search traffic and rankings can also get a boost.
All the content you publish, be it an infographic or a blog post, should include some kind of social sharing icon.
You can also think of ways to incentivize content sharing. For example, you could run some kind of contest where entry requires each participant to share a link on their social media pages.
13. Set Up a Google Business Page
If you're trying to improve your local SEO, it's important to set up a Google Business Profile. This is especially true for businesses that operate from a physical brick-and-mortar location.
It only takes a few minutes to set up. You add information on your business, including contact info, opening hours, and images. People can also leave reviews for you there.
14. Monitor Analytics
You need to keep a close eye on your web traffic, conversions, engagement metrics, backlinks, and keyword rankings to gauge the success of your SEO program. Using tools like Google Analytics removes guesswork from your strategy, allowing you to make data-driven decisions.
Clearly, if your analytics show no positive movement, you'll need to investigate the problem and make the necessary adjustments. For example, if you notice your service page has a high bounce rate, you may need to revisit your on-page copy to ensure it adequately meets your visitors' needs and expectations.
Final Thoughts
Search engines are a powerful tool for businesses. But you need to ensure you're implementing the fundamental tactics that set the stage for SEO success.
We're confident that incorporating the tips and strategies outlined above will enable you to compete more effectively in the search results and drive more traffic to your website. But before you put these tactics into action, we suggest you first conduct a thorough SEO audit to understand the current state of your site. Finally, if you're looking for some expert support to help build and implement strategic SEO services, let HigherVisibility build out a custom strategy for you today.