How to Check the Credibility of an SEO Agency
Scott Langdon
August 22, 2023
In the fast-paced digital landscape of today, the role of Search Engine Optimization (SEO) in driving online success cannot be overstated.
And unlike paid marketing which requires constant financial investment, a well-executed SEO strategy:
Consistently increases brand visibility
Boosts brand credibility and authority
Increases click-through rate
Drives traffic at all stages of the conversion funnel
… all for long-term gains!
While SEO is a powerful marketing strategy, it's not magic. Success depends on myriad factors – level of competition, industry trends, algorithm and user behavior changes, etc. For many businesses, partnering with SEO agencies is the only way to scale effortlessly.
Unfortunately, there are lots of scammers masquerading as experts in the SEO industry. Hiring the wrong agency will cost you time, money, as well as critical growth opportunities. So how do you differentiate the good from the bad?
In this article, you'll learn how to ascertain the credibility of an SEO agency like a pro. You'll also learn how to detect red flags common to unreliable agencies. Let's go!
Research the Company's History and Reputation
The first thing to do is access the agency's website. Does it have a good user experience? Or is it cluttered with inconsistent typefaces and colors? A credible SEO agency should have a visually appealing website. All required information should be accessible on their website.
This includes:
An in-depth 'About Us' section featuring all the team members and their position in the company: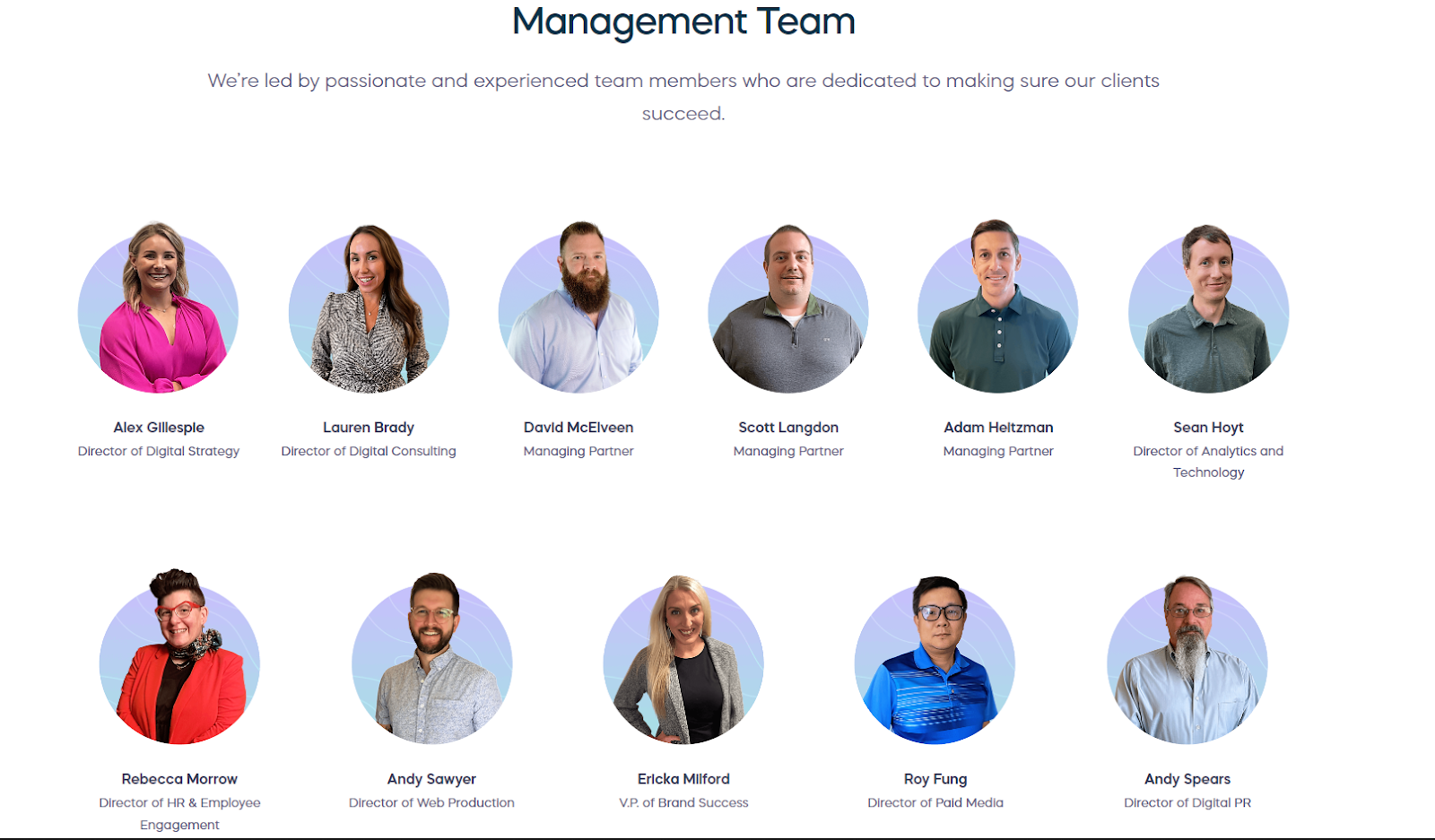 Go further by checking the names out on social media, especially LinkedIn and Twitter. Are they influencers or thought leaders in the SEO industry? You can start with two key members of the team.
An agency with a thought leader in the SEO industry who readily shares tips on Twitter, LinkedIn, or other essential social platforms is reputable and has the expertise required to drive results to your site.
So, checking for 'Adam Heitzman' on LinkedIn in our example above:

He's a thought leader on SEO, and is featured on a leading industry blog.
Next, check the companies they specialize in. There's no one-size-fits-all approach to SEO; no reputable agency can claim to have a strategy that works for businesses of all industries and sizes.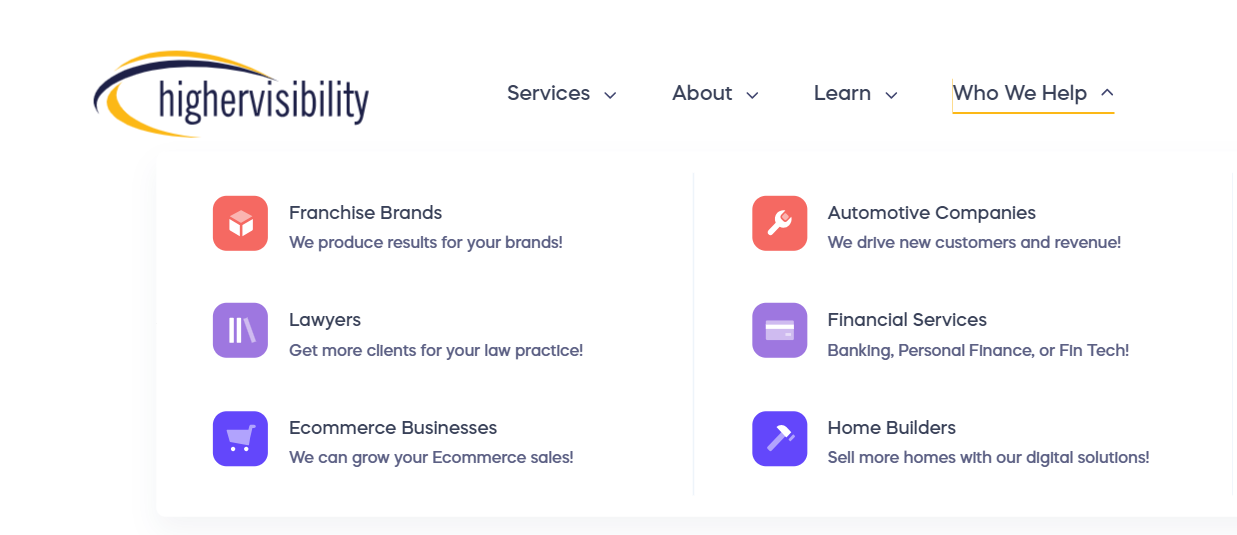 So if you see call outs that cater to all business types, it can be a red flag.
Another critical factor is the type of services offered. If you're a small business owner, you're probably looking for an agency that provides a full suite of SEO services. This includes local SEO, eCommerce SEO, paid advertising, web design services, and more. For large companies, you may be searching for an agency that is an expert in one or more of these services.

Lastly, access their web content. Is it high quality? Do they follow Google's Webmaster content guidelines? Do they write readable, scannable, engaging, and impactful content? Check out their rankings too. An SEO company that wants to help improve your rankings should be able to rank themselves. Right?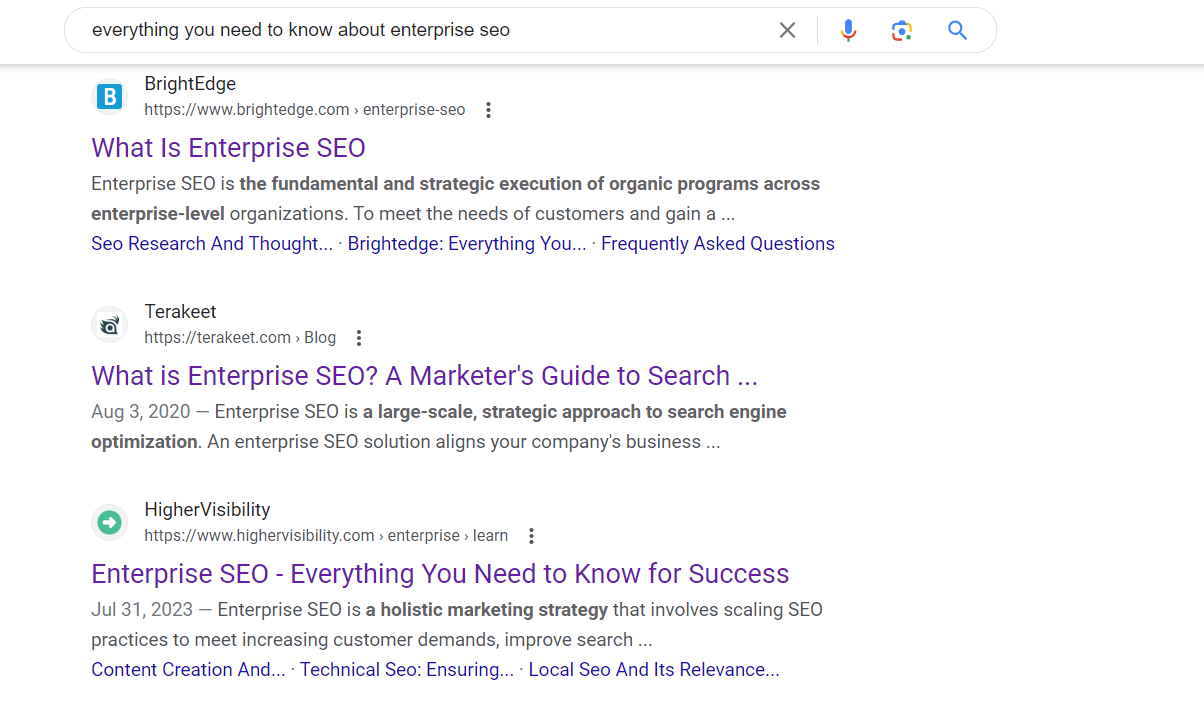 Analyze Their Previous Work
A credible SEO agency should have case studies (either on their website or on request). Case studies provide tangible evidence of an agency's ability to deliver results. They give real-world insights into their strategies and help you decipher if they can handle yours.
For example, if they have a history of driving quality traffic or increasing website rankings, it's a positive sign that they can generate similar results for your brand.
Here are the vitals to look for in an SEO case study:
It must be detailed, including a brief history of the client's company, their problems, and what they're trying to achieve
Next, it should outline the strategies or steps used to achieve the results.
There should also be a brief of the campaign results. Better if they're in statistics. For example, 50% increase in leads. 20% increase in ROI.
Lastly, check out the client's comments. Did they leave a review under the case study? If the client is happy with their services, they'll gladly give a review.

Pro tip: Some companies don't include details of their case studies on their website because of NDAs. Reach out to them for references so that you can properly analyze the results generated for other clients. It's a red flag if an agency is unwilling to provide references, case studies, or any evidence of their results.
Look at Their Online Presence and Rankings
As I pointed out earlier, a good SEO agency should be an established thought leader in the SEO industry. They should also have a solid online presence and rank on the SERPs for keywords in their industry.
That said, if they're promising you mouth-watering results and are not anywhere near the first page of the SERPs, it's a red flag.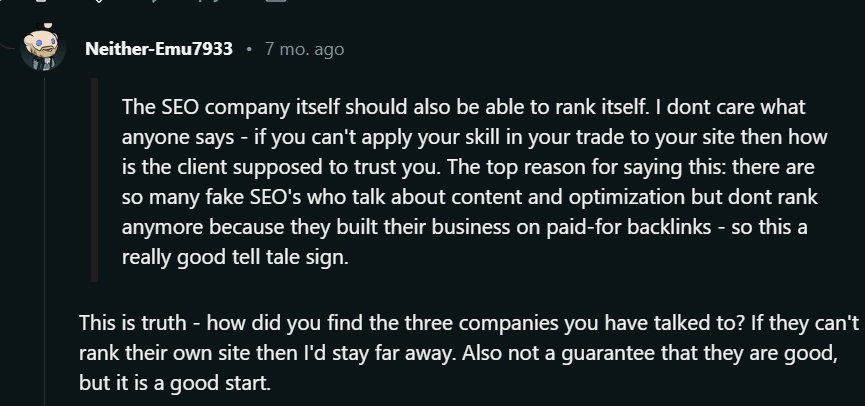 Source: Reddit
Check For Industry Awards and Certifications
Industry awards and certifications are indicators that an SEO agency has the right skills and expertise to deliver your desired results. It shows that they've passed through the required training set by industry leaders and can handle any SEO-related projects. It also indicates the agency has a track record of delivering exceptional results.
Before choosing an agency, look out for industry-recognized certifications and awards from reputable sources like Search Engine Land, Global Search Awards, and US Search Awards.
Most agencies display certifications and awards on their website or social media pages: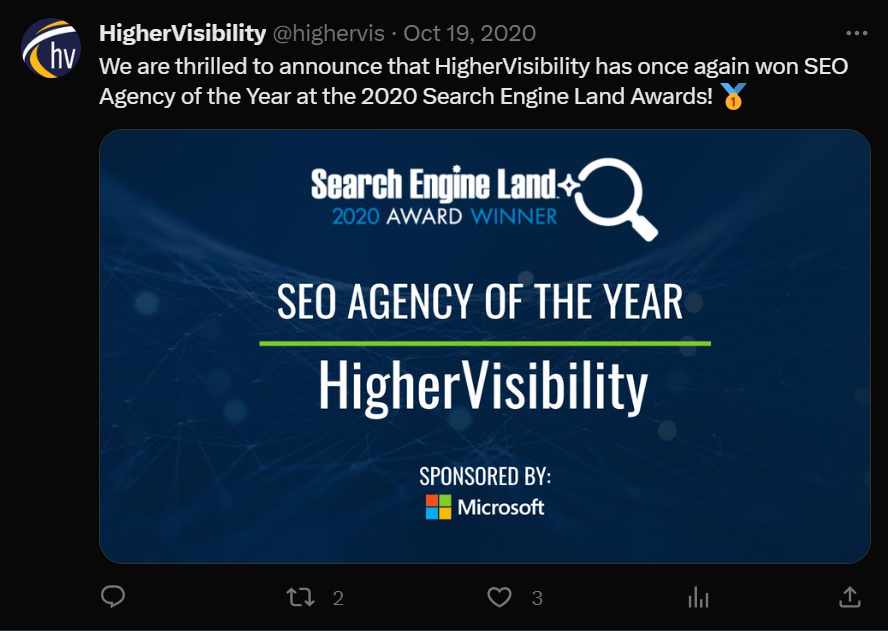 Check Client Reviews & Testimonials
Client reviews, and testimonials are real-world indicators of the experience of working with an SEO agency. They provide valuable insights into the agency's mode of communication, expertise, and overall satisfaction. It also informs you of what to expect if you proceed with them.
Look into their reviews on Google and other social media platforms. You can also check online directories like G2 and Yelp for more reviews.
When evaluating these reviews, look for the following:
Average client ratings. Anything less than a 3.5-star rating is a red flag
Read the 1, 3 and 5 Star reviews to get a view of the good, bad, and ugly details.
Check for consistency in messaging, such as PPC marketing, social media marketing, increase in rankings, etc.

Tip: Check out for negative reviews though a few dissatisfied clients doesn't mean the agency is a scam. Also, seeing countless positive or negative reviews can be a red flag.
Request Case Studies or Portfolios from Past Clients
As I highlighted above, a credible agency should have several case studies showcasing their actions for other clients and how. They are an excellent benchmark of what to expect while working with the agency.
Ask for case studies in your industry. If you own an eCommerce website, you want to see portfolios or case studies for ecommerce websites.
Request for recently concluded projects so you can easily verify the agency's knowledge of the recent SEO practices. Since search engine algorithms are constantly evolving, the techniques that worked last month or year may not be relevant now.
Also, while evaluating the case studies, look out for relevant key performance indicators (KPIs) like:
Overall organic visibility
Ranking position
Conversions
Overall organic traffic
If the website is optimizing for local SEO, look out for vitals like:
Ask About Their Knowledge and Experience in Current SEO Strategies
Search engine algorithms are constantly changing. Credible SEO agencies understand this and are always at the forefront of trends to ensure their tactics are current. So before choosing, ensure the agency is well-versed with the current ranking factors to generate your desired results.
Ask about how they stay on up to date with the constant algorithm changes. Also, inquire what steps they take to ensure their client's websites aren't affected whenever Google or other search engines announces an update in ranking factors. They should also use relevant SEO tools, like SEMrush, to suit the changing algorithms.
Remember that search engines release algorithm updates to improve search results based on user search queries. When you're inquiring about their experience in current SEO strategies, look for phrases like:
We will perform customer research to know what users want and how they're conducting searches on search engines
We will focus on creating customer-focused content to satisfy user search queries
Their strategies should be highly customer-centric as Google updates its platforms for better user experience. And if their strategies aren't influencing your site in terms of on-page SEO, Technical SEO, or off-page SEO, tick them off your list.
Tip: Agencies that claim to have 'secret sauce or strategies' are unreliable. Overall, the SEO agency should be able to explain how they navigate SEO's evolving algorithms.
Transparency in Reporting and Communication
One of the vital keys to a successful client-agency relationship is frictionless communication. An SEO agency that keeps you in the dark may likely adopt unethical practices to drive traffic to your site or increase your web rankings. Reports and communication work to keep stakeholders informed at every relationship stage.
A reputable SEO agency should provide concise, accurate reports showcasing essential metrics relevant to your overall marketing goal. This report should be delivered regularly – weekly, monthly, quarterly – to demonstrate the progress made, identify areas of improvement and understand how to integrate the results into other marketing efforts.
A good SEO report should be detailed and not just contain numbers and charts. There should be clear information about what each statistic and chart represents, their significance, and what they suggest. It should also show it correlates with driving overall marketing goals.
Also, the agency should be professional yet friendly enough to have open communication. Whoever is assigned to you as an account manager should have empathic listening skills and swiftly incorporate feedback and requests into the campaigns accordingly.
Check For Black-Hat SEO Techniques
Let's get this straight. No agency will boldly attest to using black hat SEO tactics. So it's up to you to evaluate their services for unscrupulous activities before investing.
Black Hat SEO is an unethical technique used to manipulate search engine algorithms to increase rankings and drive traffic to a website. It can be done in several ways, but the most popular is purchasing backlinks from spammy sites and creating a truckload of irrelevant content just to attract traffic.
So how do you decipher if an SEO agency uses black hat SEO techniques?
First, ask about their link-building strategies. If they promise to get 'plenty' backlinks to your site quickly, they're likely using black hat SEO
Evaluate their previous clients' websites. Check out the quality and relevance of the websites linking back to them. For example, an eCommerce site specializing in skin care products gets backlinks from online casino websites or gambling forums. That's a red flag.
Also, from the previous point, analyze the page content to identify keyword usage. Are the keywords well-placed or cluttered throughout the content?
Do they promise quick and unrealistic results? For example, if they're assuring a first-page ranking within a week.
Click on the images placed within the content. Are you redirected to another website entirely different in scope and context?
Ask About Contract Terms and Pricing
Lastly, evaluate the contract terms and pricing structure. Ensure that everything is satisfactory before you proceed with the agency.
For the contract terms, it should contain the following:
Detailed deliverables. It should have everything you are expecting from the agency and how they intend to achieve them
Your responsibilities. This includes the information they'll be needing per time, contact information, and other vitals
The duration of the contract
Payment options and when you're to make payments
Termination terms in case there's a violation of the agreement at any point
Legal details
Most importantly, having someone with legal expertise review the document for you is better. This lets you know of any potential clauses that may cause problems later.
Tip: You don't have to settle for the first proposal you receive. Compare offers from multiple agencies (following other review steps outlined in this guide) to help you make an informed decision.
Why HigherVisibility?
In today's dynamic digital world, standing out is no longer an option. It's a necessity. And if you're looking for an SEO agency with a full suite of services that has a proven track record of driving results, talk to HigherVisibility!
We aren't just the regular SEO guy down the block. Our approach isn't driven by industry norms. It's led by strategy, backed by data, and proven to drive growth.
And as there's no one-size-fits-all approach to SEO, we invest quality time to understand your business goals and create customized strategies tailored to your success.
We don't stop there, though.
Our process cuts through laser-focused targeting to understand your audience better and their motivations when they conduct search queries online.
And as you know, only a great team makes a great agency. This is why we employ industry-vetted experts who are well-versed in SEO and have helped hundreds of businesses succeed. Schedule a quick, obligation-free consultation call to discover how we can help your business grow.