SEO Professionals: Reasons to Hire an SEO Expert
Adam Heitzman
July 31, 2023
Did you know that 63% of purchase decisions start online? If you want to drive quality leads to your site, increase your website visibility and shoot your rankings to the top of the results pages, you need to build a robust online presence.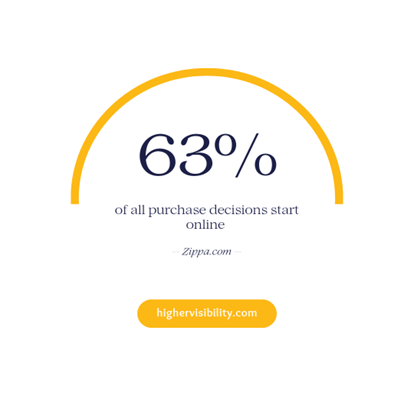 But in today's fast-paced and competitive landscape, having an online presence is no longer sufficient. Your website must stand out amidst the cranky bustle of the results pages and make a lasting impression on your audience and search engines too. This is where SEO professionals come in.
An SEO expert analyzes different aspects of your website and identifies tactics and strategies to increase your brand visibility on search engines (higher rankings), drive organic traffic, and, ultimately, quality organic traffic that leads to sales.
Hiring an SEO professional will cost you some money upfront, but you'll see a significant return on your investment over time (provided you hire the right one!) Let's discuss how you can hire an expert SEO in detail.
Role of an SEO Expert: A Snapshot
The role of an SEO expert ranges from basic to complex, depending on the organization's requirements.
Small-scale businesses may hire an SEO expert to establish, increase, and maintain results page rankings. Enterprise SEO, however, is more technical. SEO professionals will need to manage a team of other SEO professionals, manage expenses of SEO campaigns, collaborate with other departments to ensure the right SEO strategies are implemented, monitor daily performance metrics, and define how it translates to bottom-line revenue.
The Technical Aspects of SEO
I stumbled upon an article that advises against hiring SEOs.
The reason?
They strongly believe a web developer can handle your SEO.
While this role is equally important, web developers lack the technical knowledge to identify SEO issues and make necessary adjustments.
SEO professionals have the tools and expertise to develop and implement SEO strategies. They're skilled in translating complex technical data into understandable bits to make relevant adjustments.
They also understand how to optimize a website from the back end. This includes creating structured data, improving website speed, creating friendly URLs, optimizing headers, title tags, meta descriptions, etc.
Content Optimization Strategies
SEOs must be skilled in optimizing content for search engines and web users. This is important because content relevance is essential in driving conversion at each stage of the customer journey.
SEOs are also tasked with identifying customer needs, studying them, and creating valuable content that aligns with search intent.
This embodies identifying the exact key phrases they use during search queries, weaving these words into strategic areas on the website – meta tags, headers, content – and ensuring the content is appropriately structured for search engine crawlability and indexability.
They must also have access to the right tools that streamline the work process, increase efficiency and generate desired results.
Analysis and Reporting: Tracking SEO Success
SEO analysis and reporting may be the most challenging part of SEO.
With so many metrics to track, it's easy to get overwhelmed with vanity metrics such as page views or high rankings.
But the most critical question is: how does this metric contribute to customer lifetime value? Having access to data isn't enough. SEO experts must understand how to examine how the website is performing, the working strategies, and areas of improvement.
The Value of SEO for Businesses
SEO is essential because it provides a low-cost but effective method to attract new customers.
Imagine a customer searching for 'Best sectional garage door,' and your website is one of the top three search results.
If your website content is compelling, the searcher may click through to see your product offerings or learn more about your business.
Luckily, the user may also stumble on relevant guides about getting a quality garage door, what to look out for, prices, and other essentials. After reading through, he decides to make a purchase.
Although converting an online visitor to a customer isn't always straightforward, SEO is a great way to attract potential customers at each stage of their journey.
Website Traffic: The SEO Advantage
The most apparent reason for incorporating SEO into your marketing strategy is to generate relevant organic website traffic that'll convert to sales. Undoubtedly, website traffic is the new gold mine, and only companies prioritizing SEO will take the lion's share of the leads.
SEO for Brand Visibility and Credibility
The higher your website is on the search results, the more visibility you have.
As people search for related items or specific information, having an SEO-optimized website means your brand will be featured among the top results on the SERPs.
Also, your website appearing on the top of the search results means you've satisfied all Google ranking factors – Expertise, Experience, Authoritativeness, and Trustworthiness. This establishes your brand as an authority in the industry, and other websites can easily link back to your content.
Conversion Rate Optimization: SEO's Direct Impact
Conversion rate optimization (CRO) increases the percentage of users that complete a desired action on your website. This can be form signups, purchasing a product, opting for a service, etc.
Getting traffic to your website isn't enough. Converting these leads to paying customers is what matters the most. And SEO sets the ground for success in ensuring a high conversion rate.
The Role of SEO in Enhancing User Experience
User experience play a huge role in SEO. Search engine bots are focused on collecting user queries and analyzing website data to recommend the best results. A well-optimized site creates seamless navigation for web visitors, enabling them to stay on your page much longer. Prioritizing both are key factors in increasing your website rankings, driving organic traffic, and increasing overall conversions.
Cost-Benefit Analysis: Hiring an SEO Expert
Is it expensive to hire an SEO expert? Or is it better to learn the ropes and DIY?
I get it. Most business owners refrain from hiring an SEO company because they're only great at selling their services but lackluster in the results. They rarely move the needle in driving real organic traffic.
Let's analyze both scenarios to ease your decision-making process.
The Financial Aspect: Hiring an SEO Expert Vs. DIY SEO
Hiring an SEO professional isn't cheap.
The hourly rates range from $15 – $35. If you're hiring a top-level SEO agency, budget at least $500 for local campaigns and between $2500 – $5000 for bigger campaigns.
This is why some small business owners resort to doing it themselves.
Unfortunately, DIY SEO isn't advisable if you want to save costs and generate results fast. This approach requires learning and implementing several strategies that'll likely not yield the results you want.
If you have the budget, hiring an SEO specialist will be your best option. Otherwise, DIY SEO is a viable option.
SEO is an intensive and time-consuming process. Learning the intricacies – especially as a beginner – and implementing it will take time.
Spoiler alert: Professional SEO certifications aren't cheap. University of California (UC), Davis' SEO course, for example, costs $3200 and takes up to 6 months to complete.
The question is, what happens to your website within this time frame?
Free courses don't make any difference either, as they are basic and barely scratch the surface.
In addition to this, SEO is a continuous process. You also need to stay up-to-date with the ever-changing search engine algorithms. Most of these courses are pre-recorded and may not contain recent SEO updates.
All this culminates to waste of time and resources in the long run.
Predictable and Sustainable Results: SEO Expert's Advantage
An SEO expert has a track record of results. Therefore, they know how to generate the desired results for your site.
Initially, they conduct website audits to identify potential issues harming your rankings. Also, they're armed with the necessary real-time tools to generate these reports.
Then, they use these reports to create a sustainable strategy to improve your website visibility on search results and ultimately drive quality leads. This isn't a one-off project, as it requires implementing and testing strategies for optimal results.
Risks and Challenges in Hiring SEO Experts
Now that we've explored the perks of hiring SEO experts, the main hurdle is how to wade through the noise to find someone skilled. There are so many snake oil salespeople who promise instantaneous results.
Tip: Expert SEOs understand that SEO isn't a rank-fast scheme. It requires patience and consistency to see and retain the results you desire.
Listed below are significant challenges businesses face when hiring SEOs:
The Pitfalls of Ineffective SEO Strategies
Implementing ineffective SEO strategies, such as keyword stuffing, purchasing links, etc., negatively impact your search rankings, wasting time and resources.
The Risks of Black-Hat SEO Practices
Black-hat SEO goes against Google ranking guidelines. It attempts to increase your rankings on the SERPs by manipulating search engine algorithms. But Google already stated that websites that use black SEO to rank are at risk of being removed entirely from the Google index.
Overcoming Challenges: Identifying the Right SEO Expert
Here are common factors that help you identify the right SEO expert:
First, access your company's SEO needs. Small and medium-sized businesses (SMBs) may require a jack of all trades, while large-scale organizations may prioritize specific SEO skills, for example, technical SEO expert
Write a detailed job description that clearly states what you expect to achieve
Check out their track record. A credible expert has many years of experience with proof.
Check out their references. If they're unwilling to disclose information about their previous clients (probably due to an NDA), ask how they optimize their website
How do they test and generate results? Request for a personal consultation to give you better insights into their SEO processes.
Opt for specialists in your niche or industry rather than those that know it all. They understand your industry, audience, and search patterns in-depth.
Choosing the Right SEO Expert
Yes, the right SEO expert is hard to find. But it's not impossible. Here are some vitals to look out for.
Checklist: Qualities of a Good SEO Expert
A good SEO expert:
Is well-versed in the latest SEO trends and algorithm updates
Is transparent and adheres to white-hat SEO practices
Has strong analytical skills and can accurately draw valuable insights from raw data
Has demonstrated an undeniable history of creating and implementing successful SEO campaigns
Communicates effectively with team members and other executives
Has technical and programming skills and can make accurate recommendations on how to improve website functionalities
Red Flags to Watch Out For When Hiring an SEO Expert
They guarantee instantaneous results
They don't give a detailed explanation of their processes
They're ridiculously cheap
They generate lots of low-quality backlinks that aren't relevant to your industry.
Their SEO strategy focuses on content creation
Key Questions to Ask Potential SEO Experts
What type of results have you generated for businesses like mine?
How do you conduct keyword research?
How do you create an effective SEO strategy for businesses?
What challenges did you encounter when working with a similar case study, and how did you overcome them?
How do you determine if your SEO campaign is successful?
Do you follow Google's ranking factors? If yes, how?
What do you need from us to get started?
Conclusion
For great SEO, you need to hire the right people. As Schwartz shared with Forbes, 'great SEO is done by humans for humans.' So, go beyond the usual to find creative, agile, and empathic people. They should be skilled in developing a scalable and sustainable SEO strategy aligning with the company's goals. So, whether you decide to hire a freelance agency like HigherVisibility or in-house experts, utilize the information in this guide to get the best value for your investment.