Everything You Need to Know About Enterprise SEO
Adam Heitzman
July 31, 2023
Enterprise SEO is a holistic marketing strategy that involves scaling SEO practices to meet increasing customer demands, improve search rankings and, most importantly, increase business revenue.
It is majorly implemented in:
Websites with thousands of pages
Companies that operate globally
Businesses in multiple locations
A perfect example is Amazon, with over 133 million pages indexed on Google:

Enterprise SEO can benefit organizations in different remarkable ways. It helps to:
Increase brand awareness,
Improve customer experience,
Multiply sales and other profitable conversions,
And ultimately, increase bottom-line revenue.
Today's digital space is plagued by myriad brands simultaneously vying for attention. Netizens are inundated with a wealth of information and find it difficult to differentiate quality content from their counterparts. For big brands, it's only imperative to adopt effective enterprise SEO strategies that help you stand out amidst the noise while you build robust brand credibility.
In this guide, we extensively covered all you need to know about enterprise SEO and how to get it done.
The Pillars of Enterprise SEO
The foundation of any successful SEO strategy is effective keyword research. It's no different for enterprise SEO. Here are some vitals that help:
Keyword Strategy in Enterprise SEO
Enterprise websites mostly rank for branded keywords rather than unbranded terms. For example, apple.com generates most of its organic traffic from branded searches. Using the Ahrefs Site Explorer tool, over 41 million US organic visits come from branded words, like Apple, iPad, etc.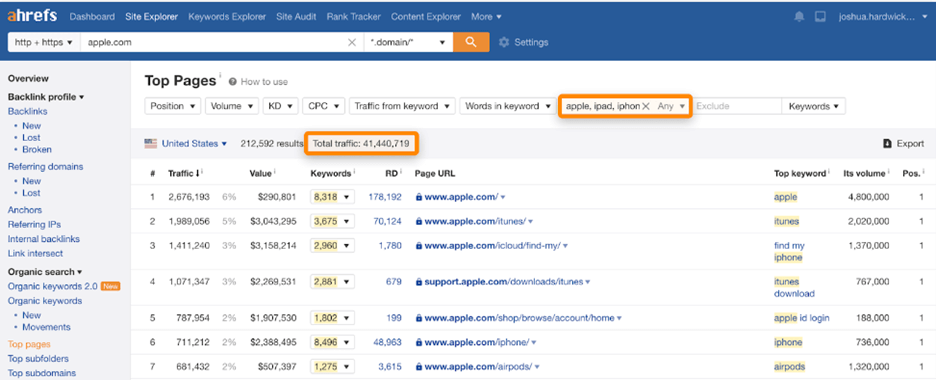 It's no surprise that they're not ranking for keywords like 'smartphones'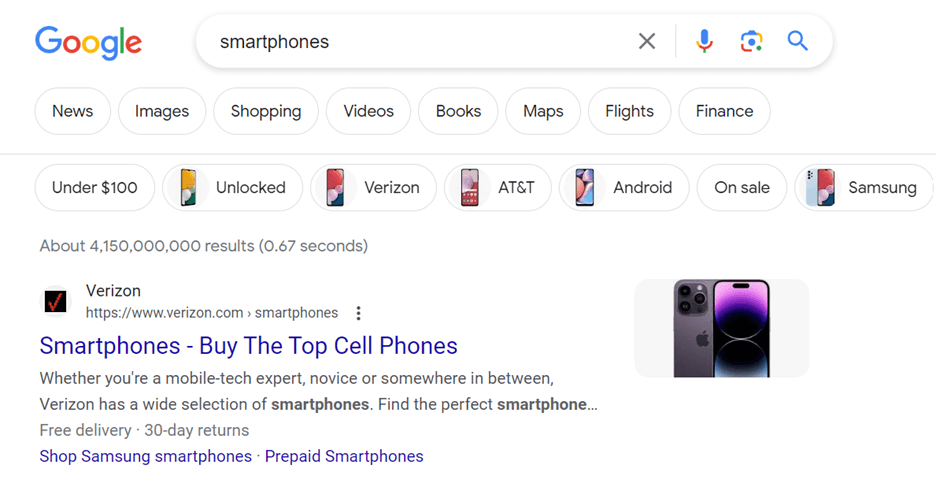 This shows that it's easier to rank for branded keywords than unbranded searches. But there are excellent ranking opportunities in targeting unbranded keywords.
Understanding keyword mapping
Keyword mapping is an SEO strategy that targets and assigns keywords to specific website pages. The keywords are arranged in clusters to form topical authority. Keyword mapping is essential because it helps:
Search engine bots understand the structure of your page
Users to navigate your pages seamlessly
To identify and fill content gaps in your content strategy
To prevent keyword cannibalization
To create a keyword map for enterprise SEO: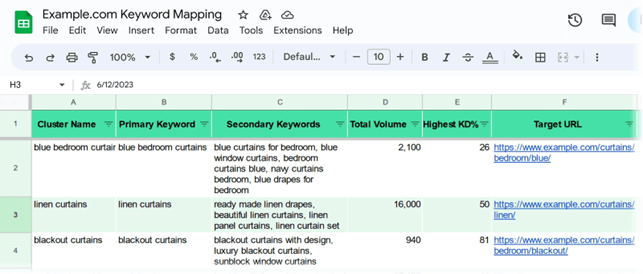 Create keyword clusters (groups of similar keywords that target/satisfy the same search intent). This reduces the risks of keyword cannibalization and helps you rank for various keywords in your industry.
Tip: Your choice keywords should satisfy search and purchase intent. Review each cluster to know which is worth adding to your keyword map. Use SEO tools like Google Search Console, SEMrush, or Ahrefs to analyze each keyword's intent, difficulty, and search volume: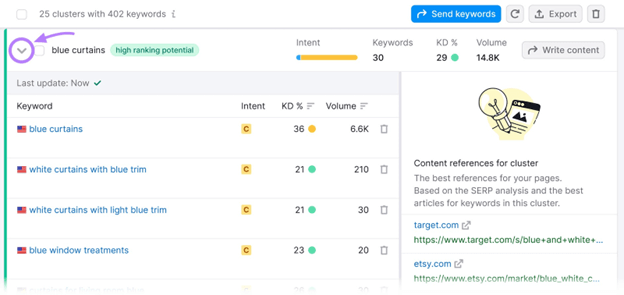 Assign a URL to each cluster on your keyword map. If you already have a page on your site for that keyword, consider optimizing it for more keywords.
Keep reviewing your keyword map to identify gaps or duplicate content. This also helps ensure you're on track with your keyword strategy.
The role of long-tail keywords
Long tail keywords are low-volume, less competitive key phrases with high purchase intent. Targeting these keywords helps to:
Attract niche-specific audience
Rank faster on the search engine results pages (SERPs)
Increase conversions
Optimize for conversational, semantic, and voice search
Most importantly, long-tail keywords present an excellent opportunity to diversify traffic sources. For instance, while you use short-tail keywords and head terms to drive large traffic to your site, long-tail keywords can help to sift buyers from onlookers.
Content Creation and Optimization
Content creation and optimization is another vital aspect of enterprise SEO. It goes beyond creating random content to fill your website pages. Enterprise SEO content marketing requires intentionality. To compete with other brands in your niche, you must create high-quality content that answers search intent. More of this later.
Developing high-quality content
When creating content, focus on delivering the best value to your readers. Conduct subject matter interviews and surveys, check online forums to know what people are discussing, and analyze competitor websites to know what works.
Ultimately, each content should be informative, engaging, scannable, and optimized for search engines and humans. It doesn't have to be restricted to blog posts, though.
There are various content types:
Videos (vlogs)
Infographics
Podcasts
Case study
Ebook and more
Pro tip: Start with your audience. What kind of content do they prefer? Blog posts? Video content? Or both? It's okay to use different formats in your marketing strategy. This will help ensure that the content is valuable to them while increasing your rankings on the SERP.
Integrating SEO strategies in content creation
Once you've carefully chosen your keywords, weave them strategically into your content. Optimize individual pages on your site for users, as 80% of all online customers expect real-time personalization when interacting with a brand.
Create comparison pages to benchmark your product features from your competitors.
Use alternative pages to show readers why you're better than the competition.
Incorporate the Google E-E-A-T guidelines to increase content quality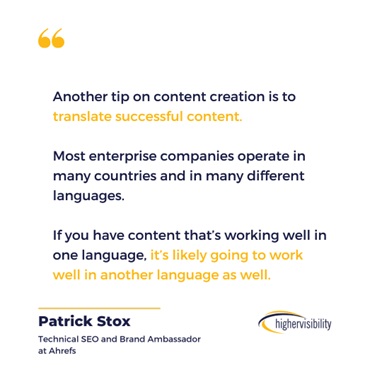 Technical SEO: Ensuring Website Health
Large-scale businesses usually have complex systems with different teams managing each site. For instance, the IT team may work on security updates, or the developer may create more web pages. One slight mistake can crumble your SEO efforts. It's best advisable to focus on the most important tasks. Also, clearly communicate with other departments on the expected outcomes of implementing any changes.
Site speed optimization
Optimizing your site speed is vital to compete on the results pages. If your page is slow (below Google's accepted standards), your customers may leave for your alternatives. No one wants that.
However, if well done, site speed optimization increases your chances of getting better SERP real estate. This is because Google uses mobile-first indexing to determine what pages will feature on top of the search results.
Plus, if your site loads faster on mobile, it can positively impact search rankings.
Test your website speed using Google PageSpeed insights.
Use a cloud hosting provider or dedicated hosting servers.
Use a content delivery network.
Leverage browser caching.
Implement schema markup to get featured on rich snippets
Run audits with third-party SEO tools to find issues and fix them
Read more how to optimize website speed and design a lightning-fast website.
Mobile Optimization
Mobile optimization isn't an option for enterprises. It's important. In 2020 alone, there were over 167 million mobile shoppers in the US.
Here's what you need to do to take the lead:
Use responsive designs to ensure that your web pages automatically adapt to different screen sizes and designs
Use CSS to create website images
Implementing the Accelerated Mobile Page technology can also help reduce page load time, facilitating improved customer experience.
XML sitemaps and robots.txt files
Sitemaps ate XML files that contain a list of all the critical pages on your website. It helps search engine bots crawl and index your site seamlessly. Robots.txt files, however, tell search engine bots which web pages to crawl and index. It allows webmasters to exercise control over their sites.
Both are important in technical SEO as it ensures that only updated versions of your web content are visible on the SERPs.
Read more about how to add Sitemaps and Robots.txt files to your website.
On-Page and Off-Page SEO: The Vital Components
On-page SEO is optimizing web pages for search engines and users. Off-page, however, covers everything you do outside your website to improve the rankings on search engines. This includes link building, content distribution, influencer outreach, etc. The goal of both is to increase your rankings on the SERPs.
On-page SEO and its role in enterprise SEO
The techniques for on-page traditional SEO sometimes overlap with enterprise SEO. This is because both aim to improve user experience and indexability. Although, enterprise on-page SEO requires a strategic approach (since you're dealing with many pages).
Do the basics. Ensure you identify and target relevant and high-performing keywords related to the enterprise product or services.
Weave these keywords strategically into meta tags, descriptions, headers, and content.
Never sacrifice quality for quantity. Provide comprehensive and well-structured content that addresses user queries.
Link to the best-performing websites on your website. This helps search engines and users understand how best to navigate your websites.
Off-page SEO techniques for large-scale businesses
Off-page SEO for large-scale businesses is crucial for attracting and retaining quality organic traffic. But in contrast to traditional SEO, getting random backlinks from other sites won't generate the results you desire. Strategically identify and reach out to influencers, partners, publishers, and other authoritative sites for link acquisition:
Connect with influencers and niche publishers. Do your research, though. What thrills their audience? How can you pitch a partnership strategy that grabs their attention? These partnerships can increase your website visibility while you gain backlinks simultaneously.
Utilize affiliate platforms to attract bloggers, publishers, etc. This is a low-hanging fruit, as you'll get many people reaching out to join the program.
Local SEO and its Relevance to Enterprise SEO
Local SEO is vital for businesses with physical locations or those targeting multiple local markets. It allows them to reach targeted audiences within this geographical area, as they can match their marketing strategies to local search intents.
Harnessing the power of local SEO
For large enterprises, local SEO goes beyond optimizing your business for local searches. To be successful, you must have a solid local SEO strategy that clearly outlines where you are and what you intend to achieve. This plan must also be scalable to accommodate future growth. Here are a few things to do to optimize your enterprise site for local SEO:
Claim and verify your Google Business listing
Display clickable elements like phone number, email address, physical address, etc.
Implement local schema on all local product pages
Add city and state in the title tags
Create a customer-focused local content marketing strategy
Get involved with local community events. Support other businesses, host non-profitable campaigns, etc. These non-promotional acts can compel beneficiaries to give you a review or link back to your local branch.
Leveraging Google My Business for Enterprises
Create and verify a Google Business Profile
Ensure that your business name, address, and phone number information is consistent across the GMB, your website, and other online directories.
Upload high-quality storefront images for all locations. A good rule of thumb is to upload images from the locations weekly or bi-weekly.
Update opening and closing hours as required.
Use tools like MobileMozie or Local Rank Tracker to check keywords for local rankings.
Read more on how to create a scalable local SEO strategy for multi location businesses.
Understanding Enterprise SEO Challenges
When it comes to SEO for large-scale organizations, the complexity is different. SEOs must paddle between creating ranking strategies for multiple pages, waiting for approval from the management or leadership team, tracking and coordinating activities in and outside the SEO department, and many more.
Managing large and complex websites
Undoubtedly, one of the significant challenges of enterprise SEO is trying to manage hundreds – sometimes thousands – of pages simultaneously. Plus, generating and translating reports from these pages and how they correlate/contribute to overall revenue is another tough roe to how.
How to address this: SEOs should adopt robust content management systems, conduct website audits regularly and use third-party SEO tools to track reports.
Coordinating SEO efforts across departments
In enterprise SEO – or any SEO – communication is vital. The success of any enterprise SEO strategy largely depends on how each relative team – web developers, marketing, design, etc. – understands the importance and the overall goal.
How to address this: Create a strategy to streamline communication across your organization's in-house teams and other departments. Constantly enlighten C-level managers and other teams about the importance of SEO and how their activities can impact search rankings and overall revenue.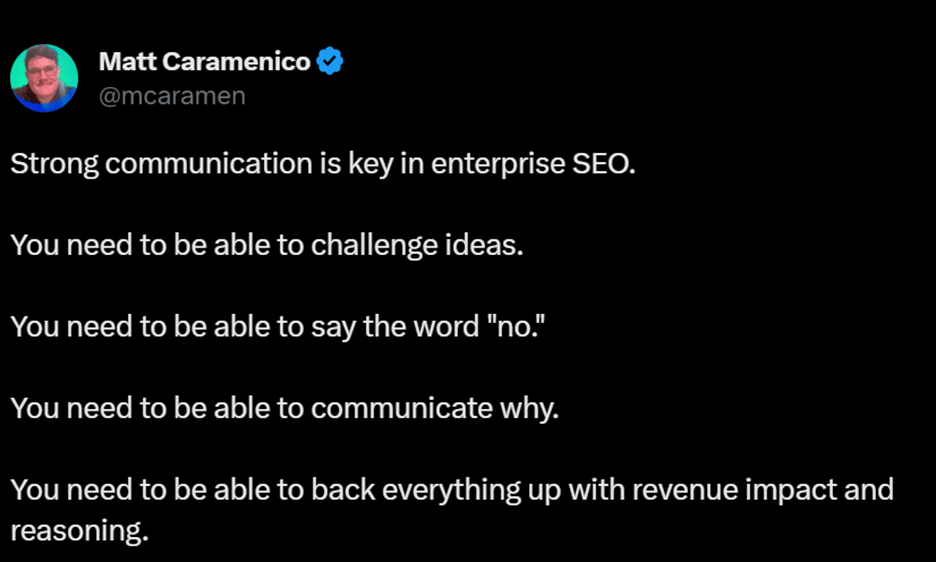 Measuring Success in Enterprise SEO
Tracking relevant metrics is the hardest thing about enterprise SEO. While so many metrics are applaudable, everything tricks down to how much ROI the company makes.
The best way to do this is to outline which metrics are essential for the company.
Let's discuss this in detail.
Key Performance Indicators (KPIs) in Enterprise SEO
KPIs are specific metrics used to evaluate the success of an SEO campaign. They provide actionable and relevant data on the effectiveness of SEO strategy. They also help SEOs to identify areas of improvement and best-performing strategies.
Top enterprise SEO KPIs are:
Organic conversion rate
Organic search traffic
Click through rate
Bounce rate
Domain authority
Customer Lifetime Value
Average time spent on site
The Future of Enterprise SEO
The world is rapidly evolving before our eyes. Generative artificial intelligence and other technologies in this realm are redefining the entire SEO process from start to finish.
The Role of AI in Enterprise SEO
We can't deny it. Search engine algorithms are changing before our eyes. Google, for instance, is investing massively in AI technology to improve responses to user queries and provide more relevant results. And as technology continues to improve, we should expect sudden disruptions in how search engines define ranking algorithms. Stay ahead of the curve by using AI tools to fast-track SEO processes and generate higher ROI.
The Impact of Voice Search on Enterprise SEO
The wide adoption of virtual assistants like Apple's Siri, Google Assistant, Cortana, Alexa, etc., and the integration of voice search technology into smartphones is necessitating a shift in SEO strategies to accommodate user-changing search behavior.
More often than not, voice search queries are more specific and conversational. Search engines use featured snippets to provide answers to these questions on the SERPs.
Businesses that optimize their content to match these queries will gain a competitive advantage in reaching and targeting new (potential) customers:
Create a frequently asked questions page to give credence to common search queries.
Optimize your website for speed. The faster your website, the easier for users to find actionable and specific solutions to their problems.
Create conversational content to match specific search queries. Use long-tail keywords that align with user intent and conversational search queries.
Utilize structured data and schema markup to help search engines understand your content.
Conclusion
Whether you're part of an in-house team or an SEO agency working for an enterprise company, there's always a lot to do. You'll be tasked to create campaigns based on forecasts and prove how they align with company goals. And it's easy to get caught up with activities that have no impact.
Focus on the basic but most important things. You can't prioritize everything because to do so is to prioritize nothing. Remember, your main job is translating SEO efforts into conversion and revenue. Also, don't be discouraged if it seems like you're not making any progress. Keep trying other strategies, and you'll finally break through the ice.