How to Choose an SEO Agency That Aligns with Your Goals
Adam Heitzman
August 10, 2023
SEO can be game-changer for any online business, regardless of the size or industry. Well done; it can boost brand visibility, establish credibility and drive paying organic traffic to your site.
While SEO may seem simple, it requires high-level expertise to get tremendous results to increase your business revenue. From keyword research to conducting site audits to technical SEO, it's easy to get quickly overwhelmed by the processes.
For many businesses, hiring an SEO agency is the way to go, and the reasons are crystal clear. An SEO agency brings a wealth of experience and expertise that will positively deliver optimal results for your brand.
So how do you find the right SEO agency that won't siphon your funds and will deliver as expected? In this article, we shared actionable strategies to inform your decision-making process.
Identify Your Objectives
This is as clear as day. It's only imperative that you outline what you intend to achieve with your SEO campaigns.
Start by examining what success means to you. Do you want to increase website visibility? Or are you looking to improve your conversion rates? Missing this step means settling for anything, which may not translate to bottom-line sales in the long run.
For example, if you own a large B2B company, your goal may be to increase the number of paid signups on your new software. In this case, increased website traffic signifies progress but not success.
Defining SEO Objectives
Your SEO objectives should align with your company goals. Your objectives should be Specific, Measurable, Attainable, Realistic, and Time-based.
For example, 'Get more traffic' is vague and doesn't specify your goal.
A better one would be 'Rank in the top 3 results for [a specific keyword] in three months.'
This goal is specific because it clearly defines the outcome. It's measurable, attainable, and realistic because you've researched and assessed the possibility of ranking for that particular keyword. You can also track results using third-party SEO tools. It's time-based because you attached a specific time frame.
Since there is no one-size-fits-all approach to SEO, outlining your goals will help streamline your search to agencies that cater to your use case.
Aligning SEO with Broader Marketing Strategies
Effective SEO doesn't exist in isolation. As I highlighted above, it should fit into your marketing strategy for the best results. This stems from discussing with relevant stakeholders and teams and revisiting the company mission to outline your organization's KPIs.
That said, all efforts to improve your website SEO should contribute towards attaining a larger goal – increasing return on investment (ROI). This alignment fosters consistency in messaging across platforms, elevating your overall online presence.
Also, ask questions in line with your business objectives. What tactics will they implement to actualize them? Any SEO expert understands that the industry is dynamic, and what works today may not be effective tomorrow. If they mention obscure tactics like Google My Business setup or building skyscraper content, then you need to watch out.
These are the usuals, and any newbie in the SEO industry is aware of them. Instead, look out for deliverables like:
Content optimization
Industry and target audience research
Backlinking acquisition and outreach, etc.
Determining Your Budget
Now that you've fully outlined your goals and objectives, it's time to review your budget. Before making investments, understand that SEO is like any other investment. It takes time and patience to see results and reap the dividends.
First, you want to assess the size of your company. How much is your marketing budget? How much can you set aside for SEO? This will help filter your search in terms of budget fit.
In addition, there are different pricing models offered by SEO agencies:
Hourly (Common to freelancers and specialists)
Daily
Monthly
Project-based
Retainers
Performance-based
Each of these prices has its pros and cons.
Most SEO agencies offer a free consultation, so you can compare their pricing with your budget to know how to budget accordingly.
Finding the Right Balance Between Cost and Quality
SEO isn't cheap.
Be wary of agencies that promise divine results at a meager price. Most of these agencies use unethical tactics to generate results that aren't consistent. Your site may even be penalized for it.
This may require being familiar with the SEO industry prices to avoid being scammed.
Except you have the budget and are willing to commit to a long-term strategy, it's better to focus on other best-performing marketing techniques.
Tip: If you are unsure about the average cost of SEO services, read our guide.
Evaluating Agency Experience
Choosing an SEO agency is akin to hiring a new talent. It's vital to see how long the agency has been in business and the type of results they generated for clients and their own website.
Look at the previous companies the agency has worked with. Are they popular? What results did they generate for them? How did it impact the company's overall growth/revenue?
Accessing the Agency's Years of Experience
You need answers to questions like:
How many years have they been in the SEO industry?
How many projects have they worked on in two – five years?
If the agency only worked on two projects in five years, its experience would be lesser than the agency that has worked on more projects but in a lesser timeframe.
Deal Breaker: In SEO, more years don't always translate to more experience. This is because SEO is practical. So the more projects you take on, the greater your exposure to tackling similar challenges.
Examining Their Track Record and Case Studies
Evaluate the agency's portfolio to discover if they've worked with businesses similar to yours. Some SEO agencies provide case studies on their website, and others deliver on request. Check out the complexity of each project, the challenges faced, and the results generated. If they've handled a project similar to yours, it's an indicator that they can also handle yours.
For example, at HigherVisibility, we have detailed case studies showing examples of our work:

Checking Client's Testimonials and Reviews
Client testimonials and reviews are like a vote of confidence. They provide insights into how efficient (or not) an SEO agency is.
That said, choose an SEO agency that can confidently refer you to their previous clients to ask for reviews. They should have two or more clients that can attest to their service quality. It might be a red flag if they're unwilling to share the details.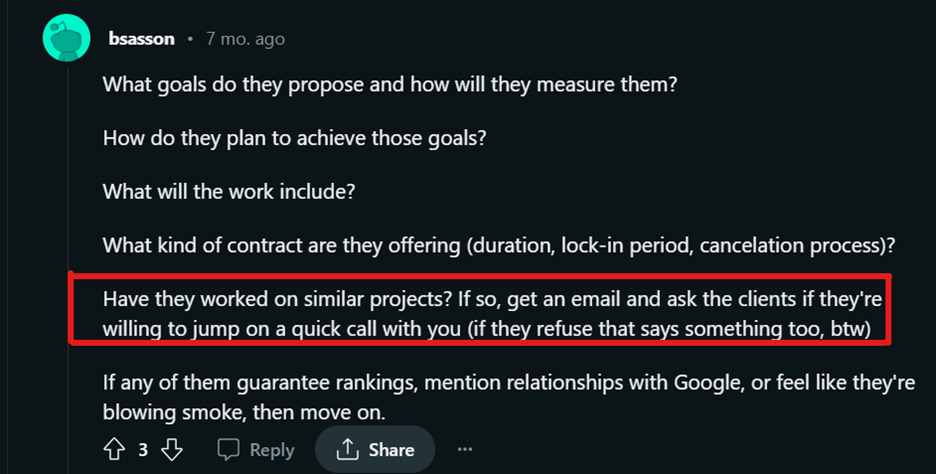 Asides from this, you can also get testimonials from Google: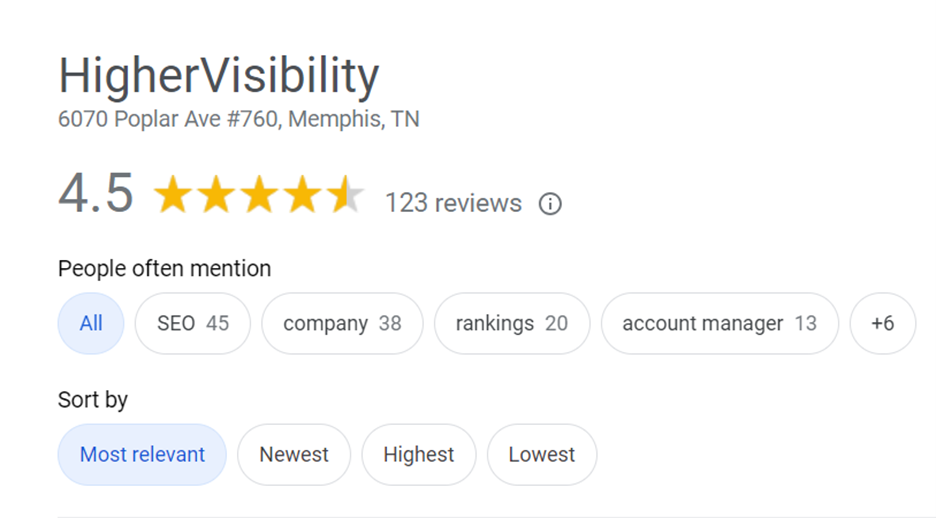 Or online directories: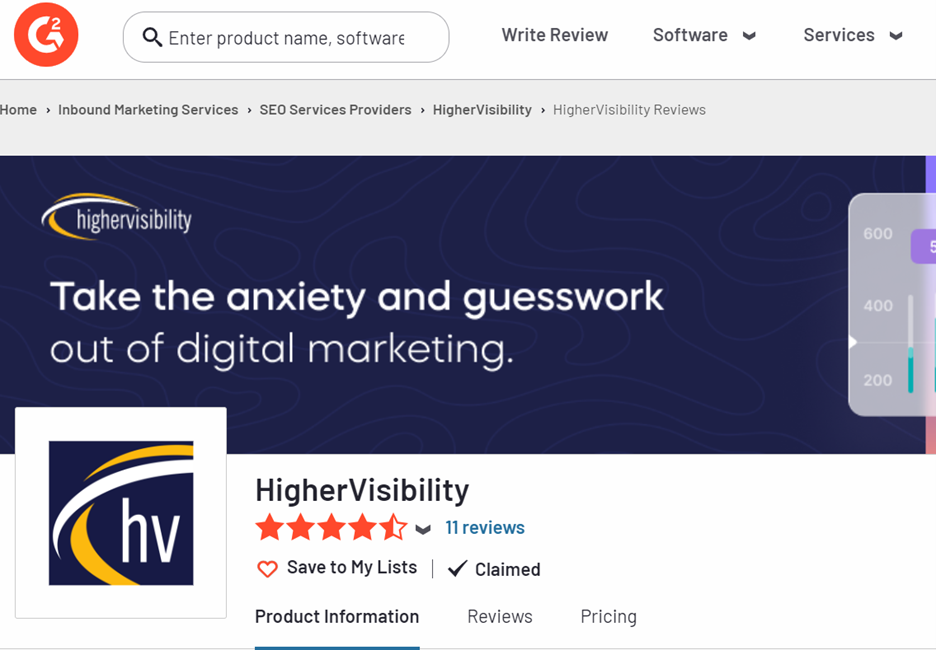 Analyzing the Agency's Reputation and Credibility
Like any business, it's okay for an SEO agency to have bad reviews (Be cautious of an agency with only plenty of positive reviews as they might be purchased!)
Check out their reviews. How did they respond? Or did they ignore the comment? This speaks a ton about their credibility: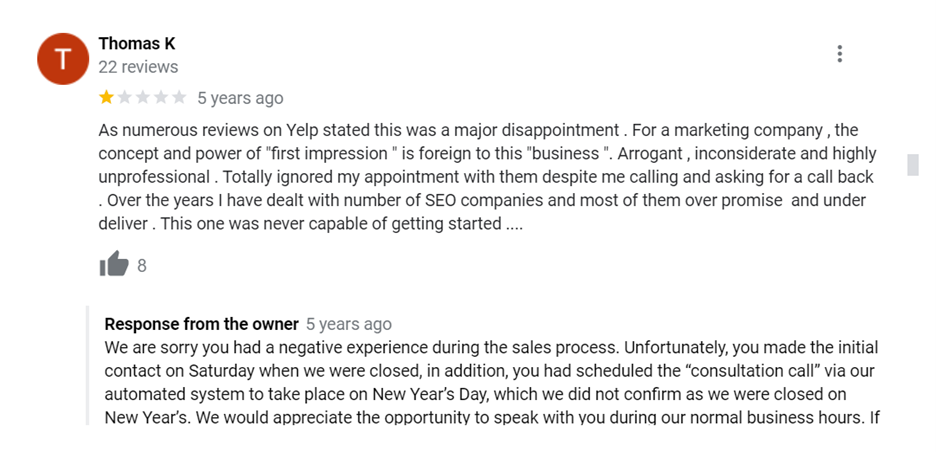 Also, check out for awards or other special recognitions to know how credible the agency is. Here's one from us: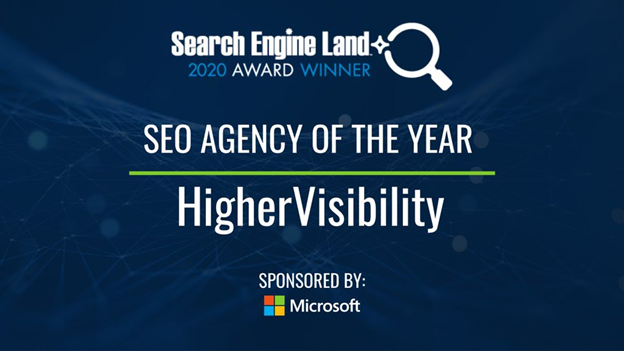 Analyzing Strategies and Approaches
As I pointed out earlier, there's no one-size-fits-all approach to SEO. Any agency that promises to be a 'know-it-all' is likely a snake oil salesman. Listen and carefully analyze the strategies they provide to know how experienced they are. Often, it's best to opt for an agency specializing in your niche.
For example, if you run a franchise organization, look for agencies specializing in SEO for franchises, or have prior experience working for clients in this niche. Effective SEO requires ultra-targeting tactics, so you need an agency that understands the ropes.
Also, any reputable agency should be transparent about their methods and be willing to share how they'll achieve your desired results. They should be able to provide a blueprint of all processes and the techniques they'll be adopting to get there. This includes their onboarding process, keyword research process, on-page and off-page optimization process, content strategy, etc.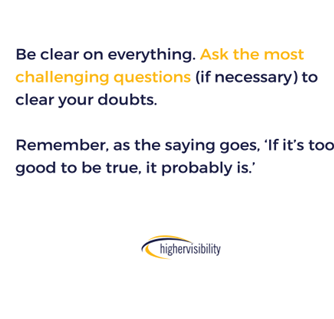 Ensuring Compliance With SEO Guidelines
In addition, be wary of agencies that promise 'page 1 ranking' or 'thousands of traffic to your site.' Inquire about their processes and scrutinize them accordingly.
Do they have or guarantee results that are too good to be true? Some agencies adopt black hat SEO practices to get faster results. For example, buying backlinks to increase rankings on the SERPs.
This will hurt your rankings, and you might also get penalized.
Ensure that their processes are compliant with Google white hat SEO guidelines.
Assessing the suitability of their strategies for your business
No two businesses are the same. A reputable SEO agency should provide a custom strategy for your business. Also, evaluate the strategies provided to know if it fits into your company goals and culture.
Investigating Reporting and Transparency
Transparent reporting fosters a healthy client-agency relationship. It helps you to know where you are per time and how far the agency has gone to achieve your desired goals.
It also helps you understand how to make informed decisions when aligning your SEO with your overall marketing strategy.
A quality SEO agency should provide clear and regular reports on the progress of your campaigns. Here's how.
Inquiring About The Reporting Frequency And Formats
Start by asking how frequently they deliver SEO reports. Is it weekly? Monthly? Or quarterly? Do they just send over a document once a year? If they don't tell you how they communicate results, tick them off your list.
Also, analyze the details of the reports. How do they draw valuable information from the reports to inform future campaigns? The report should contain metrics like keyword ranking details, monthly traffic, website position on the SERPs., etc. If they can provide a sample SEO report (from other clients), better!
Ensuring access to performance metrics and data
For improved collaboration, the SEO agency should grant you access to third-party SEO tools, like Google Analytics and Search Console, where you can monitor the performance metrics and data. Understand that reports can be forged. So having access to these tools will always keep you informed.
It's much better to have these tools before hiring an SEO agency. This way, you can easily share the login details with them while you monitor the metrics from your end.
Accessing Collaboration and Communication
Every relationship is strengthened by good communication. The SEO agency-client relationship is no different. Before choosing an SEO agency for your company, access their line of communication, roles in communication, and the type of tools used to communicate. This can be emails, Slack, Trello, or other project management tools.
It's equally important to outline communication methods to ensure things go as planned. Ensure your choice agency is professional during work hours but also friendly. You're not spending lots of dollars to listen to long hours of presentations.
Ensuring a Collaborative and Productive Relationship
Collaboration fosters productivity and is vital for timely approvals, collecting feedback, and seamless communication between teams.
But remember that collaboration that births a productive relationship is a two-way street. Both you and the SEO agency must work together to ensure the success of the SEO campaigns.
Reviewing Services and Offerings
SEO is vast.
You'll find several types of SEO – on-page and off-page SEO, technical SEO, Barnacle SEO, Local SEO, and eCommerce SEO. The list isn't exhaustive.
Noteworthy agencies should offer major SEO services required for generating results. This includes:
Keyword Research
On-page SEO
Off-page SEO
Technical SEO and
Local SEO
SEO audits and reporting
An agency that provides a well-rounded suite of services shows they can handle your website and generate desired results.
Determining Alignment with Your Needs
Another important factor is evaluating if the company is a good fit for you. Do their strategies align with your company's ethics? Most times, it's better to follow your gut feeling. If you don't feel good about them, they're not suitable for your company either.
Considering additional value-added services
Prioritize agencies with additional services like conversion rate optimization, content marketing, Franchise SEO, PPC management, web design services, etc. They provide a multifaceted approach and contribute mainly to the success of your marketing strategy. Since these services are part of their offerings, you don't need to invest extra money in hiring experts when required.
Understanding Industry and Market Knowledge
Search engines, like Google, keep changing their ranking factors occasionally. So it's only imperative that you look for a company with vast experience in SEO and your industry.
Inquire about their understanding of your target audience and competitors and how they plan to tailor their strategies to generate conversions. They should understand the challenges and opportunities of ranking a website in your industry.
Remember, you're optimizing your website to get more leads that'll translate to sales. Their approach should not be based on speculations but they should be able to provide data-driven suggestions to increase your conversion rates.
Tip: Their roadmap should start with a list of keywords you can rank for, competitors in your niche, and how they generated the results. They should also be able to outline how their suggestions will impact your company. For example, if we target the [X] keyword, we expect [Y] traffic volume with the possibility of 10% conversion.
If they're not willing to give out specific details, no worries. But you should find the presentation valuable and informative.
Ensuring Their Strategies Align With Market Trends
A credible SEO agency should also be on-par with the ever-changing market trends. Inquire how they manage shifts in consumer buying patterns, stay updated with Google changing algorithms, and how they're willing to adjust their approach per time to deliver the best results.
Checking for Ethical Practices and Values
There are three major types of SEO practices:
White Hat SEO: These are the right, sustainable practices that follow search engine guidelines for ranking on the SERPs. They last longer and yield the most profitable returns.
Black Hat SEO: These are wrong practices or unethical practices that rely on manipulating search engine algorithms to get faster results. They are short-term and hurt your rankings in the long run.
Grey Hat SEO: This is the combination of white and black hat SEO practices. For example, creating quality content and buying low-quality backlinks to it. It's also short-term and may negatively impact your rankings.
Generally, avoid companies that use unethical practices to increase your rankings. If they mention things like:
Promising to get [X] number of links
Using automated link generation software
Using article spinners
Promising overnight results
Generally, avoid claims that sound too good to be true.
Inquiring About Their Approach to Ethical SEO
No SEO agency would be open-faced about using unethical tactics for SEO. So it's up to you to evaluate their presentations and mannerisms to know the truth. Ask questions like:
What's your approach to link building?
How will you manage the content creation process?
How do you maintain an ethical approach to SEO?
What will you do if you encounter challenges?
What type of challenges have you experienced in the past when working on a project similar to mine?
How did you navigate it? Request to see real-life examples.
Why's this important?
Black Hat SEO does guarantee fast results. But it can also lead to severe consequences like Google removing your site from the SERPs!
So steer clear of agencies that use dubious means to increase search rankings.
Why HigherVisibility?
HigherVisibility is an award winning digital marketing agency that couples laser-focused targeting and optimal post-click experience. We believe the goal of SEO isn't just to drive traffic to your site but to increase the number of customers you have. This is why we adopt cutting-edge industry practices that guarantee a high conversion rate.
Our process starts with you. Before moving a needle, we collaborate with you and your team to understand your goals and KPIs. Then we create a customer-focused custom strategy based on these goals with actionable and data-backed techniques. Plus, we offer all-around digital marketing, not just SEO services, with experts heading each, so you can be assured of getting only the best results for your brand. Ready to get started? Hop on a free consultation to know if we're a good fit.