The Pitfalls of Pay-for-Performance SEO: Why It's Best to Avoid
Adam Heitzman
July 10, 2023
Using a pay-for-performance (pay for performance) SEO strategy for your business means you don't have to pay for the services of an SEO agency unless you see specific results. Pay-for-performance SEO agencies are content marketing companies that promise you specific SEO successes within short periods. The highlight of this offer is that you don't have to pay their fee until they achieve set goals.
In other words: You pay for what you want with no extra charges on other SEO services like keyword research for search intent, consultancy, or technical SEO. Looks like a great idea, doesn't it?
Well, it's not. You might get more than what you paid for, and that's where the risk in this model is. In this article, you'll learn all you need to know about pay-for-performance SEO and why you must avoid using it as a pricing model for your business. First of all, let's start by explaining what pay for performance SEO means.
Understanding Pay-for-Performance SEO
pay for performance SEO is a pricing model where you only pay when performance SEO agencies meet your predetermined goals. These goals might be
increasing blog traffic,
generating quality leads,
or reaching first-page rankings for specific keywords.
This may seem advantageous. But we all know ranking high on SERPs takes time, and pay for performance SEO is a short-term strategy that may not favor your company in the long run.
What is the payment structure for the pay-for-performance SEO pricing model?
Performance SEO services draft contracts that specify the key performance indicators (KPIs) you want them to achieve, whether keyword ranking or increased search traffic. Then you can pay for these services once the KPIs are reached.
Your fees usually depend on the outcome you're expecting. For instance, a performance SEO company may charge you about $500 for ranking first or second on a particular keyword and about $400 for a lower first-page ranking. On the other hand, the cost of increasing daily traffic to your site could depend on how many visitors you want.
A payment structure can also look like this: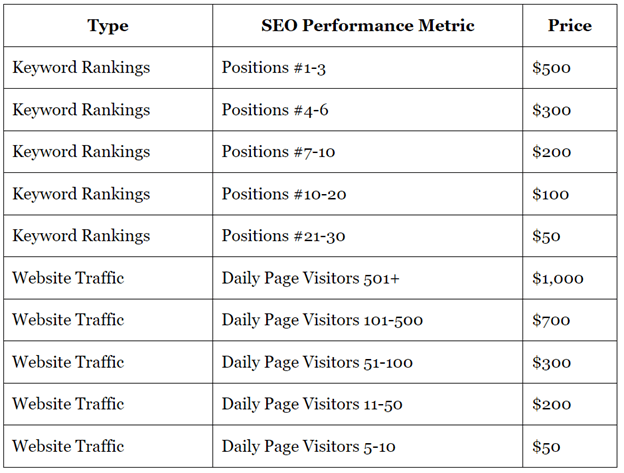 The Risks and Limitations of Pay-for-Performance SEO
While pay for performance SEO can rank your business in the short term, some consequences may affect your website visibility in the future, including:
Unethical practices and black hat techniques
The premise of great SEO is that your contents rank and provides value to your readers. Google, for example, has simplified this a bit through their consistent Google Helpful Content Updates. These updates educate SEO agencies, content marketers, and website owners on the appropriate strategies to rank. This gives businesses the incentives to create quality content that doesn't only rank; but offers value to their readers.
However, most performance-based SEOs use shortcut strategies, like keyword stuffing and cloaking, to rank their pages. This kind of practice is a bypass disapproved technique known as black hat SEO methods. Black Hat SEO techniques are optimization practices that allow agencies to use unacceptable tactics to reach their goals. Agencies using black hat SEO may practice:
Keyword stuffing
Keyword stuffing is the overuse of particular keywords in content. Agencies may place keywords (whether relevant to the topic or not) too many times in sentences. This happens because they try to manipulate your site's position in search results by over-repeating keywords.
Here's an example:
Do you need quality cat food for your pets? Our quality cat food has great nutrients for your cats. We use purely organic materials for our quality cat food. Shop for your quality cat food at QualityCatfood.com.
Did you notice the sentences looked clunky?
pay for performance SEO companies also hide links that are irrelevant to the page in website texts. They may add links to articles and camouflage them by making the links the same color as the background. Another way they do this is by putting these links behind images or attaching them to irrelevant characters, like a period. While hidden links might not be necessarily seen by visitors, it's intended to trick search engines into discovering their HTML structure, which ultimately influences the page's ranking.
None of these techniques bid well for your page.
Why? Search engines will notice that your site is trying to manipulate the system and may penalize you. Besides, adding irrelevant links to your content may reduce traffic to your page, especially if Google thinks your content is diluted. Google's John Mueller explains this in an interview with Search Engine Journal.
Doorway pages
Doorway pages, also called gateway pages, are low-quality pages that sites use to redirect visitors to actual relevant pages. These pages usually have little to no relevant content and are only used to rank the usable part of the site. As seen in the image below, companies may rank for keywords like how to do SEO, do your SEO, and understanding SEO but those links, while ranking on the first page, direct visitors to the SEO service page of a marketing agency.
According to Google;
"Doorway pages are frustrating experiences for users that get a list of results that go to the same site. So if a user clicks on a search result and doesn't like it and then tries the next result that takes them to the same site, they may have a really frustrating experience."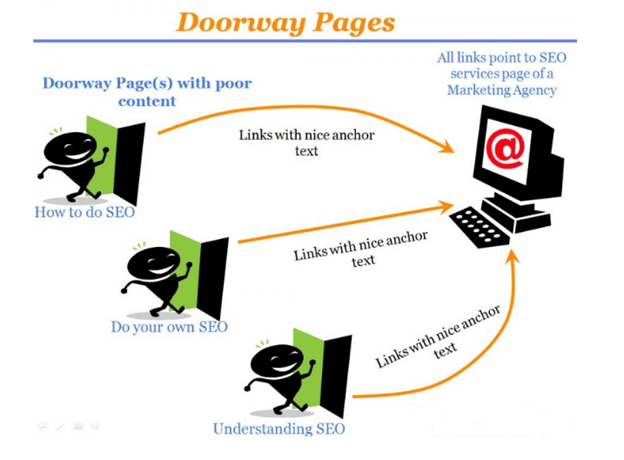 Here is what this means.
If your main page is for "Best Winter Coats for 2023", Pay for Performance agencies may create and rank five other pages titled "Best Winter Coats for New Yorkers," "Best Winter Coat For Canadians," and so on. Most of these pages often have irrelevant information and are only used to redirect users to the specific page that has the original content. This could be a hassle for a searcher looking to buy winter coats but doesn't want to buy them on your page.
These practices violate Google's webmaster's guidelines, and Google may penalize your site if you use them.
Potential penalties from search engines
Search engine penalties for using these black hat techniques or any other shady means can come in two ways. The first is de-indexing.
De-indexing or ranking penalties
Google may temporarily or permanently take down your page, which means it'll not be visible on the search engine. This means that pay for performance SEO techniques reduce the quality of your content, and when it's not as helpful or up to standards, it is buried in the 5th or 6th SERPs or is taken down completely.
For instance, if your blog has 200 articles, and pay for performance agencies pumped half of them with black hat SEO, Google may flag your content and de-index these 100 articles.
Loss of organic traffic and revenue
Another immediate effect of the technique is a significant loss in organic traffic. You'll also lose the potential leads, if any, that those pages could generate, and eventually, it'll take more effort to build your website authority.
How?
The visibility of your pages and site on the search engine has reduced, making it impossible for your site to gain traffic from those de-indexed pages. This also means that you'll lose any leads or potential revenue that may have been generated by the pages pumped with black hat SEO techniques if they were not de-indexed.
Lack of long-term strategy and sustainability
Performance-based SEO services use aggressive techniques that provide short-term results that get them paid quickly. They don't invest efforts in your SEO campaigns to generate long-term return on investment (ROI). As a client, your focus should be on your site's long-term performance, and any marketing agency you hire should have the same priority. If you're going for a pay for performance SEO agency, here's what could happen:
Focus on short-term gains
Most pay-for-performance SEO agencies have poor keyword targeting. Some of them choose keywords with low search volume and long-tail keywords so they would rank for them. The tragedy is these keywords do not meet any relevant search intent, nor do they connect to bottom-line business success, but they are easy to rank for. This gives them small wins that do not contribute to your overall SEO strategy.
Neglecting holistic SEO efforts
Connor Gilivan, an SEO specialist, says that excellent search engine optimization isn't just about search and sales. It should gear your content towards your ideal customer and help them remember you. This follows a thorough process of high-quality content that is relevant to search intent, a massive distribution strategy to get the content directly to potential customers, and a deep library of content that is internally linked to each blog post so readers read more content to find answers to their problem. And possibly, sign up to your product or service.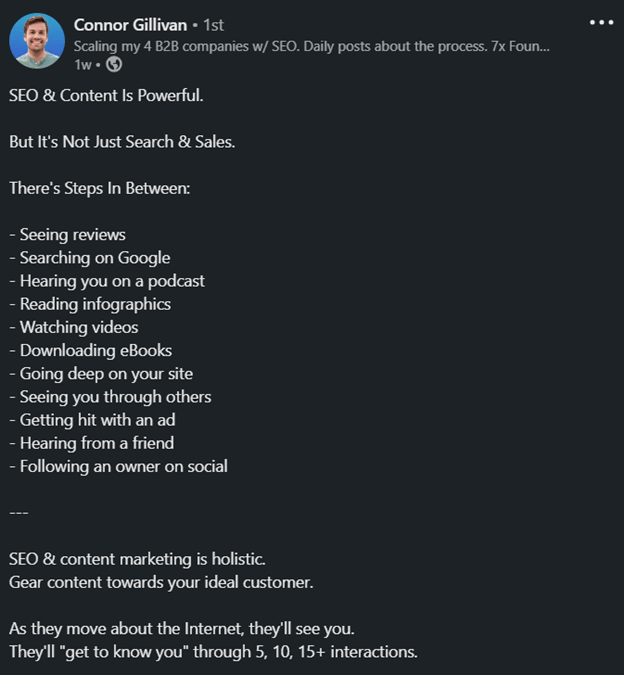 Agencies that pursue short-term results overlook these steps and elements. They use quick but unsustainable tactics that expose you to penalties and damage your SEO efforts.
Difficulty in adapting to algorithm changes
Search engine algorithms are the processes search engines use to rank content. Google, for instance, uses millions of bots to crawl the internet and index quality content. The indexed content is what ranks on SERPs which makes it easy to gain organic traffic.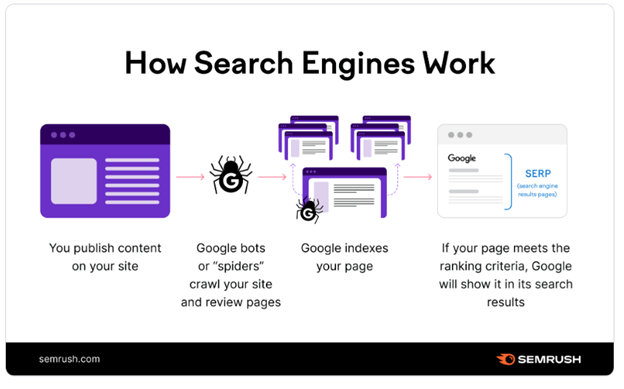 Search engine algorithms for ranking "high quality" content change frequently, and this means that an SEO technique you used months ago may not be as effective today. If you wrote a blog article a few weeks ago, an algorithm change may require you to update it through edits or visual elements.
For instance, in the past, blog content did not need to include insights from industry experts or images to add valuable visual elements to it. Now, to keep readers engaged, visual elements are important. The user experience of the page is now more important than before because a page that isn't optimized for mobile — when 92.3% of people access the internet through mobile — will fail. The bounce-back rate will increase incredibly (which means readers are not staying on your page). All these reasons are why holistic SEO efforts, which include technical SEO and link-building activities, are integral to the success of your SEO efforts.
The Importance of Quality SEO Practices
Good SEO practices take time because they require quality investment and long-term strategies. You should prioritize using the techniques that get you to your audience, rank your pages, and keep you ranked for long. How can you achieve this?
Building a strong foundation for on-page optimization
On-page SEO is optimizing your web pages to rank higher on search engines. This approach includes keyword research, where you can use tools like SEMRush and Google Keyword Planner, to discover the terms your target audience uses to find products, services, or information about their industry.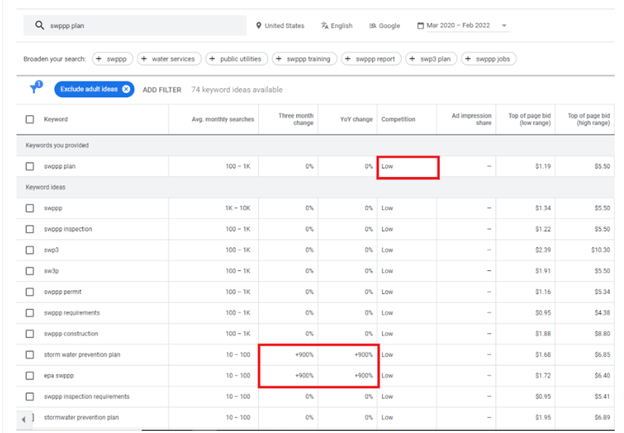 On-page SEO also includes adding internal links to your content. This way, visitors can visit other pages on your site, provided that the content adds more value and context to what they are reading. While this keeps visitors on your website, internal links also help Google understand your website's architecture.
Your pages should also have unique meta tags with main keywords that can capture the reader's attention on SERPs. This way, your meta descriptions show visitors what they would expect on your page, which helps attract clicks. While they don't directly impact rankings, they can improve your click-through rates.
Developing a comprehensive off-page SEO strategy
You need an SEO strategy that integrates keyword research, on-page optimization, and off-page SEO. Off-page SEO is the activities outside your website to improve your site's trustworthiness and authority. Some of the critical components of off-page SEO include:
Backlinks are links from another website to your site. When sites link to your pages for reference or clarification on statements, search engines may see these links as votes of trust, experience, and authority.
However, all backlinks aren't equal, and the quality of the links is more important than the quantity of backlinks you have. This means that your backlinks should come from reputable and relevant websites, not lower-quality pages. More on this in the guest blogging section.
While social media links aren't as effective as backlinks from high-quality sites, being active on social media can increase your brand's exposure. Social media users can get acquainted with your brand and follow links to read content on your site. Sharing valuable content and sparingly redirecting them to your website is a smart distribution strategy that will boost brand visibility and help you reach your target audience faster.
Guest posting on authoritative websites is a surefire way to gain quality backlinks and reach new audiences. Here's how:
You create well-detailed and quality content on a valuable/pressing topic in your industry. You then find a platform that accepts guest posting in your industry; this site must also be recognized as an authority/reliable site on search engines.
For everything tech and startup, this may be TechCrunch. For everything finance related, this may be Wall Street Journal, NerdWallet, or Investopedia. These sites have built a reputation for their high-quality content and experience in the industry, and any link from them would be considered as a vote of trust by Google.
When you guest blog on an industry-leading blog, include relevant links that link back to content/pages on your blog. Most guest blogging opportunities have policies around backlinking, but they usually allow at least one to two links to your blog. This link could clarify a statement you made in your article, buttress a sentiment, or even refer readers to a service page on your website.
These links show search engines that you're a reputable website, worthy of being linked to by authoritative sites, and this vote of trust from more authority sites will boost your website's domain ranking and, ultimately, ranking in SERPs.
The role of technical SEO in website performance
Technical SEO involves improving the technical part of your blog pages, like
optimizing the website architecture for easy crawling and indexing
improving page load speed and enhancing mobile responsiveness to improve user experience
implementing a secure socket layer (SSL) for website security
fixing broken links and managing redirects properly to avoid 404 errors and link juice, and
using schema markup for better appearances.
This type of "SEO" has nothing to do with the actual content of the website. The main goal of technical SEO is to optimize the framework of a website and improve user experience.
Alternative SEO Pricing Models
You can use other pricing models to avoid the limitations of performance-based SEO. This could be:
Monthly retainer, where you can pay SEO agencies or freelancers monthly.
One-off SEO project pricing, where there's a predetermined cost for the SEO services;
Hourly rates, where you can pay SEO agencies or freelancers hourly.
Conclusion
SEO campaigns are vital to the success of any website. This is why following reliable SEO techniques that prioritize long-term results and achievements is crucial, something pay-for-performance SEO won't offer you. SEO isn't just about increasing visibility and traffic; it's also effective in establishing authority and attracting the right kind of visitors to your site.