Local SEO Strategies to Dominate Near Me Searches
Scott Langdon
October 23, 2023
Picture this scenario: It's a lazy Sunday afternoon, and you're at home, contemplating ordering some delicious takeout for dinner. You've had a long week, and the thought of cooking tonight just isn't appealing. You have a particular craving for your favorite pizza joint, but you can't quite remember if it's open on Sundays. Rather than sifting through your old menus or making a phone call, you simply grab your smartphone, open Google, and type in 'pizza delivery near me.' Within seconds, you have a list of local pizzerias that are ready to satisfy your craving.
We've all had moments like this when we rely on our devices to find nearby services or products quickly. This common experience underscores the importance of optimizing your website for local searches. Local SEO is one of the four primary types of SEO. It focuses on improving online visibility, traffic, and other desired conversions for local businesses. Local SEO mostly encompasses all organic SEO strategies, but it's targeted to a specific geographical area.
Why is local SEO important?
Well, let's start with some statistics.
Where to buy' + 'near me' search queries have grown by over 200% from 2017 – 2019
76% of people who search on their smartphones for something nearby end up visiting the store within a day
The number of monthly local searches is 97 billion
46% of all online searches include location
All these stats point to one fact: your audience uses search engines as their primary source of information when they're looking for products or services nearby.
If your site isn't optimized for local searches, you'll miss out on attracting well-paying, qualified foot traffic.
And guess what? Your competitor with an optimized site gets all the benefits, including the leads.
Here's what to do to take the lion's share of the local traffic:
1. The Pillars of Local SEO
To build a solid local business profile online, you need to build a strong foundation first. Here are the key pillars you should focus on:
On-page SEO
On-page SEO focuses on optimizing the vital elements of your web page to rank for specific search queries and drive the desired conversion. This may require optimizing your website's front and back end to rank high on the results pages.
On-page SEO ensures your website is user and 'search engine-friendly,' increasing your rankings to attract more qualified local traffic.
As your rankings increase, it boosts your credibility online as a trusted source, leading to more conversions and business growth.
Off-page SEO
While on-page tackles everything 'ON PAGE,' off-page SEO focuses more on activities outside the website to increase rankings and conversion rate. This includes guest blogging, P.R., building backlinks, etc.
Search engines like Google use off-page signals to ascertain the authoritativeness of your website. 
Technical SEO refers to all activities implemented on your site to make it easier for search engine bots to crawl and index your site. It focuses on the 'technical' aspects of your website.
This includes improving page load speed, optimizing for core web vitals, fixing broken links, making pages mobile-friendly, finding duplicate pages, etc. 
Local Content
Lastly, you need to optimize your web pages for local search queries. This involves targeting the exact search queries of your potential customers and writing content that caters to their problems.
For example, creating a 'top 10 best plumbing services in Manhattan' listicle to give readers a snapshot of the best plumbing services in the city. Or creating ultimate guides like 'The ultimate guide to hiking trails in Colorado' to provide comprehensive, in-depth information to aid the reader's purchase decision.
2. Google Business Profile (GBP): The Cornerstone of Local SEO
The Google business profile listing shows searchers detailed information on how and where to visit your business.
According to research by WhiteSpark, the Google Business profile ranked top for the most important ranking factors for Google's local pack. This means if your GBP is well optimized, you have a higher chance of ranking Google local pack.
Here are a few tips that help:
Setting up your GBP account:
To create your business profile on Google, follow these steps:
Visit the Google business profile page and click sign in. If you have an existing account, click manage now:

Then, you'll be directed to a new page requesting your business name: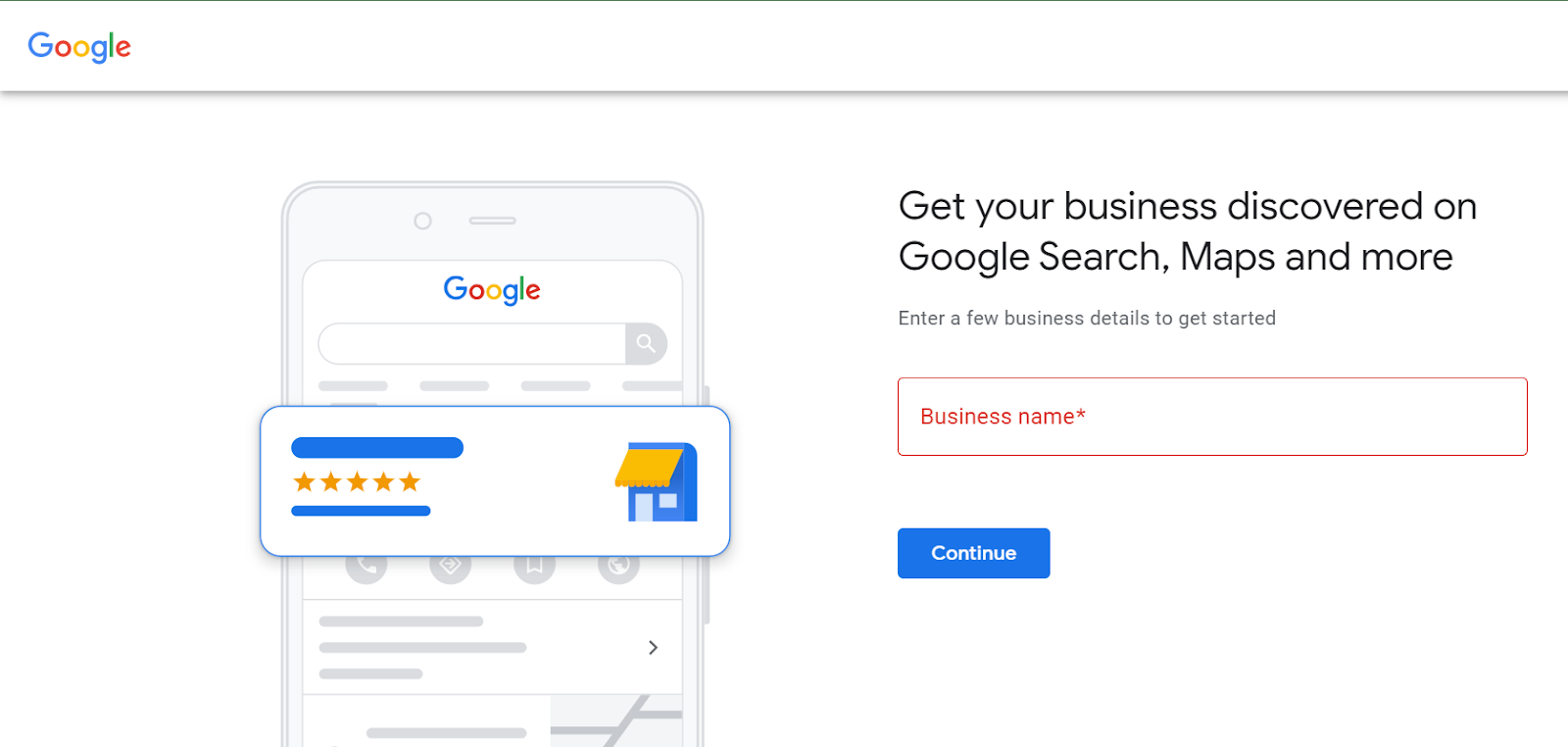 Next, choose the option that best applies to your business: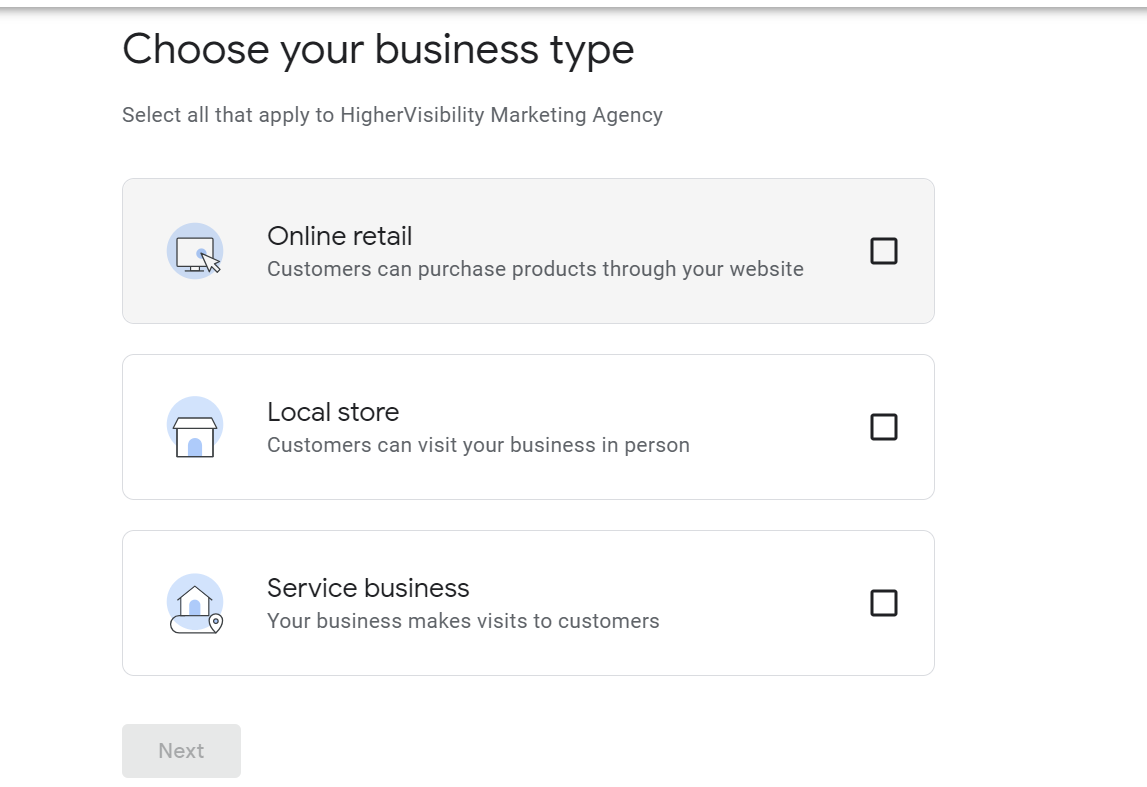 Follow the corresponding prompts to fill in vital details about your business (location, contact information, mailing address):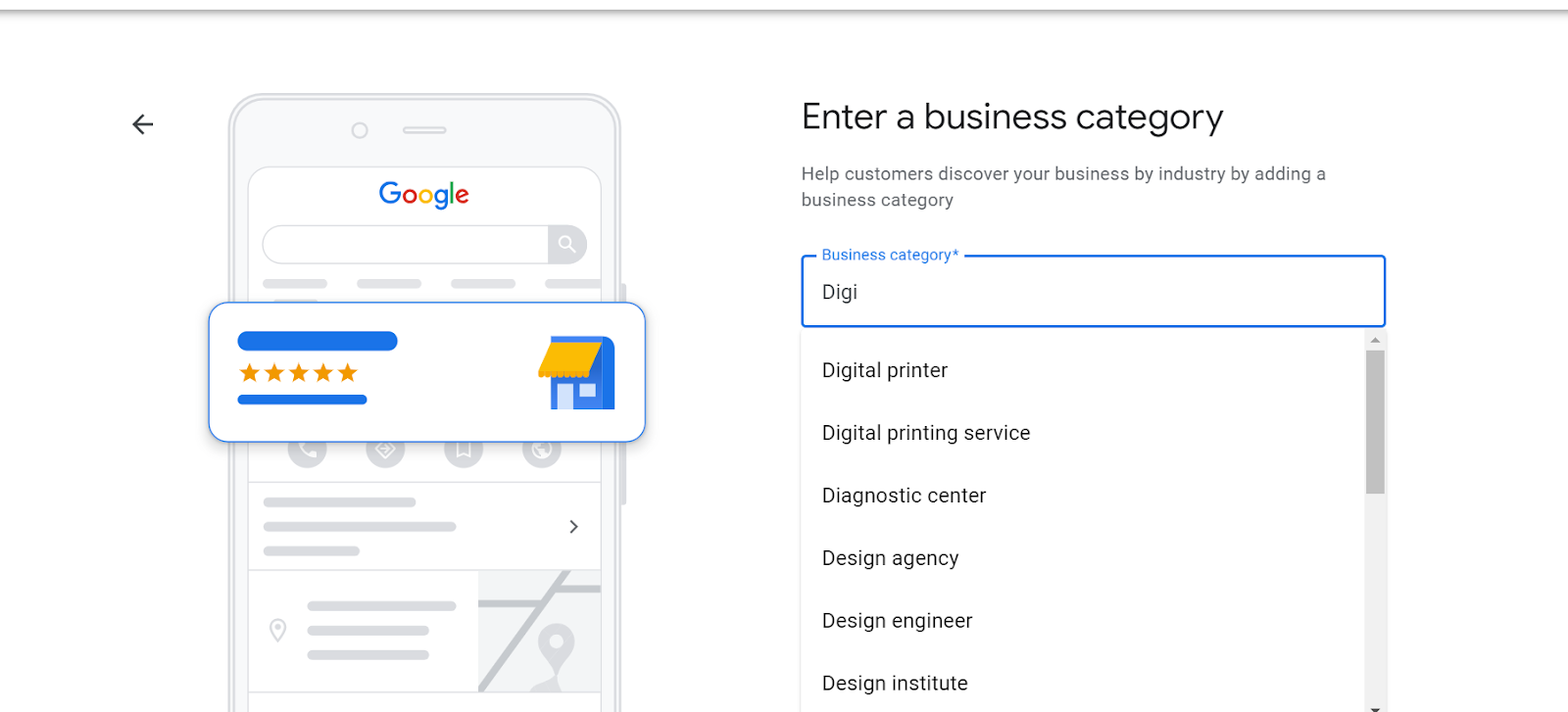 Once you've entered all the details correctly, you'll be asked to verify your account: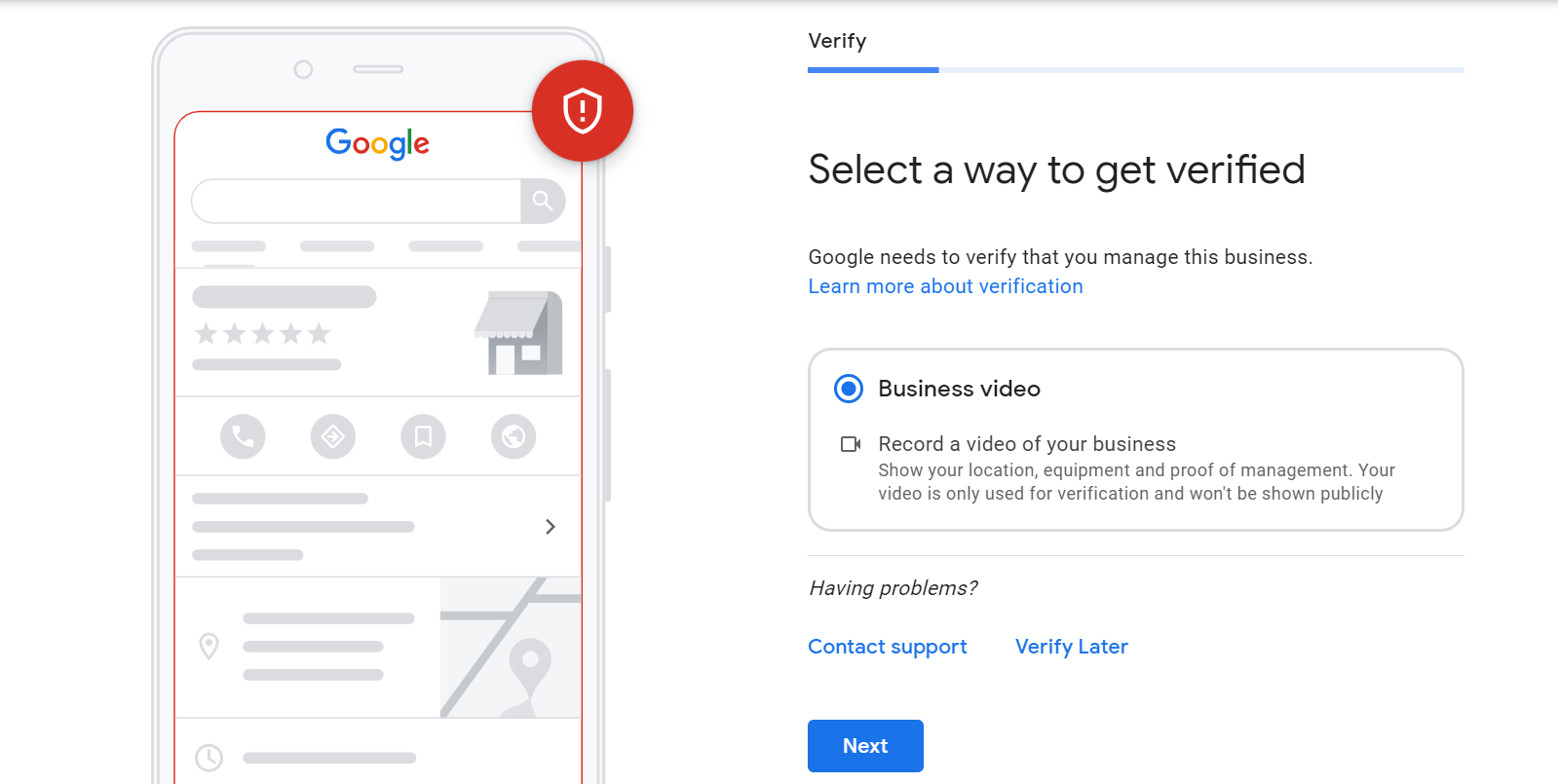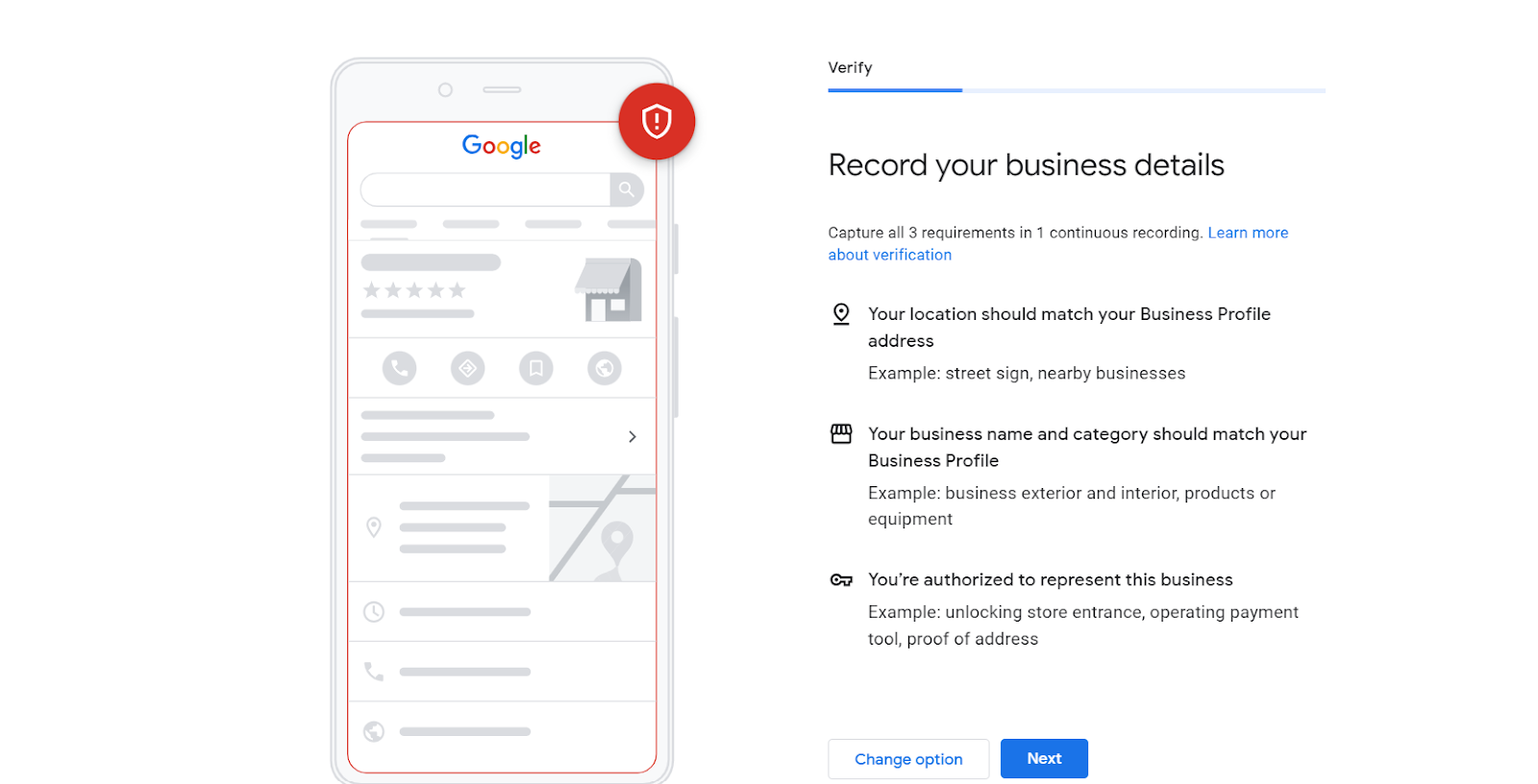 Then, you'll get a confirmation message on the screen that you're already verified.
The next step is to customize your business profile. Enter your business description, photos, business hours, and messaging preferences. Once you've filled in all the vitals, click continue.
Optimizing your GBP Listing
Here are some essential but practical tips for optimizing your GBP listing:
Ensure the contacts on your listing are accurate and tally with the details on your website. Google advises that: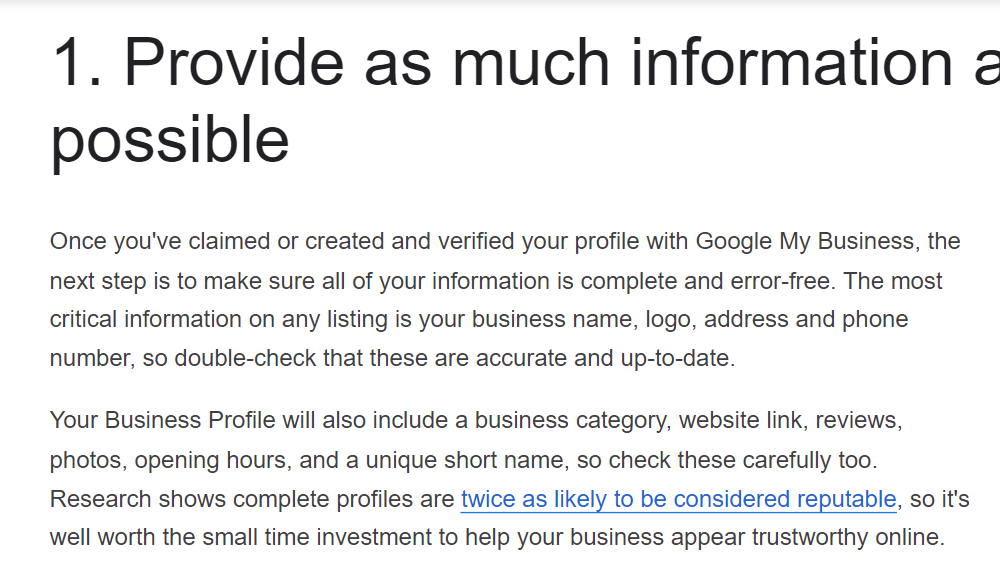 Include the right keywords and search phrases in your business name (if possible) and business description.
For instance, searching for 'Plumbing services in Dallas'. For the first three organic results, we can see that the keywords 'Dallas' and 'Plumbing' were included in the business name: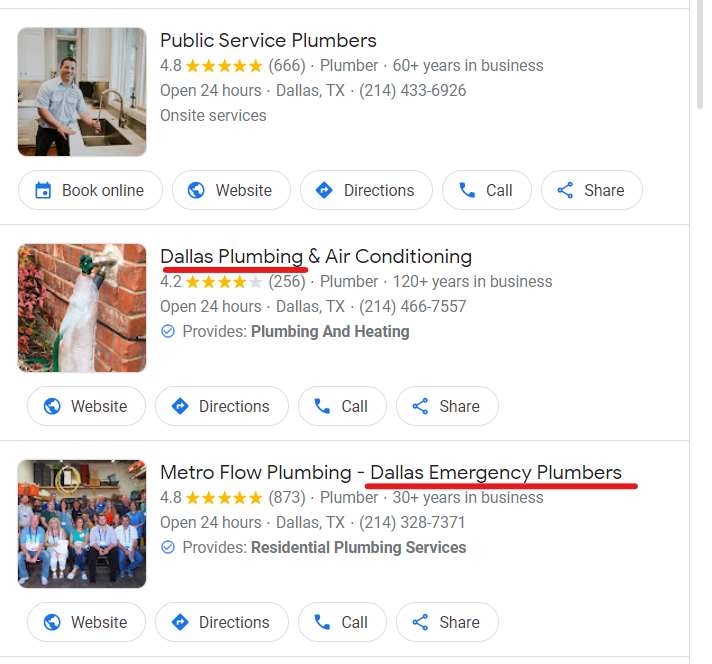 However, don't stuff keywords in your business name, as this can hurt your rankings.
Suppose your business has no physical location (i.e., under service area business), like Plumber. In this case, Google advises you shouldn't add a physical address to your listing but only provide your service area.
Images play a huge role in influencing the overall click-through rate of your business listing. According to Google, businesses that add photos to their profile receive 42% more clicks for directions than businesses that don't. Google also advises that:

Constantly share updates with your customers via texts and images. Also, keep improving and re-optimizing your profile for a seamless user experience.
Respond to reviews promptly — both positive and negative. This shows that your business is active and you care about your customers.
GBP Posting and Updates
Google Posts allow you to share important announcements, event details, new products/services, or other business updates with your current and potential customers. It can be in text format, images, or videos.
Utilize this section to keep your customers in the loop about your exciting offers, news updates, and special events/announcements–all free.
The best thing about GBP posts is that they increase your online visibility, keep your customers engaged, and strengthen your local SEO. Also, viewers can share these posts on their social platforms.
Managing Reviews and Q&A
Encourage your customers to leave reviews on your GMB profile and respond to them promptly. Provide answers to all relevant questions (directly or by redirecting them to your website's FAQ page). Also, ensure you keep all information on your GBP accurate and up-to-date.
3. Keyword Research for Local SEO
Keyword research for local SEO differs from the traditional SEO process.
Local SEO keyword research is simply searching for search queries people use when searching for services or products within their vicinity.

Optimizing for these keywords increases your chances of ranking high for relevant search queries, leading to increased visibility (rank for organic results and local pack), leads, and foot traffic to your store.
Tools to find local keywords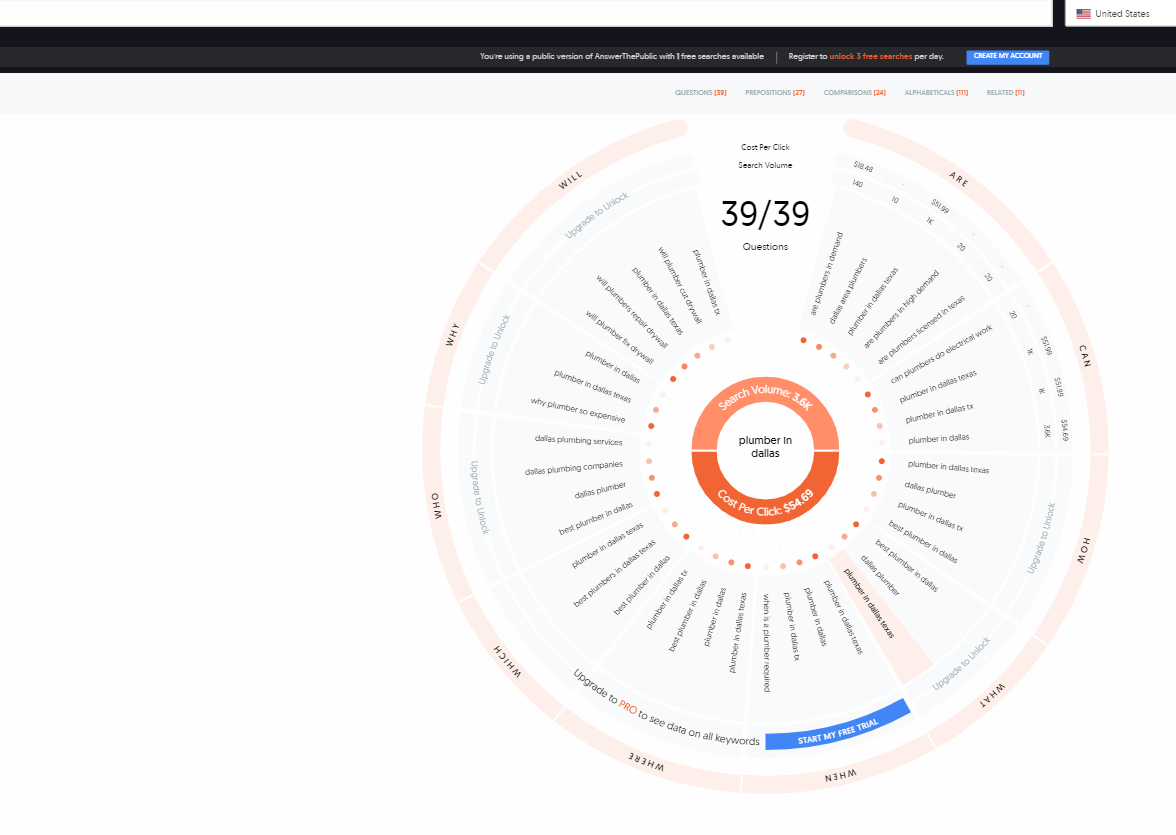 Use Google for more keyword ideas: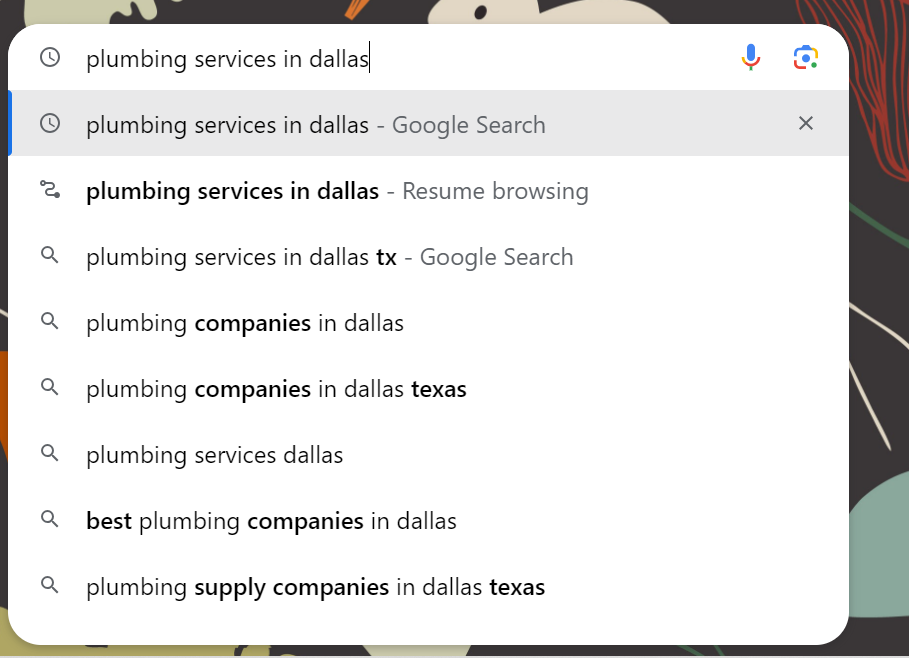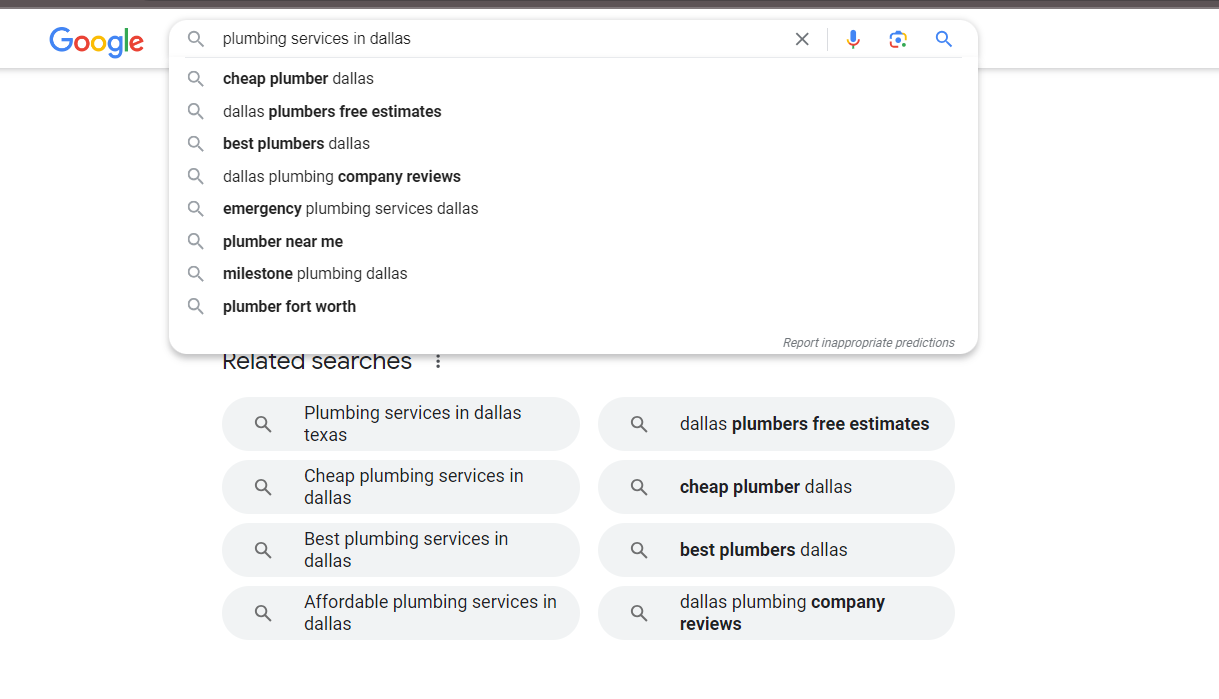 Try Quora or other social platforms: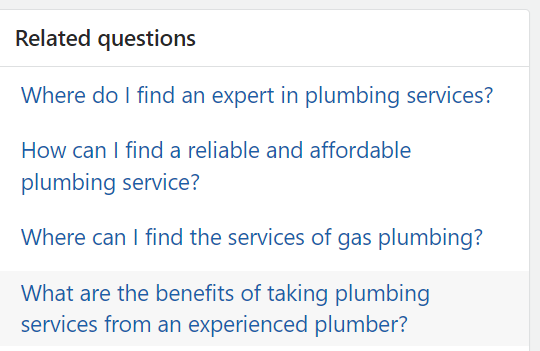 People use 'near me,' 'nearby,' 'local' to get location-specific results. So, add these modifiers to your main keywords — for example, plumbing services near me. 
You may also add surrounding areas close to your primary service area. For example, if your business is in New York, add The Bronx, Coney Island, Greenwich Village, etc.  
Use SEMRush or other SEO tools to analyze the keywords based on intent volume. For example, searching the keyword 'memphis mechanic' for a store in Memphis, TN:

Use the SEMRush tool to find your significant competitors and the keywords they're ranking for that you aren't: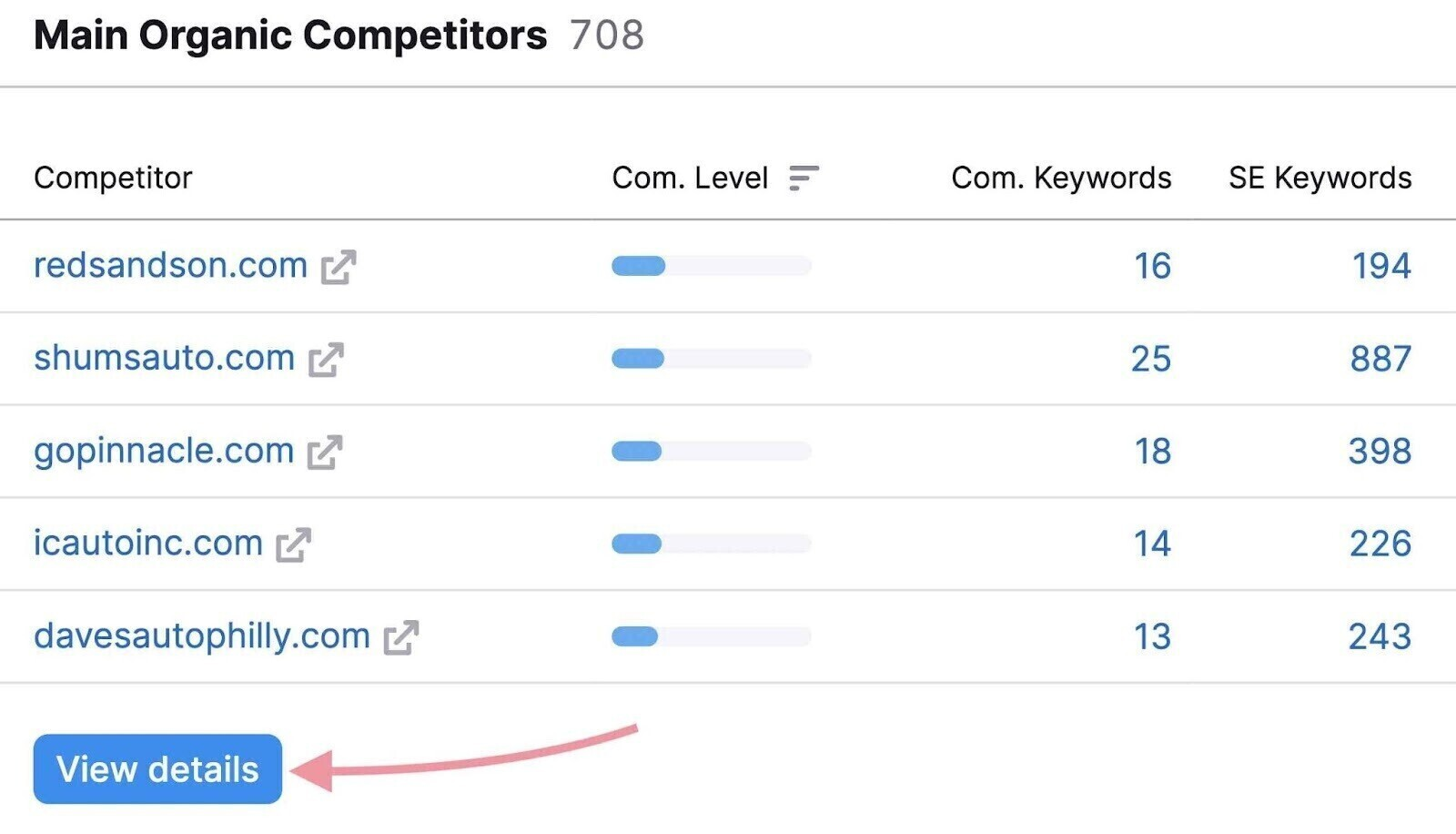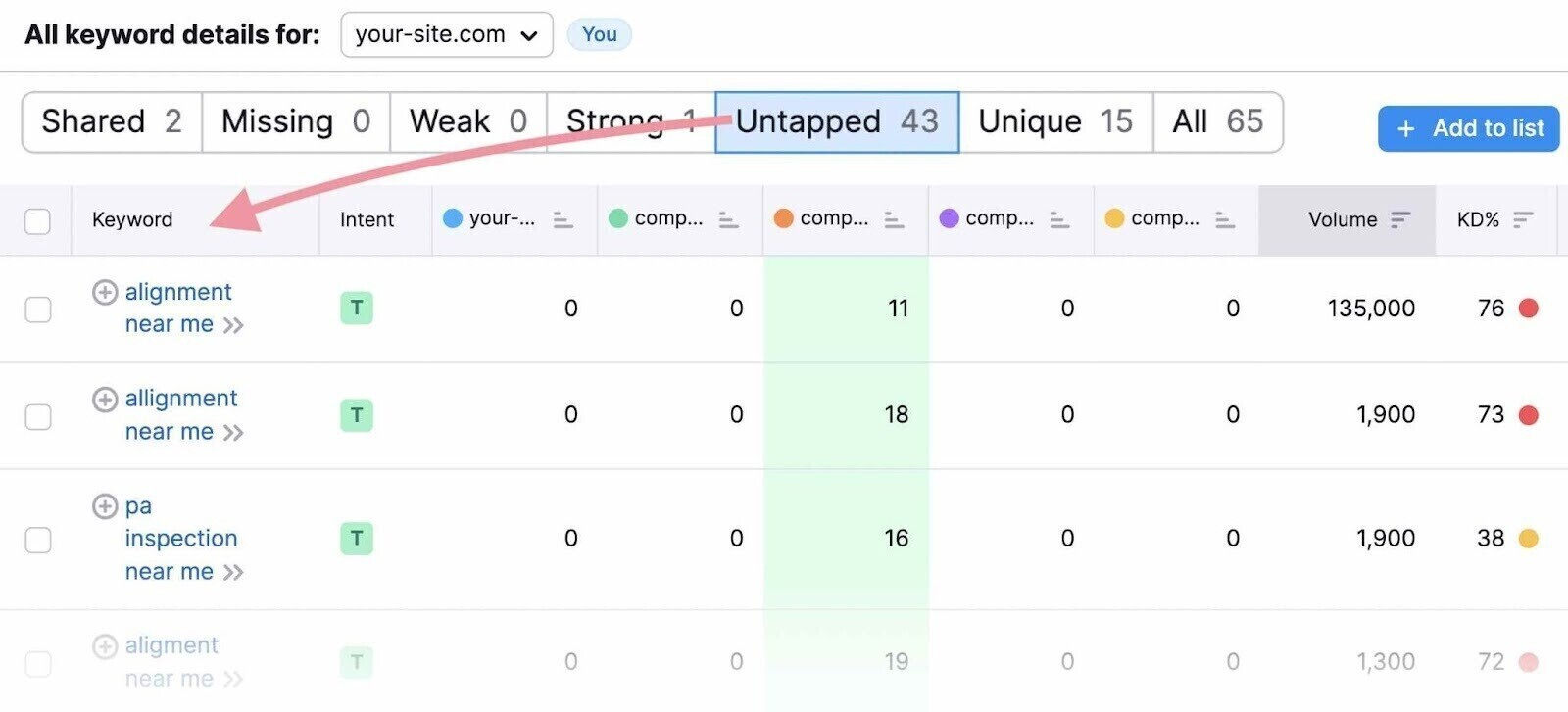 Long tail keywords and their importance
Long-tail keywords are low-volume and less competitive search phrases. They have high buyer intent and are likely to convert. People using long-tail search phrases already know what they're searching for and where to find it.
So instead of targeting generic keywords like 'Dallas plumber,' you can use specific terms like 'how much do Dallas plumbers charge per hour?'
Tip: Avoid keyword stuffing by weaving keywords naturally into your content. You can use these long-tail keywords to create FAQs or as alt-texts on images.
4. On-page Local SEO Tactics
When optimizing for on-page factors, the first step is to set clear objectives for your on-page SEO.
Are you looking to increase rankings, drive more page clicks, or pull more foot traffic to your store? Clearly defining your goals will help you know how to focus your efforts for optimal results.
Next is to conduct a site audit. Where are you currently falling short? Which strategy is currently driving your desired conversions? An SEO audit will help you identify areas of strength and that which is affecting your on-page SEO.
You can hire a local SEO agency to help you discover issues with your on-page SEO and improve your rankings, or use an SEO audit tool to analyze individual pages of your website.
Other strategies are:
Ensure your NAP (Name, Address, and Phone Number) is accurate and consistent on your GBP, website, and other local citations through the web.
Target commercial and informational keywords for your content marketing strategy. Include location-specific keywords in your service pages. For example, 'best coffee shops in Cincinnati'
Create location-specific service pages to cater to location-based traffic. Use nuances that are native to the people within these areas. This localization conveys a sense of personalization with your target audience and increases your website rankings for location-based searches.
Use optimized and relevant header tags to give search crawlers and visitors a quick understanding of your page content.
Optimize meta tags (meta titles and descriptions) using relevant keywords. Ensure they are concise, relevant, and compelling, as they directly influence the CTR of your website.
People want to buy from people. Use your website to share compelling stories about your business, how it started, and what makes you different. If you can relate it to an important event or history in that area, even better!
Adding reviews and other user-generated content to your website to encourage conversions
Also, while creating location-specific pages, you should have a dedicated page for each service you offer. This ranked as the top factor in the local organic ranking factors study:

5. Citations and Link Building
Citation is an online mention of your business (NAP, website, etc.) in local directories like Yelp, Better Business Bureau, social media platforms, or business listing sites.
Following the report from WhiteSpark, the quantity of local citations from locally relevant domains ranked 49th for local pack ranking factors.
And even though their value seems to diminish over time, the advantage is that reputable local directories often rank high in Google search results.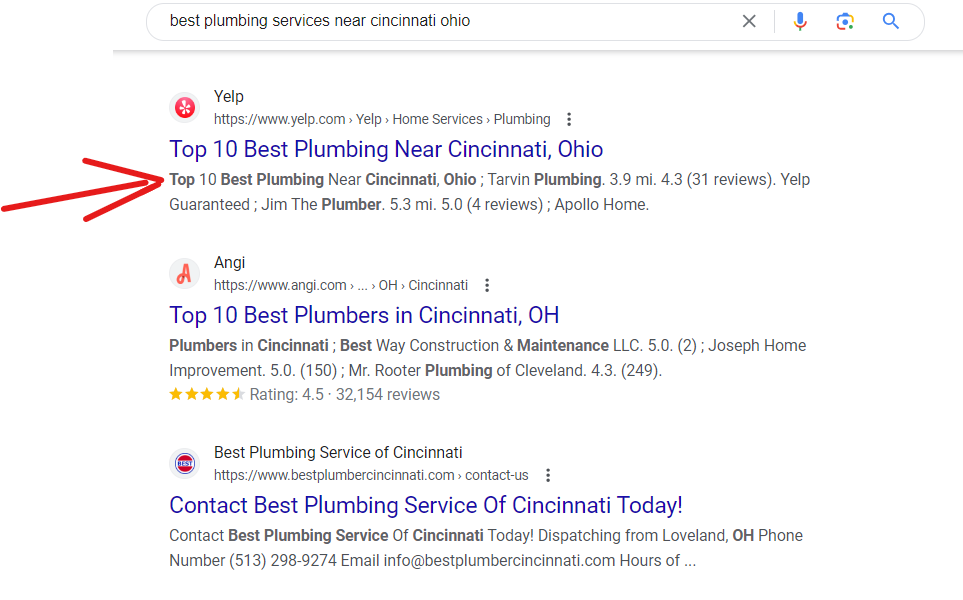 Listing your business on these sites will increase your online visibility and drive paying traffic to your website.
To build relevant citations:
Check out the top 50 citations to find the one that matches your business category, industry, or location
Ensure your business is listed on the top relevant citations or at least the free ones to boost your local SEO
Ensure your business details (NAP) are consistent across all pages
Link building, on the other hand, is different from citations. Link building in local SEO is the process of acquiring topical, contextual, and relevant local backlinks.
It acts as a vote of confidence to Google and influences your website placement on the results pages.
Not all links matter, though. Google prioritizes 'quality' over 'quantity' as the quality of inbound links to the domain ranks 3rd place for local organic ranking factors.
Create linkable, local content.
Partner with other reputable local organizations in your area
Host special events and promotions to get PR links from
Use a competitive analysis tool to find pages backlinking to your competitor's pages. Reach out to them politely to ask for a backlink to your website.
Join niche-specific business associations in your location. For example, search for [city] [niche] association.
Guest posts on local websites
6. The Power of Reviews
When was the last time you bought something online from a not-so-familiar store?
I bet you read a few reviews to know if you're making the right choice.
That's the power of reviews. It influences Google search rankings and customer decisions. For local searches, Google displays customer reviews alongside other relevant information: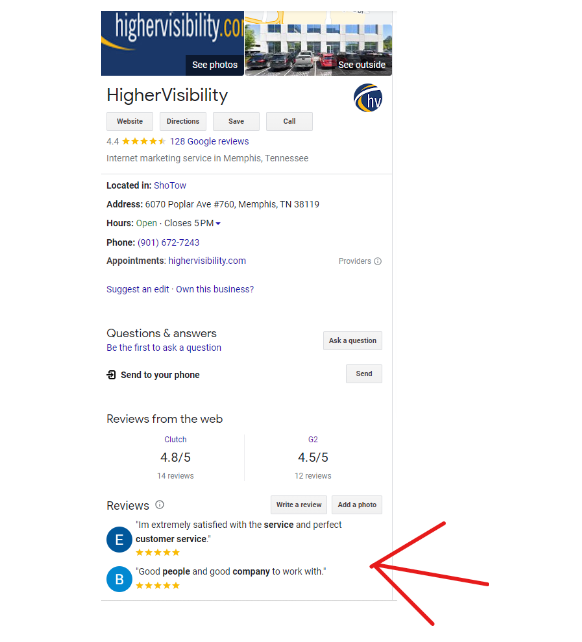 A high Google rating proved to be the most critical factor in influencing conversion rate: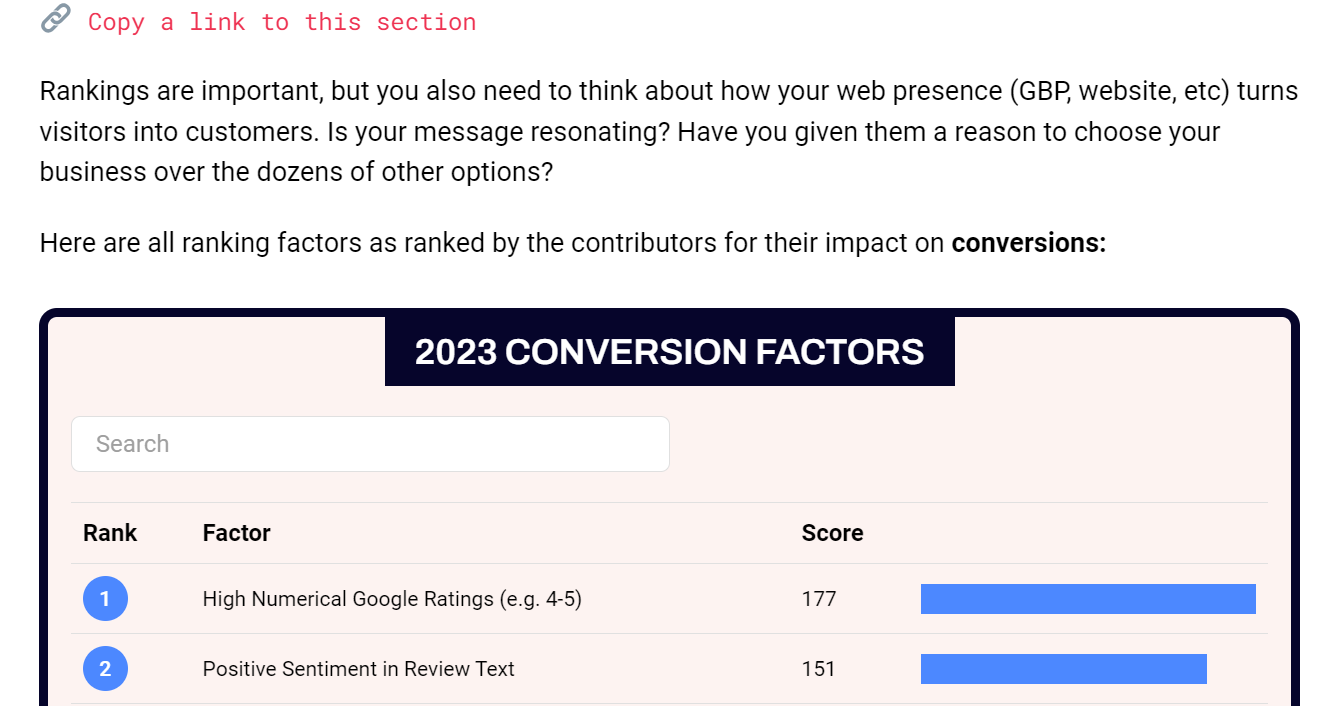 Always ask your customers to leave reviews on your website. Offer incentives like discounts or gifts to encourage them.
Make it easy for them to leave reviews, too! You can send them a link directly to your review page or have a QR code in your physical store that, when scanned, redirects to a review page.
Respond to all reviews on your site, including the negatives! When it comes to bad reviews, be authentic. Apologize and offer a compelling resolution.
If you have a local store, use flyers, brochures, or other in-store signage to encourage your customers to leave a review.
Display positive reviews on your site to connect and build customer trust.
7. Mobile Optimization and Local SEO
Mobile users are more likely to convert after a search than desktop users.
And 76% of all people who search on their mobiles daily visit the business within the same day.
Almost 60% of all website traffic comes from mobile phones.
All these stats prove that mobile SEO is essential in local SEO. If you ever want to rank for specific keywords, you must pay attention to mobile SEO.
In 2016, Google introduced mobile-first indexing, which has since been an indexing and ranking factor. This means that no matter the device you use – mobile or desktop – Google prioritizes mobile content for search results.
Mobile-friendliness directly impacts user experience. When your site is optimized for mobile, users are more encouraged to spend time on your site, leading to low bounce rates and high retention rates. All these metrics culminate in improved search rankings.
To improve mobile SEO:
Use the Google Mobile usability tool to analyze your site's mobile friendliness
Adopt responsive design to ensure your website layout is displayed correctly, irrespective of the screen or device used
Use bullet points, headers, and bold texts to make content more readable on mobile.
Avoid displaying obstructive ads on your page that disrupt the UI of your site
Use structured data to organize your content and position it for rich snippets
Optimize for visual and voice search by incorporating voice search-friendly keywords in your content strategy
Ensure your website is optimized for your Google core web vitals
8. Local structured data markup
Structured data helps users and search crawlers understand a web page. It's a small piece of code that can be added to a web page to help users and search crawlers understand the page content. It also enables Google to display this content for rich snippets.
Although Google explicitly pinpointed that structured data doesn't influence rankings, it indirectly affects SEO rankings since it impacts CTR and how search engine bots index your site.
So why should you use structured data in local SEO?
Here's what Google has to say: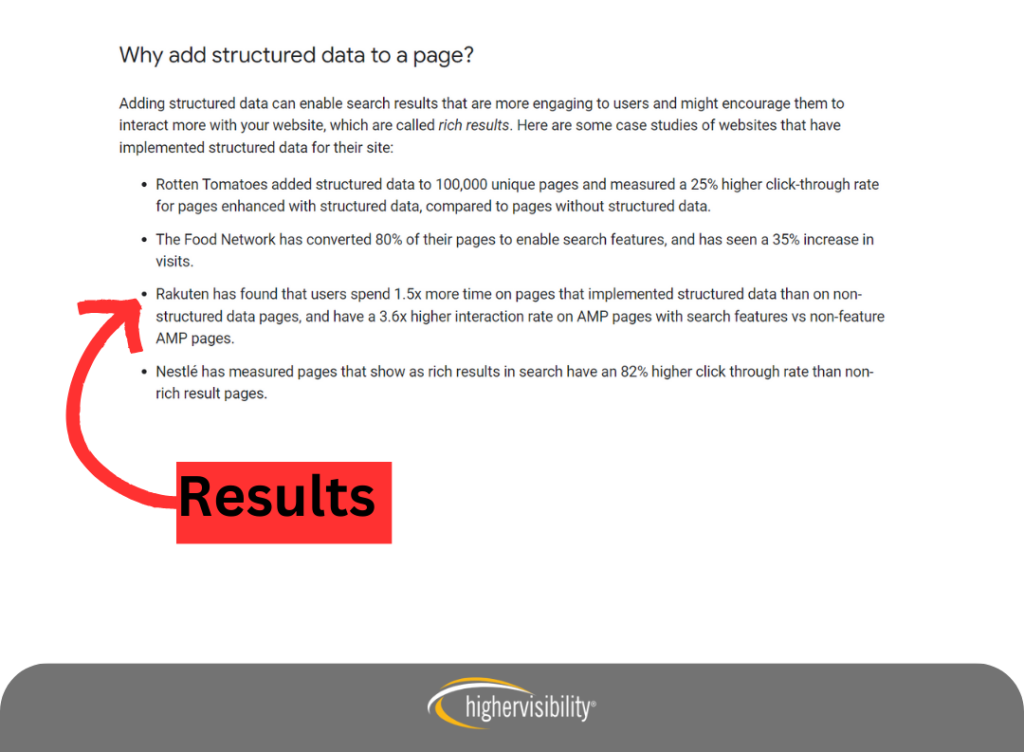 How to implement structured data
Mark up your site using any supported formats – Microdata, JSON, and RDFa. The most common is the JSON markup language.
Test your markup using Google's structured Data testing tool to validate your code. Fix any results flagged by the tool.
Create a JSON script and add it to the source code of your website.
Submit your sitemap in XML format via the Google search console for indexing.
Monitor your structured data to know how well it performs on search results.
Mistakes to avoid in local SEO
Listed below are some common mistakes you should avoid when optimizing your website for local SEO:
Not claiming or verifying your business listings:
There are 56% of unclaimed business listings on Google.
The results? Your website will not rank for branded and unbranded search queries.
No rankings = no traffic.
Solution: Ensure you claim and verify your business listings on your GBP, local directories, and business listings.
Using P.O. box:
When was the last time someone dropped a mail in your P.O. box? Not in the 21st century!
And even though you prefer it, Google doesn't. Instead, you get an error message or not show up on the SERPs at all.
Solution: Use a physical address in all your listings, including the GBP.
Inconsistent NAP:
Having inconsistent NAP data across platforms and listings can result in hiring a subpar SEO to optimize your site, changing your business location or phone number, etc. This can confuse search crawlers and potential customers navigating your site.
Solution: Ensure your NAP is the same on your website, Google, social media, local directories, and other online listings.
Not utilizing local images and videos:
Visuals sell.
They directly impact your CTR, and not using them in your local SEO is leaving a ton of leads ($$) on the table.
Solution: Add relevant, high-quality visuals to your website and listings. Don't be shy to display customer reviews, new products, etc.
Failing to respond to reviews
It's super easy to respond to a positive review.
But how about a terrible rating from a dissatisfied customer?
Ignoring reviews, especially the negative ones, gives your company the wrong perception. It signals to current and potential customers that you're not attentive to their concerns and have lousy customer service.
Solution: Consistently monitor online reviews and respond professionally. Show empathy, always.
Ignoring local link-building 
As highlighted earlier, link-building is among the most potent factors influencing Google's local organic ranking.
Ignoring it means
Solution:
Have a backlink strategy.
Build relevant, contextual links by creating geo-specific content that attracts them naturally.
Reach out to other authoritative sites in your niche for guest posting.
Why HigherVisibility?
Since 2009, we have helped hundreds of local businesses succeed.
At HigherVisibility, we take the guesswork out of digital marketing. It's easy to make promises. Having worked with different clients across many industry verticals and sizes – with proven results – we're confident that you'll get immense value for your investment.
Our process includes laser-focused targeting using industry-vetted strategies that generate conversions. This includes major touchpoints such as: 
Localized content marketing,
Local map optimization,
Optimizing your website for local search queries,
Implementing schema markup for your product pages
… and many more.
Schedule a free consultation, and let us put together a custom strategy for your business!