How To Select A Franchise Marketing Agency
Adam Heitzman
June 1, 2023
The franchise business model is currently riding a new wave of popularity.
In 2023, franchising will contribute over $860 billion to the US economy—up 4.2% compared with 2022. In fact, by the end of the year, franchise businesses will employ almost 9 million Americans.
But with this rise in popularity comes an increase in competition. Now, more than ever, franchise businesses from all industries need to nail their marketing strategies to stay noticed and continue growing their market share.
Of course, marketing a franchise business has never been a straightforward task. It calls for a cohesive strategy designed for several entities operating under the same brand name. Thoughtful planning is essential for ensuring all franchisees are on the same page.
For this reason, it's a good idea to partner with a franchise marketing agency that understands the unique challenges faced by franchise businesses and knows how to develop a tailored strategy for your specific needs.
In this article, we'll show you how to find the right franchise marketing agency to support your next phase of business growth.
What is a franchise marketing agency, and what does it do?
A franchise marketing agency is a company that helps franchise owners grow their businesses through traditional and digital marketing methods.
They help franchise companies build a positive, recognizable brand image among potential customers and potential franchisees.
Unlike marketing a single-entity business, marketing a franchise business requires a consistent brand strategy that applies to several entities at once, all the while allowing franchisees some flexibility for local marketing initiatives.
You need a comprehensive franchise marketing plan to ensure there's a unified brand voice across your franchise network. This plan should outline your marketing goals and tactics and specify things like:
Which audience segments to target
Which materials to use
A content calendar or publication schedule
Your preferred marketing channels
Performance tracking guidelines
Tone and voice guidelines
A franchise marketing agency will help you plan an effective marketing strategy and take care of activities like social media posts, content writing, email campaigns, and more.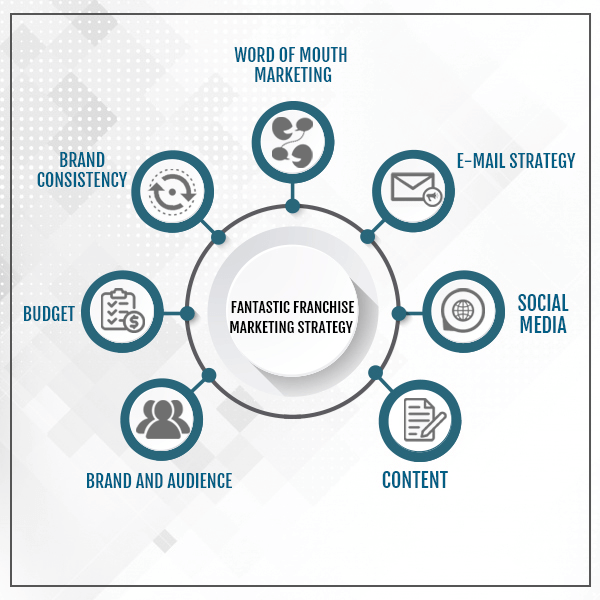 Why should you hire a franchise marketing agency?
Here are five reasons to hire a franchise marketing agency:
1. Leave the marketing to the experts
The modern-day marketing landscape continues to evolve at breakneck speed. New channels, tactics, and strategies are constantly being introduced, and it takes considerable effort to stay abreast of all the latest and most effective practices.
By teaming up with a franchise marketing agency, you won't need to worry about keeping up to date with the latest trends, nor become a marketing expert yourself.
Instead, your agency will take care of everything for you. They will create a tailored package of high-impact tactics and strategies to get you the results you need.
2. Work with professionals who understand the challenges of franchises
As of 2023, there are around 805,000 franchise establishments in the US alone. With this level of competition, you'll need to harness the right franchise marketing strategies to stay ahead.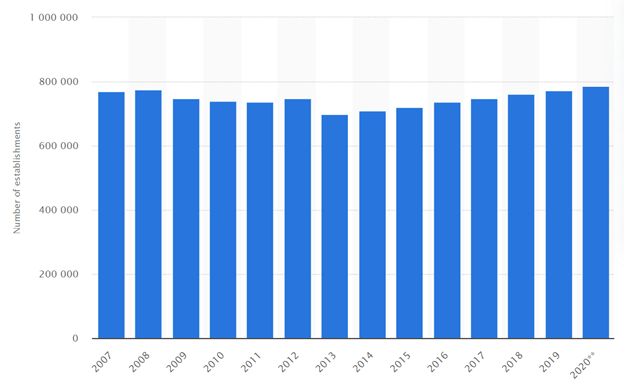 And as we've mentioned, franchise marketing is significantly more complex than marketing a standalone business. You need to maintain consistent branding across your network, coordinate marketing activities, and adapt your messaging where necessary for different customers in different locations.
An experienced franchise marketing agency will know how to navigate these challenges effectively, using the lessons they've learned from past projects to deliver an integrated marketing plan that helps you get results.
3. Develop new ideas for company growth
In addition to providing you with practical marketing support, a franchise marketing company also brings fresh ideas for growing your business that you may not have considered before.
And since these agencies have a proven track record of helping franchise companies succeed, you can be confident that these ideas are based on their actual experience of what works.
As these experts continue to work on your franchise's marketing strategies, they'll keep developing and implementing new ideas to ensure that you keep getting exceptional results.
4. Get help expanding your franchise
As a franchisor, expanding your business into new territories can be a daunting task. Enlisting a new franchisee is much harder than acquiring new customers since it requires a far greater monetary investment.
However, a marketing agency can help you do just that by implementing several strategies specifically suited to attracting new franchisees. Some of these methods include local marketing, advocate marketing, and social media marketing.
Agencies will also be able to help you leverage franchise-opportunity websites to find people who are already interested in becoming franchise business owners.
This way, you'll be able to find quality franchisees who already have the necessary funds and motivation to become valued members of your business.
5. Make the most of social media
Worldwide social media usage has never been higher—reaching 4.80 billion users in 2023.
As such, leveraging social platforms is one of the most effective ways to generate brand awareness and attract new customers to your business.
However, since your franchise has multiple businesses in several locations, you'll need a carefully-planned social media content calendar to ensure consistency across your social channels.
Franchise marketing agencies will take care of this by developing content and managing your social media posting schedule for you.
Is your traffic declining?
Since 2009, we have helped hundreds of local businesses grow their online leads and sales strategically. Let us do it for you!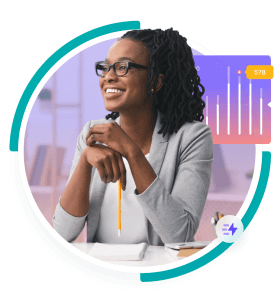 How to select a franchise marketing agency (7 steps)
Now we've looked at the benefits of hiring a franchise marketing agency, let's look at the best way of finding the right agency for your business.
Step 1: Define your needs and objectives
Before even thinking about looking for a marketing agency, you first need to determine your needs and objectives. This will make it much easier to determine what type of role you want an agency to play in your business.
For example, is your objective to:
Expand into new territories?
Create brand awareness and accelerate overall franchise sales?
Completely refurbish your brand, including your website?
Whatever your priorities, you'll need to clarify how much money you're willing to spend, what specific skills you require, and how much time you're willing to invest in your marketing efforts.
Based on these factors, you'll need to decide which services you'd like to outsource to the marketing agency and which projects you'd prefer to keep in-house.
For example, maybe your team excels at social media marketing but isn't as well-versed in search engine optimization (SEO). In this case, you'll want your team to continue managing your social media while outsourcing SEO services to an agency.
Generally speaking, there are two types of marketing for franchise businesses:
Operational franchise marketing: Marketing your franchise business to your ideal customers with the end goal of increasing your sales and revenue.
Franchise development marketing: Marketing your franchise to prospective franchisees who might want to expand your brand into a new franchise location.
Typically, a franchise marketing agency will offer both types of marketing. However, it's always good to know which marketing services you require so that you can choose an agency that specializes in that specific area.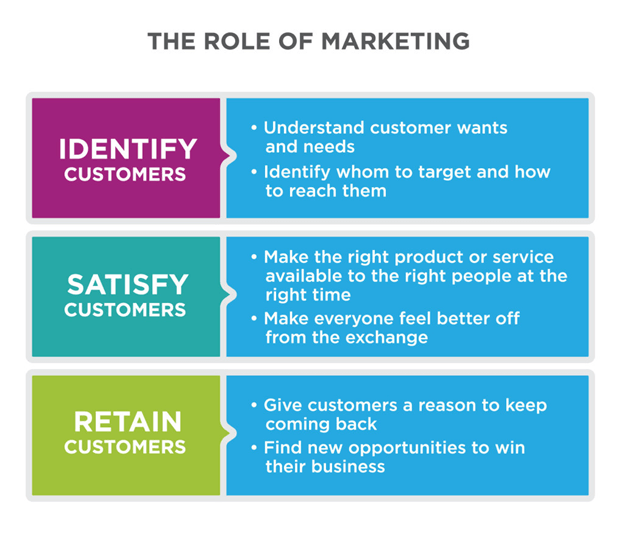 Step 2: Look for marketing agencies that understand your needs
Once you've determined your needs and objectives, you can begin searching for suitable marketing agencies.
Google is a great place to start.
Simply type "digital marketing agency" into the search bar, and see which agencies pop up. If geography is important to you, you can add a location modifier to your search query, like "digital marketing agency [your state]."
The agencies that organically show up on the first page of Google are doing a great job ranking their own websites. It's fair to assume they'll be able to do the same for your site too.
Likewise, agencies with ads at the top of search results clearly know how to run ad campaigns effectively. And since paid ads account for roughly 15% of all search traffic, you'll probably want them to do this type of advertising for you as well.
Start listing the agencies that pop up and take a closer look at their websites.
More specifically, check whether they:
Offer franchise marketing services
Specialize in your particular niche
Have experience working with franchise businesses
If an agency meets these criteria, you can be confident that they're well-versed in franchise law, understand the nuances of the franchise business model, and are adept at collective and individual franchise marketing.
It's also worth checking whether they also cater to businesses other than franchises. Agencies with experience working across industries and business types are less likely to take a formulaic approach to marketing.
Scratch any agencies that don't offer what you need off the list.
Step 3: Research your shortlisted agencies more deeply
Now it's time to dig deeper.
To help determine whether a given agency is a good fit, be sure to examine the following:
Portfolios
Look closely at the agency's portfolio to see if you like their work for other clients. Ideally, their case studies will demonstrate an ability to employ innovative strategies across different channels to achieve impressive results.
However, keep in mind that long-term or ongoing projects—such as SEO and content marketing—can be hard to present accurately in a portfolio. In that case, you can always look at the agency's client list to see which brands it's previously worked with.
Social proof
Naturally, you'll want to partner with an agency that you can trust to deliver the results they promise. As such, you should closely examine the reviews and testimonials they've received from past clients. Consider it a red flag if the agency isn't transparent about past client experiences.
You should also seek out negative reviews of the prospective agency. Most agencies won't openly list negative feedback on their sites, so you might need to check out third-party sources. Of course, it's rare for any company to have a completely spotless reputation, so use this exercise mainly as a way to detect any serious deal-breakers.
Web design
A marketing agency should know how vital well-designed websites are. If an agency has a poorly designed website, why should you trust it with yours?
Moreover, an agency's website will also give you an indication of its core values, helping you determine whether they'll be a good cultural fit for your business.
Step 4: Send a request for proposal
A request for proposal (RFP) is a document that outlines your marketing requirements so that prospective agencies can respond with a detailed proposal of how they can help you.
You can send an SEO RFP, a PPC RFP, a web design RFP, or an online marketing RFP to whichever agencies you think best suit your business.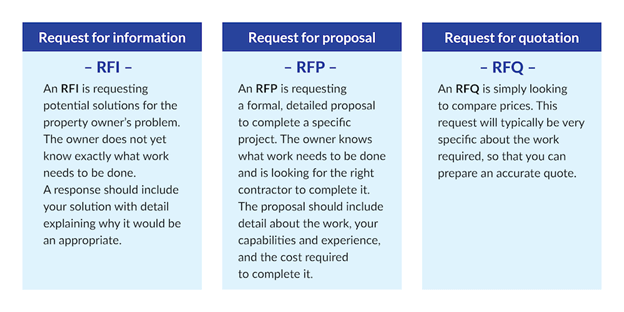 When you express your vision in an RFP, it's important that you remain realistic with your expectations and objectives.
Be sure to include the following information:
Your franchise's background and position
A summary of your objectives
Details about your target audience
Competitor information
A breakdown of the services you need
Your budget for the project
All necessary timelines
Selection criteria
Contact information so that the agency can contact you for clarification or discussion
Step 5: Send an assignment
Along with the RFP, you should also provide shortlisted agencies with a service brief and ask them to produce an audit report and strategy report (delivered by email).
Audit report
An audit will reveal the marketing agency's capabilities and which improvements you need to make to your marketing. It also gives the agency a chance to get to know your brand more deeply.
Strategy report
With a strategy report, the agencies will develop a high-level marketing strategy that they think would help your franchise reach its goals. Each agency will explain why and how its strategy will help your business grow. This will show you how much creativity each agency can bring to the table and how well their proposals meet your business needs.
Step 6: Assess their proposals
Now that you have the proposals, you'll need to review them in person or via a video conference. Each agency should have a chance to present proposals and answer any questions you might have.
You'll need to make sure that you specify criteria for evaluation before the meetings start so that you can evaluate them fairly.
Make sure the following are included in your evaluation criteria:
Agency expertise
Ability to execute
How results will be measured
Quality of concepts
The agency's rates
Expectations and suggestions for your project
Always remember that if an agency's claims seem too good to be true, they probably are.
Step 7: Meet them
By this stage, you will have narrowed your pool of candidates to just a handful of agencies. Now it's time for you and your head of marketing to meet with these agencies at their offices.
These meetings will help you learn more about each agency's company culture, work routines, departments, and so on.
You'll also have a chance to express your concerns and ask questions before deciding which agency to choose.
Remember that your chosen agency will effectively become an extension of your franchise business. So, aside from the agency's processes and track record at delivering results, you'll also need to consider how well your team can integrate with theirs.
Ask yourself the following questions:
Are the people friendly?
Do they seem to enjoy helping you?
Are they great at communication?
Will they give your project the time and energy it deserves?
Once you've made your final decision, all that's left to do is to negotiate the terms of the contract.
Next steps
Hiring a top-quality franchise marketing agency is vital if you want to see actual, measurable results. Choosing an agency that knows the best strategies to market a franchise business will help you achieve success faster.
Now that you know exactly how to select a marketing company that suits your needs, you can start working through the steps in this article. Need a better understanding of what exactly goes into a successful franchise marketing plan? Find out more here.
Is your traffic declining?
Since 2009, we have helped hundreds of local businesses grow their online leads and sales strategically. Let us do it for you!