How to Design and Implement a Successful Franchise Marketing Plan
Adam Heitzman
July 7, 2023
Marketing a franchise business involves significantly greater challenges than marketing a standalone company.
As a franchisor, you're responsible for developing a coherent marketing strategy involving multiple channels across several franchise locations—all the while maintaining a consistent brand identity. Moreover, it falls on you to appropriately allocate marketing dollars throughout your franchise network and ensure relations stay positive among current and potential franchisees.
To successfully coordinate a marketing strategy with so many moving parts, you'll need a comprehensive franchise marketing plan.
Your franchise marketing plan defines who you want to target, how you want to target them, and how you'll measure success. It also details how your franchisees should tailor their marketing activities to local markets while ensuring that messaging and tactics align with your brand identity.
In this post, we'll explain how to build a franchise marketing plan that attracts more customers, generates more sales, and maintains brand consistency across your franchise network.
9 Steps to Creating a Successful Franchise Marketing Plan:
Specify your marketing objectives
Define your target audience segments
Create a consistent brand playbook for your franchisees to follow
Prioritize marketing channels for each audience segment and franchise location
Prepare content ahead of the campaign launch
Automate content publication
Review each franchisee's content to ensure it's unique and market-optimized
Encourage franchisees to capitalize on content trends
Evaluate analytics to fine-tune your marketing tactics
Get Your Free Franchise Marketing Plan Template
If you are looking to establish a marketing strategy for your franchise, this template can be customized to your needs, simply enter your email and we will instantly send you the template.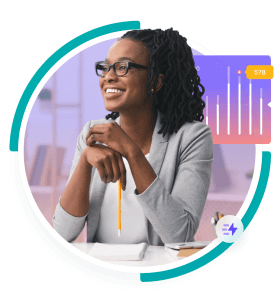 1. Specify your marketing objectives
Before you define your marketing strategy and processes, you'll first need to clarify your marketing goals. Naturally, these should align with your broader business objectives.
Virtually all franchise businesses will want to increase brand awareness and generate more revenue across their network. But you'll need to set more specific goals to achieve these outcomes.
For example, one way to boost brand awareness is to improve your organic search visibility for relevant queries through search engine optimization (SEO). The more your site appears in the search results for relevant queries, the more likely your target customers will recognize your brand and visit your site.
To this end, one of your marketing objectives might be to increase organic traffic by 20% within a year. And to support this objective, you might set a secondary SEO goal to rank in the top three positions for a handful of niche keywords within six months.
So whether your priority is to increase organic traffic to your site, boost online conversion rates, or increase footfall to your brick-and-mortar stores, setting clear objectives will bring focus and direction to the rest of your planning.
2. Define your target audience segments
The next step is to identify who exactly you'll be targeting with your marketing campaigns. After all, you don't want to waste your budget promoting your products and services to a general audience.
Chances are you already understand who your core target audience is. That said, individual franchisees will be your best source of insight when building a complete picture of your customer base. They know who's buying from their branches, how those customers find them, and why people in their local areas choose your brand over the competition.
That real-world information will help you determine which audience segments to target, which marketing channels to prioritize, and what messaging to use throughout your campaigns.
If your franchisees use a customer relationship management (CRM) system, the data they collect can provide invaluable insights about your most responsive customers. Encourage your franchisees to conduct surveys—in person, via email, or both—to find out how potential customers in their local area hear about your brand, why they choose you over competitors, and which features of your product or service they find most attractive.
Segment each location's customers into different groups according to their interests, the value propositions they're most responsive to, and the platforms they used to discover your brand. You'll often realize that different franchise locations have different customer segments. This is a good thing. The more you tailor your tactics to each franchise location, the more ROI you'll deliver for each franchisee and your business as a whole.
3. Create a consistent brand playbook for your franchisees to follow
Brand consistency is key to successful franchise marketing. But striking the right balance can be difficult.
On the one hand, each franchisee should be free to tailor their marketing to their specific customer base. On the other hand, you want to prevent franchisees from drifting so far off-script that their branches no longer seem like part of your brand.
Creating a brand playbook will help your franchisees maintain brand continuity across all customer touchpoints. This document should clearly explain your brand identity, mission statement, and values. It should also describe what problem you're solving, how you're solving it, for whom, and explain what differentiates you from your competitors.
You'll also want to provide precise guidelines around the logos, fonts, words, imagery, and color palettes franchisees should use across marketing materials. Your playbook should also specify service, operations, and communications best practices.
Of course, it's great to encourage franchisees to innovate, provided they stick to your overall brand voice and adhere to your marketing goals. The better your franchisees understand your brand guidelines, the more they'll be able to contribute creative ideas to your marketing strategy without deviating from your brand image.
4. Prioritize marketing channels for each audience segment and franchise location
Now that you've defined audience segments for each of your franchise locations, the next step is to determine the best way to connect with them.
Ideally, you'd want an omnichannel marketing strategy, combining blog articles, social media posts, video ads, locally-targeted franchise SEO, pay-per-click (PPC) advertising, email campaigns, and offline sales. But if that sounds like too much of a strain on your time and budget, the next-best approach is to prioritize channels that generate the highest returns at the lowest cost.
SEO is one of the highest-ROI channels around. Since you don't have to pay a fee to rank in Google's organic results, the brand exposure and web traffic you get from it are completely free. Moreover, the average close rate for organic search leads is around 14.6% compared with 1.7% for outbound channels like direct mail or print advertising.
Local SEO is particularly effective for driving more customers to brick-and-mortar franchise outlets. Around 21% of online consumers use Google to find businesses in their local area every day, and 76% of search-based queries result in an in-store visit within a day.
It's also worth supplementing your organic search efforts with pay-per-click advertising (PPC). Depending on your industry, paid search ads could drive significantly more traffic to your site. For example, in the ecommerce and retail industry, around 23.6% of traffic comes from paid search ads.
Another high-ROI channel is email marketing, which can generate as much as $36 for every dollar spent. To maximize email click-throughs, keep your messaging personalized and focused. Using a single call to action (CTA) can increase click rates by as much as 371%.
It's also important to have some level of social media presence. Around 71% of consumers are more likely to buy from a business following a positive social media experience with the brand. The most suitable social platforms will depend on the customer demographics within each franchise location. Franchisees with an older customer base may want to focus on Facebook, while locations with younger customers may prefer to prioritize apps like Twitter and Instagram.
For more guidance on picking the right channels for your franchise, check out our guide to franchise marketing strategies.
5. Prepare content ahead of the campaign launch
It's not enough to create a ton of content. To reach the top of your target customers' search results, your content needs to be relevant to each audience segment, unique to each franchise's local area, and structured in a way that's easy for search engines to understand.
It's also important to recognize that good content takes time to create—so before you launch your campaign, make sure each franchisee has several weeks' worth of unique content prepared in advance.
To ensure your campaign maintains momentum, your franchisees should aim to post on social media channels once or twice a day and publish around three blog posts each week. Once you factor in videos, infographics, and other media, you're looking at roughly ten pieces of original content per franchisee per week. While it may sound like a considerable up-front effort, creating enough content ahead of time will prevent an urgent scramble to meet publishing targets post-launch.
The good news is that you don't have to create all this content yourself. In fact, you'll probably get better results if franchisees create their own content tailored to their local markets. For pieces of content that require more technical expertise, like videos and infographics, consider giving franchisees the budget to hire experienced freelance creators—or allow them to customize corporate content for their local audiences.
6. Automate content publication
Many marketers make the mistake of pumping out too much content in the short term, then failing to maintain a steady rhythm over time. This is a major red flag for search engines, which prefer content consistency and quality over volume. As long as you keep a few weeks of content in reserve, you'll always be able to schedule an optimal number of posts for each channel each week.
Automation can help you maintain a steady publication cadence. Most blog platforms let you schedule posts in advance so that new articles go live automatically at the dates and times you specify. Likewise, social media automation tools let your franchisees schedule an entire week's worth of Facebook, Twitter, and Instagram posts within minutes.
7. Review each franchisee's content to ensure it's unique and market-optimized
Running frequent quality checks on your franchisees' scheduled content will help ensure all published material adheres to your brand guidelines. But checking content in advance can also prevent another common marketing mistake: SEO interference.
If several franchisees create content targeting the same keywords, they risk eating into each other's search rankings. Rankings can also take a hit if franchisees duplicate content from each other's websites and social media profiles.
So to prevent different franchisees from unintentionally undermining each other's efforts, they should each post content targeting localized keywords tailored to their specific audience segments. It's also a good idea to help each franchisee build their own micro-site packed with helpful pages targeting customers in their local area. This way, each branch will have a better shot at dominating the search rankings for their local market.
8. Encourage franchisees to capitalize on content trends
The world of digital marketing continues to evolve at an ever-accelerating rate. Brand-new apps, social platforms, and technologies appear nearly every month, and some become so popular that your brand can't afford to ignore them.
For example, TikTok was broadly considered a minor "test market" as recently as 2020. But users now spend more time on TikTok than on other major platforms like Instagram and Twitter. It's no surprise that the platform is forecast to account for 3.5% of all digital ad spend in the US by 2024, compared with just 1% in 2021.
Remember, the key to success in social media and content marketing is to publish content that resonates with your target audience on the platforms they use the most. And since consumer interests and marketing platforms are constantly changing, the only way to stay relevant is for you and your franchisees to stay on the pulse of the latest trends.
Google Trends is a great place to start. This free site lets you track the fluctuating popularity of different search queries. It even lets you compare the popularity of several queries over the same period within specific geographical areas, so you can make more informed decisions about which terms to target. This information can help your franchisees take the initiative by posting relevant, on-brand content about the week's hottest topics.
It's equally helpful to track trending hashtags on all the social media platforms where your brand is active. Trending topics allow franchisees to chime in with clever, relevant responses. Jumping on popular hashtags can boost your social visibility by increasing your posts' likelihood of appearing in social search results. Just make sure that, unlike some bumbling marketers, your franchisees fully understand the context behind any hashtag they plan to use.
9. Evaluate analytics to fine-tune your marketing tactics
Once your franchise marketing plan starts delivering results, it's time to dive into the numbers. Google Analytics can help you determine where each franchisee's clicks are coming from, which keywords drive the most traffic, and which branches have the best conversion rates.
All this info will help you pinpoint roadblocks in each franchisee's marketing funnel so you can work to improve the customer experience. Of course, studying metrics can be dry, time-consuming work. But there's no better way to identify tactics that aren't delivering results and double down on those that do.
Final thoughts
Successful franchise marketing requires significant investment; getting it right takes time and patience.
But by coordinating marketing efforts between franchise owners and the corporate level, you'll enable franchisees to deliver meaningful customer experiences, maintain excellent public relations, drive positive reviews, and fuel strong word-of-mouth to keep potential customers coming through the doors. Once you organize these elements into a unified franchise marketing plan, you'll be well on your way to increasing revenue across your business and attracting new franchisees to your network.
Get Your Free Franchise Marketing Plan Template
If you are looking to establish a marketing strategy for your franchise, this template can be customized to your needs, simply enter your email and we will instantly send you the template.