What is PPC Management? How to Succeed at Pay-Per-Click
Scott Langdon
August 7, 2023
Anyone can run a pay-per-click (PPC) advertising campaign. Just log into Google Ads, pick a few keywords, set a budget, and check back in a few months.
Sounds easy enough, right?
Well, the trouble is most people don't know how to run a successful PPC campaign.
For that, you need a thought-out strategy and careful PPC management. You need to know how to select high-performing keywords, reach your target audience, and continually optimize your campaigns. You also need to keep track of changes to different ad platforms and the market more broadly.
If these demands of PPC management don't fit your skill sets or time constraints, it might be worth working with a PPC management agency.
In this post, we'll explore the ins and outs of PPC management and help you decide whether hiring a PPC management agency is right for you.
What Is PPC Management?
PPC management is the ongoing process of implementing and optimizing a company's PPC campaigns.
It can be done by an in-house team, agency, or specialist.
PPC management includes responsibilities such as:
Competitor analysis: Examining competitor PPC strategies to uncover gaps and opportunities.
Channel selection: Identifying which paid channels provide the best ROI potential for your specific business needs.
Keyword research: Identifying which keywords your target audience is searching for.
Ad groups and ad creation: Grouping together related keywords and developing corresponding ads.
Budget management: Allocating campaign budget effectively to maximize ROI.
Performance monitoring: Assessing campaign performance to see which ads drive the most traffic and conversions.
Campaign optimization: Adjusting keywords, ad copy, landing page design, ad scheduling, and ad targeting to drive increasingly better results.
A/B testing: Comparing the performance of different ad variations to identify those that perform best.
Why Is PPC Management Important?
If your business already engages in PPC advertising, or if you're considering launching a PPC program, then being proactive about PPC management can drastically boost your odds of success in several ways.
Better Quality Scores
Quality Score is the metric Google Ads uses to determine how your ad quality compares to other advertisers. As a rule, the higher your score, the more likely you'll earn high ad positions in paid search results. Ads with high scores satisfy the user's search intent, receive more clicks, and provide users with a relevant landing page experience. PPC management ensures your ads meet these crucial requirements so you get the best campaign returns possible.
Lower Costs per Click (CPCs)
Another benefit of having good quality scores is you'll get lower CPCs on average. PPC management uses several techniques to keep your CPCs as low as possible, such as targeting long-tail keywords. Unlike generic keywords, long-tail keywords tend to be less expensive and have a clearer underlying search intent, which makes it easier to craft highly-specific ads that cater to the audience's needs.
Higher Click-Through Rates (CTRs)
Targeting the right keywords and creating relevant ads will naturally increase the number of clicks you get. But proper PPC management will further boost click-throughs by testing different ad copy and image variations and sticking to those with the best conversion rates.
Better Audience Targeting
Effective PPC management will also employ diverse targeting techniques to get the best campaign results. For example, by segmenting your audience based on shared interests and attributes, you can create more relevant messaging for your different target customers. You can also use various targeting options (like demographics, search behavior, and location) to ensure you deliver the right message to the right people in the right place. Remarketing options also allow you to re-engage users who have already demonstrated an interest in your products or services.
Should You Hire a PPC Management Agency?
So you're convinced that a detail-oriented PPC management strategy is key to getting the most out of your paid campaigns.
But this raises the question: should you take on the responsibility of PPC management yourself, hire an in-house team of experts, or outsource the work to a specialist agency?
Keep in mind that running successful PPC campaigns takes a considerable time investment, strategic planning, and wide-ranging knowledge of PPC best practices.
To help you decide, ask yourself the following questions:
Do any of your existing employees have extensive experience running PPC ads?
Do you currently have enough employees to manage the day-to-day demands of running PPC campaigns?
Do you have access to top PPC tools? If not, can you afford them?
If you answered no to any of the above, you probably need a PPC pro (or several) on your team.
You could hire a full-time PPC specialist to work at your company. For reference, as of July 2023, the average salary of a PPC manager in the US is $66,378.
Alternatively, you could contract with a PPC management agency. This gives you access to a full team of PPC experts, with costs based on your specific budget and business needs rather than the going rate for a salaried employee.
Let's take a closer look at what services PPC management agencies provide.
What Does a PPC Management Agency Do?
Successful PPC management involves three major workstreams: campaign creation, optimization, and reporting.
A good PPC company will have expertise in each of these areas.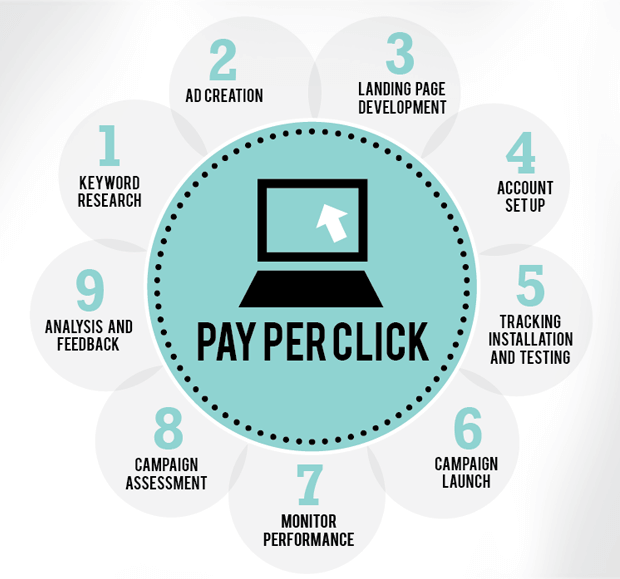 Campaign Creation
Your PPC management firm will work with you to create advertising campaigns that drive the right kind of customer to your site. This involves an in-depth research phase before your ads are created.
Keyword Targeting
The cost of clicks on a keyword is driven by demand. Popular keywords tend to come with a higher price, while low-volume keywords are usually less expensive (but may not drive as much traffic).
The most effective keywords target your ideal customer without breaking the bank.
A good PPC agency will know how to research your customers and the competition, use keyword planning tools, and strategically select keywords that give you the best ROI.
Landing Page Selection
It's essential to choose the right landing page for your ad. After all, what's the use of paying for clicks if visitors bounce off your site right away? The best landing pages are highly relevant to the ad's audience and contain compelling calls to action.
Writing Ads
Since PPC ad copy is usually only a couple of sentences long, it's easy for beginners to overlook its importance. A PPC management company will ensure your copy resonates with your target users and compels them to click.
Campaign Setup
Your PPC company will help you decide the right targeting options, appropriate budget restrictions, and maximum cost-per-click bids.
They can also advise on advanced tactics like dynamic remarketing, where you show ads for products or services a user has previously viewed on your site.
Optimization
Managing an ad campaign isn't a set-it-and-forget-it task. One of the biggest benefits of working with a PPC management agency is that they'll continuously monitor and optimize ads for better performance.
Quality Score Analysis
As we mentioned earlier, quality score is Google's measure of an ad's quality and relevance. It depends on factors like:
CTR
Keyword relevance
Landing page quality and relevance
Ad text relevance
Account performance history
Since higher quality scores lead to lower ad costs and higher ad placement, your PPC management team will closely monitor all quality score factors to keep your ads as effective and inexpensive as possible.
A/B Testing
Discovering the most effective ad variants takes some experimentation. By testing alternative ad elements like headlines, body text, and images, your PPC management team will quickly home in on variants that resonate most with your target audience and drive the most clicks.
Monitoring and Adapting to User Behavior
Paid ad campaigns provide an endless stream of user data that your PPC management team can turn into actionable insights. They will continually adjust your ad strategy based on what the user data reveals.
Keyword Performance Monitoring
Every PPC program starts by creating a list of keywords that seem promising. But when your ads start running, you soon discover that some keywords perform much better than others.
As a result, a PPC management service will continually monitor keyword performance and identify those that should be replaced.
Bid Adjustments
Your PPC management agency will also adjust your keyword bids based on performance data and your specific marketing goals. For example, if you discover that your ads perform best in the morning, your agency can increase your bids for that time of day.
Reporting
Your PPC agency will ensure you always have visibility into how your campaigns are performing.
A good agency will provide regular reports or access to an online dashboard so you can see what's happening.
Your PPC management company should make the following data readily accessible:
Ad Spend Insight
You should know exactly where your money is going.
The right PPC partner will report how your search budget is spent and what you're getting in return.
Conversion Data
Conversion data tells you which ads and keywords drive the most transactions. This is not only important for optimizing your PPC ad spend, but it can also be used for SEO and other marketing activities.
How Much Does a PPC Management Agency Cost?
The cost of PPC advertising depends on your goals, how aggressively you want to focus on PPC ads, the ad types you want to run, and the competitiveness of your market.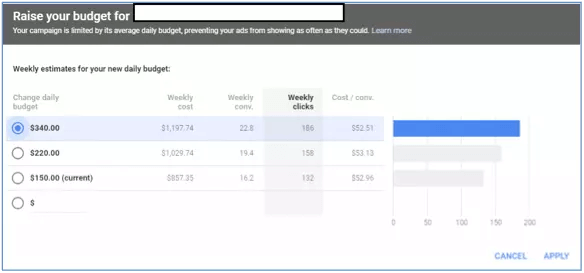 The industry you operate in also influences how much you pay. Some industries simply cost more. For example, the average CPC in the legal industry is $9.21 compared with $1.55 for arts and entertainment. Your PPC specialist can help you determine a reasonable ad budget for a business within your niche.
So how much can you expect to pay?
The average cost of a PPC agency is between $100 and $149 per hour.
However, it's important to appreciate that many PPC agencies charge you as a percentage of your ad spend (typically between 12% and 30%) and a minimum monthly retainer. Other agencies may charge a fixed fee.
How to Find the Best PPC Management Company
Since each business has unique PPC needs, a good agency should work with you to create a unique strategy.
When shopping around for a company to manage your PPC ads, consult the list of PPC activities above. Your ideal agency will be able to talk to you about how they manage the various aspects of campaign creation and optimization.
Successful PPC agencies have delivered results for other clients and should be able to provide you with case studies. All industries are different, so consider it a bonus if they've previously worked with companies like yours.
Ask the company what kind of PPC tools they have at their disposal. Access to top-of-the-line analytical and SEM management technology is a key reason that PPC management services get better results for less money.
Transparency is essential. Look for a company that will provide regular updates and reports.
For more guidance on vetting different agencies for digital marketing services, check out our online marketing RFP template.
PPC Management Case Study: Allure Bridals
The bridal industry is extremely competitive. Companies like Allure Bridals constantly contend with other designers, retailers, and big publications for precious search engine real estate.
When Allure reached out to HigherVisibility, they already had a successful SEO strategy in place. They wanted to complement this success with paid advertising, but their existing PPC management agency wasn't delivering the results they expected.
The existing campaigns were underperforming. Ad spend was insufficient to cover rising CPC costs, and the existing ad copy wasn't generating clicks.
To solve this problem, HigherVisibility analyzed past campaigns and crafted a new PPC strategy focusing on Allure's trunk show events. The new tactics included:
Limited time and exclusive ads
Remarketing campaigns to target brides that expressed an interest in the events
Video ads to drive higher engagement
Elimination or deemphasis of low-performing keywords
Ad copy optimization
The result?
HigherVisibility increased Allure's ad interactions by 45.5% and CTR by 25.4% while decreasing the cost per conversion by 7.4%.
Final Thoughts
PPC advertising has a great ROI if you get it right, but it's complex and time-consuming. Attempting to run PPC campaigns in-house simply isn't worth it for many companies.
A good PPC agency is affordable and works toward your organization's unique objectives. Talk to an expert to learn more about what you can expect from PPC management.