Organic vs. Paid Search: (84 Astonishing) Statistics for 2023
Adam Heitzman
March 15, 2023
Editor's Note: This post was originally published in July 2019 and was updated in March 2023 for accuracy and comprehensiveness.
Let's just come out and say it: this is not the first "search statistics" article ever written.
But most posts out there don't give you what you need.
Sure, some posts will give you organic search statistics. Others will cover PPC stats. And others will explain how to build a more successful SEO strategy.
But none of them give you an understanding of both organic and paid search, with up-to-date numbers and actionable takeaways you can apply to your own business strategy.
That's why we created this post…
Organic search statistics
1. As of February 2023, Google's desktop search engine market share was 85.64%.
2. Google processes over 40,000 search queries per second — roughly 1.2 trillion searches per year.
3. Google received over 80.2 billion total visits in February 2023.
4. Organic search drives 1,000% more traffic than organic social.
5. 95.88% of Google searches are four words or more.
6. 15% of Google searches have never been searched before.
7. Companies that maintain a blog get 55% more visitors, earn 97% more inbound links and have 434% more indexed pages than companies that don't.
8. The average CTR (click-through rate) for position 1 is 41%, compared with 12.8% for position 2.

9. Featured Snippets appear in the SERPs for 2.61% of US Google searches.
10. 90% of content receives zero organic traffic from Google. This is partly because over 66% of pages have no backlinks.
11. The average page ranking in the top 10 organic results is over two years old.
12. Only 5% of new pages rank in the top 10 positions within one year.
13. 22.6% of online traffic comes from local searches.
14. 46% of all Google searches are local searches.
15. 78% of local searches lead to an offline conversion.
16. 49% of marketers believe organic search is the most profitable channel they use.
17. 73% of marketers and business owners spend over $1,000 per month on content marketing.
18. The average first-page result contains 1,447 words.
19. On average, pages ranking in position 1 have 3.8x more backlinks than those between positions 2 and 20.
20. Search results that contain sitelinks have a massive CTR of 46.9%.
21. 88% of marketers with an SEO strategy will increase or maintain their investment throughout 2023.
22. 79% of "very successful" marketers and business owners spend over 10% of their marketing budget on content.
23. 55% of marketers and business owners say posting more content helps the most in improving rankings.
24. 43% of marketers and business owners use SEO tools to support their content marketing efforts.
25. 50% of the US uses voice search daily.
26. It's estimated that 75% of US households will own a smart speaker by 2025.
Section sources:
Mobile organic search
27. Google claims over 93% of the US mobile search market
28. Mobile now accounts for 59.36% of all searches globally.
29. Mobile also accounts for 63% of organic search visits in the US.
30. 2016 was the first time mobile accounted for over half of all organic search visits in the US.
31. On average, desktop visits last 40% longer than mobile visits.
32. In the US, images appear in search results 12.5x times more on mobile.
33. Similarly, videos appear 3x more frequently in the SERPs for mobile searches.
34. Mobile bounce rates increase by 32% as the page load time increases from 1 to 3 seconds.
35. 71% of people who search on their phones for something nearby visit a business within a day. 28% of those searches result in a purchase.
36. 92% of millennials have done a "near me" search on their mobile device.
37. 72.6% of internet users are expected to access the web solely via smartphone by 2025.
38. Over 40% of online transactions are done on mobile devices.
39. 53% of shoppers would search for deals on their mobile devices before speaking with an in-store associate.
40. Ecommerce conversions drop by 0.3% for every additional second it takes a page to load.
41. 79% of people are more likely to revisit and share a mobile site if it's easy to use.
42. 46% of people avoid buying from a brand in the future following an interruptive mobile experience.
Section sources:
Organic search case study
Backlinko.
Normally, we'd choose a lesser-known business case study to show how businesses like yours can achieve organic search results.
But the fact is Brian Dean's case study covering on-page site optimization provides several actionable takeaways and is a powerful example of how search engine optimization can drive serious traffic.
After writing a high-performing SEO checklist, traffic to the post took a nosedive over time, and his rankings dropped to page 2. So, to improve performance, he focused on two main changes.
Address user intent:
Brian had created a checklist, but the title of his post didn't reflect the format of the content.
Instead of making it clear to readers (and search engines) that the post was a checklist, his title included the words "Case Study."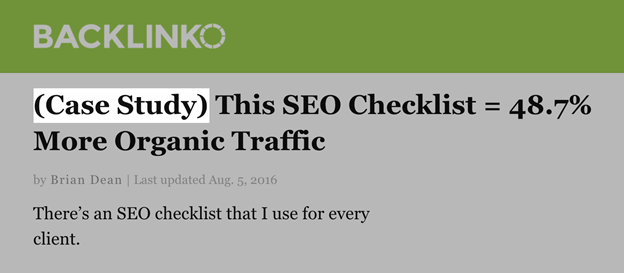 Google is extremely savvy when it comes to matching user intent to relevant content, so giving your prospective readers exactly what they're looking for is essential.
As well as amending the title, Brian changed the content to be more inclusive since most people searching for a checklist aren't likely to be advanced SEO experts.
Optimize the user experience
Next, Brian added a table of contents to make it easier for readers to navigate his monster post.
He also added a video to the post, which often leads to increased time on page.
Then, he shortened his introduction, as he knew lengthy introductions could increase bounce rates.
He increased the number of examples and added subheadings to better organize the content on the page. These two simple strategies helped Backlinko increase organic traffic to the post by 652%.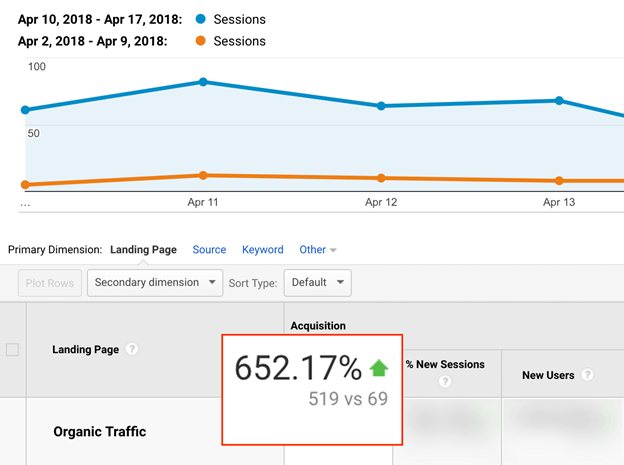 Related reading
For a complete guide to SEO, check out our "What is SEO Guide" For a guide to ecommerce search engine optimization, check out "E-Commerce SEO Best Practices."
Paid search statistics
43. Paid search accounts for 15% of traffic.
44. Worldwide digital ad spend is forecast to reach $757 billion by 2024.
45. In 2021, 81% of Google's total revenues came from advertisements.
46. Google's 2022 ad revenue was $224 billion.
47. Almost 46% of Google's total ad revenue comes from the US.
48. The average CTR for paid search ads is 3.17% across all industries.
49. The average CTR for Google Shopping Ads is 0.86%.
50. At the end of 2022, the average CPC (cost-per-click) for a paid search ad was $0.60.
51. The average conversion rate for search ads across industries is 4.2%.
52. 19% of marketers say paid search is their most profitable channel.
53. 28% of marketers and business owners use paid search ads to promote their content.
54. The average CPA (cost per action) for Google Shopping ads is $38.87.
55. The average return on ad spend (ROAS) for branded ads is twice as high as non-brand in most industries.
56. People are exposed to around 6,000 to 10,000 ads every day, on average.
57. The Google Display Network reaches over 90% of internet users across the globe.
58. Google Ads display on over 650,000 apps.
59. The average CTR for Facebook ads is 0.89%.
Paid search statistics by industry
60. For Retail & Ecommerce, 23.6% of traffic comes from paid search. For B2B, it's 12.3%.
61. The industry with the highest paid search CPC is Legal, with an average CPC of $6.75.
62. Ecommerce has the lowest CPC, at $1.16.
63. The industry with the highest paid ad conversion rate is Dating & Personals, at 9.64%.
64. Advocacy is the industry with the lowest paid ad conversion rate, at 1.96%.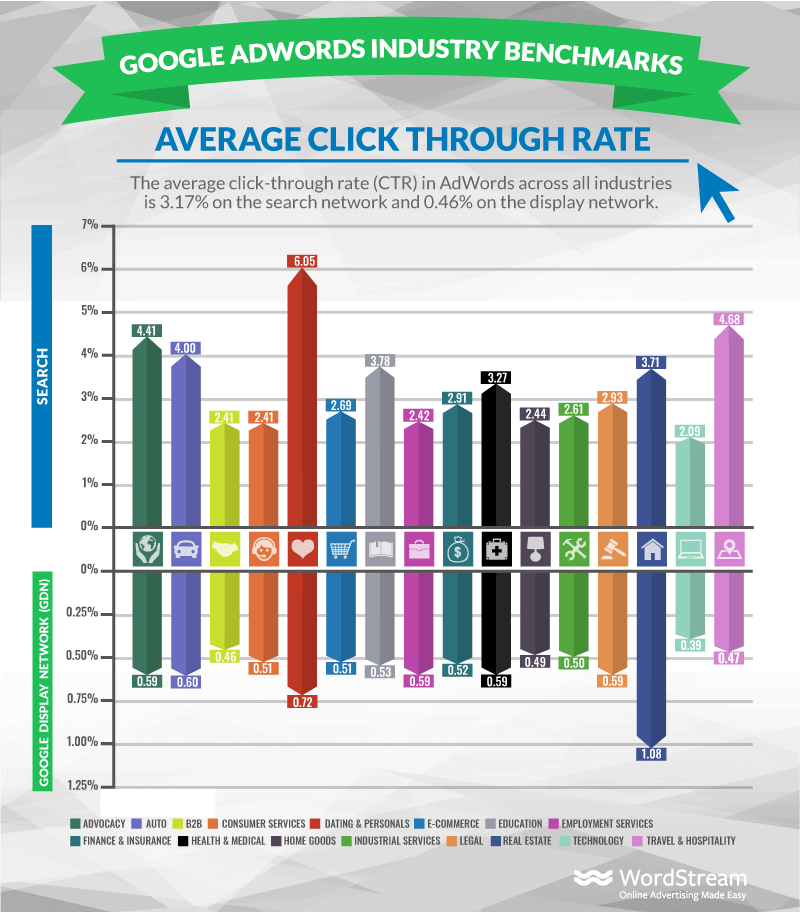 65. The average cost per conversion for Google search ads is $56.11.
66. Across industries, the average monthly Google Shopping ad budget is $770. Health & Beauty has the highest average budget at $1,815. Travel & Luggage has the lowest at $273.
67. The highest cost per conversion is in the Computer & Electronics industry at $101.40.
68. The lowest cost per conversion comes from the Auto industry, at $26.17.
Section sources:
Mobile statistics:
69. Mobile devices account for 53% of search ad clicks.
70. As much as 70% of search ad impressions occur on mobile devices.
71. 69% of people use their smartphones for shopping.
72. 70% of paid search clicks on Google take place on a mobile device.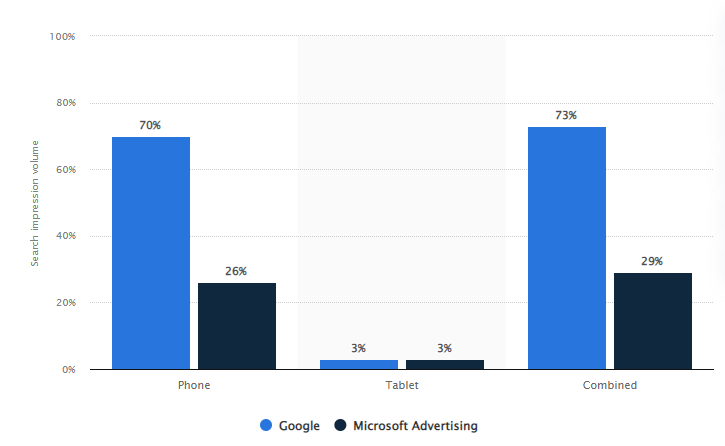 73. Online shoppers using mobile devices have a 2% conversion rate.
74. Across all industries, the average CTR for search ads on mobile is 4.10%.
75. The Travel & Hospitality industry has the highest CTR for search ads on mobile, at 5.36%.
76. The lowest CTR for mobile search ads was in the Internet & Telecom industry, at 3.05%.
Section sources:
Organic vs. paid search statistics
Arguments for organic search
77. 53% of all web traffic comes from organic search. Only 15% comes from paid search.
78. B2B businesses generate twice as much revenue from organic search than all other channels combined.
79. Around 26% of US internet users use ad blockers.
80. 11% of search ad clicks are fraudulent or invalid.
Arguments for paid search
81. 74% of brands say that PPC ads are a huge driver for their business.
82. Even with a healthy SEO budget, it's extremely rare to see organic traffic increase within the first three months of optimization.
83. 75% of people say search ads make it easier to find what they're looking for.
84. 93% of marketers use search ads.
Section sources:
Organic vs. paid search case study
It can be tricky to find good paid search case studies since most of them are built by PPC agencies that are keen to guard their strategies carefully.
Plus, most of the case studies out there are based on huge brands like Fiat, Intel, and the Washington Wizards.
None of these are particularly relevant to you and your small business.
So we dug a little deeper. We (along with less than 0.5% of other searchers) headed to the fourth page of Google's search results.
Gasp!
We found Growww Digital.
Growww Digital is a PPC agency. But we assure you their reporting is legitimate and valuable.
They designed their campaign to test the age-old question: should a business bid on its own brand name?
Here are their findings:
Bidding on your brand name increases your SERP real estate
For example, if you Google "Unbounce," their paid search ad (plus their organic result) means they control everything above the fold. This leaves no room for any "Unbounce Competitor" or "Unbounce vs. [Competitor]" results to rank above the fold.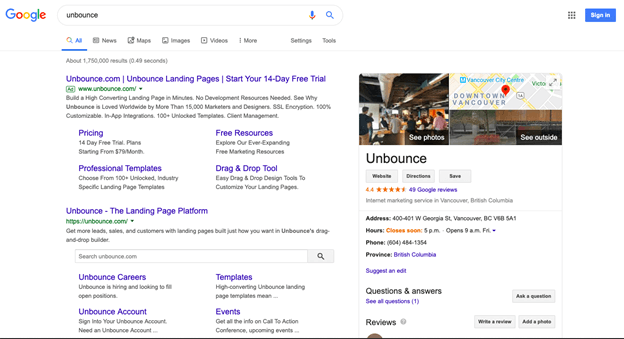 Bidding on your brand name is inexpensive
Sure, your competitors may also be bidding on your brand name (usually with a "Why [Your Brand] Isn't as Good as [Their Brand]"-type page).
But your search ad will appear above theirs, and you'll get a cheaper PPC than them, all because of your superior quality score.
The results
Growww Digital tested the impact of removing brand search ads for their client over a two-week period: one week without brand ads and one week with them.
"During the one-week period before shutting it down, the campaign achieved $1,268 daily revenue, while organic searches with the brand name included resulted in a magnificent result of $241 daily.
During week two, after shutting the brand campaigns down in Google Adwords, organic results improved to a stellar daily revenue of $757. This suggests that paid ads indeed cannibalized the results of organic results.
But once we looked at the whole picture, we realized the ugly truth: this huge improvement still could not fully replace the paid channel's performance.
Simply put, […] Without brand ads in Adwords, a loss of $750 daily [meant] 50% less revenue [for the client.]."
So this is the value you get from search ads, even if your organic rankings are already great.
Organic and paid search relevant tools
Conclusion
Hopefully, these organic and paid search statistics have given you a better understanding of the sheer power of search.
We also hope you now realize that neither organic nor paid search is inherently superior. In fact, both channels complement each other.
While PPC does have a cost, the results are immediate. Organic traffic is free, but you'll need to wait at least six months before you can reap the rewards of your SEO strategy.
We urge you to try them both and see what works for you and your business. And, of course, if you have any questions, don't hesitate to get in touch.