How to Set Up SEO for Google Shopping: A Step-by-Step Guide
Adam Heitzman
July 25, 2023
Since Google announced free listings on Google Shopping in 2020, more brands are grabbing the advantage to attract new (in-market) sales. As a result, the results pages have become a battleground. Brands are tirelessly competing with each other to dominate the search engine results pages (SERPs) and become the preferred choice for customers.
Luckily, SEO is a better and cost-effective way to achieve this. Are you an eCommerce business owner looking to optimize your product listings for more sales? Or are you looking to build your own online store? No worries! In this post, you'll learn practical strategies to optimize your Google Shopping for SEO. We've also included other strategies to improve your rankings. Let's go.
Understanding Google Shopping
Google Shopping is similar to online marketplaces like Amazon and Etsy. It allows users to browse a display of products from different brands in response to a search query. Usually, it appears on the top of organic text results and is a great way to attract leads with buying intent.
With Google Shopping, e-retailers can display their best products, including prices and other product features. The most exciting part is that it allows new entries in the market to compete with other big brands like Walmart and Etsy.
Let's examine a possible use case. A shopper looking to purchase a new 'sleeper sectional sofa' uses Google search to discover the right brand with the best price. The search likely goes like this: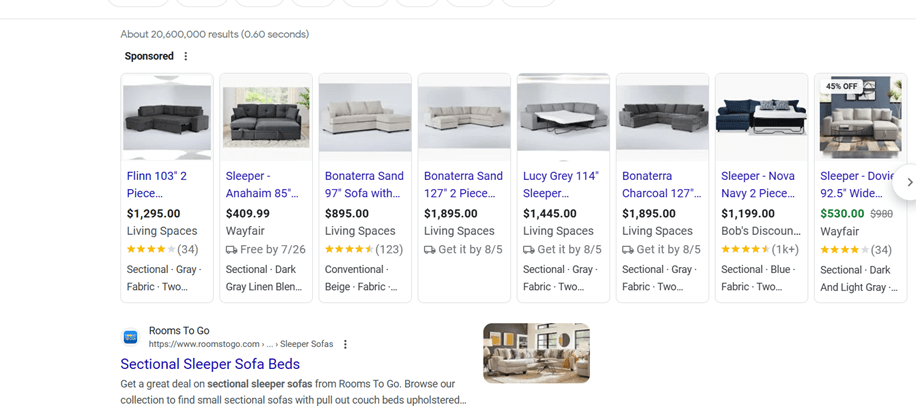 The Role of SEO in Google Shopping
The ranking factors for Google Shopping listing are not explicitly outlined, but Google highlighted giving preferences to satisfying user search queries:

This means only SEO-optimized product listings will be displayed on the results pages. Online retailers who want to attract these quality leads must optimize their product listings to rank high on the search engine results.
Using the same guidelines for Google Shopping ads will be a good starting point. Keywords, product titles and descriptions, product prices, quality images, and other attributes are critical in determining your brand's position on the SERPs.
Let's discuss this in detail.
Key Components of Google Shopping SEO
In this section, we will highlight the key factors to consider when optimizing for Google Shopping:
Product titles: This is the name of your product. It is one of the most essential parts of your campaign. It helps Google algorithm decipher how to rank your web page according to user search queries.
Product descriptions: This is a written copy that provides essential information about a product. It contains product features, benefits, specifications, and other information beneficial to the end users.
Google Product Category: This is a classification system used by Google Merchant Center to categorize listed products for Google shopping. It helps Google algorithm identify and accurately classify the type of products you sell.
Product Type: This is another important attribute that contributes to the success of your Google shopping SEO. Unlike the Google product category, it is part of the structured data you provide when listing your products on Google Shopping.
Product image optimization: You also want to consider your product image. This includes all visuals used to display your products. For best practices, follow these recommendations from Google.
How to optimize for SEO in Google Shopping
Listed below are some SEO strategies to adopt:
Deep Dive: Optimizing Product Titles
Product titles have an immediate impact on your Google Shopping SEO campaigns. This is because they are closely tied to user search queries and determine whether your product listings appear on the results pages. As highlighted above, when users conduct a search query, Google displays the most relevant product results based on their titles.
Also, optimizing product titles can catch the attention of your potential customers and compel them to click through. It also helps you avoid irrelevant clicks or traffic to your listings.
Tips for creating compelling and SEO-friendly product titles
Understand your audience and their purchase behavior. How do they conduct search queries? Do they use specific brand names? Or descriptive words? Do they search by categories? Understanding customer intent can help you know the best product title to use
Use relevant keywords in your product titles. A rule of thumb is to place keywords at the beginning of the product title. Use Google Search Console or SEO tools like SEMrush to generate relevant keywords. Also, avoid adding too many keywords in your title, as it may make you look spammy.
Include other specifics like color, size, material, specifications, etc. Remember your audience may be searching for specific items and will add these attributes to streamline the results:

Place the necessary information first since Google shows only 70 characters out of the 150 allocated for the product titles. This way, your potential customers won't miss out on the information you're trying to convey.
Distinguish between product variants. If your product comes in different sizes and colors, include specific details.
Test your titles! A/B tests your product titles to discover the best fit for your business.
Deep Dive: Crafting Effective Product Descriptions
Product descriptions are potent tools to convert visitors into buyers. A well-crafted product description can attract user attention and compel them to take desired actions.
Guidelines for SEO-optimized product descriptions
Highlight the benefits of the product features. If there's something unique (compared to your competitors), show it off!
Keep them concise and tailored to your target audience. Remember to do customer research before writing your product descriptions. This helps to create content that's totally relevant and relatable to their specific use case.
Use bullet points, headings, colors, and bold fonts to make your product descriptions scannable and easy to read.
Incorporate the right (transactional) keywords into your product descriptions. What are your customers already searching for? What attributes do they include in their search terms? Always weave these key phrases in your description.
Although Google allows up to 5000 characters for product descriptions, keep vital information between the first 150-200 characters. This is because Google truncates the ad when displayed on the results pages. Users will have to 'Click More' to view the remaining text.
Use unique product descriptions for each product. Don't try to copy and paste one description for all your products, as this will only leave your customers confused.
Pro Tip: Google recommends that you match your product description to that on your landing pages. Read more about Google's guidelines for writing product data.
Deep Dive: Understanding Google Product Category
Google product category is a hierarchical list of product categories that Google uses to compartmentalize your product. This is predefined by Google, and you're to choose the one that best describes your product. This way, Google can easily categorize your product listings when a user conducts a matching search query.
Best practices for category selection
Google recommends that you choose the category that best describes your product.
Be specific. For example, if you're selling MP3 player chargers, use the MP3 player accessories category.

Electronics > Audio > Audio accessories > MP3 player Accessories (ID:232)
Check out the latest categories from the Google product taxonomy page to discover the right ones for your products
Use a single and predefined product category.
Learn more about Google product category optimization techniques.
Deep Dive: Product Type Optimization
Product type helps search engines understand the structure of your product listing. It also makes it easier for them to crawl and index your product in the appropriate categories. For searchers, product categorization improves overall user experience. Users can browse through categories to discover what they're looking for, which can lead to higher engagements and, best, conversions.
How to properly define your product type
Understand product hierarchy. Identify and segment your products in terms of categories and subcategories.
Use the > symbol to distinguish between categories. For example, Home page > Shoes > Women's shoes.
You can also leverage categories similar to Google's taxonomy. Check out the categories offered and choose which is most similar to your product.
Lastly, use consistent categories and subcategories for your product listings and landing pages. This makes it easier for Google and humans to navigate your page.
Deep Dive: Product Image Optimization
One of the core tenants of a good web experience is usability. This means it must be accessible to everyone, including people with disabilities. Using high-quality, optimized images in your product listings enhances the user experience.
Techniques for optimizing product images for SEO
Use only high-quality images. This helps shoppers have a first-hand view of your product.
Follow Google's shopping requirements for image optimization.
Don't put text on the images. To convey vital information to your target audience, utilize the product description section.
Match the right image with its product variant.
Add more images as possible to show the best view of your product. The best part is that you can add up to 10 images!
Regularly test your images to use the mixed with the highest engagements/conversions.
Leveraging Google Merchant Center
Google Merchant Center is a centralized platform provided by Google that allows online business owners to display and manage their products and services on diverse Google platforms – Shopping tab, Google Images, Maps, YouTube, etc. It offers a low-cost and efficient means to display product-rich snippets on the SERPs to attract potential customers.
In addition, merchants can list products, collect product reviews, view analytics, optimize for local searches, and more. This platform also makes it easier to attract a new audience, run Google ads and track how users interact with your website.
How to use Google Merchant Center to improve SEO
Enable product reviews! If you've amassed many positive reviews from other customers, why not show it off? Enable product reviews on your Google Merchant account to gain a competitive edge and attract more customers.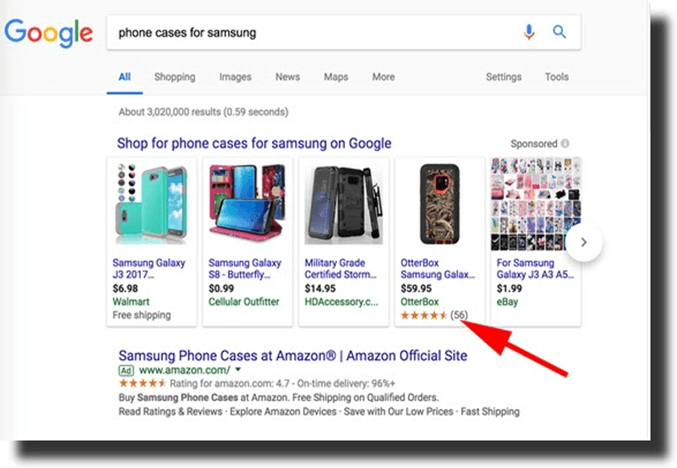 Write customer-focused product descriptions. Remember that this information determines how Google bots crawl and index your product listings to be displayed on the result pages.
Optimize your Google Merchant Center account for image searches too. Include relevant images to match your product descriptions.
Add all product pricing data, including sales price, shipping costs, discounts, etc.
Importance of Price and Availability
In a YouTube Live with Google Search Central, Google's John Mueller highlighted that price only counts for product-based searches and not web-based searches:
"Purely from a web search point of view, no, it's not the case that we would try to recognize the price on a page and use that as a ranking factor. So it's not the case that we would say we'll take the cheaper one and rank that higher. I don't think that would make sense."
Conclusively, low prices garner high impressions and CTR compared to high costs. It's advisable to use low-priced products to gain entry into the market and gather traffic. Then, you can upsell high-priced products via your website.
Google also affirmed that product availability affects visibility on results pages. For example, out-of-stock products are treated as soft 404s and will not be displayed with other listings when a search query is conducted.
Ways to optimize price and availability information
Build a strong brand. This way, other businesses in your industry will have a hard time competing
Test various pricing methods to discover that with the highest conversion
Use discounts or other effective pricing strategies to attract new traffic
Google recommends that you keep your prices and availability up to date, including tax and shipping fees: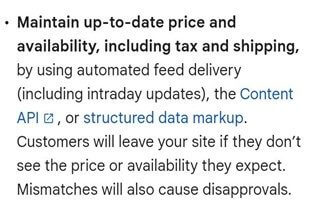 Managing Product Reviews and Ratings
How does Google know if your page is trustworthy?
Through reviews from other users!
Reviews and Ratings like the ones here serve as a vote of confidence for your website. They tell search engines how relevant your page is in meeting user needs or in response to their search queries.
In fact, 90% of online shoppers say they read reviews before making a purchase! These reviews are displayed on your Google searches and can attract potential customers to your site.
Strategies to encourage positive reviews and ratings
Give your best. Always ensure your customers have the best experience. This naturally encourages them to leave a positive review on your site
Sign up on third-party sites to gather reviews from existing customers
Encourage customers to leave reviews on your website and across social media pages
Respond to all reviews on your site, including the negative ones. This contributes to customer experience and can possibly build loyalty.
SEO Strategies for Mobile Users
Mobile optimization ensures that your website functions similarly on all devices – mobile phones, tablets, etc. – of all shapes and sizes. It is even more relevant today than it was five years ago. A significant number of digital shoppers are mobile users, and they're prioritizing brands that give them a frictionless buying experience.
Consider geo-specific browsing, for instance. If a visitor searches for 'Phone vendors near me' and your site isn't mobile optimized, it won't appear on the SERPs. Therefore, it's only advisable to prioritize mobile optimization when setting up SEO for Google Shopping.
Techniques to Enhance mobile user experience
Start with customer research. Where are your customers browsing from? Figure out what they're expecting and discover ways to surpass them.
Design for mobile first (before designing for the desktop site). Mobile sites are often more challenging to design. So starting with mobile-first will help you avoid complications, for example, elements that aren't responsive across device screens.
Maintain a consistent design across all devices. Use the same visual identity, wording, iconography, and interactions.
Use a clear and simple navigation system to help users quickly discover what they're looking for.
Streamline checkout process. Offer multiple payment methods to accommodate user preferences.
Conclusion
Yes, optimizing your Google Shopping listings for search engines can be difficult. It may even seem to take forever. But it remains one of the most effective and sustainable channels of driving relevant traffic to your site (for free!) Keep in mind that Google updates its ranking factors from time to time. So keep checking this post, as we will update it regularly to inform you of recent best practices.