SEO for Multiple Locations: Tips for Boosting Online Presence
Scott Langdon
October 19, 2023
Google processes over 97 billion monthly local searches.
And 72% of these searchers visited the store within 8 kilometers of where they were looking.
Local SEO is clearly a gold (traffic) mine. It's a cost-effective, hyper-targeting marketing strategy to reach your audience at the right time and place.
Multiple location SEO is similar to local SEO, just that you're duplicating efforts to more locations (more pages or websites). It might appear easy on the outside, but behind the scenes, it's a lot of work.
You may have questions like: should I create multiple Google My Business listings? Do I need to create a unique page and content for each location? Truly, things can get complex and tricky quickly.
This article covers everything you need to know about multiple-location SEO. I also highlighted possible challenges you may encounter while scaling your local SEO efforts— and their solutions.
What is Multiple location SEO?
This is simply optimizing your business website and listings to rank for different locations – within the same city, state, or country of operation. The main advantage of Multi Location SEO is that you get to attract more traffic from these areas. And more traffic equals more sales.
Also, Multi Location SEO allows you to attain more real estate on the results pages and rank high for relevant search phrases in these areas.
For example, when searching for 'cold stone in NY,' I got results for the locations located in major areas in the city: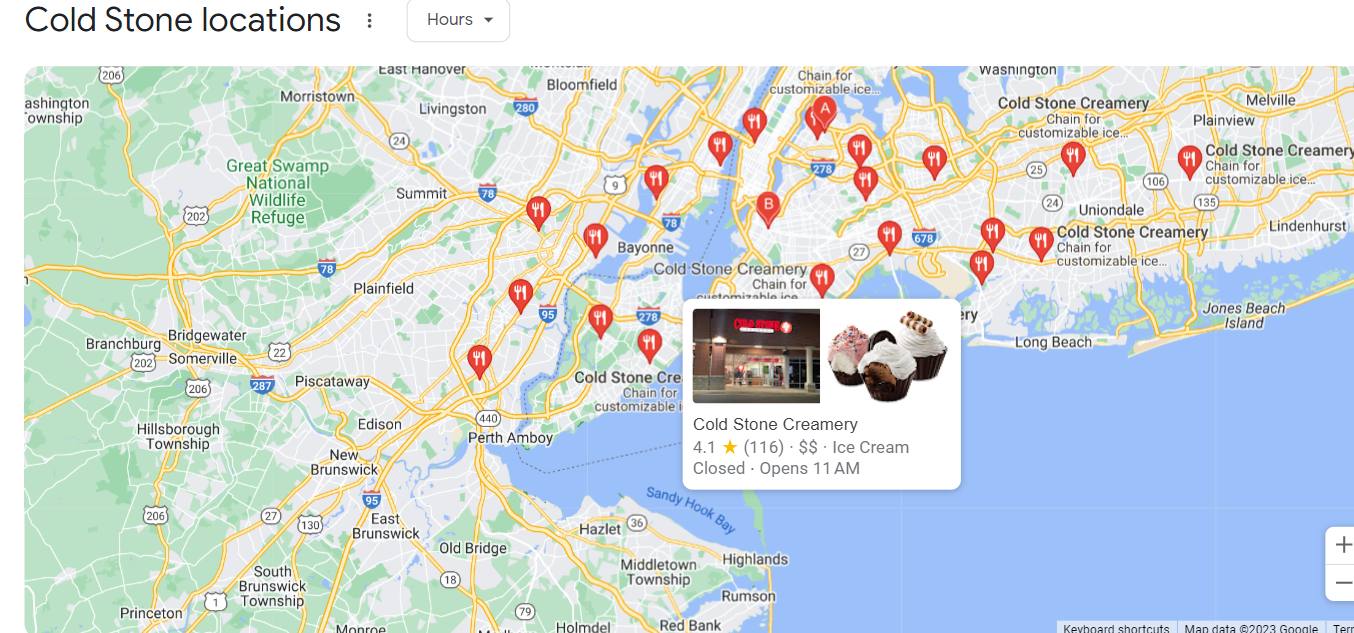 Other benefits of multiple location SEO are:
Attracts more in-person traffic to your site
Boost your brand awareness online
Enables you to scale effortlessly
It helps you gain a competitive advantage in your niche
Increases your bottom-line revenue
Allows you to rank for geo-specific and non-branded search queries
Tip: Before extending your reach to other locations outside your vicinity, ensure you rank for your primary keyword within your local area. If you don't, it will be more challenging to rank outside your local market. See also Franchise SEO.
So, how do you optimize your site for Multi Location SEO?
1. Start with a local foundation: Website structure
The first step to a successful Multi Location SEO strategy is building a sturdy website structure.
This is because your website architecture determines how search crawlers index and rank your site. It also determines how users navigate your site and engage with your content.
And when your site is well-structured, it increases your chances of ranking for local search queries.
There are two ways to do this:
By creating individual location pages or,
Creating a stand-alone website for each location
Creating location pages within a single website is a centralized approach and has several benefits:
You don't have to build domain authority from scratch, so you are able to leverage the existing equity to see results faster typically
It's easier to maintain since you have one website to manage
Allows you to leverage internal linking, leading to higher page authority and rankings.
On the other hand, creating stand-alone location websites is a more 'decentralized' approach. This method entails either creating location-specific sites that act as a subdomain or on a separate domain altogether.
This strategy works well for businesses that have become household names since they attract branded, geo-specific traffic — for example, searching for McDonald's in NY.
The decentralized Multi Location SEO strategy has its perks, too:
Allows each location to operate as a stand-alone entity
It can be easier to provide access to localized departments or management to have more control over their location.
Tip: Unless you have an established brand that generates a good deal of brand search, it's our personal recommendation to implement the centralized approach.
2. The power of Google Business Profile
Once you've created a solid foundation, it's time to build on it.
Google business profile (GBP) is a powerful tactic to pull in quality foot traffic and rank for the Google snack pack: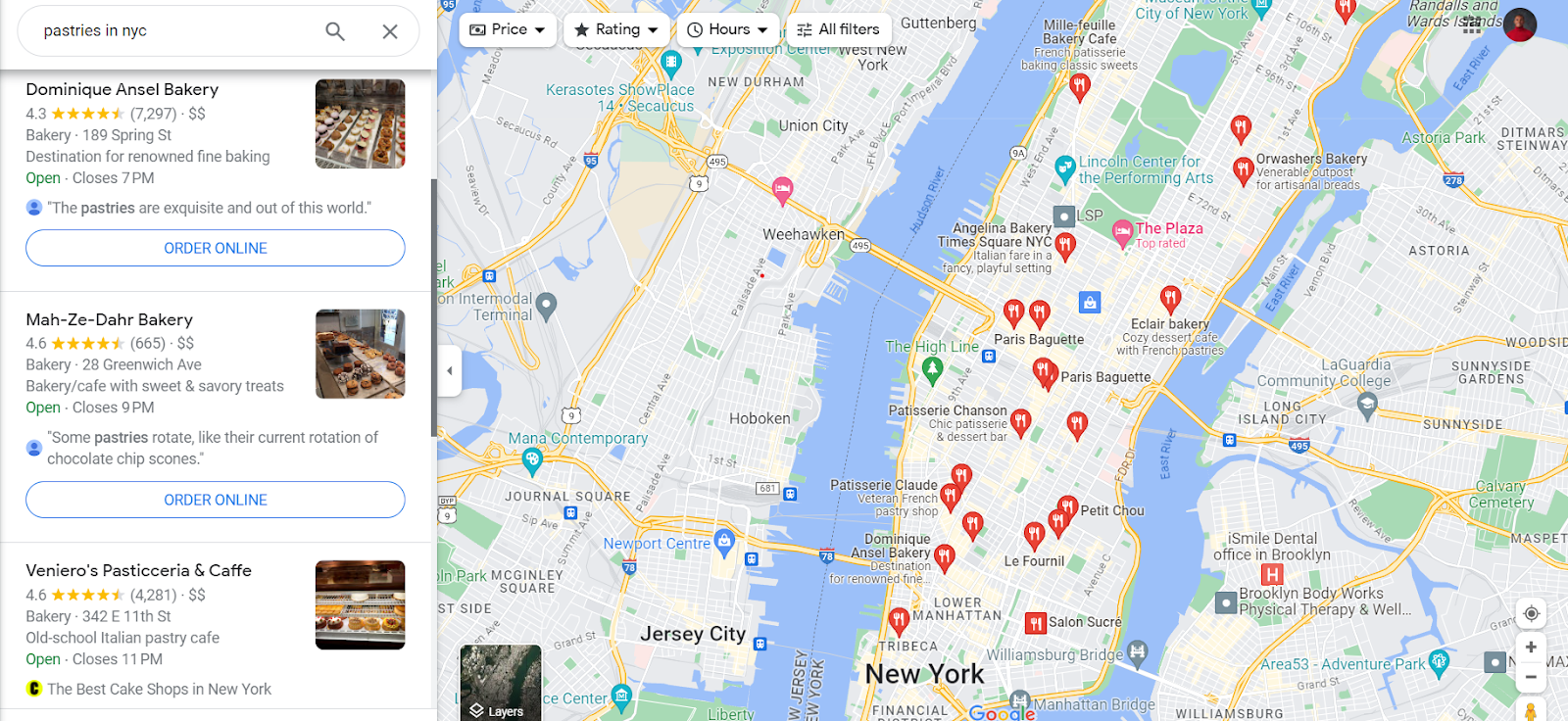 This is a huge opportunity for businesses trying to reach more customers with local intent.
To create GBP for multiple locations:
Sign in to the Business Profile Manager and click the 'Businesses' tab
Then, click 'Create a group.'
Next, you'd be asked to add the basic details about your business – name, address, phone number (NAP), website, hours of operation, images, etc.
Click 'done'
Repeat the same for the other locations
You can also use the Import Businesses function if you have more than 10 locations to add. You'd be directed to a sort of spreadsheet to fill in details about these locations, and you'd upload when you're done. Google will sync the information, and you're live.
Now, how do you optimize each GBP listing for higher rankings?
Ensure the NAP information is consistent and accurate for each location
Use Google posts to connect with your customers across each listing. Share exciting offers, announcements, events, sponsorships, etc., to encourage engagement
Only upload relevant, high-quality visuals for each location. Ensure that the images and videos follow Google's guidelines.
Encourage your customers to leave reviews on your site. Do your part by responding politely to all reviews, including the negative ones. Keep in mind that empathy always wins; it shows potential clients how you handle feedback.
Use the relevant, buyer-intent keywords in your description and Google posts.
Attach your social pages to your GBP accounts to drive customers to your social pages.
3. On-page SEO Tactics for Multiple Locations
On-page SEO for multiple listings is similar to that of a single location in that you need to ensure that each location page or website is well-optimized for search crawlers and users.
This entails:
Accessing your key pages to find any issues impacting your search rankings. Use tools like Google Search Console, Google Analytics, Screaming Frog or others to audit your website.
Since you're managing several pages, consider cross-linking between closely related locations. This improves your website architecture and navigation.
Instead of using generic anchor texts for linking, use location-specific keywords. For example, use 'Visit our Boston store' rather than 'Visit us.' These URLs are more SEO-friendly since they contain keywords
Never underestimate the power of keywords. Ensure your headings, business name, meta titles, and descriptions are infused with location-specific keywords. This allows you to rank for geo-specific search queries.
Implement structured data to help search engines understand the content of your web page. Structured data makes your listings more attractive in search results and indirectly influences your click-through rates.
4. Building Local Citations
When it comes to local SEO, getting your listings on local citations matters. How so?
According to the local SEO ranking survey by WhiteSpark, the authority of inbound links to the domain ranked 3rd spot for local pack ranking factors.
This implies that you must ensure your online business listings are accurate, consistent, and up-to-date. Not doing so can tank all other SEO efforts you've put in place.
Ensure your basic contact information, especially NAP, is consistent across all citations and locations.
List your site on authoritative directories like Yelp, Yellow Pages, Apple Maps, Yahoo Local, etc. You can also choose directories unique to your local community or industry. For example, if you own a real estate business, you should have your information on Zillow or Realtor.com.
Build and manage citations across multiple listings.
5. Crafting Location-specific Content
While you create location-specific pages for the locations you target, it's imperative that you create unique content for them, too.
If you don't, you risk falling into the trap of thin or duplicate content, which can hurt your rankings.
Target geo-specific long-tail keywords to drive relevant traffic to your site. For example, if you're a pet walker in Miami, Florida, target keywords in this category. Ranking for generic keywords like 'Pet walker' or 'Pet walker in Florida' might drive traffic to your site but will not convert.
Think about your content strategy. Will you have a generic blog post or a unique one for each location? You don't want to confuse your customers when they visit your page. Instead, opt for location-centric content, which is more engaging and aligns with your customer's needs.
Leverage local events, news, or other developments in the area to drive engagement. For example, during the Christmas holidays, you can promote special discounts or host a festive outdoor event for the residents of that area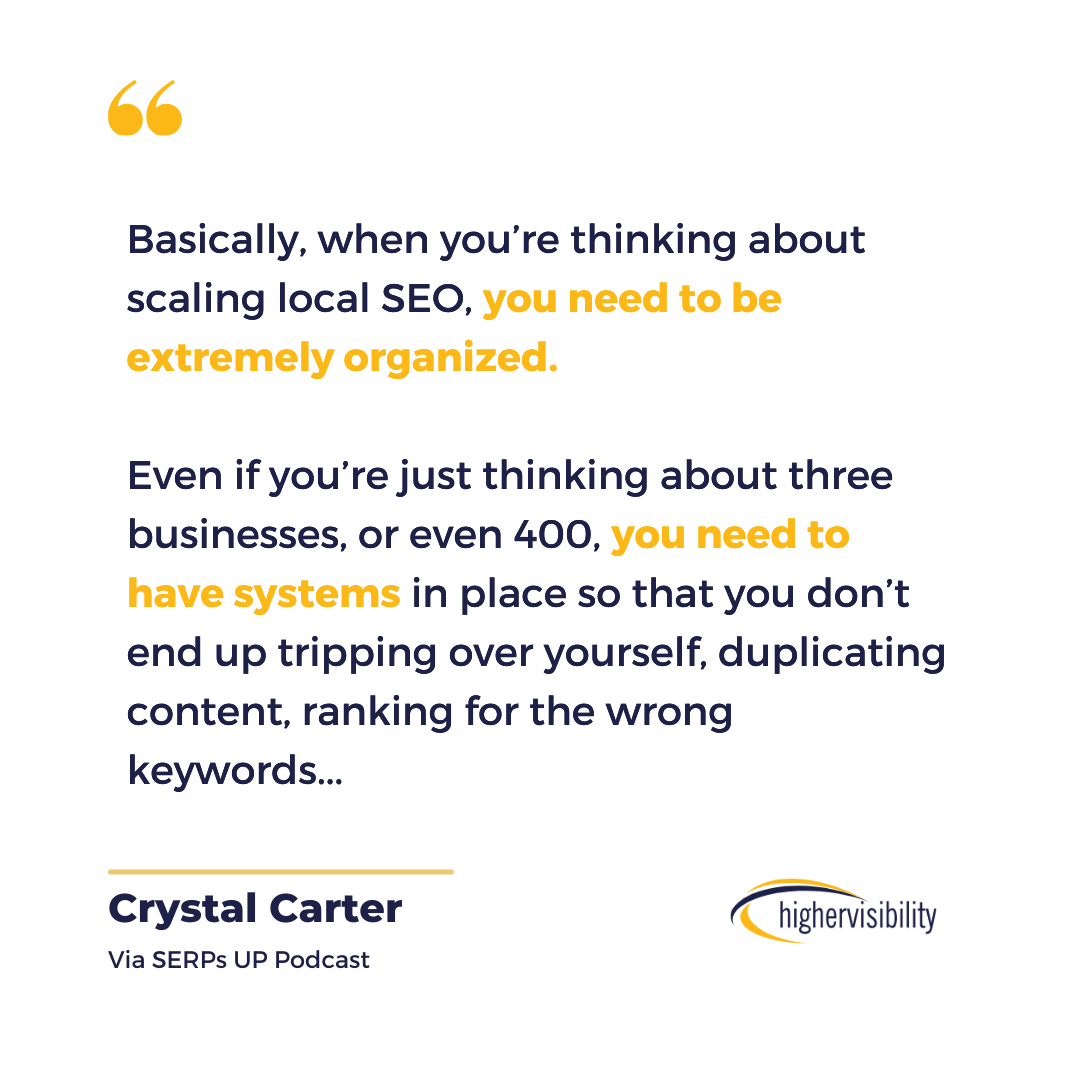 6. Engaging in Local Link Building
When it comes to local SEO – or any type of SEO – link building will never go out of style.
Backlinks are Google's way of determining your page content's relevance. They act as a vote of confidence in your 'credibility-bank.'
But not all backlinks matter. For your link-building tactics to yield results, you must earn quality and relevant local backlinks. There are several ways to achieve this:
Reach out to local bloggers or publications for collaborations. Offer to contribute to their site (as a guest post) in exchange for a backlink. Many will happily consent to it.
Get involved in relevant local events like hackathons, charities, or sponsorships. This naturally grants you a backlink from the event websites or local articles.
Partner with complementary businesses in that area. For example, if you own a bakery, you can partner with local restaurants in the same area to broaden your reach.
Create high-quality, relevant, and naturally linkable content.
7. Managing Online Reviews For Every Location
You should read this section twice if you're already ranking in multiple locations but have a low conversion rate.
Why?
According to the Local Search Rankings Factors survey by WhiteSpark, Google ratings ranked as the top factor influencing conversion rates.
This means the more positive reviews you have on GBP and other citations, the higher your chances of converting potential customers into paying ones.
In addition, positive reviews influence purchase decisions, as 93% of customers read online reviews before making a purchase.
Always encourage satisfied customers to leave reviews on your site. Make it easier for them by providing a comment link online or having a QR code on your brochure or flier. This way, it's easier for them to leave reviews without breaking a sweat.
Monitor and respond to reviews across all your locations. The rule of thumb is to show empathy, especially to dissatisfied customers.
Share positive reviews across your social pages and on your website. This can help build trust with your current and potential customers.
8. Mobile Optimization: Catering to On-the-Go Searches
According to research from Google, mobile searches for 'on sale' + 'near me' grew by more than 250% YOY from 2015 to 2019.
It's real. More people are now using mobile for search than other devices.
The rise of voice and visual search has also transformed how people search for information online.
So, if you've not optimized for mobile SEO, there's no better time to start now.
Make sure any content that is visible on desktop that you want Google to see is also visible on mobile devices.
Ensure your website is responsive so it's easily navigable no matter what device someone is using
Test your site performance to ensure page load times on mobile devices are up to par.
Optimize for Google core web vitals
Overcoming common challenges in multi-location SEO
As I highlighted earlier, scaling your SEO efforts can be complicated. Here are the common challenges you may encounter in Multi Location SEO and how to avoid them:
Duplicate content across location pages:
It's easy to create unique content for ten or twenty individual location pages. What do you do in the case of hundreds or thousands of pages?
When there are so many locations, it can be challenging to maintain the brand style and voice for all pages.
Solution: To avoid duplicate content issues, use a content template that can be customized for each location. Also, highlight nuances specific to each region to add uniqueness to each content. Some ways to do that are (management profiles, specific services offered at the location, areas served, testimonials from that location, etc.)
Managing different local competitors for each location
Another challenge you may experience is out-performing the local competitors' ranking for your primary keyword, especially those intentional about their SEO strategy.
Solution: Target long-tail, localized keywords with ample search volume and lower competition. Also, conduct competitor analysis to identify their strengths and weaknesses. Look out for gaps that you can leverage to gain a competitive edge.
Conclusion
SEO is a game won by the persistent many, not the lucky few. Focus on what is best for your target audience. Understand their needs, preferences, and pain points and tailor your Multi Location SEO strategy accordingly.
Need help with multi location SEO? At HigherVisibility, specialize in helping these types of businesses succeed. With over 5,000 individual locations across multiple organizations being managed by our team, we have the experience and knowledge to help you win. Contact us today for a free custom strategy!