GMB Optimization: Tips to Rank Your Google Business Profile
Adam Heitzman
November 28, 2022
How would you like a free, eye-catching business listing that lets customers discover valuable info about your company directly within the SERPs?
Interested? Well, that's exactly what a Google Business Profile has to offer.
Business Profiles make it easy for local search users to get in touch with you, locate your stores, learn about your products and services, check out your customer reviews, and stay up-to-date on the latest news from your business.
This translates into more organic visibility for your brand, better credibility, and increased sales.
But most businesses don't come close to making the most of this powerful customer acquisition tool.
This post will cover everything you need to know to squeeze as much value as possible from your Google Business Profile. We'll explain why the platform is a must-have for SMBs, show how it can boost your local search rankings, and break down what you need to do to ensure your profile is fully optimized.
But first, a quick reminder of some basics.
What is Google Business Profile?
Google Business Profile (formerly known as Google My Business) is a free Google tool that allows businesses to manage how they appear across Search and Maps.
Specifically designed for businesses that make in-person contact with customers, Business Profiles help to increase your exposure to nearby customers by providing them with a snapshot of your business within local search results.
For example, here's the Business Profile for Memphis Zoo: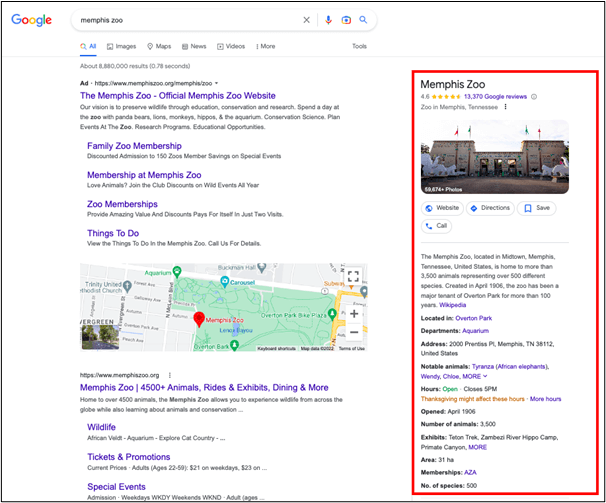 As you can see, the profile displays key information about the zoo, including a business description, address, opening hours, user reviews and ratings, and contact details.
(It's important to note that certain businesses are not eligible for a Google Business Profile, such as rental or for-sale properties, lead generation agencies, or any ongoing service at a location you don't have the authority to represent.)
Why You Should Optimize Your Google Business Profile
A Google Business Profile can benefit your business in multiple ways.
But simply having a Business Profile isn't enough; you also need to optimize and maintain it to use the tool to its full potential.
To see why GMB optimization is so important, compare the complete and incomplete Business Profiles of two London-based antique stores. As a search user, there's no doubt which one you'd find most useful.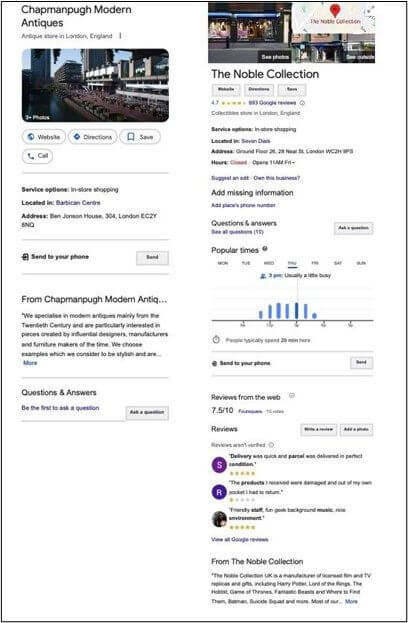 While The Noble Collection's profile isn't entirely optimized (notice how there's no contact number), it uses numerous features that are completely missing from the unoptimized example.
With that in mind, here are some of the main advantages of optimizing your Business Profile.
Increased Local Search Visibility
Local SEO has never been as important as today, with 21% of online consumers using the internet to find local businesses every day.
For this reason, it's vital for businesses operating within a specific geographical area to make it easy for customers to find them. Google Business Profile is one of the primary ways online users discover local businesses. An up-to-date profile provides Google's algorithm with the signals it needs to rank your business higher in its local search results.
Reputation Management
Google has found that customers are 2.7 times more likely to regard businesses with completed profiles as reputable versus those with incomplete profiles.
Indeed, many people's first impressions of your business will be determined by your business profile's quality. You can present yourself more favorably by providing as much useful information as possible and interacting with customers (e.g., via review responses and Q&As) to show that you take customer service seriously.
More Conversions
Google has also found that customers are 70% more likely to visit and 50% more likely to buy from a business with a fully optimized Business Profile.
In other words, if you don't take steps to improve your profile, chances are you're leaving a lot of money on the table.
Google Business Profile Ranking Signals
Before we dive into optimization tactics for your Business Profile, it's worth briefly considering which elements of your profile can have the greatest impact on your local search rankings.
According to a study by Whitespark, Google has been placing more and more emphasis on Business Profiles in recent years when deciding how to rank businesses for localized searches prominently.
The study found that the most influential ranking signals are:
The main category associated with the profile (e.g., 'health spa')
The keywords used in the profile title
The search user's proximity to the business address
Whether the business has a physical presence in the user's city
Any additional categories associated with the profile
With these insights in mind, let's look at optimizing your Business Profile for better local search visibility and conversions.
How to Optimize your Google Business Profile
1. Create and Verify Your Profile
You'll first need to create a Business Profile if you haven't done so already.
To do this, go to the Google Business Profile page and hit 'manage now.'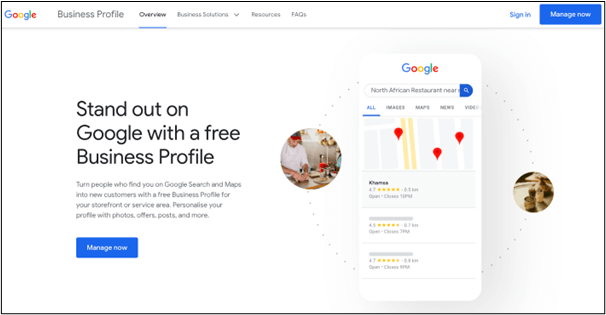 The first thing you'll have to provide is your business name. If your business is already listed in Google's systems, it will appear in a drop-down menu as you enter your business name.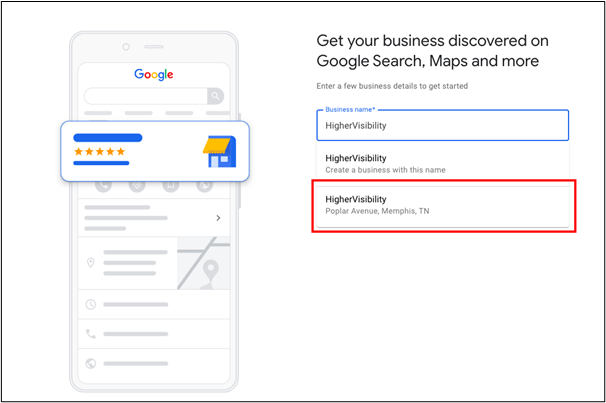 You'll be instructed to provide additional business information, such as your address, contact details, website, business category, and service area.
After you've completed this process, Google will ask you to verify your business. You will be given the option to do this either by mail, phone, or email.
Once you've created and verified your profile, you'll be able to manage it via the Google Business Profile Manager dashboard.
2. Populate Your Profile with Business Information
The first step towards building an optimized profile is ensuring that you populate it with as much information as possible.
Detailed profiles make it easier for Google to match your business to relevant user searches. Plus, the more information you provide, the more actions will be available to potential customers interacting with your profile.
Here are some examples of information you should include:
Business description: Google provides 750 characters to write your "from the business" description, which will usually appear on your profile beneath the reviews. Use this to explain who you are, what makes your business unique, and what you stand for. It's also a good idea to incorporate one or two business-related keywords into the description, but make sure you stick to Google's guidelines. (Note that Google also automatically generates its own description for your business, which appears just beneath the business name on your profile.)
Business hours: Around 40% of local business searchers want to find opening times for nearby businesses. So by specifying when you're open, you'll encourage customers to visit you or get in touch. Just be sure to differentiate between regular and holiday hours, as this will prevent customers from making a trip to your store when you're closed.
Opening date: Mention when you originally opened (or plan to open).
Services: For example, whether you offer curbside pickup, in-store shopping, free delivery, etc.
3. Carefully Choose Your Business Category
Earlier, we saw that the business category associated with your profile can significantly impact your local search rankings.
This is because as much as 84% of Business Profile views come from so-called discovery searches, which are business-related search queries that don't contain a specific business name. Google serves relevant results for these searches based on how different local businesses have categorized themselves.
Moreover, Google offers special attributes for Business Profiles in different categories. For example, if your business is categorized as a restaurant, you can add a menu to your profile.
It's essential, therefore, that you select a predefined category that most accurately describes your business. For example, if you own a sushi restaurant, you'll want to select 'sushi restaurant' over 'japanese restaurant.'
Note that Google allows you to assign more than one category to your business. But you should only use these additional slots if they accurately represent your product or services. For example, if your restaurant also offers sushi take-out, you should select 'sushi delivery' as a secondary category.
4. Make Use of Special Attributes
As we've just mentioned, selecting a specific business category allows you to use special attributes within your profile.
You can use special attributes to highlight relevant features, services, and other business characteristics. For example, hotels can specify that they serve free breakfasts, coffee shops can specify that pets are welcome, and dental practitioners can specify that they offer teeth whitening.
The more applicable special attributes you select, your profile will be more useful.
5. Include Photos
Visuals significantly impact how useful and attractive your profile is to users.
In fact, according to Google, businesses that add photos to their profiles get 42% more requests for directions on Google Maps and 35% more website clicks compared to photo-less profiles.
Users can upload their own images of your business, but these tend to range in terms of quality. Uploading your own images means you can present your business in the best light possible.
Make sure that your photos clearly depict your business and steer clear from using stock imagery. Use your company logo for your thumbnail photo and an image that accurately represents your business for your cover photo.
Finally, if you operate out of a brick-and-mortar store, consider creating an immersive virtual tour of your business on Google Maps.
6. Ask for Customer Reviews
It's no secret that reviews greatly influence whether consumers will buy from a business.
The more you can accumulate in-depth, positive reviews on your profile, the more willing other people will be to do business with you.
Encouraging customers to write honest reviews of your business also provides invaluable feedback about what you're doing right and what you could do to improve your service.
What's more, if you take the time to respond publicly to individual reviews (good and bad), you'll reinforce the fact that your business values its customers.
7. Enable Customer Messaging
You can now allow smartphone users to text your business directly via a 'Message' button within your profile.
To set up and manage customer messaging, you will need to download the Google Business Profile app.
If you choose to implement this feature, it's essential to try to keep your response time within the 24-hour range. You can also use automated responses to reduce the perceived delay between message and response.
8. Answer Common Questions
Each Business Profile comes with a question-and-answer feature that anyone can contribute to.
For this reason, it can be difficult to control the quality of information that appears in this section.
The best way to manage this is to take it upon yourself to proactively ask and answer (and upvote) the most common questions your business receives. This is another great opportunity to integrate keywords that are relevant to your business.
9. Create Local Posts
Google lets you post updates about your business around products, offers, and events and display them within your Business Profile.
Not only does this help you engage your audience (who can follow your profile to be notified of any updates), but it also sends a fresh stream of ranking signals to Google.
Naturally, Google sets some restrictions on what you can include in local posts. Each post should contain relevant information, be free of spelling and grammatical errors, and steer clear from mentioning or linking to anything offensive or dangerous.
10. Keep Your Profile Updated
Our final tip for creating a top-tier Business Profile is to monitor it closely.
Regular check-ins will allow you to keep track of any Google or user-initiated changes, ensure your information remains up-to-date, and take advantage of any new features that Google introduces.
Final Thoughts
Having an optimized Google Business Profile is key to the success of almost any local search marketing strategy.
By making the most of this free and powerful tool, you'll drastically increase your organic visibility and connect with a much wider pool of local customers. Now it's time to deck out your Business Profile by following the tips above and take your local SEO game to the next level.