Popular Types of SEO Services & Deliverables: A Complete List
Scott Langdon
August 11, 2023
Before optimizing your site for search engines, you need to be well-versed in the major types of SEO and use them to increase your conversion rates.
SEO is a broad field comprised of diverse terminologies:
The list isn't exhaustive. How do you know which specifically applies to your business? In this guide, I compiled the popular types of SEO and other deliverables you need to focus on when optimizing your site. Let's jump right at it.
The Main Types of SEO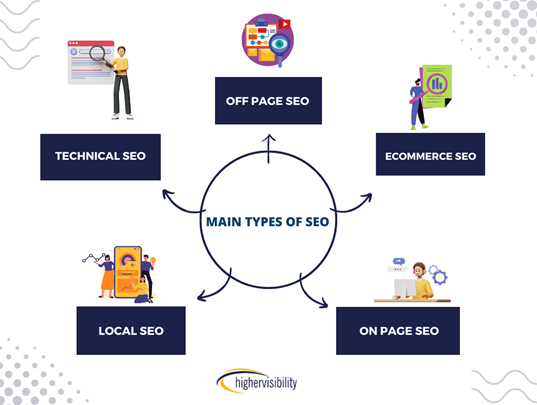 Here are four of the main types of SEO:
On-Page SEO
On-page SEO, or on-site SEO, is the process of optimizing individual web pages for humans and search engine bots to match search queries, drive relevant traffic, and, ultimately, increase rankings on the search results pages.
Basically, it comprises everything you do ON your website to improve search rankings.
On-page covers several factors outside content: optimizing meta tags and description, incorporating keywords in the right places, structuring your website correctly, URLs, structured schema, and many others.
It's entirely different from off-page SEO, which focuses on optimizing your website to establish topical and industry relevance. More about this later.
Why is it important?
If you ever care about dominating the search engine results pages (SERPs) for your keyword or getting discovered online, you must understand the basics of on-page SEO. And how to apply it as well.
For example, the faster your website's loading time, the higher your website appears on the results pages. But that's not the most incredible part.
On-page optimization also keeps you one step ahead of the competition in driving quality leads to your site.
According to recent research, the top-ranking page on the SERPs gets 49% of all clicks. If your website is well-optimized, you will gain more visibility, higher rankings, and more traffic.
Lastly, as technology advances, search engines deploy new methods to satisfy user search queries (think voice and image search). Google, for instance, prioritizes improved user experience and delivering relevant content in response to search queries.
So if your on-page SEO tactics aren't up to date or incorrectly done, you may miss out on getting juicy, quality (and almost free) traffic.
Types of On-Page Services
For organizational hierarchy, I'll be categorizing the major types of on-page SEO services into three:
Content: Incorporate the right keywords in your content. But avoid keyword stuffing. A good rule of thumb is to use one keyword in every 100 words.
All content must be relevant to the user search query. Keep it informative, scannable, unique, and readable.
HTML: Use keywords in the headings, meta descriptions, and title tags. Also, ensure they're compelling to drive clicks.
Use the right alt tags for your images. Also, keep your image size within the Google recommended size for fast loading. Optimize your website for mobile devices.
Web Architecture: Are your websites linked correctly to each other? Does your content also link to relevant pages on your site? Also, remember to link to other relevant sources across the web.
Use Robot.txt tags to ensure your web pages are indexable by search engines. Each page URL should be clear, concise, and descriptive, like this:

Read more on how to optimize your website for search engines.
Off-Page SEO
Off-page SEO refers to everything you do OFF your website to increase visibility and rankings. Google uses off-page tactics to determine your page's credibility, authoritativeness, and trustworthiness.
While on-page SEO tells much about your page relevance, off-page SEO is like confirmation that your website is credible. Many marketers sometimes limit off-page SEO to link building. But there are several other effective ways of establishing your site's authoritativeness.
Why is it important?
On-page SEO tactics act as a vote of confidence for your website. When reputable websites link back to your website, Google confirms that your website content is informative and of high quality.
And the more high-quality backlinks you have, the higher your chances of ranking high on the results pages.
Let's examine a case study. Forbes has a domain authority (DA) of 95%. Suppose your website with a 60% DA gets a backlink from Forbes and sites with the same DA; Google automatically perceives your site as a credible source, increasing rankings on results pages.
More backlinks from sites as high as Forbes in DA will further boost your authority and, in the long term, visibility on SERPs.
Asides from Google validation, effective off-page SEO also helps to increase website visibility. Traffic from the referenced source may click through to visit your website, increasing monthly traffic.
Tip: Focus on getting relevant and high-quality backlinks. Links from sites in your industry amplify your website authority compared to those from other sectors.
For example, if you own a marketing website, getting backlinks from other marketing websites is better than websites in another niche.
Types of Off-Page SEO Services
You'll find a ton of how-tos online on how to perform off-page SEO on your site. New techniques are rolling out each day, but nothing matters except it impacts all of the following:
Link building (also called backlinks): Are you getting quality and relevant backlinks to your site? First, conduct a competitor analysis to know who is already backlinking to your competitors.
Reach out to the sources strategically to get a backlink from them through guest posting or content collaboration.
Barnacle SEO: Look out for online directories, like G2, Yelp, or Capterra, within your industry that rank for similar keywords. Create a listing and ensure all details displayed are correct. Encourage your customers to leave a good review on your listing, as it boosts your rankings.
Social mentions: Use social mentioning apps to monitor how other websites mention you in their content.
Tip: Check out the top-ranking pages for your primary keyword. What are they doing differently? Use it to inform your strategy.
Technical SEO
Technical SEO is the process of optimizing the technical aspects of your page to ensure your web pages are crawlable and indexable by search engines. The ultimate goal is to improve user experience and ensure your site appears when users search queries.
Why is it important?
Fact: Technical SEO directly impacts your web performance on search engines.
If your pages are not discoverable, there's no use worrying about how to rank because it won't appear on the SERPs even though Seth Godin wrote your content.
Plus, Google confirmed that page speed and mobile friendliness affect your rankings on the results pages.

If your page loads slowly or your pages are not correctly interlinked, users may get frustrated and leave your site. This doesn't just crumble all other SEO efforts you've put in place, it also leads to a loss in traffic and revenue.
Types of Technical SEO Services
Technical SEO usually requires a degree of technical expertise, like entry-level programming knowledge, analytical skills, data analytics skills, etc. But here are some best practices:
Use SEO tools like SEMrush or Ahrefs to conduct a technical audit for your website. You'll find issues affecting your website health, including orphan pages, duplicate content, etc.
Use XML Sitemap to help Google find your content.
Use an SSL certificate to establish a secure connection when users navigate your site.
Ensure your website is responsive, that is, friendly on all devices. Most preferably, adopt a mobile-first approach during technical SEO.
Use structured data to help Google understand the content of a page.
Optimize for core web vitals.
Ensure your site has an SEO-friendly architecture.
Additional Types of SEO
Here are other common types of SEO:
Local SEO
Local SEO encompasses all techniques applied on a website to increase search rankings for local search queries – either Google's Map Pack/Local Pack. The ultimate goal of local SEO is to direct foot traffic to your store, either online or offline.
Why is it important?
Recent research shows that 76% of people who search on their smartphones for something nearby visit a business within a day. Also, 28% of these visits result in a purchase.
Local optimization improves your rankings and makes you discoverable when potential customers are seeking solutions within your vicinity. This is most beneficial if your business has a physical location or serves a specific geographical area.
Types of Local SEO Services
Google is tight-lipped about improving organic rankings but shared how you can optimize your business for local SEO.
Google determines local ranking based on the following:
Relevance. How well does your business profile match the user search query?
Distance. How far is your location from the searches?
Prominence. Is your business well-known?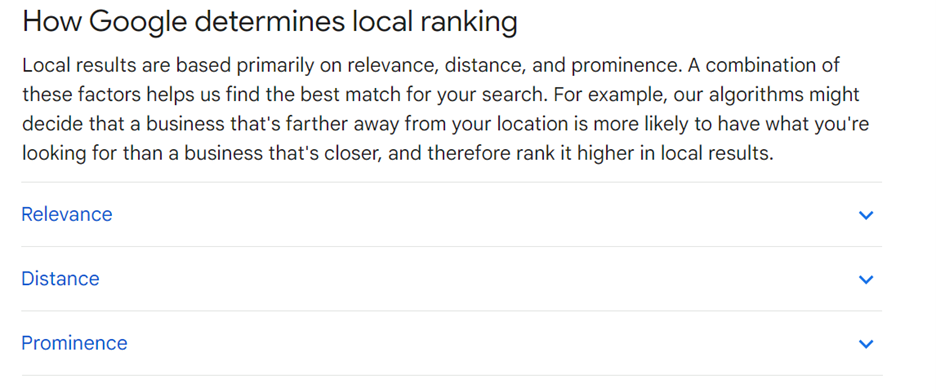 Organic SEO also affects your website rankings for local search queries. But there are other techniques to implement to optimize your local search presence:
Verify your Google My Business (GMB) business page
Ensure your Name, Address, and Phone number are consistent across all platforms, including your website, GMB profile, and online business directories.
Collect reviews from your customers.
Read more on how to optimize for local search queries.
E-commerce SEO
E-commerce SEO is another type of SEO that focuses on:
Optimizing online stores for higher rankings on the SERPs,
Increasing website visibility, and
Driving quality organic traffic to the website.
The goal of eCommerce SEO is to attract traffic that converts to sales.
Why is eCommerce SEO important?
The digital marketplace is crowded (with over 2 million online retailers in the US!) And to scale your eCommerce business, you need customers.
But let's be candid. Getting leads isn't so easy. And converting these leads to paying customers is another tough row to hoe. This is where eCommerce SEO comes in. By optimizing your digital store for search engines, you get loads of traffic to your site – all for free!
Types of eCommerce SEO services
eCommerce SEO services include:
Keyword research
On-page SEO
Technical SEO
Mobile Optimization
On-site SEO
Let's discuss some best practices for eCommerce SEO:
Understand your customers. This stems from conducting thorough research to understand them, where they are on the sales funnel, and how they make purchases
Use long tail keywords (except if you have a high DA like Amazon). They are less competitive but with high buyer intent.
Ensure you have an SEO-optimized site architecture. This makes it easier for users and search engines to understand the content of your page. It helps your search rankings as well.
Optimize relevant sections of your website – meta description, headers, product pages, and category pages,
Use a mobile-first design.
Write content that serves search intent. Remember, content is king. Use videos, images, infographics, and other forms of content to increase engagement. Also, each product should have a unique product description.
Use structured data to help Google feature your products under rich snippets.
Deliverables of SEO Services
What should you expect from the right SEO agency?
Detailed SEO Audit Reports
The first step in any effective SEO strategy is conducting detailed SEO audits. It is the process of evaluating your website health and how well-optimized your web pages are for search engines.
An SEO audit report should contain an analysis of every page of your website:
Internal links,
Headings,
Indexation status,
Crawlability issues,
Title tags,
Meta description
Backlink profile and more.
This helps to identify the best-performing pages and areas of improvement. It also provides actionable recommendations on how to improve your overall SEO strategy.
Use SEO tools to gather insights on your website's current SEO performance. These tools help to identify issues and also provide step-by-step instructions on how to correct them: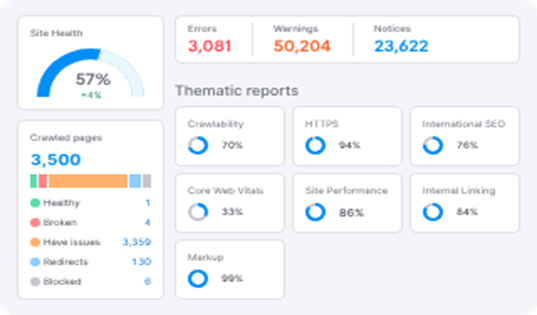 Regular Performance Reports
SEO performance report shows the effectiveness summary of your SEO strategies implemented over a specific period – monthly, quarterly, or yearly.
It's vital because it gives you real-time analytics on your website's SEO performance and helps you track the effectiveness of the SEO strategies implemented and other areas that need improvement.
Google Analytics and Search Console are free but excellent tools that give you real-time analytics of your SEO performance. Both are from Google, so expect accurate results in improving your search rankings.
Content Creation and Optimization Deliverables
We've all heard it countless times: Content is king.
And it's unarguably an essential part of SEO. When content is in different formats:
Texts, like articles and blog posts
Videos, like YouTube content, vlogs, etc
Podcasts
Infographics
eBooks
Case studies
White papers, etc.
Content optimization ensures that your content matches user intent and is discoverable by search engines. See Google Guidelines on how to create content that ranks.
Keyword Ranking Reports
Keyword ranking reports give you an overview of your organic search results for the keywords you're optimizing. It shows your organic results keyword by keyword and helps you monitor which keywords you are ranking for and the exact pages ranking for them.
Keyword ranking reports are required so that you can monitor how your rankings on the SERPs perform over time. You'll also see each keyword's estimated monthly search volume and cost per click.
Another thing to consider is search engines are constantly changing their ranking factors. And when this happens, it can either positively or negatively hurt your business.
Link Building Reports
Lastly, link-building reports convey vital information about your link-building strategies. You can see the number of backlinks to your sites, no follow links, domain analysis, and link equity.
Why is this report important?
It's because Google highlighted backlinks as one factor directly impacting your search rankings. So you better look out for it!
Link-building reports also detail the progress you've made acquiring new backlinks, the domain metrics and authority of the backlinks, the anchor text relevance, and the overall impact they have on your SEO performance.
Ready to get started?
SEO is an effective digital marketing strategy to get quality leads for free.
It brings your customers right where you want them: your website.
But just like every good and effective strategy, it takes time to yield results. It could take weeks or months, depending on the kind of SEO agency you're working with.
It will take longer if you choose to do it yourself since you have to learn the ropes from scratch.
Why HigherVisibility?
HigherVisibility isn't your regular SEO agency. We provide a holistic approach to digital marketing and ensure you get the desired conversions. Yes, we believe in delivering the right results!
We go beyond making promises, though. Each team member is a trained expert well-versed in the current SEO ranking techniques. We also understand that each business is unique, so we create a customized strategy that addresses your needs. Not sure of where to begin? Hop on a free consultation call with one of our experts now.