SEO Competitor Analysis: Uncovering Strategies for Success
Adam Heitzman
July 11, 2023
SEO competitor analysis is the process of identifying and analyzing websites that rank above yours on the search engine results pages (SERPs) to gather insights on their SEO strategies to inform your SEO campaigns and boost your rankings.
Let's be candid. There's no need to reinvent the wheel. Your competitors are a perfect, low-cost, and almost accurate guide to show you what your target audience already wants and how you can position your brand as a better solution.
Conducting a competitor analysis can help you:
Benchmark your current SEO performance
Identify gaps in your competitor's SEO strategy and how you can capitalize on them
Identify areas of improvement in your SEO strategy
Eliminate the risks of investing in campaigns that may not eventually convert
In this guide, you'll learn everything you need about competitive SEO analysis. We also covered how to utilize the information to inform your future SEO campaigns.
Best Way to Do Competitor Analysis
Your competitors may be outranking you on the SERPs. But the best part is that you can see exactly what they're doing and discover ways to improve your SEO strategy. Here's how.
Identify Your Competitors
First and foremost, you need to identify your competitors. Your SEO competitors may not necessarily be your direct competitors. Here's what I mean:
Imagine you own a coffee shop in Texas. The coffee shop located miles away from you is your direct competitor. The owner may not even own a website. But other websites ranking for the 'coffee' keyword on search engines are your SEO competitors. Let's discuss this in detail:
Direct Business competitors
These are businesses offering the same services as you. You share many similarities – target market, product offerings, and, often, location. Let's say you run a consultancy firm in the southern U.S. Other consultancy firms within this area are your direct business competitors.
SEO competitors
SEO competitors, on the other hand, are the ones that are currently ranking for the keywords you want to rank for. They might not be your business competitors. There are several ways to identify your SEO competitors. The simplest is running a search query on any search engine: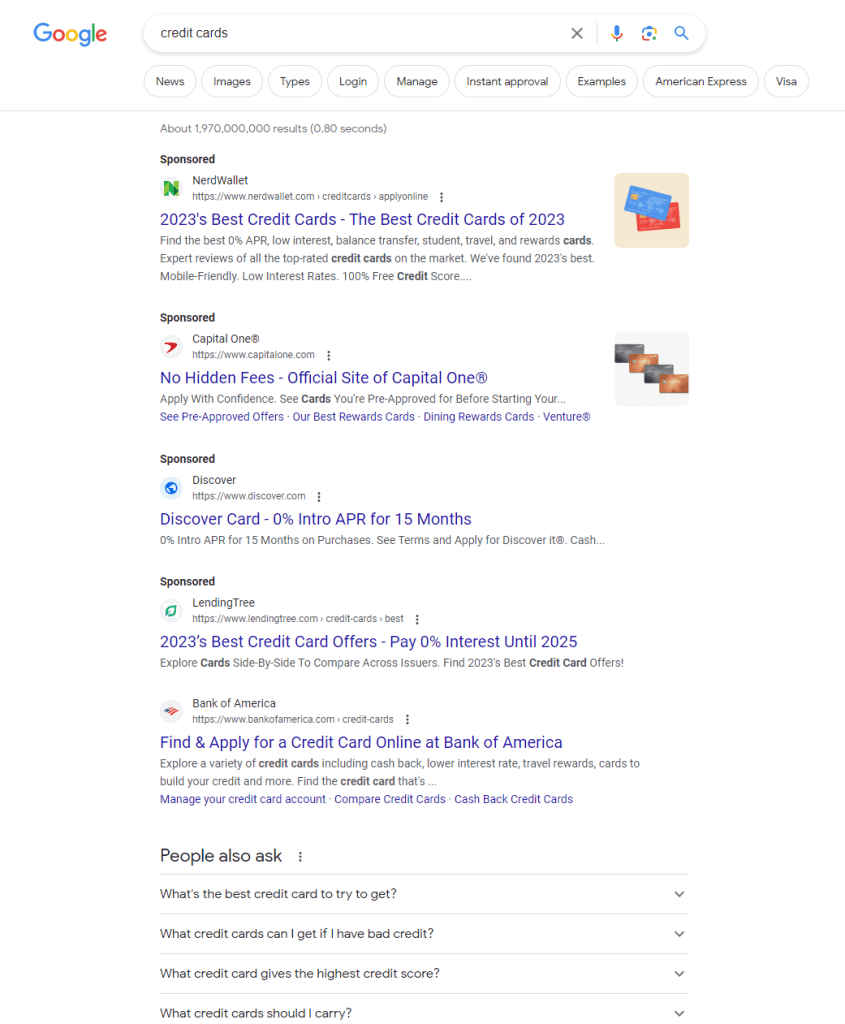 Or, use SEO tools like SEMRush or Moz to find your competitors:

You'll see a complete breakdown of all your competitors: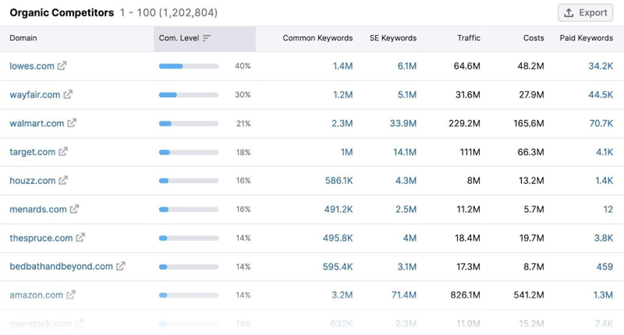 Keyword Research & Analysis
The next thing you want to do is identify the keywords your competitors are already ranking for.
How competitive are the keywords you want to rank for? What ROI will you generate by targeting these keywords? What tools or resources do you need to identify these keywords? Let's discuss the nitty-gritty details.
Keyword Gap Analysis
Now that you have a list of organic competitors insert one or more of these domains in the SEMrush 'Keyword Gap' tool to find keywords they're already ranking for and you aren't: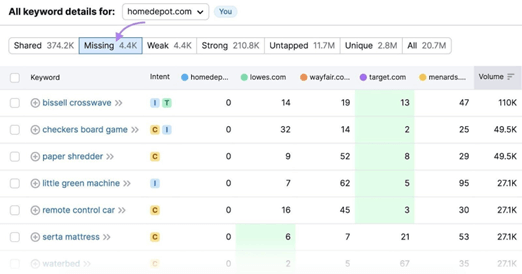 Ranking Keywords
Once you have a list of those keywords, conduct a SERP analysis to discover the top 10-20 domains ranking for them. Simply run the keyword as a search query into Google (or your preferred search engine):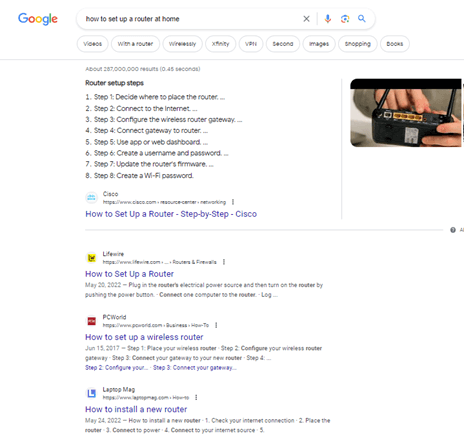 Or, use SEMRush to analyze each domain to find the top-ranking domains for the keyword: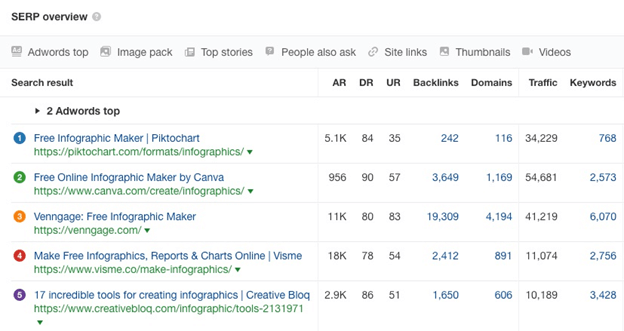 Pick the first five results and analyze the keywords they're already ranking for and you are not. Create new pages to address these keywords. Or, if you already have these pages, you can re-optimize them with the new keywords.
Keyword Difficulty
Lastly, analyze the ranking keywords to determine the search volume, keyword difficulty, average click-through rate, and other keyword metrics. SEO tool like Ahrefs provides real-time data on this, including the number of organic search for each keyword: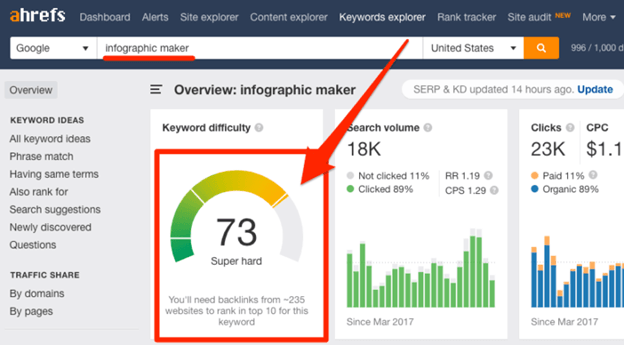 Tip: Instead of focusing on search volume, choose keywords based on search intent. This has a higher potential of converting.
Content Strategy
It's not enough to analyze the keywords your competitors are ranking for. You can also get a ton of useful information from their content strategy. Start by identifying the content they publish on the search engines.
What type of content are they publishing? Blog posts? Long-form articles? Or variety?
How often do they publish?
What type of keywords do they use in each post?
How is their content structured?
Do they have product/service pages?
Look into each in detail to identify how to mirror and rival their strategy.
Top Traffic Driving Pages
Now it's time to mirror in. Use SEMrush to identify your competitors best-performing pages (in terms of organic traffic). These pages strongly indicate what your audience wants or expects from your brand.
You can select up to 5 pages to begin with. Find gaps in your competitors' content and use them as an advantage when creating a new piece for your website.
For example, if your competitors publish a 500-word blog post on a specific topic, choose to make yours more informative. Add images, videos, infographics, or other lacking elements that may be absent in your competitor's content.
Other elements to look out for when optimizing your content ahead of your competitors are:
Meta tags
Content structure
Visual elements
Word count
Level of readability
Placement of keywords in titles, headings, and content
Presence of FAQs, etc.
Backlink Profile
Backlinks are external links from one website to yours. They're crucial in any successful SEO strategy as they help connote content relevance and site credibility. The more quality backlinks you get, the higher your rankings and authority on the SERPs.
Use SEMrush to find backlink gaps. Which sites are linking to your websites and not you? Analyze these links to know which type of business is linking to your competitors. Most preferably, reach out to them to give you a backlink too: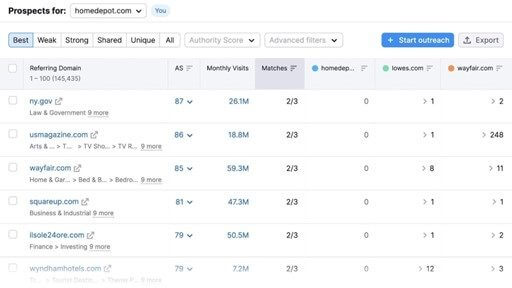 How are they getting links?
Examine the backlink profile in your competitor pages to know their link-building tactics. This may be guest blogging, influencer or thought leader collaborations, unlinked brand mentions, etc.
What type of content earned the most backlinks?
How long is the content – thought leadership? Blog post? Long-form article?
You gain valuable insights into your competitor's tactics for acquiring quality backlinks by reverse engineering their link-building strategies.
Use the SEMrush 'Backlink Gap' tool to discover domains backlinking to your competitors. You'll find all relevant information, including domain authority, anchor text, and more: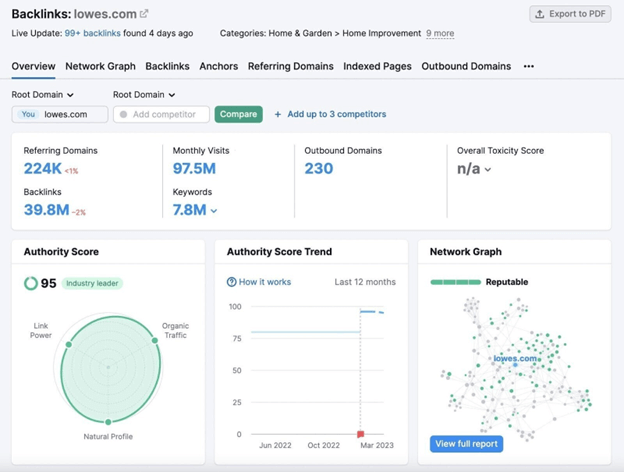 On-Page Optimization
On-page optimization is the process of optimizing your website's front and back end to improve rankings on SERPs.
If your competitors are doing better than you on the SERPs, it's an indicator that they invest time and resources in optimizing their web pages.
Start with the basics. How did they position the keywords in the title tags?
Check the meta title and description. Did they include keywords?
Keep an eye on the URL structure to know if they're doing anything different. Typically, an optimized URL should be short and contain relevant keywords.
Analyze the site structure. How did your competitors add internal links to their web pages? Check out the keywords used as hyperlinks and also anchor texts.
Examine the content quality. Look out for keyword usage, visual elements used, the length of the content, and other specifics.
Lastly, analyze the usability. Are your competitor pages more user-friendly? Evaluate the site speed, mobile -friendliness, and ease of navigation.
Technical SEO
Technical SEO is the process of optimizing the technical aspects of a website to make it easier for search engines to index and crawl the pages. The end goal is to make the website more understandable for search engines.
First, benchmark your site's health using SEMrush: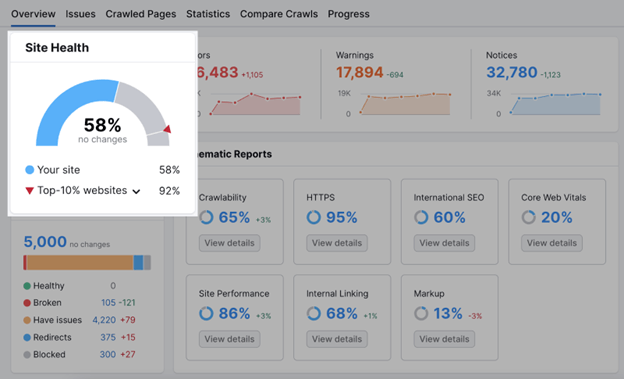 Often, site health is measured on a grade of 0-100. The higher the score, the healthier your website. Luckily, SEMRush provides in-depth insights into the issues affecting your website's health and how to fix them: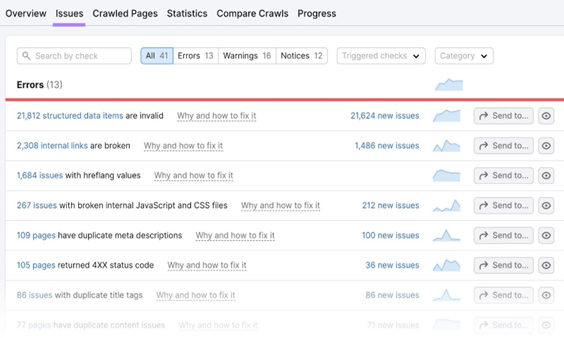 Analyze the website speed and performance using GTMetrix. Look out for the page details and compare yours accordingly:

Assessing Competitors' Strengths & Weaknesses
While you're looking to rival your competitor's SEO strategy, it's also essential to access areas where they may fall short. Understanding their weaknesses helps you identify opportunities to outrank them on the SERPs. There are several things to focus on, but here are the major ones:
Analyze their content quality and list the things worth emulating and their weaknesses. Look out for topics that are not covered comprehensively. What can you do differently? Mirror the best parts and capitalize on the gaps you notice.
Evaluate their backlink profiles to identify low-quality links limiting their SERP rankings. Instead, reach out to influencers or thought leaders in your niche for content collaboration to boost your rankings.
If you run a brick-and-mortar store, you may want to analyze if your competitor's websites are optimized locally. Check out the reviews, local citations, keyword strategy, and more. You can even analyze up to five profiles to identify strengths that can give you a competitive edge over them.
Analyzing Competitors' Website & UX Design
One of Google's ranking factors in 2023 is having a user-friendly website.
Since Google has made it clear that user experience is vital, it's only expedient to take note of your competitor's websites as it indicates what your audience already likes.
User Experience (UX)
UX encompasses website visual appeal, structure, user design, mobile friendliness, and readability. Although it's impossible to get first-hand information on all these factors, you can still measure a few.
Check out page speed and overall website performance using GTMetrix
Use Google mobile-friendly testing tool to check if the page is mobile-friendly
Access the entire website structure. How easy is it to navigate the site?
Check out how images and texts are aligned on the page.
Pro Tip: You don't necessarily need to uplift your competitor's design. It should be a source of inspiration on how to make yours better.
Read more on how to improve your website user experience.
Pages
Another vital factor is analyzing the page layout and design.
Check how the fonts and colors were used to create a visual hierarchy.
What images, illustrations, or graphics were used in the content?
Test the responsiveness of the page design on every device.
How is the content presented? Is it readable? Check how they use headings and bullet points to improve content readability.
Gaining Valuable SEO Insights
Google (and other search engines) update their algorithm from time to time. Luckily, you'll find a handful of resources and tools to generate valuable insights that inform your SEO strategy.
Using SEO Tools
You'll find both free and paid SEO tools. But the catch is the paid options offer better features. However, I've listed the top seven SEO tools you should use:
Developing an Effective SEO Strategy
An effective SEO strategy is the process of organizing your website content in order of topical relevance to increase your rankings on the SERPs. An SEO strategy is crucial because it helps you know what to do and when. It also lets you stay on track when creating and publishing content on your website.
Leveraging Successful Elements
Analyze your position on the SERPs. What steps did you take to get there? Before leveraging your competitor's success, identify successful elements in your own strategy and incorporate them into your SEO campaigns.
Filling Keyword Gaps
Also, conduct SEO keyword research for your website to find the ones you're targeting and not targeting for. Identify keyword gaps and create high-quality and optimized content for these keywords to attract new traffic. Also, (re)optimize pages that are not performing well on the SERPs.
Identifying New Opportunities
Now that you know where you stand, it's time to cast your net wide and deep. Analyze your competitor's SEO strategy with the tools highlighted in the previous section. What can you incorporate into your SEO strategy to give you a competitive edge? Look out for opportunities that you can improve on.
Measuring & Improving SEO Performance
SEO is an ongoing process. You need to track your performance to know what's working, what's not, and how to improve accordingly.
Yes, there are tons of metrics to track to measure your SEO performance. But not all are relevant for your business. So you need to fish them out:
Start with the organic traffic you get on each page of your website. This is easily visible under the performance section in Google Search Console:

Track your keyword rankings too. What keywords are you currently ranking for? Use SEMrush to set up a campaign to track your keyword rankings: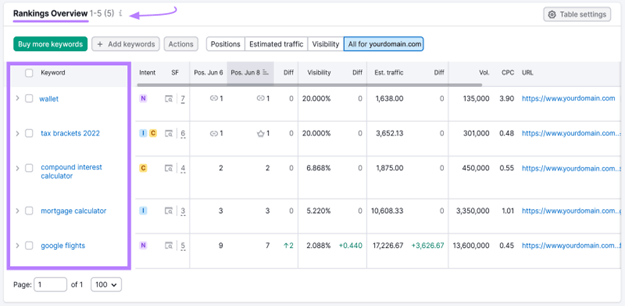 You can also check out keywords your competitors are ranking for and you are not: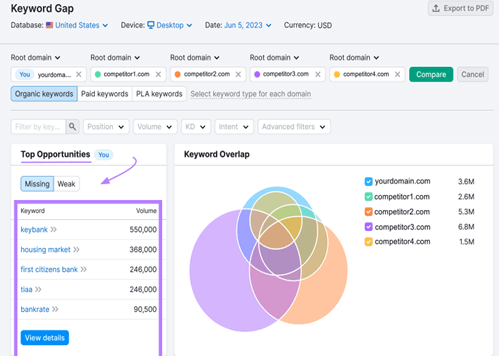 Next is your CTR. You need to analyze the percentage of users who click on your website from the SERPs. This shows how effective your meta tags are. Most SEO tools have this feature: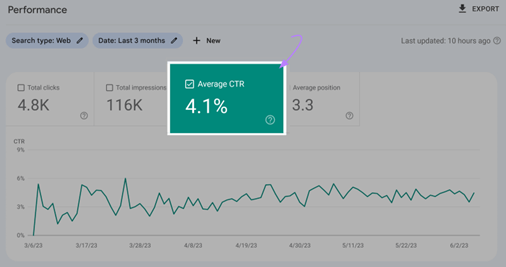 Another vital metric to look out for is the bounce rate. This measures the percentage of users who visit your site and leave almost immediately:

Domain authority measures the quality of your website. This score is based on several factors, including organic search traffic, quality of content, backlinks, etc.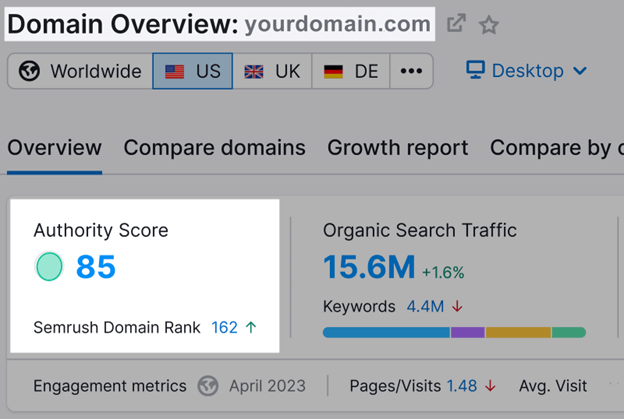 Conclusion
SEO isn't a one-time effort but a long-term game. Search engine algorithms are constantly evolving, and it's always important to be abreast of new ranking factors. Think of it like a sport – it requires discovery, practice, and continuous implementation to eventually win.