How Long Does SEO Take to Show Results?
Adam Heitzman
December 1, 2023
Editor's Note: This post was originally published in September 2023 and was updated in December 2023 for accuracy and comprehensiveness.
An organic website presence is a must if you want to drive leads and sales online. After all, the first organic search results on Google get up to 31.24% of clicks.
By ranking organically, you do not have to pay through the nose per click since the traffic potential is higher in the long term.
But it does take time.
Search Engine Optimization (SEO) is a long-term strategy. If you create a Google Ad, you can drive traffic and results instantly.
But how long does SEO take to work and deliver results when done right?
That's what we'll break down in this article. We'll cover official Google guidelines, the newest research, and data from internal case studies.
We'll even throw in a few tips to help you drive results faster.
How Long Does it Take To See SEO Results in 2023?
After optimizing your site, it will typically take around three to four months (and up to a full year) before you notice significant results.
This may seem long, but it aligns with Google's official guidelines. According to Google's Maile Ohye, it will take between four months and a year to see results after hiring an SEO agency or expert.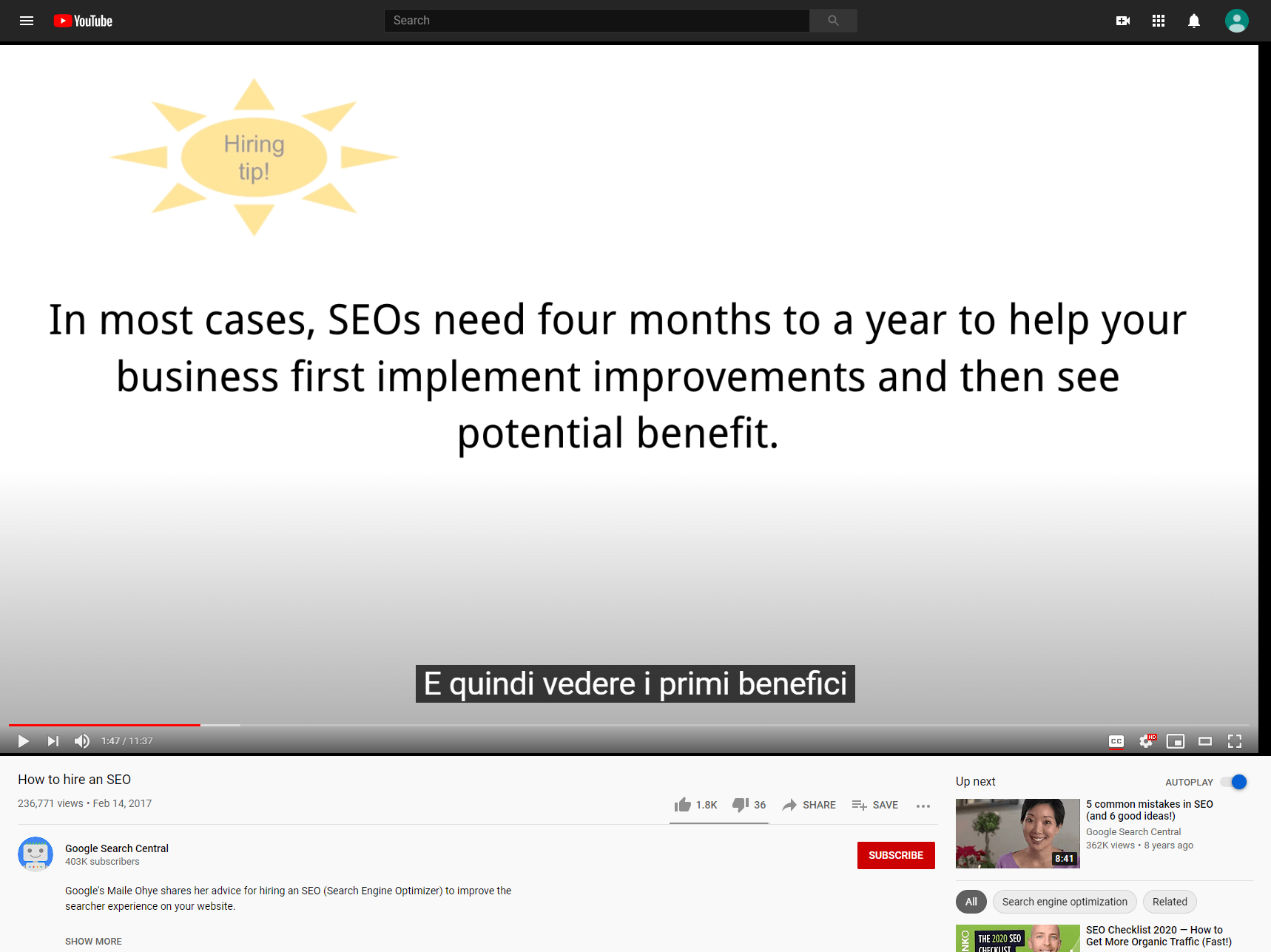 In some cases, with a strong domain and many low-hanging fruit keywords, you may see results sooner.
But expectations are a lot less forgiving.
Our recent study on SMBs and digital marketing discovered a market discrepancy: 68.8% of SMB owners expect results in under three months.
But unfortunately, SEO is not a sprint; it's a marathon. The real benefits add up over the long term.
Keyword search volume, however, isn't the only factor affecting your SEO efforts' success rate. Let's explore other options in detail.
Why Does It Take 'So Long' to Get Results From SEO?
The reason any SEO effort takes months to show results is that even with a lot of hard work, the process involves a lot of waiting.
A few contributing factors to that wait include:
Google needs to re-index and reconsider your page rankings for any pages you optimize.
Creating high-quality content that matches the search intent of the SERPs is time-consuming.
Google prefers "proven" content with signals (like backlinks) or social media attention that show it's worthwhile.
White-hat backlinks and authority building take time.
Natural link building (where you earn links by creating high-quality content) takes a lot of time.
Building authority and a brand also takes time.
Other major factors that may affect the time it takes to see SEO results are:
Google Algorithm Updates
Search engines like Google update their algorithms regularly to enhance search results quality and ensure users find accurate and relevant information.
The algorithm was recently updated on the 22nd of August, and these regular updates can affect SEO results.
For instance, if your site wasn't ranking high on SERPs, a new update can increase it. On the other hand, if your site ranks high, a new update may cause it to drop in rankings.
And sometimes, the update won't even affect your site ranking.
So, even if your website's ranking changes after an algorithm update, you do not have to worry too much. It's just Google's way of trying to give everyone better and more accurate information.
Besides, Google emphasizes that a drop in ranking following a core update does not mean your website has a problem.
Tip: In situations like this, focus on improving website quality instead of looking for technical fixes.
Industry-Specific Factors
Industries play by a different clock when it comes to seeing SEO results.
For instance, if you're in the automotive industry, it's possible you could expect to see SEO results more slowly than in the antique and craft sectors. Why is this so?
People search for car stuff frequently, and many brands compete for attention. But with crafts, there's less competition, so it's easier for them to see SEO results faster and rank high on SERPs.
Factors like keyword competition, content quality, and backlink strength are also vital. To strengthen your SEO game, learn how your industry works and focus on creating good content, using related keywords, and adding solid backlinks.
This way, you'll always get attention online, whether in a highly competitive or less competitive industry!
SEO Tools
The SEO tools you use for your content strategy impact your SEO results.
They are like turbo boosters for your website's online visibility. They help you understand what works and needs fixing, making your SEO journey faster and smoother.
Here's how some SEO tools can help you:
Google Analytics tracks visitors and visits data, including device, operating system, and browser types.
Tools like Frase.io or Clearscope suggest how to create better content to rank on SERPs.
So, regularly use these tools to spot trends, find improvement areas, and keep learning about your audience. With these tools, you'll cruise towards better SEO results with less stress.
Content Strategy
Everything you do to achieve better ranking starts with a good content strategy.
A well-planned content infused with relevant (buyer-intent) keywords engages readers and is more likely to rank high on SERP.
Here are some valuable tips for creating a winning content strategy to rank faster in search results:
Clearly outline your business goal.
Conduct customer research to understand your ICP.
Evaluate your existing content through a content audit.
Brainstorm ideas for your content pieces.
Oversee content publication and distribution.
Local SEO
Have you ever noticed how Google shows nearby options when you search for something? That's the work of Local SEO!
Though a general SEO strategy will take you farther, focusing on local SEO can help speed up the ranking process and improve results.
And unlike general SEO, which focuses on broader keyword optimization, local SEO emphasizes location-based keywords, local directories, and customer reviews.
These strategies drive foot traffic to your store and improve visibility on the results pages.
In a nutshell, having an optimized local SEO profile increases your chances of ranking high (and fast) for local searches.
Future of SEO
With technology revolutionizing the digital space, emerging trends like voice search, AI, and machine learning can impact SEO result timelines. Giri Devanur, a member of the Forbes Council, affirms that the future of SEO is Answer Engine Optimization (AEO):
"For those unfamiliar with AEO, it involves optimizing content for search queries that are phrased as questions, with the aim of appearing as the featured snippet or answer box in search engine results pages (SERPs).
The rise of virtual assistants and voice search has made this type of optimization even more important, as users are more likely to ask questions when using these tools."
AEO means creating content that matches the questions people type into search engines. With voice search and virtual assistants rising, AEO gains more popularity and challenges traditional SEO strategies.
Let's consider running a search query for 'Best Dog Walkers in Iowa.'
Looking at the 'People also ask' on the Google SERPs, there are questions related to the search queries:
Websites that provide relevant information following the Question-Answer format are most likely to appear on the featured snippet for such queries:
Tip: To dominate the SERPs, ensure your content aligns with common consumer queries.
Another buzzing trend in the SEO world today is generative artificial intelligence. The rise of Chat GPT, Bing AI, you.com, perplexity.ai, and other generative AI models is poised to revolutionize the nature of search results pages.
Even Search engines like Google affirm using AI to better understand user search queries and provide relevant solutions accordingly.
Bottom line: you can't rush the process.
Any SEO service that offers short-term link building is probably offering black-hat, low-quality links from a private blog network. Even if you see short-term benefits, the risk of getting penalized and completely shut out from the rankings can be severe.
But what if your website or page is brand new? How long would it take to reach the top 10 results then? Let's find out.
How Long Does It Take For A New Website To Rank In Google?
Ranking a new website in the top 10 results on Google can take a very long time, up to multiple years, if you don't do everything right.
Over 94% of first-page results are older than a year. The average page in the first position is more than two years old.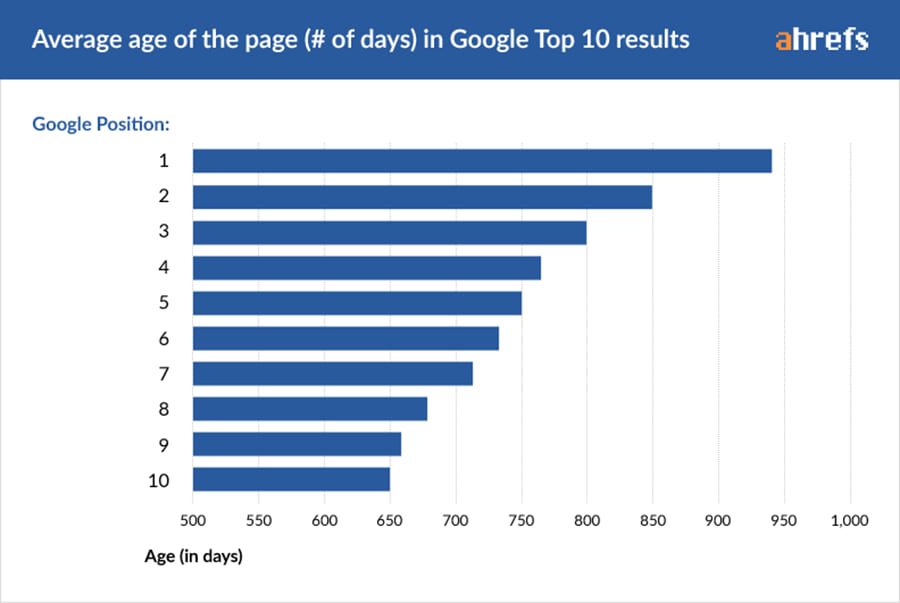 But don't give up all hope.
Of the 5.7% of pages that do rank within one year, the vast majority hit the first page within two to six months.
Note: A high domain rating essentially means your domain has a lot of backlinks from relevant sites in its category/industry. For context, if you're in the finance sector, it means reputed outlets like Business Insider, The Wealth Report, US News Money, Economix and others link back to some of your pages. It's a clear indicator of authority and trust on the internet.
Let's take a look at a real-life example of how we helped a client reach SEO success within such a time-frame.
Typical Client Case Studies: Setting Realistic SEO Timeframe Expectations
While the timelines discussed apply generally, expected results tend to vary based on each website's unique situation.
Here are a few examples of common scenarios we see and realistic timeframes for each:
Total Website Overhaul Required
For sites needing complete overhauls due to years of negligence or fully outdated designs, expect longer timeframes. These total transformations involve:
Redeveloping page layouts and navigation
Creating ample new content
Migrating to new CMS platforms in some cases
Building internal links and silo structures
Launching link building campaigns
With so many pieces to put into place, extensive overhauls like these take 12 months or longer to substantially improve organic growth.
New Website Launched with Strong Initial On-Page SEO
Alternatively, some clients come to us with newly-developed sites that already have quality content, responsive designs, and technically-sound on-page SEO due to hiring strong web development teams.
In these cases, the sites simply lack the authority and external signals that come with time. By building on what's already there with our link building and content production services, we can typically achieve page one rankings for targeted keywords within 6-12 months.
Established Sites Looking to Build on Existing SEO Progress
We also regularly work with companies that already have well-designed websites and some organic traffic, but experience plateaus. Often their internal teams hit capacity producing content or lack link building experience.
For established sites like these that merely need some extra "oomph" to get to the next level, we can usually deliver impressive growth through expanded content and links within a 3-6 month period.
Examining previous optimization work, site history, competition levels, and business goals allows us to provide each client realistic forecasts based on where they are starting from.
Real Example Of How Quickly HigherVisibility Can Deliver SEO Results
We recently worked with a company in the shipping industry that had a very underwhelming organic presence.
When we started working with them in July 2017, they averaged 1,900 monthly visitors, including paid sources.
That quickly changed after we got to work.
First, we fixed all on-site issues, like duplicate content, broken links, and more. Then, we applied more advanced white hat SEO strategies, like analyzing competitor link profiles and creating high-quality content focused on attracting real backlinks.
Within three months, the organic traffic started to shoot up. By December of that year, organic traffic had already more than tripled.
But the progress didn't stop there.
One year later, in July 2018, the site received over 27,000 visitors. That's a 1,321% increase in traffic in under a year.
But this is a time frame that you can only expect when working with an experienced SEO firm.
If you try to do things yourself, the first step on the journey becomes learning SEO best practices and ranking factors.
And we've got bad news for you.
Learning the ins and outs of SEO is even more time-consuming than waiting for results when working with experts.
How Long Does It Take To Learn SEO?
If you're starting from scratch, it could take you as long as four weeks to three months to grasp the basics of on-page SEO.
Just like learning any professional skill from scratch, it takes time. But there are a couple of reasons why even the basics take months:
There's a lot of conflicting information online. Finding trusted sources can be difficult. Here is a list of SEO courses we aggregated that could help get you started.
The feedback loop for SEO is very delayed. If you experiment on your site, it will take months before you know if it worked or not.
SEO trends and tactics are always changing and developing, so it can be hard to stay up-to-date.
There is a wide variety of complex tools that you need to learn to use effectively. For example, can you make sense of these results from Ahrefs, an SEO research tool?
Unfortunately, the basics will only cut it in non-competitive industries or for local SEO.
If you're in a competitive industry and not just trying to rank for local terms, basic SEO strategy will only take you so far.
If you really want to drive results, you need to master every advanced SEO tactic and become an expert.
How Long Does It Take To Be An SEO Expert?
Mastering advanced SEO techniques like an SEO specialist will take at least a year, likely 2-3. And that's if you're working in the business directly under someone who knows their stuff.
Hopefully, by now, you understand that becoming an SEO expert and dominating the results in a few months is unrealistic. (Unless you absorb new disciplines like a young Leonardo Da Vinci.)
But that doesn't mean there aren't a few quick wins you can implement to see faster results from your SEO efforts.
5 Tips To See SEO Results Faster
Here are five of our best tips to help you start seeing results from your SEO initiatives faster.
1. Use keyword research to find low-hanging fruit
If you target the wrong keywords, you may not have a chance of ranking in the top results even if you invest multiple years.
For example, if you're a local John Deere tractor dealer, you shouldn't be focusing on the keyword "tractor" at all.
You'd need an estimated 270 unique backlinks to break into the top results for that keyword.
While the trend varies based on your DR (Domain Rating), even low DR domains show the same tendency for ranking in two to six months.
Instead of breaking into the top results, focus your keyword research on finding lower-volume, less competitive keywords. That could be terms in your local area, like "tractor dealer + city," or specific tips on tractor maintenance, etc.
Keywords that you could consider "low-hanging fruit" have these three characteristics:
An acceptable monthly volume (at least a few hundred searches)
Some level of commercial intent (like a product category, name, location, etc.)
Limited competition.
There are no worthwhile keywords that have zero competition. That's the reality of doing SEO work in 2023 and beyond.
But you can do your best to find keywords that match that sweet spot of limited competition, decent volume, and good search intent.
But that doesn't mean there aren't a few quick wins you can implement to see faster results from your SEO efforts.
2. Invest in quality web hosting with fast loading times and a professional design
If Google users who click through to your site have a horrible experience, it doesn't matter how good your keyword selection is.
Page speed became an official ranking factor in 2018. Plus, loading times affect whether people stay on your page, which influences dwell time (another signal).
HTTPS has been an official ranking signal since 2014, and Google Chrome and other browsers will single out your site as unsafe if it's still on HTTP.
Invest in a quality host that offers HTTPS, caching, and fast loading speeds.
Professional website design is another aspect that plays a crucial role in the user experience of your website. Design and usability are also factored into Google's algorithm's brand-new page experience ranking factor.
To sum up, a great-looking, easily navigated site that loads fast will boost the results from every other SEO tactic you implement.
3. Eliminate basic on-page errors
The first step towards optimizing your SEO usually involves fixing your existing mistakes. Even if you think you're doing everything right, there's probably something you've missed.
A study of 175 million pages revealed over 300 million SEO mistakes. That's an average of more than 1.71 issues per page.
Some of the most common mistakes include meta titles that are too long, duplicate titles, and missing or too-long descriptions.
Search engines like Google already use AI to understand user search queries better and provide relevant solutions.
Other common mistakes include:
Duplicate content
Hidden (unreadable) content
Broken links
Missing H1 tags
Poorly nested subheaders
4. Start building backlinks
It's no secret that backlinks are the key to organic search engine results. On the surface, it's a factor that hasn't changed much over the past decade.
When more unique domains link to your page, it means higher rankings and more search traffic.
But Google now also considers the quality and relevance of your links.
One of the best white-hat tactics for building relevant, high-quality links is to network and build relationships with people in your industry.
You can identify top bloggers and influencers by exploring competitors for your targeted keywords. Then, there's also the art of building a rapport over social media. Twitter is a good starting point.
Of course, they won't share low-quality, uninteresting, keyword-stuffed content just because they know you.
You have to work hard to level up your content as well.
Do this by:
Staying on topic.
Developing your voice.
Using visuals and graphs to show, not tell.
Sharing unique research or case studies when possible.
Reading and learning from the best blogs in your industry, but never copying or plagiarizing.
Together, these will help your organic social media presence and lead to natural inbound links.
If you then try a tactic like reaching out to blogs that link to an outdated resource, they're also much more likely to reward you with a link.
5. For faster, better results, leave it to the experts
If you're completely new to SEO, your head is probably already spinning from the first four tips.
Remember that this is just scratching the surface of the SEO discipline.
As a business owner, one of the keys to success is knowing when to delegate and outsource. If you want fast, powerful results from SEO, you're probably better off leaving it to the experts.
Hiring a professional SEO agency could be the way to go, and trusting in their experience and knowledge can catapult your page to the top of Google's search results.
Read more on how to hire an SEO expert without getting burned.
Conclusion
If you try to figure out the world of SEO on your own, you can forget the lower end of the time frame of just a few months to get results.
With a DIY approach, you must learn cutting-edge techniques and best practices before you can even start waiting for results.
In the best case, you'll see some improvements in six months to a year. In the worst-case scenario, you could fail to make any real improvements no matter how much time you invest.
If you don't have time for failure or wait an extra year before seeing results, you should invest in professional SEO services. Speak with us today to find out if we're a good fit.
Is your traffic declining?
Since 2009, we have helped hundreds of local businesses grow their online leads and sales strategically. Let us do it for you!