How to Hire an SEO Expert Without Getting Burned: What You Need to Know
Adam Heitzman
August 7, 2023
You know by now that having a solid SEO strategy is essential for attracting potential customers to your website.
Around 68% of all online experiences begin on a search engine, giving businesses like yours a huge opportunity to generate more traffic, leads, and revenue.
But implementing a successful and sustainable SEO program requires patience, expertise, and constant adaptation to market changes and algorithm updates. Many businesses simply lack the bandwidth, resources, or appetite to bring SEO in-house.
Unfortunately, finding a dependable external partner to effectively manage your organic search presence is easier said than done. For every competent SEO expert out there, there are several others who overpromise and underdeliver. Perhaps you've already learned this the hard way.
But fear not. This post will cover everything you need to know about finding a skilled SEO expert who can set you up for search engine success.
What Is an SEO Expert?
Search engine optimization (SEO) is the process of improving a website's organic visibility in search engine results to drive more website traffic.
An SEO expert is someone with a proven track record of helping websites achieve better search rankings. SEO experts are sometimes called SEO consultants, SEO professionals, or SEO specialists.
Some SEO experts operate as individual contractors, while others work within an SEO or a digital marketing agency.
Is your traffic declining?
Since 2009, we have helped hundreds of local businesses grow their online leads and sales strategically. Let us do it for you!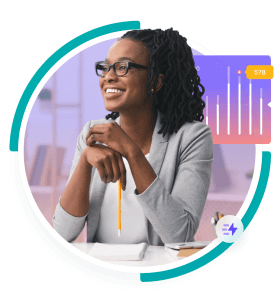 What Does an SEO Expert Do?
If you're familiar with SEO, you already know it's a multi-faceted discipline.
And although different SEO experts often specialize in specific areas of SEO, anyone worthy of the title will have a solid grasp of the three pillars of organic search marketing.
Technical SEO
On-Page SEO
Off-Page SEO
(Most experts will also have extensive knowledge of local SEO and mobile SEO.)
Any well-optimized website will cover all three bases. If one area is neglected, the website won't rank as well as it could.
Let's look at each core SEO activity in more detail.
Technical SEO
Technical SEO is the process of improving the technical aspects of your website so that search engines and users can easily access the site and understand what it's about. This, in turn, increases your site's ranking potential.
One of the main goals of technical SEO is to ensure search engines can crawl and index your site efficiently. Your site could have a beautiful design and amazing content, but if search engines can't discover or interpret your site properly, it's not going to rank.
While there are several aspects to technical SEO, any technical SEO expert should at least know how to:
Identify and fix any crawl errors.
Find out how Google views your site's pages.
Ensure your site is mobile-friendly.
Make sure your site is secured correctly.
Check your site's loading speed.
Fix any broken links.
Implement structured data markup.
Identify and address duplicate content.
Improve URL structure.
Optimize your site's navigation and internal linking structure.
On-Page SEO
On-page SEO is the practice of optimizing individual web pages to improve their ability to rank for relevant queries.
Here are some hallmarks of a well-optimized webpage:
The page should incorporate a target keyword in its headers, body copy, title tag, URL, and image alt text.
The content on the page should satisfy the search intent behind the target keyword, providing readers with the value they were searching for.
The page should contain internal links with optimized anchor text pointing visitors to other useful resources.
The page should link back to the homepage and, where applicable, link back to its sub-category or category page.
Off-Page SEO
Off-page SEO refers to all actions taken beyond a website that impact its search rankings.
The goal of off-page SEO is to enhance your website's reputation within your niche.
Off-page SEO includes activities such as:
Brand building
Citation building
Social media marketing
Managing online reviews
The more positive mentions and high-quality backlinks your site receives from other relevant websites, the more likely users and search engines will deem it to be a trustworthy and authoritative source. The reward? Better organic visibility.
Why Would You Need to Hire an SEO Expert?
In a recent study on small business digital marketing, we found that only 40.9% of small business owners claim to be very satisfied with their current levels of web traffic.
Many businesses in this situation struggle to make progress in their SEO efforts due to a lack of internal bandwidth, expertise, or interest.
Outsourcing SEO to the professionals is a great solution to this problem. So let's take a closer look at some of the main benefits of partnering with a seasoned SEO expert.
Get Your Time Back
An obvious advantage of outsourcing your SEO is that it gives your team more time to focus on other high-impact business activities. After all, SEO is a wide-ranging, complex undertaking that calls for continuous monitoring and adjustments. Handing it over to the experts will lead to better results and ensure your employees aren't spread too thin.
Build on the Gains You've Already Made
Whether you're starting SEO from scratch, or looking to level up your existing efforts, hiring a reputable SEO expert with years of experience delivering high-performing campaigns is the surest path to sustainable organic growth.
Ensure New Site Launches Go Smoothly
Website launches, redesigns, and migrations are all complex projects involving a significant risk of error if left in the wrong hands. Working with an SEO expert through a web launch will ensure you avoid common pitfalls, adhere to best practices, and set your site up for long-term success.
Allocate Your Budget More Efficiently
While it's true that hiring an external SEO partner is an ongoing expense, it's often quicker and less expensive than hiring an in-house professional. Outsourcing your SEO means you won't need to cover the costs of training, equipment, and software necessary for the job, and you'll also skip the time it takes to onboard a new employee.
4 Tips for Hiring a Reputable SEO Expert
Now you know some of the benefits of hiring an SEO Expert, let's address the challenge of finding a good one.
Here are some tips to help you as you start your search.
1. Know Some SEO Basics and Define Your Objectives
While it may seem counterintuitive, it's not a bad idea to brush up on some SEO basics before hiring an expert.
Knowing the basics will help you set realistic goals and make it easier to understand the strategies your SEO expert recommends.
Setting a goal like "more traffic" is a little bit broad. Instead, try to specify how much additional organic traffic you want to generate within a specific time frame. For example: "I want to increase my web traffic by 15% over the next 12 months."
Getting specific about what success looks like to you will give your SEO expert a much better understanding of what needs to be done to reach your targets.
2. Tap into Your Professional Network for Recommendations.
One of the most reliable ways to find a trusted SEO expert is to ask people in your professional network for a referral.
Do you know anyone who works in SEO? Have any of your contacts used an SEO expert that they were happy with? Could you post on LinkedIn to ask for recommendations?
3. Check Review Sites
Sites like BestSEOCompanies or Clutch offer detailed breakdowns of the top SEO agencies and professionals in your area.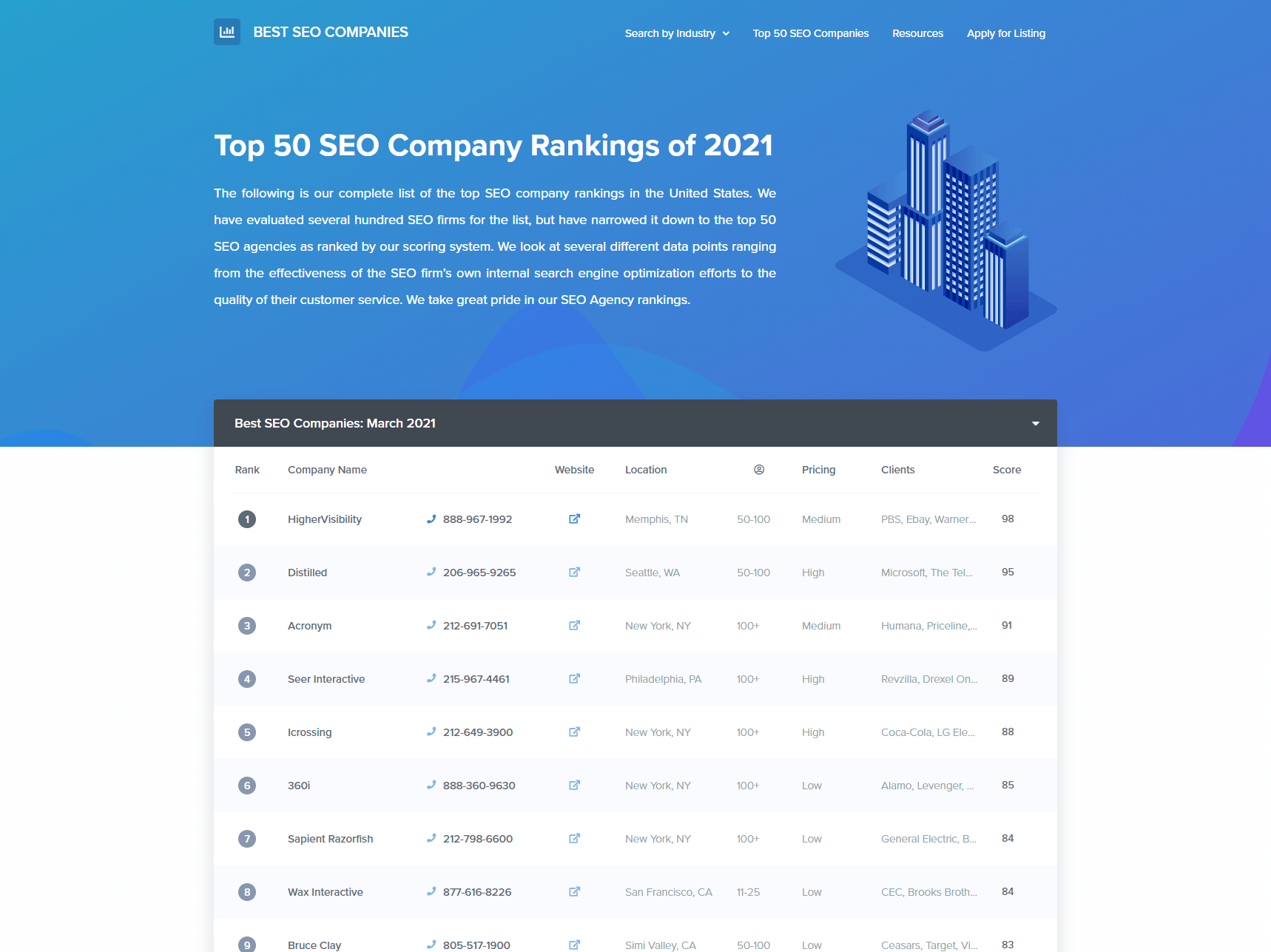 Both sites let you narrow down your search criteria to pinpoint the type of SEO experts you're looking to hire.
4. Check for Testimonials and Case Studies
Checking out reviews is a good starting point, but you should also take a close look at the case studies and testimonials of any expert you're thinking about working with.
For example, when you click on the HigherVisibility website and navigate to the SEO services page, you can read an in-depth case study of how we helped Caliber Collision generate a 142% increase in organic conversions in 12 months.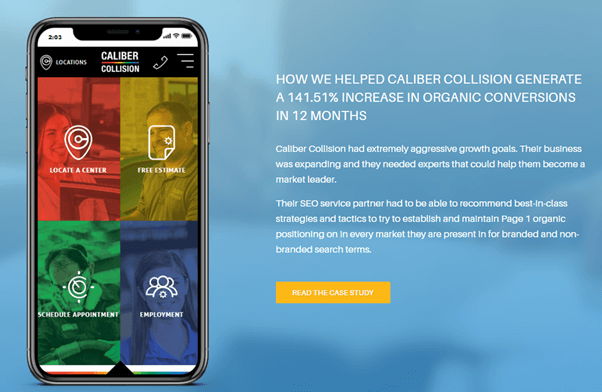 Reading case studies gives you a good sense of how your prospective company operates and the type of results they can bring to your business.
If you can't find case studies or testimonials on a candidate's website, don't be afraid to ask for them. If they refuse to give you any, then you're right to be skeptical.
Questions to Ask Before Hiring an SEO Expert
Once you've shortlisted the potential SEO experts or companies you want to work with, you start asking for proposals.
When sending out an SEO proposal request, you'll need to specify your project requirements and include a list of questions for candidates to answer.
The goal here is to get a better understanding of what services each candidate provides, how they approach different SEO projects, and how they would tailor their approach to your unique business needs. After you've assessed each proposal, you can interview the best candidates and make a final decision.
Here are some questions you should ask.
What Experience Do You Have with My Industry/Type of Business?
SEO isn't a one size fits all endeavor. The best approach for meaningful results varies from site to site.
For example, suppose you run a pizzeria in Denver. In that case, you'll want to show up in map listings for relevant search queries (e.g., "Pizzerias in Denver"). If this is the case, you may want to hire an SEO expert or agency that has expertise in local SEO.
However, if you're running an online-only service business, you may need to prioritize content creation to get the results you need.
Asking prospective SEO partners whether they've delivered success for businesses similar to yours will make it easier to select the most suitable candidate.
Can You Share Information on Your Past Clients and Their Results?
This question may not be necessary if you've already viewed past case studies of a candidate's work.
But an experienced SEO expert or company should be more than happy to elaborate on how they have delivered results for previous clients. So don't be afraid to ask!
How Do You Approach Different Areas of SEO?
Another way to gauge whether a given expert is right for your business is to ask them to explain how they approach the key strands of SEO.
For example, what techniques do they use to conduct keyword research? Do they create content strategies? How do they approach link building?
It's also worth asking them to expand upon any emerging trends they think will impact their approach moving forward. It's always a good sign if your candidate has their finger on the pulse of new SEO developments.
Remember, any SEO expert worth your money won't have a problem explaining how they approach their work.
Note: Download our free SEO RFP template for more guidance on getting detailed SEO proposals.
Final Thoughts
SEO is a fundamental part of any business's digital marketing strategy. And while SEO is a long process, it's a necessary investment for those looking to boost their site's rankings, traffic, and revenue.
Finding the right SEO expert is an essential step toward maximizing your website's organic search visibility. So if you're looking to hire a capable SEO expert or a team of experts, you should take the time to vet your candidates properly.
By asking relevant questions and defining achievable SEO targets, you'll drastically improve your chances of finding the right SEO expert for your business.
Is your traffic declining?
Since 2009, we have helped hundreds of local businesses grow their online leads and sales strategically. Let us do it for you!