SEO ROI: How to Calculate the Value of Your SEO
Adam Heitzman
November 14, 2022
With nearly 99,000 Google searches being made every second in November 2022, businesses that aren't measuring their SEO efforts are losing out big time.
Just because you've implemented SEO into your site doesn't mean your strategy is working. You may even be losing money.
The only way to truly know whether your SEO is giving you a good return on investment is to calculate your SEO ROI.
This article will teach you everything you need to know about SEO ROI, including what it is, why it's important, and how to calculate it to guarantee that your website gets the desired results.
What is SEO ROI?
Search engine optimization (SEO) refers to the process of optimizing your website for search engines like Google. This helps your website rank higher in the search results.
There are 1.88 billion websites online today. SEO helps your web pages get seen by the people searching for things related to what your business offers.
SEO return on investment (ROI) is calculating whether your SEO efforts are successful and whether you're getting more money out of it than you're putting in.
Many digital marketing experts find it difficult to calculate the ROI of SEO since it doesn't typically have fixed costs. Unlike other methods, such as pay-per-click (PPC) advertising, where the investment can easily be calculated, SEO ROI requires more effort to measure.
The importance of measuring your SEO ROI
Here are the main reasons you need to measure your SEO ROI.
Justify your SEO spend
If you're working with a CFO in charge of the company's budget, you'll be able to prove the value of SEO and why it's worth the investment.
The company may even give you a bigger budget to spend on new and improved SEO methods based on how well your SEO strategies are doing. With more money to spend, you'll be able to increase the traffic and conversions the company website gets.
Measure SEO success
92.42% of keywords only get between zero and ten monthly views.
By measuring your SEO results, you'll know if you're targeting the right keywords and whether you should change your approach.
Your SEO results will give you the insights you need to determine what's working and isn't. Then you'll be able to focus solely on the successful strategies.
Create a smarter SEO strategy
Google uses over 200 factors in its algorithm to rank website pages. The more you track your SEO performance, the better you'll get to know these algorithms, and the better you'll see which SEO marketing efforts are working best.
Based on the results, you'll be able to run SEO experiments and optimize your site for more impressions, clicks, and conversions.
Want someone else to handle your SEO for you? Consider outsourcing your SEO services.
How SEO produces ROI
Here are the top five ways SEO produces a return on investment.
1. Increases organic website traffic
On average, the number one result in Google's organic search results gets a click-through rate (CTR) of 31.7%.
If you manage to get your web page in the number one spot on Google, you'll get a lot of website visitors from that one keyword alone. You'll be able to optimize that page for maximum conversions by running split tests and including lead generation methods that'll help increase your overall conversion rate.
Additionally, you'll be able to use your high-ranking pages as authority pages to increase the ranking of your other content.
According to Backlinko, moving up a single position on the search engine results page (SERP) can increase your CTR by around 30.8%.
In other words, if you manage multiple pages to rank even a single position higher (provided they're on the first page), you'll get tons of web traffic and become an authority in your industry.
The great thing about increased website traffic is that it's easy to measure. You'll be able to show the company directors the organic traffic gains achieved using SEO.
2. Increases conversions
When you create content that targets the keywords your audience is searching for, they'll find your site more easily and be far more likely to come back again or subscribe to your email list.
As a result, they'll become part of your sales funnel, guiding them through a series of steps to making a purchase or taking a specific action.
However, to achieve this, you must ensure that your potential customers get a positive experience that truly adds value to their lives. Your content needs to be suited to them and their needs.
Combining SEO with a great user experience (UX) will result in a massive increase in conversions.
Note that conversions don't only refer to sales. It can also refer to the number of people who:
Become new subscribers
Book an appointment with you
Download a coupon
Ask for more info
Watch a specific video
Submit a contact form
Download an ebook
Register for an event or webinar
And more.
Learn more about how SEO increases the number of sales on your website.
3. Decreases bounce rates
You don't want just any person to come to your site. You want targeted traffic composed of people interested in your products or services.
If your site isn't targeting a specific group of people through effective keywords and search terms, people who aren't even remotely interested in your offers may end up on your site. As a result, they'll immediately leave the page once they've landed on it.
This will increase your bounce rate, ultimately hurting your page's rankings.
According to SEMrush, an average bounce rate is between 41%–55%, and a bounce rate between 26%–40% is ideal.
Effective SEO strategies that target the right keywords will help you decrease your bounce rate since you're targeting the ideal audience right from the start.
You can decrease your bounce rate by:
Strategically finding the search queries and keywords that your audience is searching for.
Creating extremely useful and valuable content to answer these queries.
Providing a great user experience by making your site as easy to navigate as possible with relevant internal linking.
If you implement these points, your audience will enjoy your content and keep coming back for more.
4. Increases revenue
SEO leads to higher revenue.
Whether a visitor comes to your website and buys something right then and there or they spend more time on your site and talk to a salesperson to convert later — it all comes down to more profit for your business.
The more traffic you generate through SEO, the more people will get to know your brand and the more sales you'll make.
However, keep in mind that not all traffic is equal. Some keywords have high search volumes with low purchase intent, while others have lower search volumes with high purchase intent.
Therefore, the number of sales you make will depend on the quality of your keyword research. Here's a list of ten keyword tools that can help your SEO growth.
5. Reduces the cost of customer acquisition
With SEO, you can get qualified traffic, leads, and customers at a fraction of what you'd be paying for paid search.
Unfortunately, many business owners and directors allocate millions of dollars toward paid search, such as social media ads and Google ads, since the investment and return are clear immediately.
However, acquiring customers through paid search can be extremely expensive, so you're not making nearly as much as you would through organic search traffic.
It's also far more difficult to convince a prospect to take certain actions if you're directly targeting them from an ad instead of having built a relationship with them through content marketing.
In fact, on average, companies with blogs get 67% more leads per month than those that don't have blogs.
It all comes down to making it easy for your target audience to find you and giving them the content they want to learn more about. The rest will follow as long as you provide them with content that adds value to their lives.
How to Calculate the ROI of SEO
Here's how you can calculate your SEO ROI in three steps:
Step 1: Calculate your SEO investment
First, you need to calculate how much you're spending on SEO. Typically, these costs include:
In-house SEO resources
These are your employees that work on your website's SEO. It includes the employees who do SEO work full-time and those who work on it part-time (such as your developers, copywriters, and marketers).
You'll have to break down their pay by an hourly rate based on their tracked time.
If you can get your employees to track all the hours they work on SEO, this should be fairly easy to calculate.
Tools
The cost of the tools you use for your SEO practices also needs to be calculated. Some businesses put their SEO tools, and software costs down as technical costs.
However, to truly understand the ROI of your SEO, you will have to calculate the value of your tools under the technical SEO section of your business. These include tools such as Ahrefs, SEMrush, Moz, etc.
If there are costs involving other software used by different departments in addition to SEO, consider taking a percentage of those costs and allocating them to your SEO spend.
Keep in mind that these costs may change monthly. Remember to account for these changes when evaluating success metrics every month.
Agency resources
If you work with an agency, you must take SEO fees into your investment calculation.
Luckily, most agencies offer their services on a retainer model, which makes it easy to determine how much you're spending on their services.
Step 2: Track and analyze your conversions
Once you've calculated the cost of your investment, you need to measure the value of your conversions.
Google Analytics is your best friend since it can give you all the information and data regarding your organic search revenue.
However, consider that eCommerce and lead generation sites need different calculations and methods.
For example, for eCommerce tracking, you need to set up your settings properly in Google Analytics to track your conversions.
You can do so by going to:
Admin > View > eCommerce Settings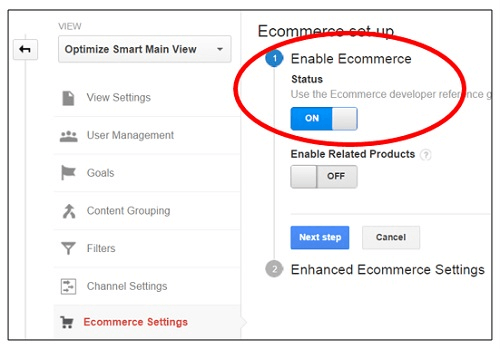 Turn your eCommerce status "on" and follow this guide from Google to add the necessary code. This will ensure that your site collects eCommerce data and sends it to Google Analytics. You'll be able to determine your eCommerce conversion rates easily with this tool.
When calculating your SEO ROI, you must look at several key performance indicators (KPIs).
Some of these include:
Rankings: Your site's ranking for specific keywords.
Lower acquisition costs: The overall organic traffic vs. the cost of your SEO practices.
Brand sentiment: The percentage of positive and negative listings in the top 10, 20, and 100 search positions.
Authority: The number of backlinks that your site has.
Conversion rates: The number of conversions you get on your site.
Funnel progression: The performance of keywords categorized by different funnel stages (Awareness, Consideration, Decision).
Revenue: The dollar value that you're getting from your conversions.
Customer lifetime value: The predicted value that a customer will have over the term of their relationship with your business.
Step 3: Calculate your ROI
After you've collected all the data you need, you can calculate the ROI of your SEO using this formula:
(Value of Conversions – Cost of Investment) / Cost of Investment
For example, let's say your SEO campaign generated $500,000, and you invested $100,000. Your formula would look like this:
($500,000 – $100,000) / $100,000 = 4
Therefore, for every $1 you spend on SEO, you see a return of $4. This means your ROI in this scenario was 400%.
You can use this formula for SEO ROI calculation over any period. As long as you keep track of the data over that specific time frame, you'll be able to calculate the ROI.
How long does it normally take to see SEO ROI?
There's no definite number. It all depends on the quality of your keywords, content, and other ranking factors.
However, with an effective SEO strategy, you can expect organic rankings and traffic increases within six months. Assuming there are no major technical, penalty, or content issues, 81% of marketers say it takes one to six months to start seeing the impact of link building.
But in reality, you'll likely start to notice movement on your site earlier — sometimes within a few weeks of implementation.
You may not see any differences in the number of conversions or traffic, but your rankings may start to improve. For example, if your landing page or content piece for a high-priority keyword was at #54, a few weeks later, it may have gone up to #28. This means that Google is starting to see your page as a valuable asset that it wants to show users.
The higher you start to rank, the more traffic and conversions you'll get. Of course, not all the people who visit your site will turn into customers, but many of them will.
You can increase the number of conversions on your pages by implementing conversion rate optimization (CRO) methods into your site.
Ready to increase your SEO ROI?
With SEO becoming increasingly important in getting your business noticed online, it's now more vital than ever to implement it into your marketing strategy. By calculating your SEO ROI, you'll know whether your methods are working and if you need to reevaluate.
If you need SEO experts that know the ins and outs of SEO and how to drive measurable results for your business, learn how to hire a quality SEO agency here.