30+ SEO and Website Conversion Stats: Why SEO Leads to More Sales on Your Site
Adam Heitzman
April 11, 2023
Editor's Note: This post was originally published in July 2021 and was updated in April 2023 for accuracy and comprehensiveness.
Although 49% of marketers believe that SEO (search engine optimization) is their most profitable marketing channel, only 30% of small businesses actually have an SEO program in place.
The fact is, even if you use paid advertising channels like Google Ads or Facebook Ads, you're still missing out if you don't invest in SEO services.
But don't just take our word for it. As we'll see, the stats speak for themselves.
For example, 53% of all web visits come from organic traffic, while only 15% comes from paid search. That means you're leaving a huge chunk of potential traffic on the table if you only invest in paid ads.
In this post, we'll dive into the latest SEO and website conversion stats that show why SEO is (still) so important in 2023.
What is SEO conversion rate?
SEO conversion rate is the percentage of organic visitors who complete a specific action on your site, like signing up for an appointment or buying a product. It's the same concept that applies to any other paid or organic digital marketing channel.
If you're unfamiliar with digital marketing terminology, this list will help you understand all the acronyms that appear later in this post.
CTR: This stands for 'click-through rate.' It refers to the percentage of users who view an ad or search result and click the link.
Organic: This refers to any web traffic or brand awareness you naturally generate by publishing valuable, rank-worthy content (i.e., without paying for ads).
SERP: This stands for 'search engine results page.' It's where you see the list of results once you enter a query into Google.
Funnel: This metaphor describes the steps a potential customer needs to take to buy a product. It starts with awareness or discovery, followed by research, and finally, the purchase.
Note: This article assumes a basic understanding of SEO. Check out our "What is SEO?" guide to brush up on the basics.
SEO statistics showing why it's still crucial in 2023
Now let's look at the most up-to-date research revealing why SEO is so powerful and necessary in 2023.
Search engines offer a unique opportunity to reach ready-to-buy consumers
More people than ever use the internet and search engines when buying products.
In 2022, 4.11 billion people used the internet to buy consumer products. An increase of 8.3% compared with 2021 (Data Reportal).
Online shopping accounts for 17.1% of retail spend globally (Data Reportal).
On average, US ecommerce consumers generated $873 worth of revenue in 2022.
In other words, people don't just use Google to research products. Many go on to buy those products directly from the sites they reach.
Other studies showcase the power of search engines even more clearly:
53% of all trackable website traffic comes from organic search (BrightEdge).
SEO drives over 10x more traffic than organic social media (BrightEdge).
B2B companies generate twice as much revenue from SEO than any other channel (BrightEdge).
And in 2023, most of this traffic and revenue come from a single source: Google.
Google is still king
No matter how new you are to SEO, this won't come as a surprise. Google still reigns supreme in 2023.
As of January 2023, Google controls 84.7% of the worldwide search engine market share (Statista).
Bing is the world's second-biggest search engine, claiming just 8.85% of the worldwide search engine market share (Statista).
So, for all intents and purposes, Google has a monopoly on search. Let's see how this affects most people's internet habits.
Google controls 66% of all web traffic referrals (even more if you include YouTube and Gmail).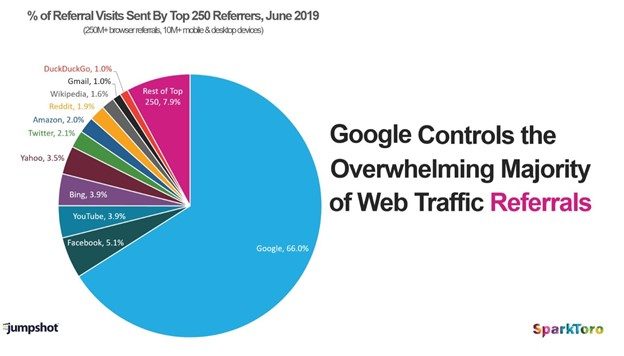 The closest competitor is Facebook, which drives only 5.1% of web traffic referrals by comparison.
And in third place, at 3.9%, is YouTube — yet another Google entity.
The point is most people go directly to Google when looking for a website, product, or information. And that's worth a whole lot of money.
In 2022, Google generated $224.47 billion in ad revenue (Statista).
As of 2023, Google claims 27.5% of digital advertising revenue share (Statista).
Consumers also predominantly turn to Google to find new products.
49% of shoppers use Google to discover new items or products (Think with Google).
Over 50% of consumers turn to Google to discover new brands (Think with Google).
Without proper SEO, you probably won't get any organic traffic
SEO provider Ahrefs studied over a billion pages and found that the vast majority of web pages don't get any organic traffic at all.
In fact, 90.63% of web pages get 0 organic search traffic from Google (Ahrefs).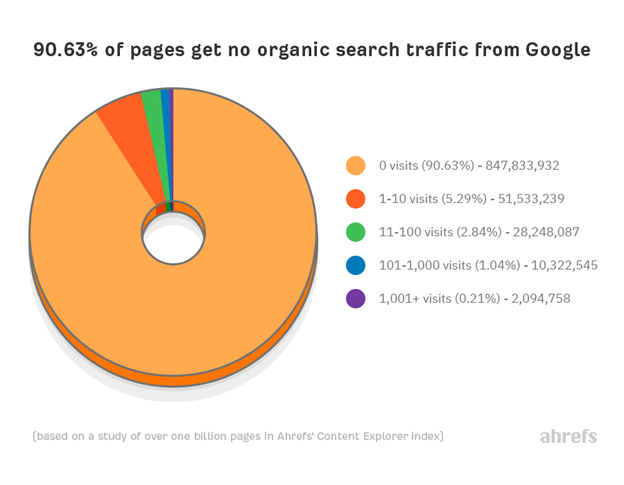 Search engines can't automatically find your web pages once you create them. You also need to make sure they are easy to find. That's the whole point of SEO.
The way to make your site visible is by earning links from other sites. Backlinks signal to Google and human users that your site contains worthwhile content.
But this is easier said than done. More than half of all pages have no backlinks at all.
66% of pages have 0 backlinks from other domains (Ahrefs).
In fact, most organic traffic goes to those pages that rank in the top three results of Google's SERPs.
The top 3 results get the vast majority of clicks (61.67% combined CTR) (AWR).

Meanwhile, the top result on page 2 of Google has a measly CTR of 1.94% (AWR).
But generating enough backlinks to reach the top is no mean feat.
Only 5% of new pages reach page 1 within a year (Ahrefs).
Most pages ranking on page 1 are over two years old (Ahrefs).
The average position 1 result in Google has 380% more backlinks than those between positions 2 and 20 (Backlinko).
SEO is a crucial part of content marketing (and vice versa)
SEO and content marketing are mutually reinforcing activities. Without content, you'll have no way to attract search engine users, but without SEO, you'll struggle to get your content to appear in search results.
For this reason, it's no surprise that 46% of marketers credit SEO as a decisive factor in their content marketing success (SEMrush).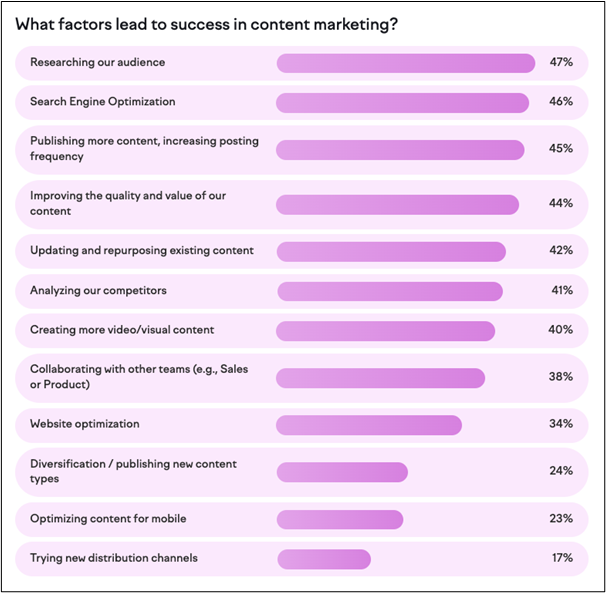 Likewise, creating content benefits your SEO.
55% of marketers say publishing more content creation is their most effective tactic for boosting organic rankings (SEMrush).
Mobile is the most crucial SEO channel
Gone are the days when optimizing your content for desktop browsers was enough to get by. In 2023, you must also tailor the web experience to mobile users.
59% of all searches occur on mobile devices (GS Statcounter).
In the US, mobile accounts for 63% of organic search visits (Statista).
More than 40% of digital transactions occur on mobile (Think With Google).
Savvy marketers are catching on quickly, adopting a mobile-first approach to SEO.
23% of marketers singled out mobile optimization as the #1 tactic for improving their site ranking (SEMrush).
How SEO helps you maximize website conversions
SEO isn't just a way to drive traffic to your website. It's also highly effective at driving website conversions.
The average conversion rate for ecommerce websites is around 2.5-3%.
But the targeted traffic you get from search engines can potentially convert at higher rates than that.
Here's why.
You can target buyers at the bottom of the funnel
As we've already mentioned, most people use Google to research products and services before deciding which specific item to buy.

This means you can use SEO to target customers at the later stages of the buying cycle. Plenty of search users have decided what product they want and just need the right business to sell it to them.
The opportunity to target conversion-ready visitors is especially big for local businesses.
46% of Google searches are local searches (Safari Digital).
78% of local searches result in an offline conversion (Safari Digital).
71% of local searches lead to an in-store visit within a day (Think With Google).
With results like these, it's easy to see why 88% of companies with an SEO program intend to maintain their investment throughout 2023 (HubSpot).
Ranking well makes you more credible (which can encourage conversions)
People often rely on search engine rankings to judge brand quality and trustworthiness. The idea is simple: if Google thinks a site is worth the top spot, the brand must be reputable.
This means SEO can help you establish trust with potential customers in a way that just isn't available for direct advertising. Perhaps this explains why organic traffic converts higher than paid traffic for certain high-stakes and big-ticket items.
In the professional services industry, organic traffic has a 12.3% conversion rate versus 7% for paid search (Ruler Analytics).
B2B companies get twice as much revenue from organic search than all other channels combined (BrightEdge).
And when you consider that organic clicks are free, it's no wonder why 70% of marketers say that SEO is better than PPC at driving sales (SerpWatch).
How to get your own SEO data (and use it to get more traffic and conversions)
While it's helpful to consider SEO stats and industry benchmarks, they aren't enough to help you make smarter decisions for your own campaigns. For that, you need to analyze your own website data.
Here's how you can get started.
Set up conversion tracking in Google Analytics
In Google Analytics, you can set up goals — which are basically conversions — in a few simple steps.
Install the Google Analytics tag on your website.
Create a goal by highlighting a specific URL, like a thank-you page. Check out Google's official guidelines for step-by-step help.
And that's it! No more setup is needed since Google Analytics automatically categorizes your organic traffic.
Now you can quantify how many sales your SEO and content marketing efforts generate.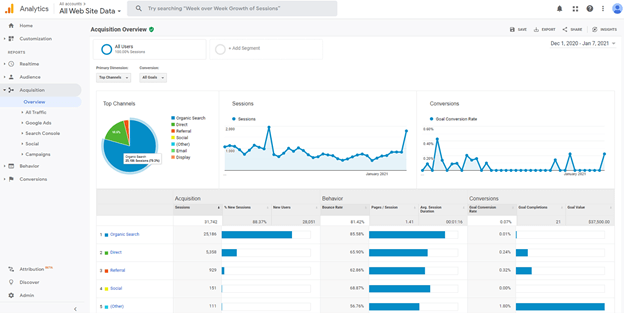 Note: For B2B marketers, tracking referred revenue can be a little more tricky. You may need to integrate your Google Analytics data with your CRM.
This data isn't only for measuring your SEO ROI, but it also lets you uncover new ways to improve your results in the future. Access to accurate metrics is the foundation of conversion rate optimization.
Keep in mind that engagement metrics play a central role in your search rankings. So pay attention to things like bounce rates and time on site when A/B testing your landing pages.
Track your search results with Google Search Console or third-party services
Google Search Console is a free tool for monitoring your page rankings.
You can see which keywords drive organic traffic to your site in the 'Performance' tab. If you need help working through the data, check out our in-depth guide on search queries in Google Search Console.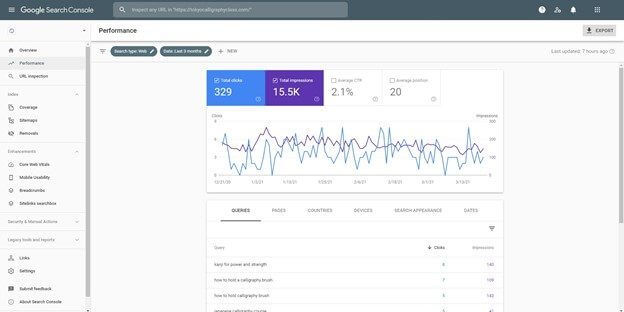 You can also see breakdowns for pages, mobile usability, and more. Use this data to test your assumptions on which SEO tactics are working. It's essential to track the results of all of your campaigns.
You can also try our free SEO tools to help you find better keywords to target and improve your CTRs.
Final thoughts
SEO will help you attract more organic traffic. A major benefit of organic traffic is that visitors tend to have a pre-existing interest in the types of products, services, and topics you specialize in (why else would they end up on your site?).
As a result, organic visitors often have greater solution awareness and purchase intent, making them more likely to convert.
Of course, no matter how many organic visitors you attract, you won't get the best results if your sales and landing pages aren't also optimized. Fortunately, our conversion rate optimization services can help you extract more sales from your organic traffic.