Why is SEO Important? 31 Powerful Benefits for Any Business
Adam Heitzman
June 2, 2023
Most businesses have heard by now that they should be doing SEO.
The whole point of search engine optimization is to ensure your website appears prominently in Google's results for relevant queries. But how much does that really matter?
Chances are you have a lot on your plate, so you want to know whether you'll get a healthy return on your investment before you start taking SEO seriously.
We've created this post to convince you that SEO really is important. Below, we'll cover 31 of the biggest business benefits SEO has to offer.
Why is SEO important?
Any business with a website wants to drive more traffic to it. After all, the more traffic you get, the greater your odds of acquiring new customers.
SEO is the science and art of getting more visitors to your site.
The fact is 53% of all web traffic comes from organic search. And the only way to ensure you don't miss out on all those potential visitors is through ongoing SEO efforts.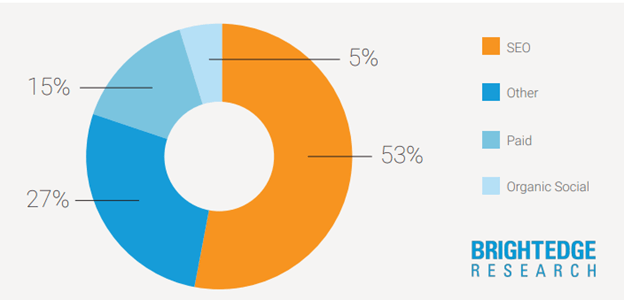 SEO amplifies your online presence, pulls in a ton of traffic, and helps you grow your business.
But is SEO a must-have for all business types?
We think so!
Think of it this way. SEO should be a priority if your business offers products or services that someone might search for on Google.
That said, there are some situations where SEO may not be necessary:
Your website isn't meant to be found. For example, if you have a website dedicated to internal training.
You're looking for immediate leads or sales. SEO doesn't deliver results overnight. It takes strategic planning, deliberate execution, and ongoing management.
What can SEO do for your business? (31 key benefits)
1. More traffic
The higher your site ranks for a relevant keyword, the more traffic you'll receive.
In fact, the typical top-ranking Google search result has a 39.8% click-through rate (CTR). This drops down to a 2.2% CTR for the tenth-placed listing.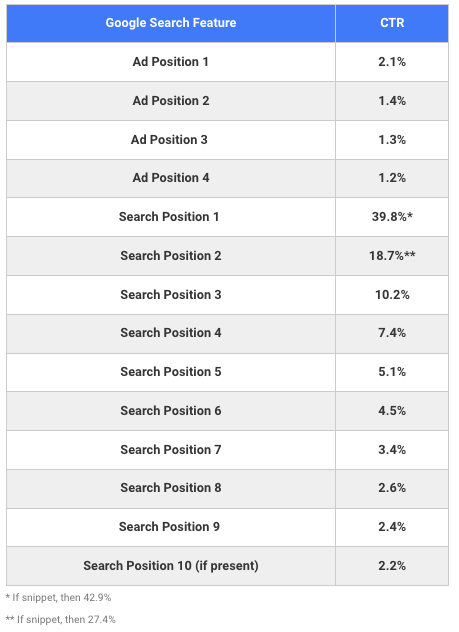 A good SEO strategy will get your page ranking high on Google for a variety of short- and long-tail keywords in your niche. The more keywords you rank for, the more people will click through to your site.
2. Better-quality traffic
SEO doesn't just drive more traffic to your site. It also drives more qualified traffic.
High-quality web traffic is traffic that results in more leads and sales. To attract these qualified visitors, you need to target people actively interested in your products or services.
SEO helps you do this by helping your site rank better for the keywords your ideal visitors search for.
Moreover, a well-developed SEO strategy allows you to reach potential customers at every stage of the buying funnel, ensuring you're top-of-mind when they're ready to make a purchasing decision.
3. Greater organic visibility
The more keywords your website ranks for and the higher it ranks for them, the more often your brand will be seen by potential customers.
Several SEO tactics can increase your site's organic visibility, such as:
Identifying additional long-tail keywords to target
Improving technical SEO
Optimizing metadata on existing pages
Developing new content
Building quality backlinks
4. Credibility and trust
Besides increasing your traffic, another benefit of greater organic visibility is that it makes your brand seem more trustworthy in the eyes of search users.
The reasoning is simple. If Google thinks a website is good enough to appear near the top of its search results, then the brand in question is probably legit.
The higher you rank, the more you position yourself as a prestigious brand or a credible source of information.
5. Brand awareness
Unless you're the FedEx of your industry, your ideal customers probably aren't typing your brand name into Google that much.
But the more your prospects notice your name constantly appearing near the top of their searches, the more positive brand recognition you'll generate.
6. An investment in your future
When you start looking into SEO, you soon learn that SEO is an ongoing process and that success doesn't happen overnight.
This is true.
As a rule, when you choose to invest in SEO, you can expect to wait around six to nine months before you start seeing positive results. But once you start gaining traction, you end up with a reliable and sustainable source of long-term traffic.
7. No paid ads
With SEO, you don't pay for traffic.
Sure, you still need to pay for the time and labor required to sustain an SEO campaign, but the traffic it generates is completely free.
Compare this with paid search advertising, where you can expect to pay $0.60 every time someone clicks on your ad, and the long-term benefits of a free source of traffic become clear.
8. High ROI
SEO ROI is among the best of all digital marketing channels.
SEO-generated leads have a 14.6% close rate, while outbound leads (such as direct mail or print advertising) have a 1.7% close rate.
That's probably why 34% of global ecommerce companies say organic search is their most profitable channel.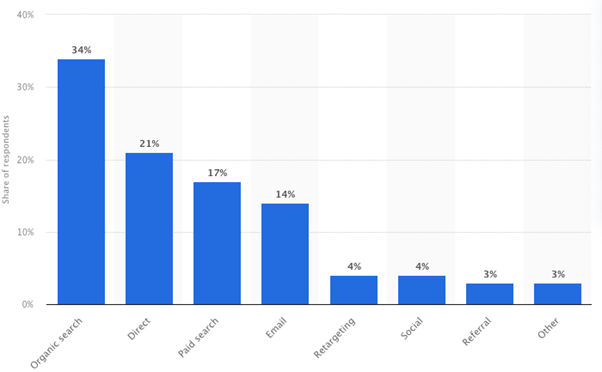 9. Reach conversion-ready buyers
One of the main reasons SEO provides such impressive returns is that it lets you engage prospects who are already interested in what you have to offer.
Keep in mind that 49% of consumers use Google to discover new items or products.
Visitors who reach you via Google have done so by searching for information related to your products or services. All you need to do is convince them you're the right business for them.
Once you start ranking well for the terms ready-to-buy consumers are searching for, you won't just create a consistent source of traffic; you'll also create a constant source of new customers.
10. 24/7 lead generation
Unlike your sales team, SEO never sleeps.
Once you start ranking, your website will always be visible to your target audience, pulling in visitors, leads, and new customers day and night.
11. More in-store sales
A frequently overlooked benefit of SEO is that it can help increase footfall and sales in your brick-and-mortar stores.
Consumers regularly turn to Google to find local businesses, compare reviews, and check inventory online. And according to Google, 71% of local searches lead to an in-store visit within a day.
So if consumers don't find you during their research, there's no reason they'd consider buying from you.
12. Lower acquisition costs
Since SEO traffic is free, it lets you acquire new customers at minimal expense, thereby improving your bottom line.
In fact, SEO customer acquisition costs average $942, compared with $1,907 for paid search.
13. Insight into customer preferences
A central part of SEO is researching what information your target audience is searching for and creating content to meet this demand.
This exercise provides you with invaluable insight into who your customers are and what they care about.
Likewise, SEO analytics give you a host of metrics to help you build a better picture of your customers' wants and needs, including demographic, location, and device data.
Is your traffic declining?
Since 2009, we have helped hundreds of local businesses grow their online leads and sales strategically. Let us do it for you!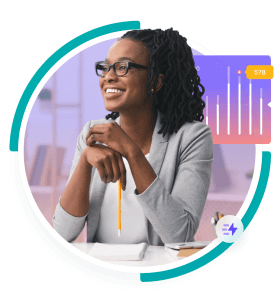 14. Keep up with the competition
Around 63% of businesses actively invest in SEO. In other words, most of your competitors are already optimizing for search engines.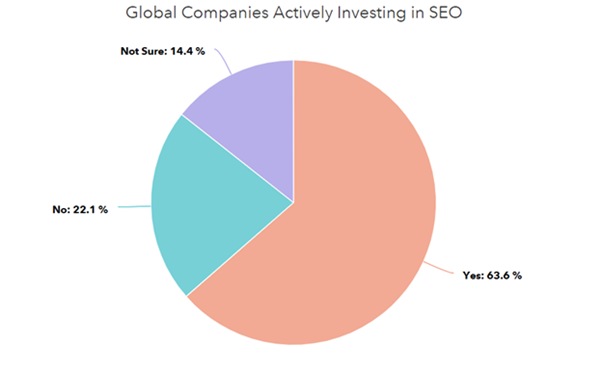 To avoid handing your competitors a bigger slice of the pie, you also need to invest in SEO services. That's the only way to compete long-term.
15. SEO complements other channels (and vice versa)
The most successful businesses take advantage of multiple marketing channels at the same time—including SEO—to maximize brand exposure and lead generation.
For example, if one of your marketing channels is paid search, you'd ideally pair it with SEO. That way, whenever a potential customer searches for products and services you offer, they'll see two listings.
Remember, the more search engine real estate you claim, the greater your advantage over the competition.
16. Measurable KPIs
SEO is highly measurable.
With Google Analytics, you'll get a detailed view of which pages receive the most traffic and which aspects of your site need improvement.
Plus, you can use Google Search Console to see which keywords drive the most traffic and use third-party rank-tracking tools to monitor how well your site is performing in the search results.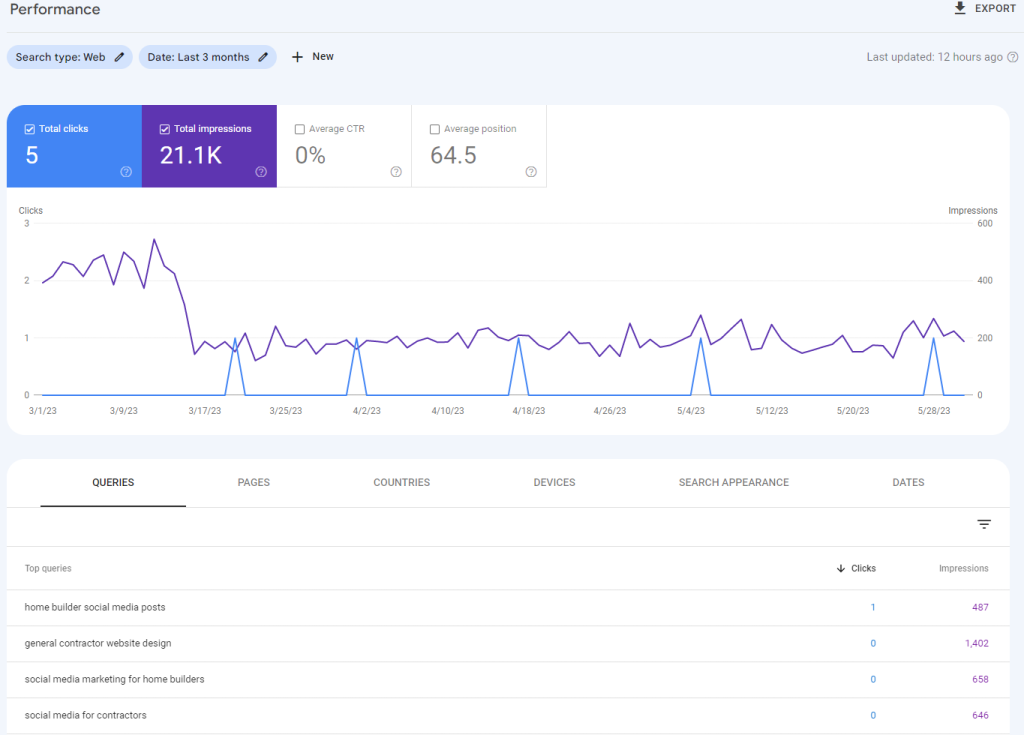 17. A better user experience
Your website user experience plays a significant role in determining whether visitors will be willing to do business with you.
Slow, cluttered, and confusing websites leave visitors with a bad impression and inevitably result in fewer conversions. In fact, websites that load in just one second convert up to three times as much as sites that take five seconds to load.
But user experience is also a confirmed ranking factor. So by focusing on user experience, you won't just improve your brand perception and conversion rates; you'll also attract more visitors in the first place.
18. SEO optimizes your site for mobile
Mobile devices account for almost 60% of all web searches and roughly 40% of online purchases.
In other words, your site needs to function just as well on mobile as it does on desktop to maximize traffic and conversions. This means, for example, implementing responsive design, keeping page load times to a minimum, and using mobile-friendly content formatting.
19. Better visibility for local searches
Location-based queries account for 46% of all Google searches and roughly 22% of all digital traffic.
This means you could significantly expand your local customer base just by improving your visibility for local searches. Keep in mind that 78% of location-based searches result in an offline conversion.
One of the main ways you can use local SEO to drive more people to your brick-and-mortar store is by optimizing your Google My Business profile. This basically gives search users a snapshot of your business right inside the search results and includes information like your opening times, contact details, reviews and star ratings, and FAQs.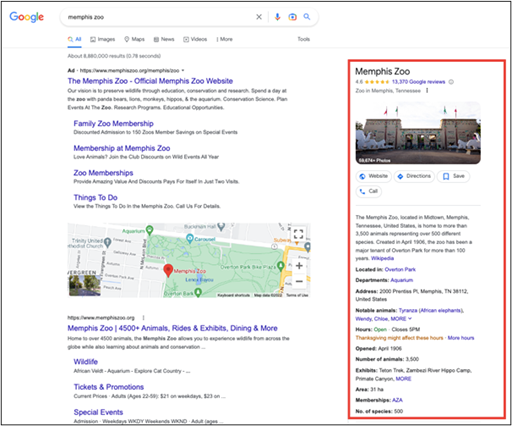 Another way to improve your ability to rank for local searches is to ensure your business name, address, and phone number are consistent across data aggregators and local directories. Too much conflicting information makes it difficult for Google to know which data to trust.
20. The ability to reach users at every stage of the buying funnel
The beauty of creating SEO content is that it lets you target search users at different stages of awareness.
For example, let's suppose you owned an air conditioning installation company. You could attract problem-aware prospects to your site by publishing general content around air conditioning (like a blog post titled "11 surprising ways to stay cool this summer").
You could then attract solution-aware prospects by publishing more specific information about air conditioning installation (like a post titled "5 mistakes to avoid when choosing an HVAC contractor").
And lastly, to engage sales-ready prospects, you could create in-depth case studies demonstrating your company's ability to get positive results for past customers.
21. Get more clicks!
Organic listings claim 94% of all search clicks, while paid listings claim just 6%.
Be where the clicks are!
22. Connect with a broader audience
Almost 60% of shoppers turn to Google to research their next purchase.

And since Google processes around 40,000 search queries per second, there are a lot of potential customers out there for you to connect with.
23. Position your brand as an industry thought leader
People will automatically assume you're one of the best brands in your niche if you rank high in the search results. But you need to reinforce this belief by committing to creating original, insightful content regularly.
Doing so will do wonders for your reputation and help establish your brand as an industry leader.
24. Useful insights for business development
The queries driving traffic to your business can provide you with new ideas about the types of products and services you offer.
For example, maybe you're a SaaS business and notice some users arrive on your site after searching for "free widgets." If you're purely a paid widget service, you might decide it's a good idea to also offer a free plan to gain more market share.
The same logic applies to content creation. If you notice that a disproportionate amount of traffic reaches your site via a particular blog post, you could double down on the opportunity by publishing more content around adjacent topics.
25. A less intrusive form of marketing
Unlike some outbound marketing tactics, SEO is a gentler approach to building awareness and generating leads.
Instead of pestering prospects with cold calls, cold emails, and non-stop ads, you just need to nurture already-interested prospects toward a conversion.
26. As the global search market grows, so does your pool of potential customers
Google Search is more popular today than ever before. In April 2023 alone, the search engine received over 83 billion worldwide visitors. It's no wonder that the SEO services market is forecast to reach $234 billion by 2030.
27. Organic search is a level playing field
When it comes to advertising budgets, it's virtually impossible for most businesses to compete with behemoths like Amazon.
Of course, bigger companies will always be able to throw greater resources toward their SEO campaigns too. But a small business can still achieve disproportionate results with a smart strategy and a willingness to play the long game.
28. Sustainability
Once you've given your SEO program enough time to start yielding noticeable results, and provided you maintain the ground you've gained and continue to seek ways to improve, you'll end up with a sustainable source of new leads and sales.
29. Build ongoing relationships with your customers
Publishing great content on a regular basis is the cornerstone of SEO.
But high-quality content doesn't just help you rank better; it also positions you as a go-to source of useful and insightful information among your target audience.
By consistently providing visitors with genuine value through excellent content, many won't hesitate to do business with you when the time is right.
30. Targeted traffic
Traditional forms of marketing, like TV and radio ads, can be hit-or-miss when it comes to attracting the right kind of prospects.
SEO, however, lets you target only those who have a pre-existing interest in the type of solutions your business provides.
31. Reach audiences anywhere around the world
Imagine buying radio or TV ads in all the different markets you operate in. The cost (and logistics) would be outrageous!
With SEO, you reach whatever audience you want, wherever you want. Few other channels make it as easy to market your business on a local, regional, national, and international level.
Final thoughts
As the above benefits demonstrate, SEO is one of the most powerful and cost-effective marketing channels available to businesses today.
Now you're convinced SEO is a worthwhile investment for your business, it's time to consider developing your own SEO program.
And, as always, HigherVisibility is here to help if you want to discuss outsourcing your SEO to a team of experienced professionals.
Is your traffic declining?
Since 2009, we have helped hundreds of local businesses grow their online leads and sales strategically. Let us do it for you!