Facebook Ads vs. Google Ads: Which Platform is Best?
Scott Langdon
December 1, 2023
Editor's Note: This post was originally published in May 2021 and was updated in November 2023 for accuracy and comprehensiveness.
The average person searches Google three to four times and spends over half an hour on Facebook each day.
If you want your ads to be seen, you need to go where the people are. And in 2024, that's still primarily Google and Facebook.
Google Ads and Facebook Ads (now called Meta Ads) are two giant ad networks with incredible reach. Both options are affordable for businesses of all sizes and effective at driving traffic, leads, and conversions.
But which one is better?
While there are advantages to each, choosing the right PPC platform is essential for getting the most from your advertising budget.
Today, we'll explore the differences between Google Ads and Facebook Ads, discuss the pros and cons of each, and help you decide which is right for your business.
What Is Google Ads?
Google Ads is an online advertising platform that lets you display ads across the Google ecosystem, including its search engine, YouTube, and partner websites.
By bidding on specific keywords, your ads are shown to users who search those terms or visit related content. The platform primarily uses a pay-per-click (PPC) payment model and offers a range of ad formats and targeting options.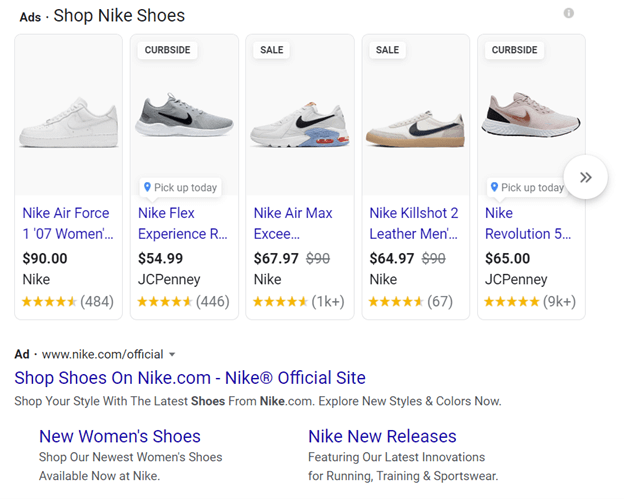 You may be familiar with the name AdWords. It was once known as Google AdWords before being rebranded to Google Ads in 2018.
What Is Facebook Ads?
Facebook Ads is Facebook's answer to Google Ads. The platform lets you display ads to a highly targeted audience across Facebook's vast network, including Instagram.
Facebook's access to extensive user data means you can customize your ads to reach super-specific audiences based on demographics, location, behaviors, and interests. The platform mainly uses PPC and impressions-based payment models.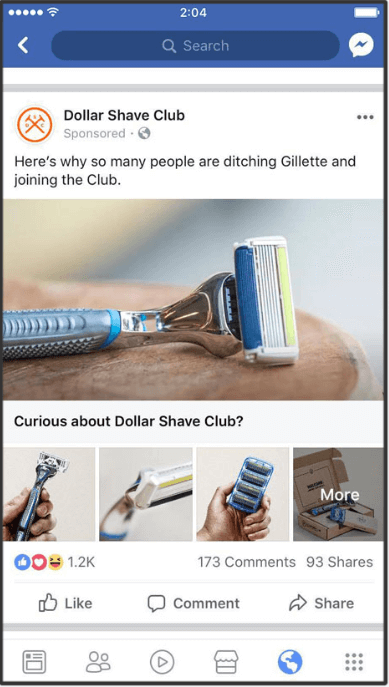 Why Should You Advertise on Google Ads or Facebook Ads?
Google Ads and Facebook Ads are PPC networks, and PPC is incredibly popular among advertisers. In fact, 74% of brands say that PPC advertising is a huge driver for their business.
But why is PPC such an important part of the marketing mix?
First, it's cost-effective. PPC advertising can work for any budget since you only have to pay when someone actually clicks your ad.
PPC advertising also has a low barrier to entry and often gets quick results. Compared to SEO—which typically takes months to produce results—PPC ads can start bringing in traffic right away.
Running ads can also provide a ton of useful insights about your target customers. By seeing which offers, content, and messaging resonate most with your audience, you learn more about what gets them to convert.
Why Are Google and Facebook the Top Choices for PPC?
The simple answer is that no other PPC platforms have anything close to Google's and Facebook's reach.
Google ads reach 90% of the world's internet users. Meanwhile, Facebook has over 3 billion active monthly users globally.
So, it makes perfect sense for advertisers to pick a platform that can help them reach the most people. No matter what you sell, you'll find potential buyers through Google and Facebook.
What's the difference between Facebook Ads and Google Ads?
Facebook Ads and Google Ads have a lot in common, but also some key differences.
Understanding the fundamental differences between paid search advertising and social media advertising will help you determine which platform is right for you.
Paid search vs. paid social
While Google Ads offers more than just search engine advertising, its primary strength is putting your ads at the top of the SERP. Paid search focuses on showing ads that match the user's search intent.
Facebook Ads reaches out to users within its social network. People log onto Facebook expecting to see content tailored to their interests and lifestyles. A well-targeted Facebook ad can be part of that.
Types of ads
Paid search ads on Google are wonderfully simple. All it takes is some text, and you have an ad.
Social media advertising is all about high-quality images and videos, which naturally require more resources to develop.
Of course, Google offers more than just paid search. If you're looking for multiple ad choices, Google is your network. Google Ads include:
Search ads: Text ads are shown to people searching for specific keywords. These can be generic keywords, your own brand name, or competitor brand names
Display ads: Image ads are displayed on the countless sites that make up Google Display Network
Video ads: Ads that display on YouTube and other video websites
App ads: Ads to drive installs, engagements, and signups for your app
Shopping ads: Ads that promote online and local inventory in the search results
Local ads: Campaigns designed to bring people to physical stores and venues
Smart Campaigns: Automated ad management and optimization
Facebook Ads appear in various locations throughout the Facebook network, including Facebook and Instagram feeds, Facebook Marketplace, and Messenger. But the reach of this network isn't as extensive as Google's.
Facebook's ad types are very visual and include:
Image ads: Ads based on a single image
Video ads: Ads based on a video
Carousel ads: Ads showcasing multiple images or videos in a single ad, each with its own link
Instant experience ads: A full-screen, interactive experience that opens after someone taps an ad on a mobile device
Dynamic ads: Ads that automatically promote products from your catalog based on your target audience's interests
Stories ads: Full-screen vertical ads on Facebook or Instagram appearing between users' Stories
Targeting options
Paid search targeting is focused on keywords, while paid social targeting relies heavily on user interests, location, and demographic characteristics.
Google Ads also lets you target based on demographics, but the categories are fairly basic. The platform's main strength is in targeting users based on search intent.
On the other hand, audience targeting in Facebook Ads can get very granular.
As we've already mentioned, Facebook knows a lot about its users' locations, interests, lifestyles, values, demographics, and behaviors. And you can combine these targeting options to reach extremely niche audiences.
Both PPC platforms let you advertise to people who've visited your site in the past through retargeting campaigns.
Buyer intent vs. brand awareness
When a search user wants to buy a product just like yours, they simply type a description of the product into the search bar, and voila! The name of your product and a link to your website appear at the top of the search results.
The beauty of Google Ads is that it reaches customers who are already interested in your product or something similar.
However, not every potential customer is actively searching for what you sell. Maybe they're not even aware that a solution like yours exists. A major weakness of paid search is that it struggles to place your brand in front of people who might be interested if only they knew about you.
Meanwhile, Facebook Ads excels at increasing your brand awareness, especially if you can correctly identify the groups of people most likely to be interested in your company. Put a compelling Facebook Ad into their newsfeed, and they might discover that your product is the thing they never knew they needed!
Which PPC Network Has the Best ROI?
Sorry, no easy answers here.
Both networks can provide a great return on investment, depending on your needs.
So here are a few questions to ask yourself when choosing the right PPC platform.
Are many people searching for your product or service?
For your ads to appear at the top of the search engine results page, people have to be actively searching your target keywords.
You can use Google's Keyword Planner or another keyword research tool to find out if keywords related to your product have significant search demand. If they do, running a Google Ads search campaign might be a great way to direct some of that traffic right to your site.
But if the search volume is low and your primary goal is to grow awareness around your products or services, Facebook Ads might be your best bet.
How costly are your keywords on Google Ads?
You can enter your keywords into Keyword Planner to estimate their cost-per-click (CPC). Since you'll probably have to pay for several clicks to get a conversion, consider whether you can afford to target the most relevant keywords.
The average cost per conversion is $56.11 for search ads and $90.80 for display ads. And keep in mind that these rates can vary considerably from one industry to the next.
Does a specific demographic use your product or service?
If you can narrow down your ideal buyer to newlyweds who work in the forestry industry, have pet rabbits, and use Android phones, you'll like Facebook Ads.
Facebook is the superior choice for targeting a specific, pre-defined audience.
Do you have to choose just one PPC network?
If you can afford it, the best way to find out which platform will give you the best ROI is to try them both with a small test budget.
Should You Use Facebook Ads or Google Ads?
Again, it depends.
Both platforms are affordable and capable of getting a great ROI. Both can generate leads and customers.
Google Ads puts you in front of people already looking for you, while Facebook Ads puts you on the radar of new potential customers. If it fits your budget, using Facebook and Google Ads will help you cover the entire marketing funnel.
Google Ads offers a greater range of ad types. If you want to be on YouTube or run display ads on a vast network of sites and apps, Google Ads is the right choice.
On the other hand, Facebook Ads allows for more interaction between you and your audience. Many Facebook Ads mimic organic Facebook posts, complete with conversations in the comments section.
Many businesses decide to use both networks for different purposes. If you feel you can only use one, consider how your goals align with the strengths of each platform.
Getting Started with Google Ads and Facebook Ads
Google Ads and Facebook Ads both make it easy for anyone to create an advertising campaign with little to no PPC experience. With some snappy copy and an image or two, you could have an ad up and running in no time.
Maximizing the ROI of your ads, on the other hand, is a complex process that requires strategic planning and continuous monitoring.
When planning your PPC campaigns, ask yourself questions like:
What's your PPC budget?
Who are you trying to reach with your ads?
If you're using paid search, how much will your keywords cost?
Where do you want your ads to display?
What ads currently show for your keywords?
Which demographic targeting options will reach your ideal buyer?
Which landing page will your ads link to?
Start with a small test budget and track the success of your campaigns. Tweak what isn't working until you feel confident about making a larger investment.
Fine-tuning PPC ads is an ongoing process that can get confusing for people inexperienced with advertising. If you don't have in-house PPC experts, consider working with a PPC management agency.
Final Thoughts
Google Ads and Facebook Ads are both top PPC options. Whether you choose one or the other (or both) entirely depends on your goals.
Remember that the two networks complement each other well. Google Ads helps you target interested buyers, while Facebook Ads helps increase brand awareness and engagement. And once again, consider working with PPC management experts to maximize your ROI if the complexities of optimizing ad campaigns are intimidating—or if you just have better things to do than monitor PPC ads all day!