20 Questions to Ask an SEO Agency Before You Hire Them
Adam Heitzman
August 21, 2023
Hiring an SEO agency is like finding a life partner. Of course, doing the basics is never enough. You have to consider compatibility, timing and if the agency has the right skill sets to increase your conversion rate. Moreso, making a wrong choice results is a waste of time and resources.
As a business owner, you want an agency that understands your goals, aligns with your values, and most importantly, is committed to your success. And with thousands of SEO professionals on the internet, making the right choice can be exhausting. Extremely exhausting.
It doesn't have to be, though. With the right questions, you'll easily sift through your options to find the best fit for your company.
To ease your decision-making process, I compiled 20 common questions – and the answers to expect – to find an effective SEO agency that'll drive traffic that converts.
Can you provide examples of successful SEO campaigns you've worked on?
Talk is cheap. While anyone can claim to be an SEO expert, only results separate the authentic from the snake oil geeks. Any reputable agency should have case studies or portfolios that reflect previous projects.
What to expect:
Before entering any agreement, verify that the agency can deliver as expected.
Ask for case studies in your niche and size. SEO differs across industries, so opting for niche specialists rather than generalists is beneficial.
For example, if you're an eCommerce business owner in the clothing industry, you want to see projects in the e-commerce niche. This gives you an idea of how they operate and the type of results to expect from your company.
Some SEO agencies may go further to add opportunities and challenges they experienced for each project. They may also include the strategies and steps taken to achieve the results represented in the case studies.
Tip: If they're hesitant about showing testimonials or projects from previous clients, it's a red flag.
How long have you been in the SEO industry, and what experience do your team members have?
Thanks to the internet, anyone can learn SEO and become certified. But nothing beats hands-on experience.
An agency with many years of experience likely has encountered several challenges and will have more experience developing effective strategies.
But it's also advisable to enquire about the number of projects they've handled. This is because, in SEO, more years of experience isn't necessarily a measure of expertise. Here's what I mean.
Let's consider two agencies, A and B. Agency A has only five years of experience but has handled ten projects. On the other hand, Agency B has ten years of experience but has only handled five projects. Which agency has more experience?
Technically, it's Agency A.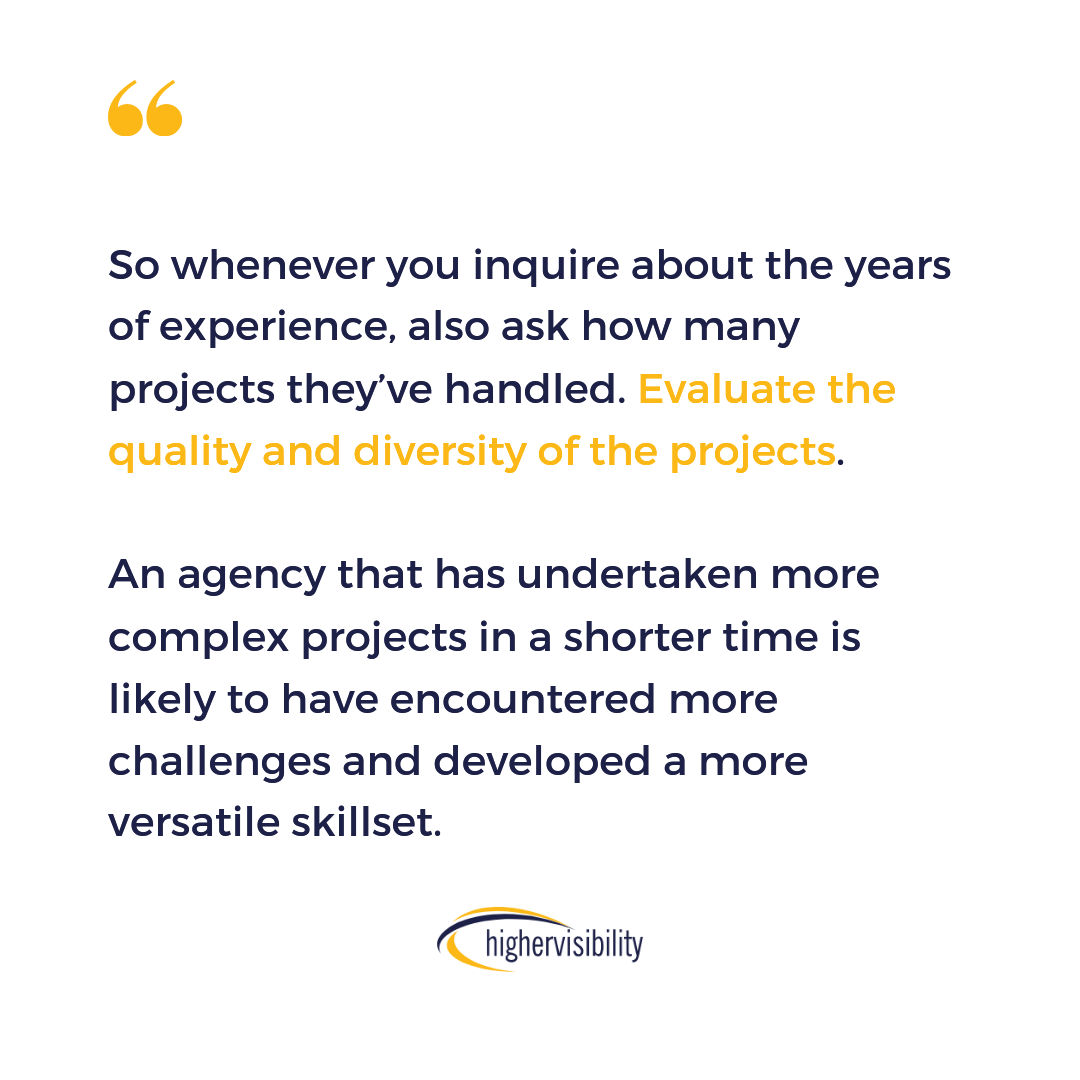 This doesn't imply that you should sideline the years of experience. Leverage both factors to help you make a better and more informed decision.
What strategies do you use to improve organic search rankings and website traffic?
SEO isn't static. There are constant algorithm updates, and every SEO professional understands that what's relevant today may be altered tomorrow. A credible agency is always on par with SEO trends, constantly testing and re-evaluating strategies to discover what works.
What to expect:
In SEO, there are no secret techniques. A good agency should be explicit about the strategies used to improve website traffic and rankings. They should also be able to tailor their strategy to cater to your specific use case.
Be wary of SEO agencies that claim to have a 'secret sauce' or use the 'we work with Google's strategy' as their ranking factors. They have nothing to offer.
How do you approach keyword research and selection for our business?
Keyword research is the foundation of any successful SEO strategy. If done wrongly, all other SEO efforts won't make any difference. This is because they're the exact phrases that your customers use when conducting search queries. Getting them wrong means your website won't appear for relevant search queries.
What to expect:
Modern keyword research has metamorphosed from the traditional keyword volume and density factors to relevance. It requires conducting customer research to understand the intent behind each search query.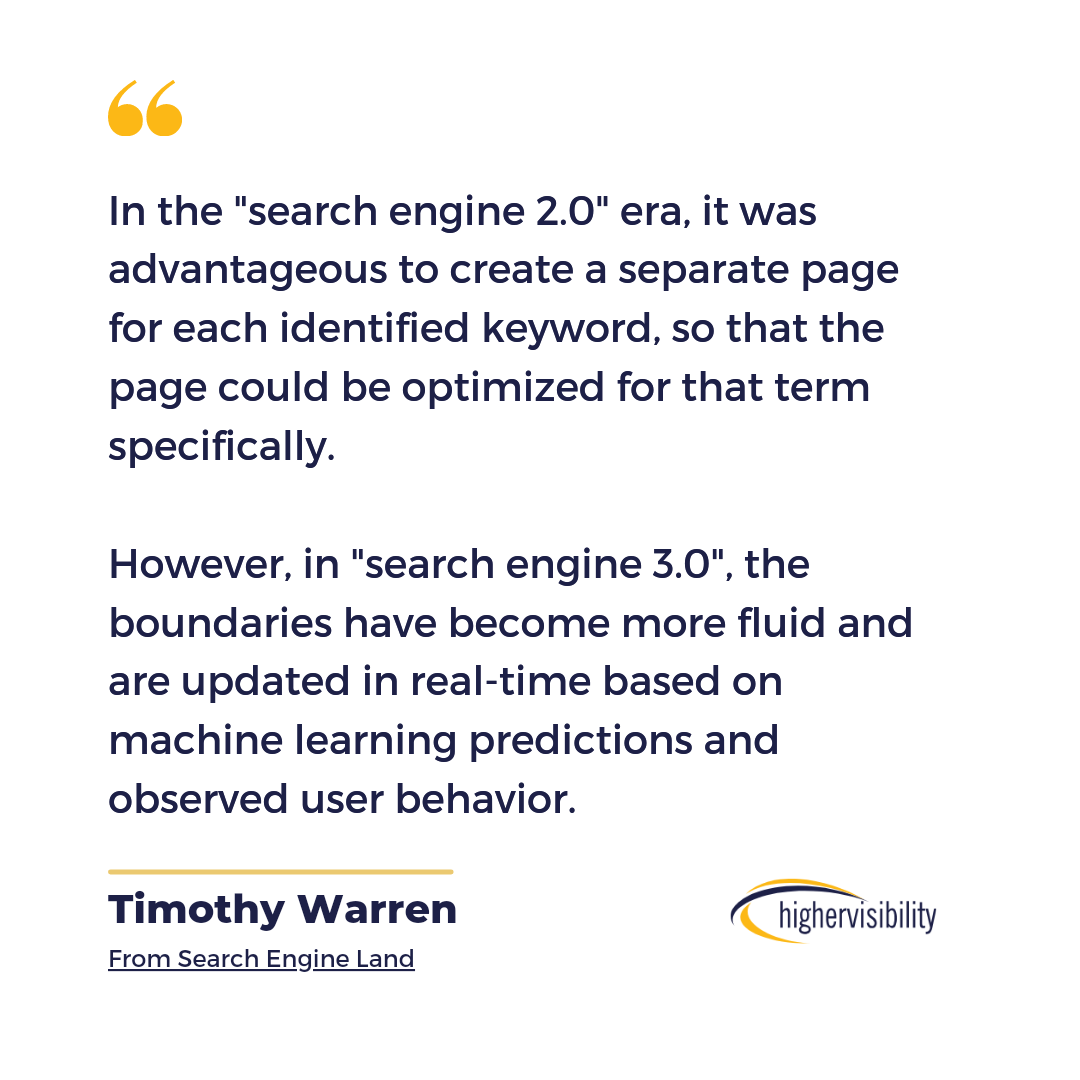 So ask for the minutest detail. They should explain the tools and methods they adopt to find keywords in terms of search intent. If they babble around search volumes or keyword density for so long, it's likely a red flag. A good SEO agency should be able to create a customer-centric keyword research strategy that caters to all stages of the customer journey, from the awareness stage to the retention phase.
Can you explain your link-building practices and how you ensure high-quality backlinks?
Backlinks are another important factor (off-page) in search engine optimization. They contribute to establishing your authoritativeness and relevance on search engine results pages (SERPs). The more quality backlinks you have on your site, the higher your chances of ranking high on the SERPs.
What to expect:
Some agencies use unscrupulous link-building practices to increase rankings or drive traffic to your site. For example, standard procedures include buying backlinks from spammy sites or using Private Blog Networks (PBNs).
So look out for answers like:
"We earn quality backlinks through creating quality content and creative digital PR campaigns."
"We contact thought leaders, influencers, industry leaders, webmasters who manage resources pages, etc., for content collaboration."
"…through guest-blogging on reputable sites."
Any reputable SEO agency would be open-faced about its link-building tactics. If they are tight-lipped or not clear enough, tick them off your list.
Do you follow search engine guidelines, and how do you stay up-to-date with the latest algorithm changes?
As I pointed out earlier, search engine algorithms evolve as user behavior changes (over 1200 changes have been made since the last decade)! Any qualified SEO provider should know the recent algorithm changes well.
What to expect:
They don't need to be familiar with all the algorithm updates. You should look out for a substantial knowledge of the core ranking algorithms from Google—for example, PageRank, Panda, Penguin, and HummingPost. The agency should also know how to navigate Google algorithm changes and adjust their proposed SEO strategy accordingly.
What metrics do you use to measure the success of an SEO campaign?
There are myriad metrics to track in SEO. From organic search rankings, to bounce rate to several monthly visitors, the list is almost non-exhaustive. Any good SEO agency understands that a successful SEO strategy should align with the client's goals and objectives. Any other consideration outside this is simply vanity metrics.
What to expect:
The SEO agency shouldn't provide generic answers based on assumptions. Before the consultation, they should have researched what KPIs are essential to your brand. This may be from competitor analysis or by drawing references from similar use cases.
For example, they may suggest creating valuable content and generating backlinks from relevant sites if you're looking for increased rankings.
Will you provide regular reports on the progress and results of our SEO efforts?
SEO reports are essential as they inform you of every stage of your SEO journey. They also help to know how you can integrate the outcomes into other marketing efforts.
What to expect:
Request to see a report sample used for previous clients. However, SEO reports vary in industry and size since no two companies are identical. A good benchmark is getting monthly reports of your SEO campaigns.
A good SEO report should contain KPIs based on your goals. Some vitals are:
Domain Authority / Domain Rating
Monthly organic traffic progress
Backlink growth
SEO health
Organic Leads/Sales
etc.
and other metrics tied to revenue growth.
How do you handle technical SEO issues on our website, such as site speed and crawlability?
Technical SEO keeps your site 'discoverable' by search engine algorithms. It directly impacts user experience while navigating your site and overall website health. An experienced agency should be experienced in solving major technical issues that affect indexability and crawlability:
Slow speed
Page 404 errors
Redirect problems,
Mobile-friendliness etc.
What to expect:
First, ask how they can discover technical SEO issues that may affect your search rankings. The SEO agency should have access to technical SEO tools like ScreamingFrog, Ahrefs, SEMRush, Google Search Console, etc., that can identify and proffer solutions to technical SEO issues.
What is your approach to on-page optimization and content creation?
Recently, SEO has transcended from search engine optimization to user/customer optimization. Even Google highlighted that if you want to make any progress with your SEO campaigns, optimize your website for users. This is where on-page SEO comes in.
What to expect:
On-page SEO is one of the three core tenets of SEO. Any good agency understands this and will provide a breakdown of optimizing your site for web users. This includes:
Conducting an on-page SEO audit to identify underlying issues
Conduct competitor research to know what's already working
Suggest data-backed and actionable practices that will improve your website UX
Creating high-quality, relevant content that provides actionable solutions to user search queries.
Also, inquire if the content will be handled in-house or outsourced to freelancers. Some SEO agencies hire third parties to create content, and knowing (and vetting) who will manage your content is essential.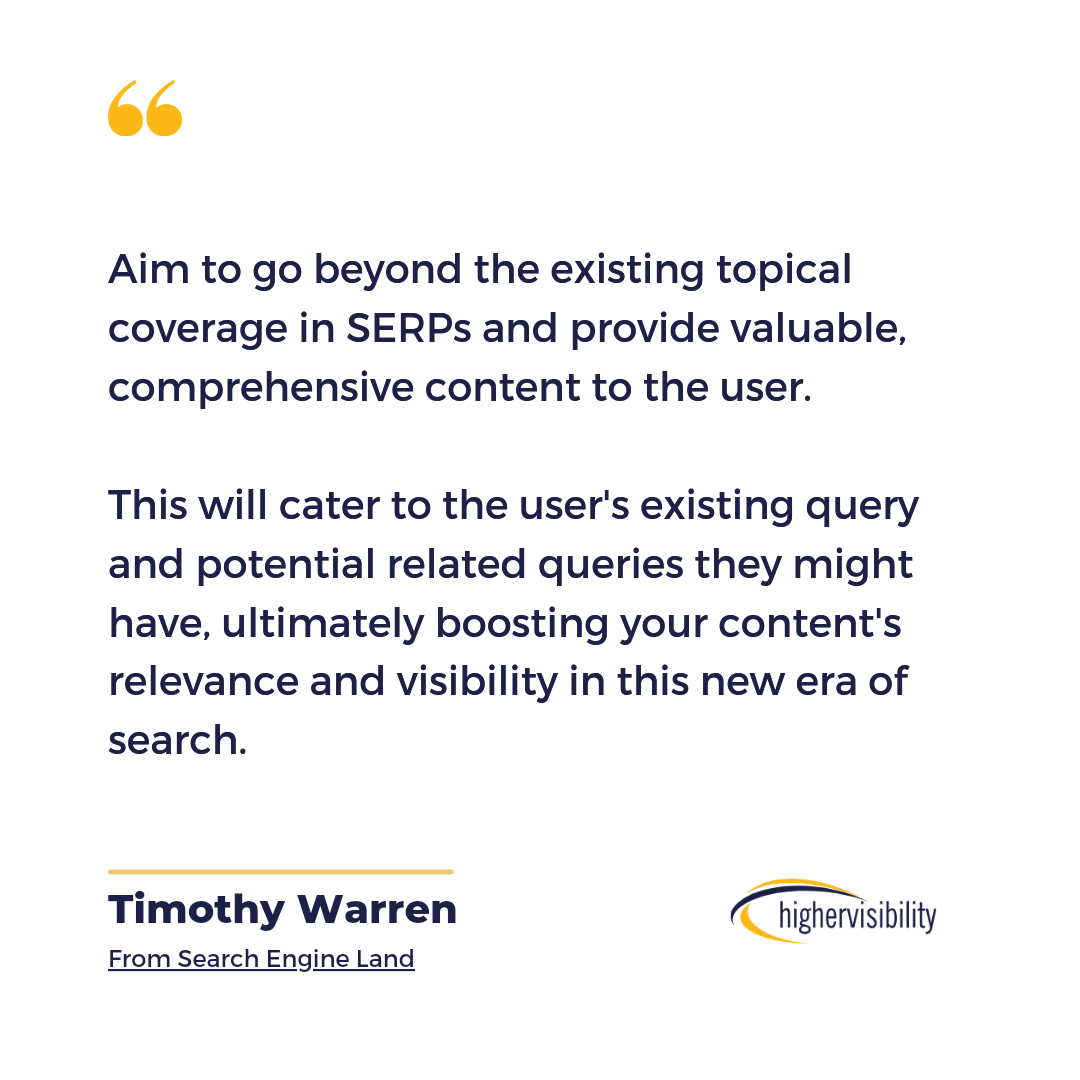 Do you have experience with local SEO and optimizing for local search results?
Look for agencies that explicitly mention their expertise with local SEO. A quality SEO company should provide a wide range of services, including local SEO for clients with websites catering to a specific geographical area.
What to expect:
Before signing an agreement, ask how they plan to optimize your Google My Business listing profile. Also, inquire about their content creation and link-building strategies. Local SEO strategy differs from organic SEO, and you have to be sure the agency knows how to differentiate both.
If the agency doesn't discuss implementing schema markup or uses vague language, it indicates they don't understand (or haven't handled) local SEO.
How do you perform competitor analysis and use it to inform our strategy?
Any good SEO company understands that competitor analysis is an effective and no-cost strategy for what's already working.
What to expect:
They should understand how to conduct thorough competitor analysis and leverage the insights to develop a robust SEO campaign that aligns with your business goals.
In addition, your SEO agency should have access to the right tools for performing competitor analysis. They should be able to uncover opportunities where your competitors are already falling short. This may be targeting another keyword or creating better content to answer user search queries.
Can you provide references or testimonials from previous clients?
As mentioned earlier, anyone can claim to be an SEO expert.
Results differentiate an expert from self-acclaimed professionals.
And before you enter any form of agreement, you have to be sure that the agency has success records with proof.
What to expect:
Ask to see case studies or testimonials from previous clients. A good company will happily refer you to two or three clients they've worked with. And if they perform well, the references will be happy to give a recommendation.
If the agency is hesitant about providing testimonials or giving references (with an excuse that they signed a non-disclosure agreement), it's a red flag.
What is your pricing structure, and what services are included in your packages?
Knowing the SEO agency pricing structure is essential to allocate funds effectively and find the best value for your money. Do they charge a flat fee? Or per hour? Are there any hidden fees? If they offer tiered packages, ask for a breakdown of the services in each package. Depending on your use case, you can also ask for customized packages so that you don't get to pay for services you don't need.
Do you offer any guarantees for achieving specific rankings or results?
This is the easiest way to fish out the genuine agencies from the fake ones.
The truth is nobody can ascertain or accurately predict the next algorithm change.
The nature of SEO requires continuous testing, analysis, and adaptation. Credible agencies understand this, so they focus on refining strategies based on quality research and staying abreast of industry trends.
What to expect:
If they're authentic, they'll be upfront about the uncertainty of ranking outcomes and focus on building a tailored strategy that can withstand algorithm changes.
That said, if an agency promises a specific result or position on the SERPs, they're likely using unethical tactics.
How do you communicate with clients, and what level of involvement do you expect from us?
Communication is the soul of any quality relationship. And for your campaign to be successful, you need an agency that communicates effectively. Remember that communication is a two-way street, and the connection will not succeed without your input.
What to expect:
Credible agencies don't make vague promises. They ask questions about your industry, audience, goals, and KPIs. So if the agency isn't pushing to learn more about you but asking for payments, it's a red flag.
Will you help us with website analytics and setting up conversion tracking?
There's no SEO without tracking. A good SEO agency understands the benefits of tracking conversions. Hence, they should have a dedicated team specializing in website analytics and conversion tracking. They will work with you to set up your Google Analytics account and configure your conversion goals based on your marketing KPIs. This way, you can get real-time insights into what's working and what isn't.
What to expect:
Ask to see case studies of previous clients. Analyze them thoroughly and ask how they'll identify the potential risks associated with your SEO strategies, and how they'd mitigate them?
No SEO strategy is risk-free. For example, a new algorithm change can affect rankings or user behavior. An authentic SEO agency understands this and provides an agile approach to mitigate these risks.
How do you handle changes in search engine algorithms and adjust your strategies accordingly?
SEO is constantly evolving, so you must only hire an agency that's always ahead of the trends.
What to expect:
You'd want someone keeping close tabs on Google's Webmasters Central Blog – a resource by Google that posts new updates on algorithm changes. The agency should also adopt a flexible and agile approach to deliver results consistently.
In this case, choose an agency that prioritizes improving user experience. This means ensuring every change implemented is geared towards satisfying user intent.
Can you explain your approach to local SEO and optimizing for Google My Business?
If you're targeting a particular geographical area, you need an agency specializing in local SEO. Legitimate SEO companies will focus on creating geo-specific content and optimizing your GMB profile for higher conversions. This includes optimizing your presence on Google Maps, building and optimizing local citations, ensuring NAP consistency across all online platforms, implementing Schema Markup to enhance visibility, and more.
Why HigherVisibility?
At HigherVisibility, we don't make empty promises. We walk the talk and ensure you get high returns on every dollar spent working with us. And due to our consistently delivering excellent services, we have been awarded Best SEO Agency of the Year four times! 
This didn't come easy, though. We pride ourselves on hiring seasoned experts in the digital marketing industry. We also seek the best and most relevant SEO strategies to increase your conversion rate. Sounds great? Request a free custom strategy.