Is SEO Worth It in 2023? Analyzing the ROI of Organic Search Campaigns
Adam Heitzman
July 7, 2023
Given the abundance of marketing channels out there, many business owners and managers struggle to decide whether search engine optimization (SEO) is worth it.
Unlike paid search advertising, SEO doesn't guarantee you a top spot in Google's rankings. What's more, SEO doesn't come with a pre-built performance dashboard that tells you exactly how your daily spend translates into increased revenue.
On top of that, the industry is full of jargon. Many self-appointed "SEO experts" are more like glorified hype artists. So finding thoughtful guidance on the topic can be a challenge.
Unsurprisingly, some businesses simply conclude that SEO won't work for them.
But the cold, hard data tells a different story. In this post, we'll look at what the numbers say about whether SEO is worth it in 2023. We'll also address some common objections people raise when they consider investing in organic search.
How effective is SEO?
The short answer is: SEO is a cost-effective marketing channel that can generate tons of awareness, traffic, and sales for your business.
But don't just take our word for it. Here are some stats to support our claim.
More brand awareness
Improving your organic search engine rankings lets you reach a far greater pool of prospects.
When you consider the fact that Google processes around 40,000 queries every second but only 0.63% of users click to the second results page, it's clear that the higher you rank, the more your target audience will come to recognize your brand.
But the benefits go beyond mere brand recognition. The more your prospects see your site consistently appearing for the queries they're searching for, the more they'll assume your brand is trustworthy. The logic is simple: if Google thinks your site is worth the top spot, then your business is probably legit.
More traffic
Google receives around 80 billion visits per month, and roughly 65% of all organic clicks go to one of the top three results.
This means you stand to gain disproportionate increases in traffic when your site starts rising to the top of search results pages (SERPs). What's more, this traffic consists of users who are actively seeking information about your products and services—and it's free!
The fact is 53% of all web traffic comes via organic search. This figure drops to 15% for paid search and 5% for organic social media.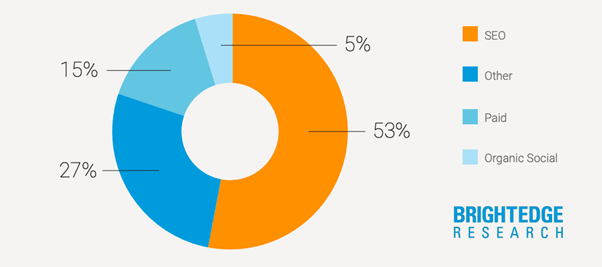 More sales
Increased brand awareness and traffic don't count for much unless they also help you close more sales.
The good news is proper SEO lets you attract leads at every stage of the customer journey, from window shoppers to undecided prospects to purchase-ready buyers.
It's important to realize that 51% of online shoppers turn to Google to find new products. On average, organic leads have a 14.6% close rate. What's more, 71% of local searches lead to an in-store visit within 24 hours.
Since you're not paying for clicks, SEO customer acquisition costs are relatively low (averaging around $942 versus $1,907 for paid search). And for B2B businesses, organic search generates twice as much revenue as all other channels combined.
Therefore, it comes as no surprise that 63% of businesses actively invest in organic search, with around 50% of marketers saying it's the most profitable channel they use.
The Data Doesn't Lie – SEO is More Important Than Ever
Ready to skyrocket your organic search rankings? Reach out to our team now to get a free strategy.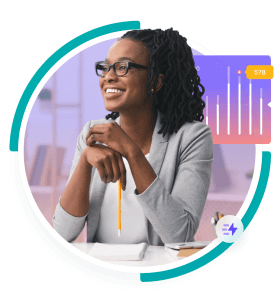 A real-life example of SEO making a difference
If the stats above haven't quite convinced you of the importance of SEO, perhaps a case study from one of our clients will sway you.
We helped Restoration Roofing renew its online image and implement on-page and off-page SEO upgrades.
Not only did we help the company increase its organic traffic by 162%, but our web design makeover helped quadruple its conversions.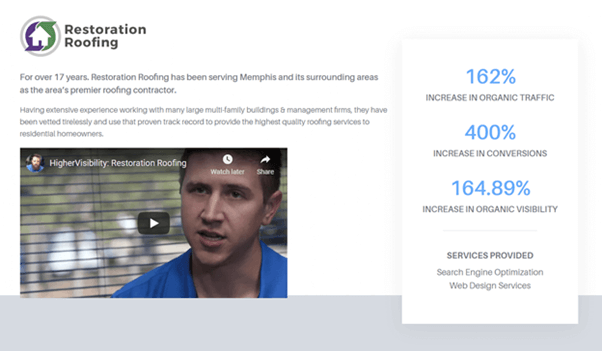 Bottom line? SEO is a solid investment.
Common questions and objections about SEO
By now, we hope you're convinced that SEO is a viable marketing strategy for many businesses. But you still have lingering doubts about whether it's right for your business.
We hear you.
To ease your concerns, let's address some common objections to SEO.
Objection #1: SEO is too expensive
Despite the effectiveness of SEO, some business owners worry that the cost of developing and implementing SEO campaigns is too high. After all, SEO isn't a "set-it-and-forget-it" type of activity. Doing it right requires continuous work and maintenance over extended periods of time.
So how much does SEO cost?
According to a recent study by Ahrefs, 79% of SEO service providers charge a monthly retainer fee of $1,000 or more. The average rate for SEOs that charge by the hour is between $75 and $100.
As you'd expect, more experienced SEO providers command higher fees. But SEO pricing also varies widely depending on your specific business needs and objectives.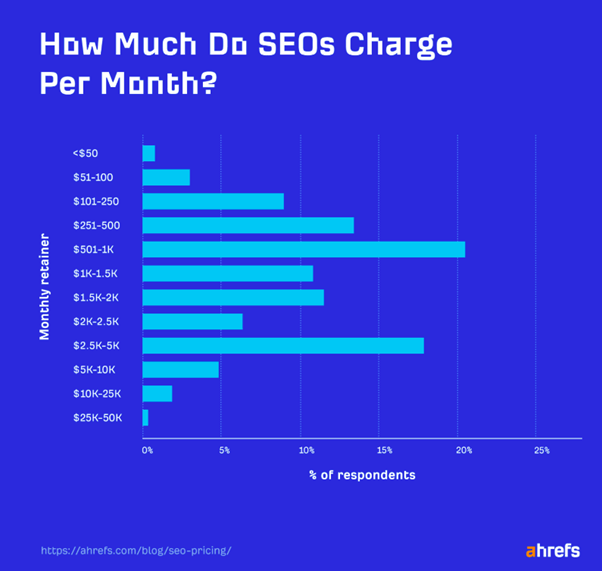 Some businesses may be tempted to gamble on a cheaper SEO option when deciding how to allocate their marketing dollars. We caution against that. The stats suggest that business owners who spend less than $500 a month on SEO are 75% more likely to be dissatisfied with their results compared with those who spend $500 or more.
Remember that SEO is like any other service: you get what you pay for. You'll significantly increase your probability of success if you opt for a quality SEO provider that knows how to design a custom strategy for your business. And there are plenty of affordable SEO companies out there to meet most (reasonable) budgets.
Objection #2: SEO results take too long
Some business owners think SEO just takes too long.
In our study on small business digital marketing, we found that 68.8% of SMB owners would expect significant SEO results within three months or less.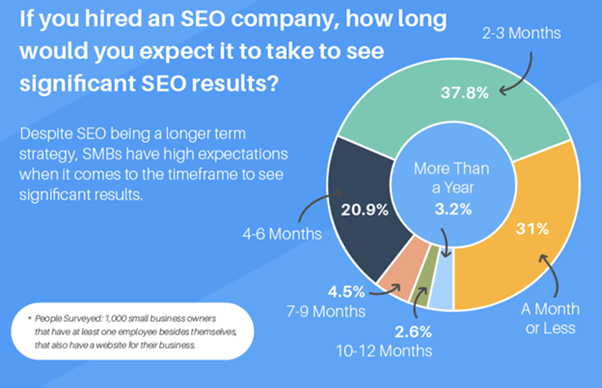 The reality is that even with a big budget and the expert support of a professional SEO service, you're unlikely to see many significant results within three months.
However, after six to eight months of launching a well-crafted SEO strategy, you'll likely start noticing steady improvements in keyword rankings and traffic volumes. And as you keep your foot on the pedal, you can expect this progress to continue until you reach a point where you've completely transformed your organic search performance for the better.
Keep in mind that the average page ranking on page one of Google is two years old. So, yes, SEO takes time. But that just means that having a little patience gives you a significant competitive advantage.
Objection #3: Don't SEOs use shady tactics?
We'll be the first to admit it: not all SEO is good SEO.
In the worst-case scenario, you can fall victim to a company using black hat SEO techniques, leading to disastrous consequences for your brand.
For example, if Google suspects your site has been using deceptive tactics to game its algorithms, it may deindex your entire site. If that happens, you won't appear in their search results even when someone searches your company name.
So if you want to avoid such problems and keep things above board, you'll need to team up with a reputable white hat agency.
But how can you tell if an agency is the real deal?
Well, one indicator is that they're recipients of recognized industry awards.
(Shameless plug: We've recently won several awards, including Search Engine Land's SEO Agency of the Year).
Of course, awards alone don't tell the whole story. Just like you shouldn't instantly hire someone because of their diploma, you shouldn't instantly hire an agency because of their awards.
You'll also want to see case studies of real companies (like the one we shared above) with live websites where you can verify any results they claim.
You should look at feedback from previous customers using review sites like Clutch.co.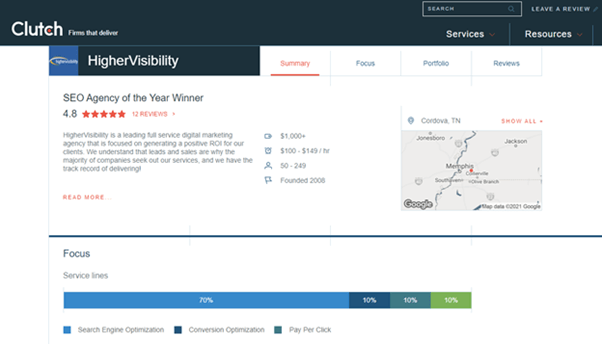 Objection #4: I want to do SEO myself. But where do I find quality advice?
If you don't have the budget to outsource your SEO, be careful who you take DIY SEO advice from.
There's a lot of information about SEO out there.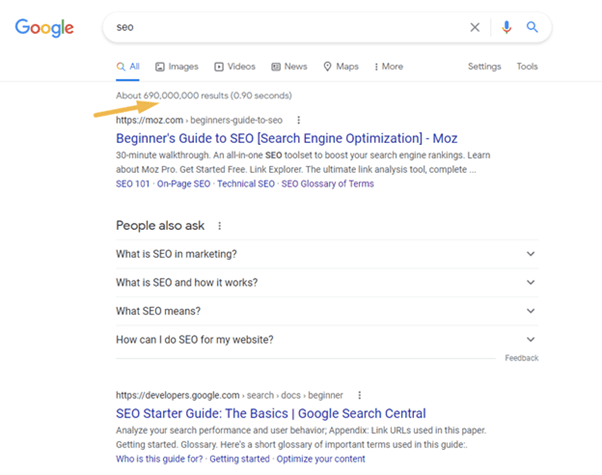 But not all of this information is good information. It's safe to assume most of these results contain outdated advice or even stuff that never really worked.
So which sources should you seek for SEO advice?
We recommend Google's own guidelines, any SEO software companies with access to applicable data, respected industry publications, and experts with a proven track record.
Official sources: Google Search Central
The big three SEO software providers: Moz, SEMrush, Ahrefs
Reputable industry publications: Search Engine Land, Search Engine Journal, Search Engine Watch, Backlinko
SEO agencies or consultants with a proven track record: HigherVisibility, etc.
As a rule, if you follow the latest guidelines and research-backed advice, you should be heading in the right direction.
Objection #5: SEO seems like too much to manage
SEO can seem like a complex business to newcomers.
And it's true that SEO requires familiarity with several sub-disciplines, such as:
Web design
User experience
Mobile optimization
Content creation
Digital PR
Conversion copywriting
Overall strategy
That's a lot to manage on your own. It's no surprise so many businesses decide to outsource SEO to the experts.
If you're still on the fence about hiring an agency to manage your SEO program, know that you won't need to pay a hefty upfront fee to fix everything wrong with your site all at once.
Quality agencies like ours know that SEO is a never-ending process that requires long-term investment. So we're happy to help you identify which problems to prioritize first and create a plan for ongoing optimization.
The verdict: Is SEO still worth it in 2023?
For us, the answer is a resounding yes! As the stats have shown, SEO is an excellent way to boost brand awareness, drive more site traffic, and increase sales revenue.
That said, SEO is only worth it if you approach it the right way. To succeed, you should invest in the support of a reputable SEO agency (if you have the budget) and prepare to wait several months before your efforts start to bear fruit.
The Data Doesn't Lie – SEO is More Important Than Ever
Ready to skyrocket your organic search rankings? Reach out to our team now to get a free strategy.