Online Marketing RFP Template With Sample Questions
Adam Heitzman
January 19, 2023
Whether this is your first online marketing request for proposal (RFP) or your 50th, putting together a document that yields high-quality submissions can be complicated and time-consuming.
Indeed, finding a suitable online marketing agency that satisfies your business needs isn't a straightforward task. Not only do you need to iron out exactly what you want from an agency, but you also need to search for candidates and compare their relative merits.
This is where a well-formulated RFP can make all the difference.
In this post, we'll break down all the must-have elements your RFP should cover to maximize your chances of finding the right online marketing partner. And to help you on your way, we've also created a free online marketing RFP template that you can download right here.
Download Now: Free Online Marketing RFP Template
If you are vetting online marketing agencies and need an RFP template that can be customized to your needs, simply enter your email and we will instantly send you the template.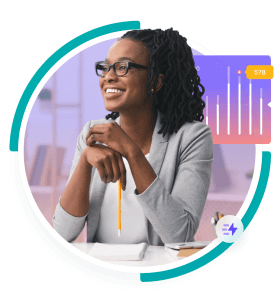 What Is an Online Marketing RFP?
An online marketing RFP is a document that outlines your digital marketing project requirements and all the conditions that a worthwhile agency proposal must satisfy.
In other words, the RFP describes your company's online marketing problem situation so prospective agencies can come back with a solution that meets your needs.
Once you have received submissions from interested agencies, you can compare proposals and narrow down your pool of potential digital marketing partners.
Why Use an Online Marketing RFP?
Writing an online marketing RFP can be challenging if you don't know exactly what you need from a digital marketing agency. That's why using a template can be so helpful. A template ensures your RFP covers all the important elements of your project and makes it clear to agencies what a solid proposal should account for.  
We're no strangers to online marketing RFPs. We've seen some truly impressive ones and our fair share of weak ones. Thankfully, our digital marketing RFP template makes life easier for both parties. Not only will it help you write and organize your RFP, but it will make it easy for prospective agencies to review it as well.
Keep in mind that a well-written RFP facilitates the procurement process in several ways. It ensures that proposals are tailored to your specific needs and follow a similar structure so you can compare them more easily. It also reduces the risk of misunderstandings and saves time when you eventually onboard your new digital marketing service provider.
What You Should Cover in an Online Marketing RFP
Since the ultimate goal of your RFP is to find the best-qualified online marketing agency for your needs, you should provide plenty of information about your company's background and your specific project requirements. The more context you provide, the easier it will be for agencies to create genuine, workable proposals.
This is also an opportunity for you to ask any questions that can help you determine whether a given agency is a good fit for the project.
Below you'll find a breakdown of the core areas you should cover in your RFP. Keep in mind that this isn't an exhaustive list. There may well be other items you wish to add.
Your Company Overview
The best place to start is with your business background and an explanation of why you're seeking a new digital marketing partner.
Unless your company already has a robust digital presence, chances are the agencies you contact won't be familiar with your company.
Here's a snapshot of the type of top-level information to cover in this section:
Your company name, headcount, location, website, values, etc.
What you sell and who you serve
Your USP
Your competitors and your current market position
Your business goals
Your current marketing activity
What you're looking for from an online marketing agency
Key stakeholders
Your Online Marketing Goals
This section should provide an overview of your project goals and an estimated time frame for achieving them. By conveying a clear vision of where you'd like to get to, you'll give agencies the direction they need to formulate an intelligent, pragmatic proposal.
The details you provide in this section will all depend on the specific requirements of your project. For example, the goals you set if you want an agency to develop an all-encompassing digital marketing strategy will differ from those you set if you only need support with the tactical implementation of an existing strategy.
Naturally, you'll want to tie your digital KPIs to your broader business objectives. It's a good idea to set some overarching digital marketing goals and then drill down into the details of different channels. The channels you may want to set goals for include:
If you don't already have a strategy in place, there's no need to go into excessive detail about goals for different channels. Provided you give agencies the birdseye view of what you want to achieve, they can advise you on which targets to set and the best approach for reaching them.
Lastly, be sure to mention if you have a specific time frame during which you need to see results. This will filter out any agencies that don't have the internal bandwidth to satisfy your schedule.
Your Current Digital Presence
Before agencies can come up with a proposal of how to reach your project goals, they'll first need to understand what online marketing activities you're already engaged in and how they're performing.
Honesty and accuracy are crucial here. There's no use in overstating your performance. Even if it's painful to recall your shortcomings and what's not working for you, transparency is the best way for prospective agencies to understand your business needs. Besides, everyone faces challenges with their marketing programs!
Mention what strategies you've been using, what's working well, and what you think could work better. You should also highlight any significant pain points you've faced in the past, be it low retention rates, poor organic visibility, or difficulty planning and producing high-value content.
Your Target Audience
Agencies will also benefit from a clear understanding of your ideal customer. Try including demographic and even psychographic information to build a rich picture of your audience profile. Also, feel free to include any customer personas or customer mapping journeys you have.
Your Competitors
Highlighting at least three competitors will help potential agencies see what you're up against. Point out any websites, social media accounts, or advertising campaigns that particularly impress you so that agencies have a better sense of your tastes and ambitions.
A Breakdown of the Online Marketing Services You Need
Agencies will also need a general sense of the various services you expect them to provide when working with you. Obviously, these need to align with your project goals.
It's important to remain somewhat flexible when drafting your project scope. While there may be some services you're sure you'll need, agencies should feel free to provide their own suggestions too.
Here are some items you might include in this section:
General strategy
SEO and content strategy
PPC management
Email marketing
Social media management
Monthly reporting
Quarterly review sessions
Your Online Marketing Budget
This section is essential. How much are you willing to pay an agency to support you with a successful digital marketing strategy? Being upfront about your budget ensures you don't waste time eliciting proposals that aren't financially viable.
Even if you don't have a definitive budget in place yet, you should still include a ballpark range so prospective agencies have a sense of what's feasible.
Internal Resources and Processes
Let agencies know which in-house personnel will be on-hand to help them implement your online marketing strategy. It would help if you also gave them an idea of how high-level decisions are made in your company and how your sign-off processes work.
What You Expect from an Online Marketing Agency
Having provided agencies with all the relevant context about your business and project needs, you'll also want them to describe their own business and approach to digital marketing. This is crucial for allowing you to differentiate between competing candidates.
Here are some questions you may want to ask:
What are your core services and capabilities?
What are your company's values?
Have you worked with clients in our niche before?
Can you prove past success? Can you provide references or case studies from clients similar to us?
What is your typical client budget?
How many employees do you have working on client services versus marketing?
What reporting structures do you use?
What digital marketing tools do you use?
What would our accounts team look like?
Do you use subcontractors?
Cost Estimate
Be sure to ask agencies to provide a quote estimate and a breakdown of their pricing structure.
Your Agency Selection Criteria
Your RFP should mention any critical requirements agencies must satisfy to be in the running for your contract. These requirements may include being located in a particular area or having a track record of working with clients in your sector.
Also, give agencies an idea of how you'll weigh up different proposals' relative strengths and weaknesses. For example, will you use a scoring system, or will your selection rest on a judgment call?
Contact Information
You should provide a point of contact for agencies to reach out to, such as your public relations director or some other trusted stakeholder.
This person will be responsible for receiving submissions and fielding any questions that agencies have when drafting their proposals.
Be sure to include their:
Full legal name
Job title
Mailing address
Email and phone number
An RFP Timeline
It's important to give candidates a clear picture of how the selection process will play out. For example, you should include dates for:
A timeline of the question and answer period
When the proposals are due
Announcement of finalists
Final presentations
When you'll select an agency
The project start-date
For example, on the first day, you'll send out the digital marketing RFP. A few days later, you might choose to cut off anyone who doesn't notify you that they intend to bid. Then you could schedule a week for calls with interested agencies and answer any questions they might have. And then, a week later, you may require agencies to submit their proposals.
Master Services Agreement
If your legal team requires that you use a standard Master Services Agreement (MSA), be sure to include it in the RFP. Keep in mind that agencies might also ask for their own terms and conditions to be included before signing.
Quick Tips for Writing an Online Marketing RFP
Clearly, there's a fair deal to think about when developing an online marketing RFP. So what should you keep in mind when writing to ensure your document yields the best responses possible?
Clarity is King
The advantage of an RFP is that it helps structure your thinking around your project needs and lets respondents know how to tailor their proposals to your business.
But this is only possible if your document is well-organized and clearly written. Once you've committed all your needs to paper, triple-check that you've touched on all the key items and ruthlessly eliminate any vagueness.
Revisit the Basics
By refreshing your understanding of the fundamental aspects of online marketing, you'll be able to develop a more intelligent RFP and be in a better position to evaluate different submissions.
Of course, prospective agencies won't expect you to have an expert grasp of the subject, but demonstrating sound knowledge of the basics will reassure them that you understand the value of their services.
Keep Your RFP Open-Ended
Throughout this post, we've emphasized the need to include information in your RFP to help shape agency responses.
But it's just as important to encourage applicants to raise points you haven't considered. So don't be too restrictive with your instructions!
Final Thoughts
An RFP creates an opportunity to identify suitable agencies before the final pitching process begins. It will save you time by helping you steer clear of firms that aren't a good match, leaving you with a shortlist of qualified candidates capable of taking your digital marketing program to the next level.
For this reason, your RFP must provide enough detail to yield high-quality responses. Our RFP template can help if you need some guidance when creating your document. It will give you the structure required to develop a comprehensive RFP that's clear to all parties.
Download Now: Free Online Marketing RFP Template
If you are vetting online marketing agencies and need an RFP template that can be customized to your needs, simply enter your email and we will instantly send you the template.