SEM RFP Template With Sample Questions
Scott Langdon
January 19, 2023
Are you planning to implement search engine marketing (SEM) for the first time? Or maybe you're looking to level up your existing paid search program? Either way, you're probably wondering how to find a suitable SEM partner.
The fact is that there are tons of SEM agencies out there, but their level of service, professionalism, and ability to deliver results can vary wildly.
To help you identify a shortlist of candidates that suit your business needs, you need to create an SEM request for proposal (RFP).
The trouble is many businesses need a better grasp of what makes a good RFP. Too often, the requests they submit to prospective SEM vendors just aren't specific enough to generate informative responses.
Fortunately, this post covers all the essentials you need to include in your RFP. And to make things even easier, we've also created a free SEM RFP template you can customize when reaching out to potential partners.
Download Now: Free SEM RFP Template
If you are vetting Paid Search agencies and need an SEM RFP template that can be customized to your needs, simply enter your email and we will instantly send you the template.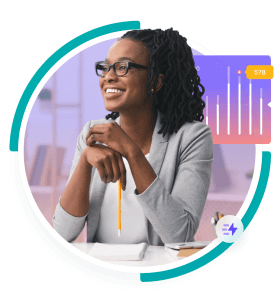 So let's start with some fundamentals.
What is an SEM RFP?
An SEM RFP is a document your business uses to solicit proposals from various SEM specialists. Essentially, your RFP says: "This is who we are. This is the SEM project we have in mind. How can you help us?"
The RFP document includes background information about your business, details about the project at hand, and several questions for bidding vendors to answer.
The goal is to elicit high-quality submissions from different agencies describing how they could bring your SEM goals to life. Once you've received all proposals, you can identify the most qualified candidates and ask them for a formal bid.
Why Use an SEM RFP?
An RFP makes it easier to find qualified SEM partners in the following ways.
Ensures Applications are Properly Structured
By providing an ordered list of all the information you want to see from applicants, an RFP ensures that the submissions you receive will follow a similar format. This makes it easier to evaluate the pros and cons of competing proposals.
Tailors Proposals to Your Specific Needs
An RFP lays out your unique project requirements in detail and specifies the kind of information you expect to receive from any submissions. As a result, vendors will have to craft a tailor-made proposal for your business as opposed to regurgitating some general-purpose sales pitch.
Keep in mind that if a company isn't prepared to take into account the information you've outlined in your RFP, they probably aren't the right choice for you.
Prevents Misunderstandings
The more specific you are in your RFP, the less likely bidding vendors will miss the mark in their proposals. This ensures that no one's time gets wasted and sets the stage for an open and collaborative working relationship with whichever agency you eventually choose. Transparency is particularly important regarding your goals, expectations, and budget.
Facilitates the Onboarding Process
Another benefit of crafting a solid RFP is that the eventual winner will already understand your business context and project needs when they start working for you. Again, this saves time, allowing your new SEM partner to start on the "real" work quicker.
What You Should Cover in an SEM RFP
When creating SEM RFPs, many businesses provide too little information about their project requirements and fail to ask useful questions about the vendor's approach to search marketing.
Remember, an RFP should be unique to the services or products you're soliciting. The goal is to provide as much context as possible about your brand and expectations so you can find the best fit for the project.
Below, we've listed some common areas covered within SEM RFPs. Some of them might not be relevant to you, and there may be additional information or questions you wish to add. So feel free to make any changes as you see fit.
Your Company Overview
The overview section should contain relevant information about your business, what you do, and why you're looking for the support of an SEM partner.
The agencies you're contacting will probably know very little about your company. So this section is an opportunity to provide them with the relevant information they'll need to submit a suitable proposal.
Here's an idea of some of the key things to cover in this section:
Your company name, size, location, website, mission statement, etc.
What do you do, and who are your customers?
Who are your competitors?
What are your business goals?
What are your digital marketing objectives?
What are you looking for from a digital marketing agency?
Information about your digital properties, i.e., social media channels, websites, blogs
Key stakeholders for the project
Your SEM Project Goals
This section should speak to the specific goals you want to accomplish with this project and the expected timelines for achieving them. Basically, you want to let vendors know what success would look like to you.
Provide a list of outcomes you hope to achieve, and give examples of the key initiatives you'd like to see improved through your search marketing efforts.
Some examples of goals a PPC Management Service can help you achieve include the following:
Increase Google Ads conversions
Maximize PPC budget
Increase ecommerce conversions
Improve content marketing strategy
Gain market share in a particular region
Improve customer service interactions
Increase search visibility
While it's important to come to the table with a good idea of what you'd like to achieve, there's no need to sweat the details here. The whole point of this exercise is to give the experts a sense of where you want to get to so they can come back with a workable proposal.
Your Current SEM Performance
Agencies will be able to submit more realistic proposals if they have a good understanding of your current search engine marketing activities.
Provide as much insight as possible into what you're doing, what is and isn't working, and what you're interested in trying or changing. Be sure to mention any significant pain points or roadblocks you've encountered in the past.
Your Target Audience
Provide prospective partners with some insight into what your ideal customer looks like. Offer as much demographic information about your target customer as possible. If you've created customer mapping journeys or customer personas, share them!
Competitor Analysis
Respondents will have an easier time examining your strengths and weaknesses by seeing how you stack up against your closest competitors. Provide basic information about your top industry rivals and your thoughts about what they're doing particularly well.
A Breakdown of the SEM Services You Need
In this section, you'll detail the services you'll want an agency to provide.
This is an important part of the RFP since it will filter out any vendors who cannot provide what you're asking for.
Here are some typical SEM deliverables:
PPC account and keyword audit
Keyword research
Bidding strategy
Ad copy
Landing pages
Quality score
Competitor analysis
Monthly reporting and analysis
Quarterly review sessions
Your SEM Project Budget
This is another critical piece of information that will help you eliminate unsuitable candidates and ensure you only receive realistic proposals. While there's no need to provide a specific figure right away, a ballpark range will avoid wasting anyone's time.
Resource Availability and Internal Processes
Agencies will want to know how decisions are made in your organization and which in-house personnel will be available to collaborate with them.
Provide a breakdown of the relevant employees in your company, explain who the critical decision-makers are, and give a sense of how your sign-off processes work.
What You Expect From An SEM Partner
This is perhaps the most crucial part of the RFP process. In this section, you'll provide a list of questions for prospective search marketing partners to answer as part of their proposal.
Include as many or as few questions as you like, and keep the questions specific to your business and industry. Remember, the goal is to glean as much information as possible to identify an experienced vendor that best suits your needs. So pick questions that allow applicants to showcase their unique approach to search marketing.
Here's a sample of the types of questions you could ask:
What do you focus on as an agency?
How many clients have you worked on in our vertical?
Do you have references or case studies from clients similar to us?
What is your ideal client?
How much does your average client spend?
What proportion of your employees work on client services versus marketing?
How have recent Google algorithm updates influenced your approach to search marketing?
How does your bidding system work?
Do you create and maintain keyword lists for your clients? If so, how do you approach building them?
How do you handle seasonality?
What reporting structures will you implement?
What tools do you use?
What will the accounts team look like?
How much work do you outsource?
Cost Estimate
Ask applicants to provide a cost estimate with a breakdown of what services are included.
Your Agency Selection Criteria
Be sure to mention if there are any critical requirements that an agency must satisfy to qualify for the contract.
For example, does the vendor need to have offices situated in a specific location? Do they need to only work with clients of a certain size? Is proving past results for a similar client a deal-breaker?
Contact Information
Agencies responding to your RFP need to know who to contact for any questions and proposal submissions. So be sure to include your RFP coordinator's name and contact details.
An RFP Timeline
Give your prospects detailed information about how the selection process will proceed. Make sure you mention all the relevant deadlines.
Include the following dates in your timeline:
Notification of intent to bid
Question and answer period
Proposal due date
Notification of finalists
Final presentations
Project award date
Project start date
Master Services Agreement
If your company uses an MSA when conducting business, include a copy in your RFP. Bear in mind that potential partners may also have their own terms and conditions that you'll need to agree to.
Quick Tips for Writing an SEM RFP
Given all the different areas you need to cover in an RFP, optimizing your document for high-quality proposals can be challenging.
The following tips will help you create a well-polished RFP.
Prioritize Clarity and Accuracy
We saw earlier that a major advantage of RFPs is they make it clear to all parties what the project requirements are and what information applicants need to factor into their proposals.
But this can only work if the document is clearly and coherently written. After creating a first draft, double-check it to confirm you've covered all the essential items and eliminate ambiguities as much as possible.
Of course, you should expect agencies to contact you with questions when developing their responses. But, to remove any doubts, it's best to ensure you mention in the RFP any information you definitely want them to bring up in their proposals.
Refresh Your SEM Knowledge
While agencies don't expect you to be an SEM expert, it will reassure them if you can demonstrate a top-level understanding of core SEM concepts and mechanics.
Also, the better your grasp of SEM fundamentals, the more equipped you'll be to evaluate the strengths of different proposals.
Give Agencies Enough Space to Demonstrate Their Value
Your RFP should lay out all relevant information and provide respondents with clear guidelines about formulating their proposals.
That said, you also want agencies to bring suggestions to the table that you haven't yet considered. So stay open to constructive criticism and make it clear to agencies that they are free to express their own ideas about how you could work together.
Final Thoughts
Formulating a clear and comprehensive RFP drastically improves your odds of finding a suitable SEM partner. It will help you eliminate substandard agencies from your pool of potential partners, leaving you a shortlist of qualified candidates to invite to the final pitch stage.
The RFP is designed to help you get a good sense of what different agencies can offer you. For this reason, it's essential to take the time to create a document that generates serious, informative proposals.
Now it's time for you to take what you've learned here and develop your SEM RFP with confidence. And don't forget you can download our free template if you need a little more direction when drafting your document.
Download Now: Free SEM RFP Template
If you are vetting Paid Search agencies and need an SEM RFP template that can be customized to your needs, simply enter your email and we will instantly send you the template.