Cause Marketing Statistics: 20+ Examples of the Power of Social Impact in 2021
Adam Heitzman
March 24, 2021
In 2021, it's not enough to use your marketing budget to try to push a certain image of your company and your products.
With Twitter, Facebook, TikTok, Instagram, and Snapchat, criticism and callouts travel at the speed of light. Companies can no longer get away scot-free when doing something bad.
But at the same time, there's a new opportunity in the marketing game. Taking a stance can directly contribute to your company's brand.
If you're not convinced that social impact is an effective marketing strategy in 2021, let the cause marketing statistics in this post put that to rest.
Let's start by exploring what cause marketing is before jumping into the data.
What is the meaning of cause marketing?
Cause marketing means working to improve societal issues and taking a public stance for or against certain solutions.
Simply put, it means doing something good for your community, and proving it, or agreeing with certain groups on how to solve important problems.
If you're still confused, let's take a look at a clear-cut example.
What is an example of cause marketing?
One example of cause related marketing is using your company's platform, whether a social media account or TV ad, to take a stand on political or socio-economic issues.
For example, Ben & Jerry's milked — get it? — the fallout from the storming of the US Capitol by taking a public stand against it.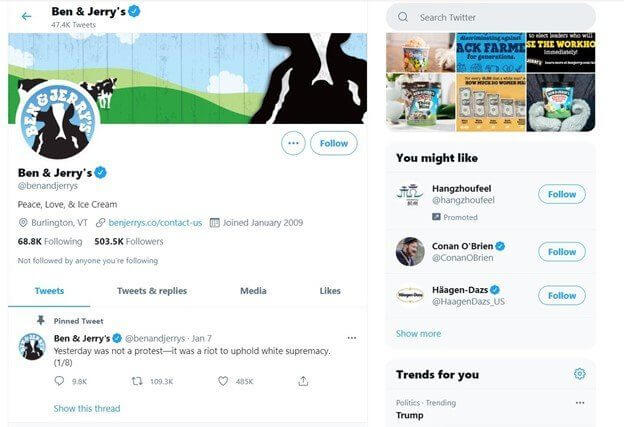 They posted an 8-part series of tweets condemning the storming, clearly positioning their company. The tweets resonated with Americans who had strong feelings about what happened, and got retweeted over 109,000 times.
Getting almost 500,000 likes on a corporate Twitter account with regular promotional content is nearly impossible, even with an unlimited budget. At the time of writing this, they barely even have 503,000 followers.
In replies, many are swearing to stay loyal customers for the rest of their lives.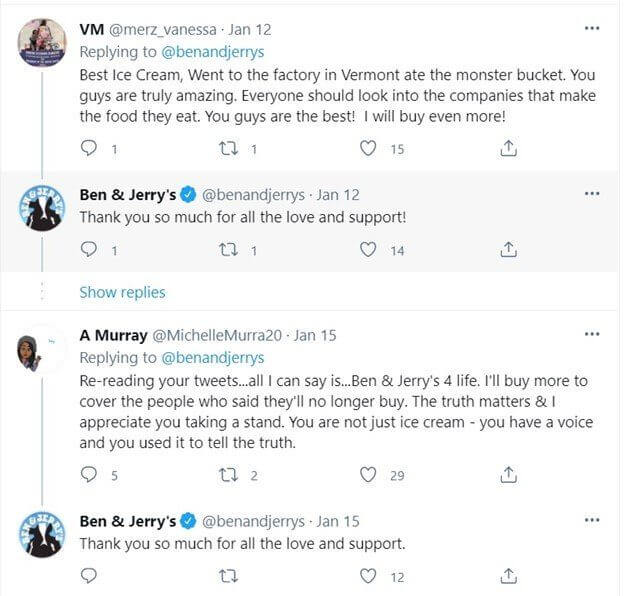 Talk about an effective cause marketing campaign.
But if you do take a stance, if you choose a side, you also risk alienating people. Ben & Jerry's faced a fair amount of backlash from people on the other side of the political aisle.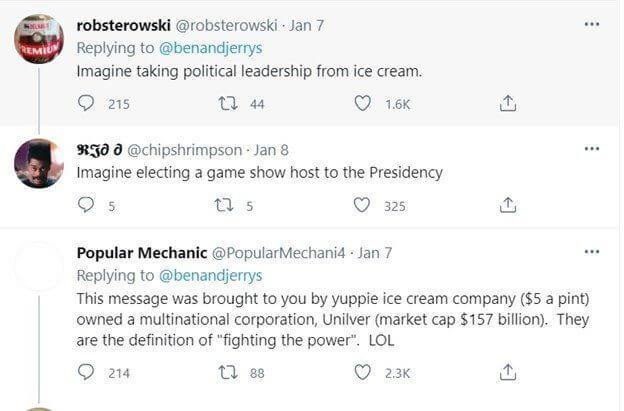 Some complained that the messaging conflicts with the company ownership and management. Others didn't want an ice cream company to speak up about "politics."
Cause marketing isn't without risk. But when done right, the rewards far outweigh the negative backlash.
All things considered, this Ben & Jerry's episode is an example of good enterprise social media marketing.
A more classic lower-risk example is supporting local events or non-profit organizations in person, building trust within your community.
Now that you understand what cause marketing is and its potential, let's take a look at the newest data.
20+ Brand new cause marketing statistics that show the power of social impact
Still not convinced to give cause marketing a try? Let's look at some of the latest statistics that show how powerful it can be.
Company values impact buying decisions
The values that your company portrays will impact whether a potential customer will buy from you.
This is especially true with younger generations, but even the majority of Americans aged 55+ feel the same way.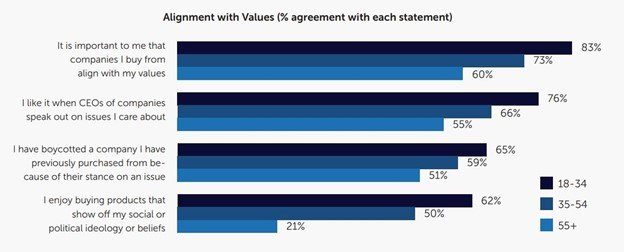 83% of Gen Z and Millennials say it's important that company values match their own.
3% of all consumers say they've boycotted companies based on its stance on issues.
62% of Gen Z and Millennials say they enjoy buying products that show their ideology.
The majority of younger consumers use purchases to show their identity.
So taking clear stances on social issues can help you reach a new, younger market. Consider this when planning your next influencer marketing campaign.
Consumers will pay more for products that align with their values
A 2020 study by Global Web Index shows how corporate social responsibility concerns impact the shopping habits of different generations of consumers.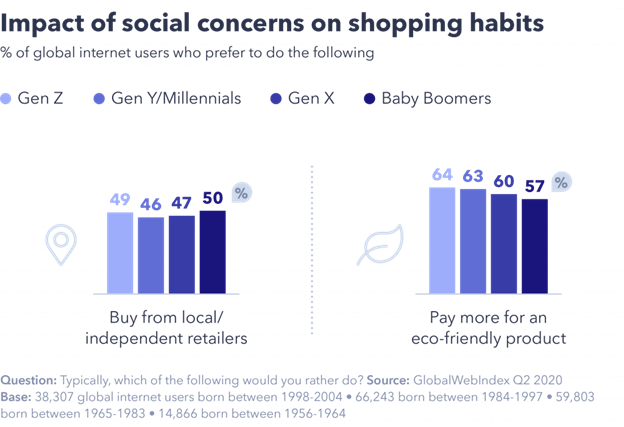 Some highlights:
50% of Baby Boomers prefer buying from local or independent stores.
64% of Gen Z consumers are willing to pay more for an eco-friendly product.
But in this area, the generations actually have more in common than not. There's only a single-digit percentage difference between them on both issues.
If your product is eco-friendly, don't be afraid to flaunt it. Include content about it regularly in your social media content calendar.
But maybe this shouldn't be surprising. Another study showed that 40% of consumers consider themselves "value-driven" buyers. As in, driven by purpose, not price.
Consumers are more loyal to brands whose values align with theirs
Not only will consumers pay more for products, they're also more likely to stay customers for longer.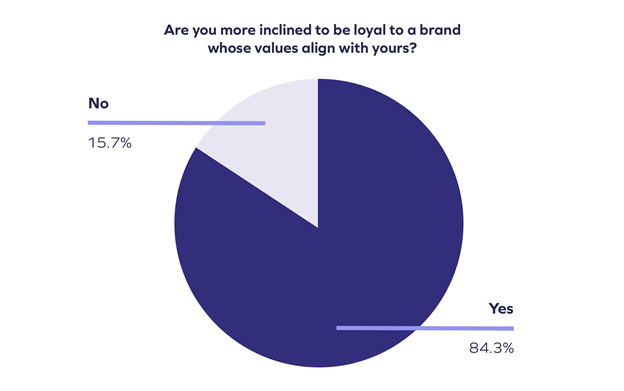 3% of consumers say aligned values make them more likely to stay loyal to a brand.
56% of consumers will pay more for the same product from a brand they're loyal to.
CEOs in 2020 agree that company purpose is a profit driver
Business executives in American companies feel the same way as the average American consumer.
They believe companies should take a stand, and those who do so have a strong competitive advantage.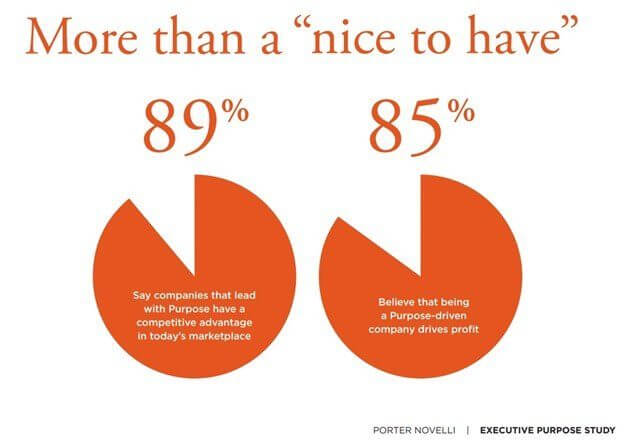 89% of executives say companies with a purpose have a competitive advantage.
85% believe purpose-driven leadership drives profit in a company.
Diversity is a priority for companies in 2020
Diversity, equity, and inclusion, or DE&I, is an umbrella term for efforts to improve the diversity of a company's workforce.
According to a recent study by Porter Novelli, this is becoming a growing concern for senior management in US companies.
74% of CEOs highlight DE&I as not just a moral and business imperative, but a profit driver.
89% agree that companies must make more progress.
Consumers are voting with their money more than ever
During COVID-19, consumers overwhelmingly turned to their wallets to change the world around them.

47% of young Americans took action by changing the way they buy goods or services.
In comparison, only 25% posted or shared content about preventing COVID-19.
80% of consumers agree businesses can impact the spread of Covid-19.
Sustainability is almost as important as the product itself
In 2021, the sustainability of your product is almost as strong a sales driver as the quality of your product.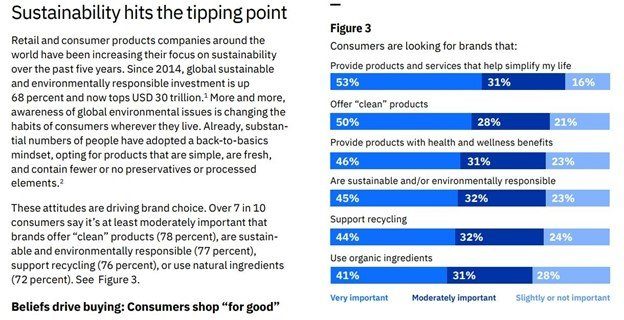 84% prefer brands with products that simplify their lives.
78% prefer brands that offer clean products.
77% prefer brands that sell products with health and wellness benefits.
77% prefer brands that are sustainable and environmentally responsible.
72% prefer brands that use organic ingredients.
Referenced Sources:
Conclusion
While some companies hesitate to take a stand, worried about alienating consumers, that in itself is just as negative to a large subset of shoppers.
No matter what you do, you can't appeal to everyone. So "picking your poison" is often the best choice.
If you're still on the fence, you can start by engaging in relatively non-controversial issues like sustainability, and focusing on employment in your local community.