GoDaddy SEO Review: Is GoDaddy SEO a Waste of Money?
Adam Heitzman
January 30, 2023
If you're one of GoDaddy's 20 million customers, it might intrigue you to know that the domain registrar and web hosting giant also offers SEO tools and services.
The idea of a one-stop shop for SEO services and hosting is appealing. Or maybe you have a website hosted elsewhere and you're just looking for a good deal on search engine optimization.
Is the cost of GoDaddy SEO worth it?
The online reviews aren't exactly glowing. GoDaddy SEO has even been called a "scam." But GoDaddy claims that most of their clients make it to the first page of results for their targeted keywords.
This article takes a look at just what GoDaddy has to offer and whether it's the best way to spend your SEO budget.
What is GoDaddy SEO?
GoDaddy offers two services designed to help with your SEO.
The first is a DIY tool called GoDaddy Search Engine Optimization or GoDaddy Search Engine Visibility. It costs $6.99 per month and analyzes your website for keyword and phrase suggestions.
Once you've implemented the suggested changes — for example, by changing your homepage title to include a keyword — you can track your site's search rankings on the Search Engine Optimization dashboard.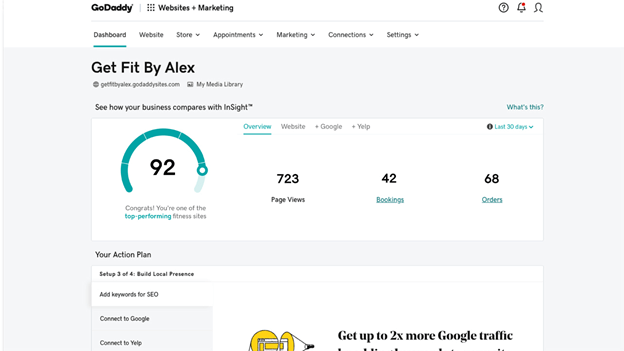 Frankly, this SEO feature is really basic.
Keyword suggestion and tracking tools are widely available, often for free. At the very least, you can find one that doesn't lock you into a 3+ month plan like GoDaddy does.
Keywords are important, but in today's competitive SEO landscape, they aren't nearly enough.
That brings us to GoDaddy's other SEO offering: managed services. This is GoDaddy's version of an SEO agency — you hand over your SEO work to GoDaddy's team for a fee.
You can use GoDaddy SEO services whether you have a GoDaddy website already or use a different web host.
The cost of SEO services from GoDaddy is customized to your business, but most reviews say it's cheaper than average. Is GoDaddy the secret to inexpensive SEO that works?
Don't let a web hosting company do your SEO
The cost of cheap SEO is expensive. Talk with the 4X SEO Company of the Year and let us put together a custom strategy for you for free.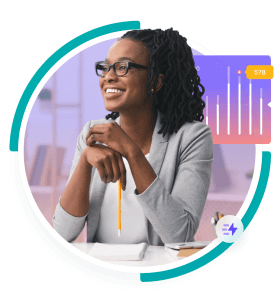 Pros and cons of GoDaddy SEO services
A big advantage of GoDaddy SEO services is the price. While it's impossible to know how much you would pay for GoDaddy without getting a custom quote, multiple former users of the SEO service say they paid $50 per hour.
To put that in perspective, the average SEO agency in the US charges $134.66 per hour. What a good deal, right?
There are a few other good things about GoDaddy SEO.
The service sets you up with an account manager, and when that person isn't available, you can track developments in your site's SEO with an account dashboard.
The managed services go beyond the keyword suggestions that the SEO tool provides by offering content development and link building.
And of course, the main draw of any SEO service is that it takes search engine optimization out of your hands. You have a business to run, why not leave website optimization to an SEO expert?
And then the bad news
Before you run off to sign up for GoDaddy's SEO service, keep reading to see exactly what they're offering.
Much like the DIY tool, the SEO service involves providing you with a list of keywords and the ability to track your rankings. You will be given "optional but highly recommended" onsite recommendations like updating your meta title and "at least one image alt tag."
Hint: these things aren't optional for SEO, and they don't go far enough.
Let's take an in-depth look at what's being offered and what you'll be missing out on:
Building backlinks
GoDaddy says they offer offsite optimization. Offsite SEO is also sometimes called link SEO. It involves building up the authority of your site by getting high-quality, respected websites to link back to yours.
Link SEO is an area of search engine optimization that's changed a lot over the years. Sites used to be able to rank by buying low-quality links from link farms or using spammy techniques like linking from blog comments.
But Google has gotten a lot better at recognizing a good link. These days, it's important to link from pages that are authoritative and relevant to your industry. For example, you could write a guest post for the blog of an expert in your field.
Google's latest webspam report shows that it's become more important than ever to go after these quality links, since Google is now catching more than 90% of link spam.
Here's what GoDaddy SEO services does for offsite SEO:
Business citation building. GoDaddy adds your site to directories like the Bing Business Portal, FourSquare, and Yahoo Listings. These huge directories don't really help your SEO much. It would be better to be listed on sites relevant to your industry or location.
Keyword link building. GoDaddy says, "Our system finds applicable websites… we then compose a short, unique comment with the relevant content and keyword and include a link back to your site." In other words, comment spam.
Social bookmarking. The links GoDaddy has created are added to sites like Digg and Reddit. Social media can be beneficial in promoting content if you do it right, but the links are generally not good for SEO. Many are nofollow links, which is a way to indicate to search engines not to count them towards a site's authority.
In general, GoDaddy's advertised offpage SEO strategies are useless at best and harmful at worst.
Content creation
Content development is key to SEO. That's why companies spend 46% of their budgets on it.
GoDaddy makes no mention of content creation for your own site. Their content is aimed at providing backlinks from other sites. They offer blogs and articles.
Blogs are "short articles, usually around two paragraphs, that use your keywords multiple times and link back to your website."
Two paragraphs is nothing. Google rewards content that it believes to be in-depth and informative. Consequently, the best blog posts for SEO are 2,100–2,400 words long.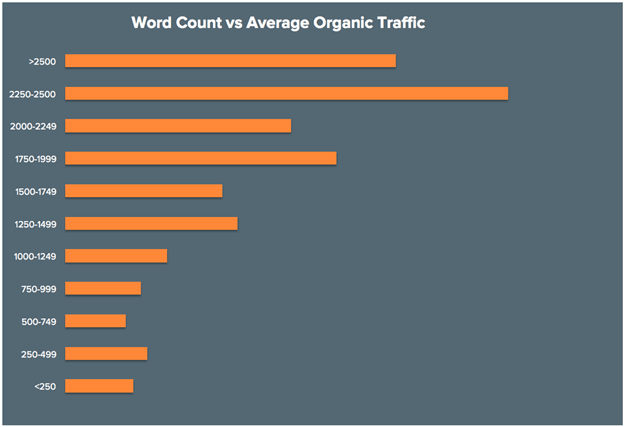 Furthermore, using your keywords multiple times in one of these 2,000 word articles is great. Using them multiple times in just two paragraphs sounds like keyword stuffing, which could get you penalized by Google.
GoDaddy articles are longer and more thoroughly researched. They're posted to sites like Hubpages and Squidoo. These sites have some value to SEO, but they can't stack up to getting links from more relevant, authoritative sources.
What else is missing?
Some of the most important factors in modern SEO aren't even mentioned on GoDaddy's website.
Optimizing site speed is essential. As a page's load time slows from one second to 10 seconds, the probability of a mobile site visitor bouncing increases by 123%.
Google currently uses mobile-first indexing. That means that optimizing your site for mobile is one of the most important things you can do. GoDaddy doesn't mention these technical aspects of SEO.
Good SEO is customized to your business and industry and includes local SEO. The techniques and sites GoDaddy talks about using are very general. A good SEO expert will focus on your unique needs.
GoDaddy SEO Reviews
There is plenty of commentary on GoDaddy SEO on the web. To quote a few reviews:
"We got one 200 word article written on a completely irrelevant blog about windows from a site that is clearly a link farm."
"[My] client was using GoDaddy SEO services and unfortunately the service did not deliver on it's promise."
"Somebody on their team created a new landing page for our website with only one paragraph of writing on it and pointed our domain to it… the writing was clearly created by an SEO person as it was thin and stuffed with the keyword."
Don't let a web hosting company do your SEO
The cost of cheap SEO is expensive. Talk with the 4X SEO Company of the Year and let us put together a custom strategy for you for free.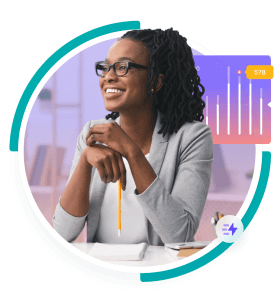 Are GoDaddy SEO services a waste of money?
Clearly, GoDaddy's SEO service has some serious downsides. But is the discounted price worth missing out on a few key SEO features?
Probably not.
Good SEO costs money, and businesses generally find that it's well spent. Clients that pay over $500 per month for SEO are 53.3% more likely to be "extremely satisfied" compared to those that spend less than $500 per month.
Looking at the pros and cons of GoDaddy listed above, the items in the "pros" column are basic and will be provided by any SEO service. Meanwhile, some of GoDaddy's SEO practices are worse than ineffective.
Low-quality links and thin content will get you demoted in the search rankings. GoDaddy SEO is a waste of money if it actually harms your SEO efforts.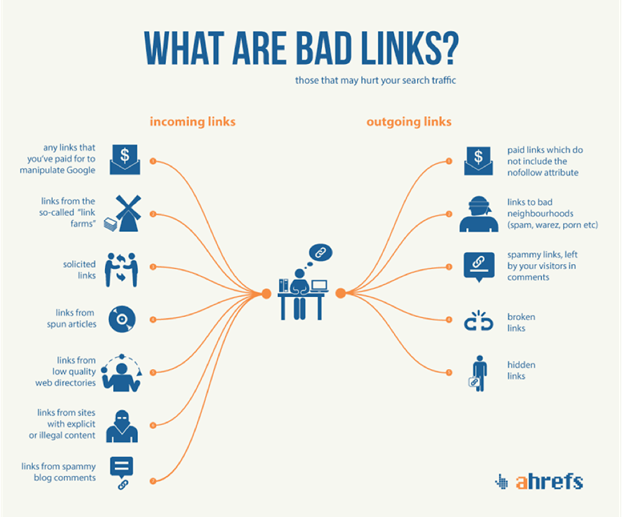 What to use instead of GoDaddy SEO
GoDaddy's core offerings are hosting services and registration of domain names. For real SEO expertise, turn to an agency dedicated to search engine optimization.
A top SEO agency may cost a bit more than the GoDaddy SEO service, but it's still a very affordable way to do SEO.
Why you should invest in SEO
As a website owner, you can't ignore SEO. 49% of marketers say it's their most profitable channel.
And it's the marketing investment that gives you the most bang for your buck. Leads from SEO convert at a rate of 14.6% compared to 1.7% for leads sourced from outbound techniques.
So what's the best way to get these essential services?
You could do it yourself. But if you're not already an SEO guru, there's going to be a steep learning curve. You already have a lot on your plate.
You could hire a full-time employee for your business. A senior SEO manager will set you back $76,069 — way more than you'll pay for a whole team of SEOs at an agency.
You could hire a freelancer. But an individual contractor doesn't have the broad expertise of an SEO agency's entire team. Clients report being less satisfied with freelancers than agencies.
Finally, you could partner with a dedicated SEO firm. This is the option that gets you the most SEO expertise for the best price.
A good SEO agency:
Stays current with changes to Google's algorithm and SEO techniques
Provides multiple types of SEO: onpage optimization, link building, technical SEO, content development, and local SEO
Communicated about what it's doing and provides regular reports
Has a good reputation and good reviews
For a real-life example of what an SEO agency can do, let's look at SmartBox.
SmartBox came to HigherVisibility when they were looking for help with a rebranding and hoping to grow their organic traffic.
HigherVisibility started by performing individualized competitive research in the storage and moving space to identify short- and long-term opportunities.
We performed a continuous technical audit of SmartBox's website to identify any issues that might affect rank. We also audited the site's backlink profile to check that it was sound and that there were no quality links being disavowed.
The team researched backlink opportunities and reached out to prospects. These opportunities aren't just sites where anyone can post content — it's based on competitor research, finding previously unlinked mentions of the brand, resource-driven outreach, and more.
HigherVisibility also found that SmartBox was suffering from low-quality content. We worked to prune any content that no longer added value and rewrote other content to better match the user intent of different pages.
You'll notice that most of what the agency did goes beyond GoDaddy's scope. And it paid off. In the end, HigherVisibility increased organic traffic for Smartbox by 155.95% conversions by 210.22%.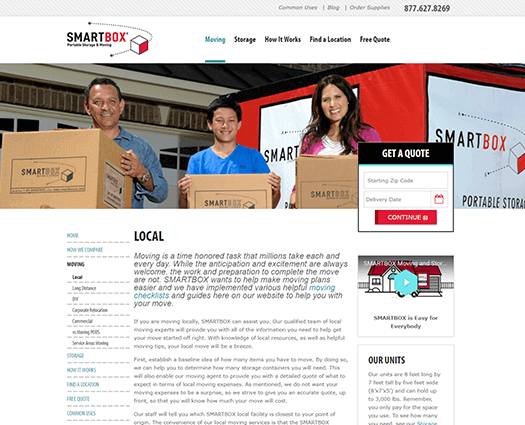 Don't let a web hosting company do your SEO
The cost of cheap SEO is expensive. Talk with the 4X SEO Company of the Year and let us put together a custom strategy for you for free.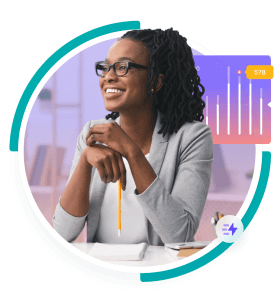 FAQs
Is GoDaddy a good SEO company?
GoDaddy is a well-known web hosting and domain registration company, but they are not known for their SEO services. While GoDaddy does offer some basic SEO tools, these are often limited in scope and do not provide the comprehensive optimization needed to rank highly on search engine results pages (SERPs). Additionally, GoDaddy's lack of experienced SEO professionals means that customers may not receive the personalized advice or support necessary to maximize their website's potential. For businesses looking for professional help with their digital marketing efforts, it is best to look elsewhere for an experienced and reputable SEO provider.
How much does GoDaddy charge for SEO services?
GoDaddy offers a range of SEO services, with pricing depending on the package chosen. The most basic package starts at $4.99/month and includes keyword research, website optimization, and submission to search engines. More comprehensive packages are available for up to $19.99/month which include additional features such as content creation and link building. For more customized plans or larger businesses, GoDaddy also offers custom quotes tailored to individual needs.
Is SEO free on GoDaddy?
No, SEO is not free on GoDaddy. While GoDaddy does offer some basic SEO tools such as keyword research and website optimization, they do charge for more advanced features such as link building and content marketing. Additionally, the cost of these services can vary depending on the complexity of your website's needs. It is important to note that while investing in SEO may be costly upfront, it can pay off in the long run with increased visibility and higher search engine rankings.
Is it worth paying for SEO services?
Yes, it is worth paying for SEO services. Search engine optimization (SEO) is an essential part of any digital marketing strategy and can help businesses to reach more potential customers online. By optimizing website content and improving visibility on search engines, businesses can increase their chances of being found by the right people. Investing in professional SEO services can also ensure that your website meets all the necessary technical requirements for optimal performance, which could result in higher rankings and increased organic traffic over time.
In Conclusion
GoDaddy's SEO service is a tempting choice due to low costs. It's also convenient if you're already using GoDaddy as a hosting provider.
But SEO is essential to your business, and it's worth investing in a dedicated agency that uses up-to-date techniques and will take the time to customize its strategy to you.
GoDaddy provides a basic plan for SEO that might work for some small businesses but if you are looking for a more customized approach to help you grow your business, you'd be wise to look at other options.
Don't let a web hosting company do your SEO
The cost of cheap SEO is expensive. Talk with the 4X SEO Company of the Year and let us put together a custom strategy for you for free.