Ecommerce PPC: Shop Owners Guide to PPC in 2023
Scott Langdon
March 20, 2023
Looking for a quick, reliable, and measurable way to attract new customers to your online store?
Say hello to ecommerce PPC (pay-per-click) advertising — the perfect supplement to your SEO program.
In this post, we'll explain the fundamentals of conducting effective PPC campaigns for ecommerce and discuss the advantages of teaming up with an ecommerce PPC management company.
But first, some basics.
What is Ecommerce PPC?
PPC is a form of advertising where you pay a fee whenever someone clicks on one of your digital ads. Some common examples of PPC ads include paid search listings, Facebook ads, and Google Shopping ads. This post will primarily focus on paid search ads, which appear as sponsored search results above organic listings.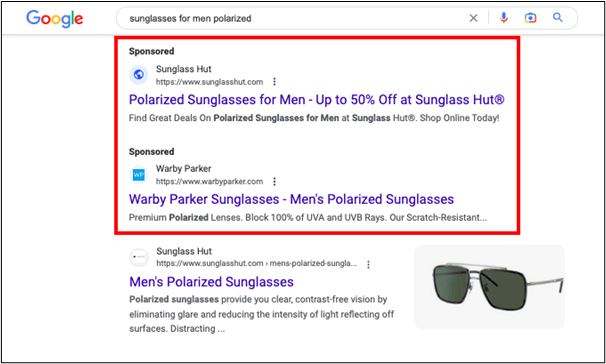 Ecommerce PPC is when online stores promote their products using PPC ads. By serving audiences with ads based on the websites they visit and the keywords they search for, the PPC model gives ecommerce businesses an extremely reliable way to reach new customers.
Looking to Boost Online Sales?
Scale Your Ecommerce Business with Powerful PPC Strategies from HigherVisibility. We've been helping businesses grow since 2009. Let us help you!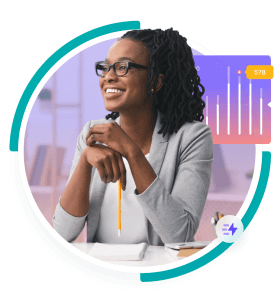 Why Should Ecommerce Sites Use PPC Advertising?
PPC is incredibly popular among ecommerce brands, with 74% of companies saying PPC is a huge driver for their business.
Here are just some reasons why PPC could be the ideal marketing channel for your online store:
You Only Pay When Someone Clicks
The most obvious advantage of using PPC to market your ecommerce store is that you only pay for your ad when someone clicks it. This means you don't waste your marketing dollars paying for ineffective ads. You can also set maximum limits on your ad spend to ensure you never exceed your PPC budget.
Instant Results
Another standout benefit of PPC is that your ads go live as soon as you activate your campaigns. And if your ads are effective, you can drive significant traffic to your store relatively quickly. This differs from organic channels like SEO, which can take several months to yield noticeable results.
Granular Targeting
PPC ads make it easy to reach specific segments of your target audience and attract highly-motivated shoppers to your store. You can specify who sees your ads based on location, attributes, interests, search behavior, and a host of other targeting options.
For example, suppose you operated an online gardening tools store. In that case, you could create a paid search ad campaign that exclusively targets suburban residents over 50 interested in the outdoors.
Measurability
All the major PPC platforms provide in-depth analytics to help you evaluate your campaign performance. You can easily tell which ads do well and which don't and use this data to refine your strategy and improve your ROI.
What are Ecommerce PPC Best Practices?
Now we're clear on the benefits of PPC for ecommerce, let's look at some of the best practices for planning and implementing a PPC ad campaign.
1. Define Your Campaign Goals
Before setting up an ad campaign, you first need to clarify exactly what you want to achieve with it.
Typically, the main goal for ecommerce business will be to increase sales or leads. But which segments of your target audience do you most want to reach? And which products are you most eager to promote?
Naturally, you'll need to align your goals with your budget and determine the maximum you can spend on each ad to remain profitable. For example, if you sell a pair of sunglasses for $100 that cost your business $80 (including overheads), you'll need to keep your CPC (cost-per-click) below $20 to make a profit.
2. Select the Right Keywords
The next step is to decide which keywords will trigger your ad.
Sticking with the sunglasses example, you might choose keywords such as 'men's UV400 sunglasses,' 'polarized sunglasses for men,' and 'men's designer sunglasses.' Your ad would then appear when your specified audience searches these phrases (and close variations of them).
Picking the right keywords isn't as simple as brainstorming terms you think are relevant to your product or store. You need to select keywords people are actually using in their search queries and consider factors such as keyword volume, competitiveness, and intent. Tools like Google Keyword Planner can help you discover the best keywords to target.
As a rule, high-volume keywords will be more competitive and, therefore, more expensive. For this reason, it's often a good idea to select less popular, long-tail keywords with high purchase intent to keep your CPC low and your CTR (click-through rate) high.
You can also specify negative keywords to ensure that your ads don't appear when someone searches for something you don't sell. For example, if your store only sells men's sunglasses, you could add 'sunglasses for women' to your negative keywords.
3. Create Your Ads
Next, you need to develop your ads.
Most PPC ads are pretty simple. You just need to write a compelling headline, a couple of lines of descriptive text, and, depending on the type of ad you create, include an image.
You will also need to specify which page the ad will point to, like your homepage, a category page, or a specific product page.
It's essential that you give potential customers a great user experience when they land on your site to prevent them from leaving. Your landing pages should contain the following:
Up-to-date product listings
Clear and informative descriptions
High-quality images
A frictionless path to purchase.
4. Place Your Bids
With your ads ready to go, you'll need to specify how much you're willing to pay to display them.
Google Ads uses an auction system to determine which advertisers get to display ads for a particular keyword and in which position.
Whenever someone searches a keyword, Google decides which ads will appear based on several factors, including the bid size, the ad quality, and the context of the user's search. The aggregate scoring of these factors is known as Ad Rank. And if your Ad Rank is greater than that of another advertiser with a higher bid, your ad can still win the auction.
5. Track Your Performance
Once your campaign is up and running, you can track your ecommerce performance through tools like Google Analytics.
Once you've configured your account to track your goals and traffic, you'll be able to gauge the effectiveness of your campaigns, double down on high-performing keywords, and adjust your weaker ads as necessary.
Looking to Boost Online Sales?
Scale Your Ecommerce Business with Powerful PPC Strategies from HigherVisibility. We've been helping businesses grow since 2009. Let us help you!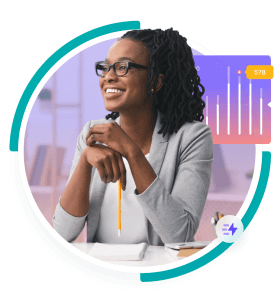 Advanced PPC Strategies for Your Ecommerce Store
Now that we've covered the basic steps of ecommerce PPC let's briefly touch on some advanced strategies that can take your campaigns to the next level.
Website Optimization
We have already mentioned the importance of directing users who click on your ads to a well-designed, easy-to-use landing page.
But the same concept applies to your online store more broadly. Your entire ecommerce website needs to be as user-friendly as possible to maximize your conversions. Your navigation should be intuitive, the checkout process should be seamless, and all your pages should load instantly and dynamically adjust to desktop and mobile devices.
Customer Retargeting
Chances are, a large percentage of users who visit your online store don't convert. Maybe they're window-shopping, maybe they need a little more time to research the product, or maybe they're just waiting for their next paycheck to come through before they can buy.
Whatever the case, it would be useful to re-advertise your products to these visitors in the future when they're more prepared to make a purchase. This is precisely what retargeting ads allow you to do. These ads use tracking codes to show your search and display ads to people who have visited your site in the past.
Responsive Search Ads
Google introduced responsive search ads in 2019. When creating these ads, you can add up to 15 headlines and four descriptions. Google then dynamically generates different ad variations based on the search user's query, device, and drowsing behavior.
Over time, Google automatically selects the ad variations that work best. This results in optimized campaign messaging without the need for manual A/B testing on your part.
Why You Should Consider Hiring an Ecommerce PPC Management Company
We have just spent the last few minutes of your time describing how PPC is a great marketing channel for ecommerce businesses. And while this is undoubtedly true, the fact is that successfully managing PPC campaigns can be challenging.
Some of the main difficulties of running PPC campaigns include getting to grips with key concepts and terminology, understanding which ad types and platforms best suit your needs, and dedicating enough time and resources to manage and adjust your ads effectively.
This is why so many ecommerce businesses turn to professional PPC management companies for support. These companies specialize in developing high-return PPC campaigns for ecommerce clients, drawing on expert knowledge of which metrics to track and which strategies to deploy for optimal results.
Looking to Boost Online Sales?
Scale Your Ecommerce Business with Powerful PPC Strategies from HigherVisibility. We've been helping businesses grow since 2009. Let us help you!