2023 Franchise Industry State of SEO Report
Adam Heitzman
June 12, 2023
As a franchise organization, do you often find yourself wondering how to stay ahead in the ever-changing SEO landscape?
Search engine optimization (SEO) plays a crucial role in the online visibility and success of businesses across various industries.
Both Google's search results & the behaviors of consumers are constantly evolving, making it challenging for brands heavily reliant on online performance to adapt. That's why we conducted the ultimate SEO study specifically tailored to the franchise industry. Introducing the Franchise Industry State of SEO Report, our comprehensive analysis to identify key factors that contribute to SEO success within the franchise industry.
Our study leveraged the Franchise 500 list from Entrepreneur as the primary data source, which provided us with a comprehensive list of individual franchises. We conducted an in-depth analysis of each franchise's consumer websites from an SEO perspective.
The report focuses on organic traffic, rankings, page speed, core web vitals, technical and on-page factors, and content quality. This study utilizes an extensive range of tools, incorporating data from Screaming Frog, Data for SEO API, Wappalyzer, Ahrefs, SEMrush, and more. It aims to help you optimize your SEO strategy and outperform your competitors.
Organic Traffic
Results
Analysis
In the era of digital dominance, organic traffic has become the lifeblood of online businesses. It serves as a barometer for measuring a website's visibility and popularity, indicating the effectiveness of its search engine optimization (SEO) efforts. In this analysis, we delve into the world of organic traffic, examining the average figures for the top 500 websites, as well as the highest and lowest performers. Additionally, we explore the traffic distribution across various categories, shedding light on the dynamics of different industries in the online realm.
The average organic traffic for these websites is 508,369 visitors per month. McDonald's stands out as the top performer with a staggering 30,356,656 monthly visitors. On the other end of the spectrum, the lowest performer receives only five visitors per month, highlighting the challenges faced by some businesses in gaining online visibility.
Analyzing traffic distribution across various categories uncovers trends: food, lodging, and retail experience high traffic, while home improvement and maintenance attract comparatively lower numbers. These findings provide valuable industry insights for businesses seeking to refine their online strategies and adapt to changing consumer preferences.
Keyword Rankings
Results
Analysis
Organic keyword ranking data reveals intriguing insights into the franchise industry. With an average of 58,878 organic keywords ranking in the top 500, franchises actively pursue online visibility. Remax stands out with an impressive 2,178,795 organic keywords, while the lowest performer registers only 11.
Examining average rankings by category, automotive franchises lead with 798,707 keywords, followed by business services (383,535) and children's businesses (594,409). Food franchises dominate with 5,920,991 organic keywords, emphasizing the sector's competitiveness. Health & Wellness (1,721,495) and lodging (3,685,341) franchises also perform strongly.
However, it's essential to remember that high rankings don't guarantee success. Franchises must focus on quality, relevance, and engaging their target audience. As the industry evolves, comprehensive digital marketing plans are crucial for maximizing organic keyword rankings and driving growth.
In summary, organic keyword ranking data provides valuable insights for franchises. From Remax's exceptional performance to the diversity within different categories, it's clear that robust digital strategies are vital for success in today's competitive landscape.
How Does Your Franchise Stack Up Against Top Performers?
Get a free report card showing how your franchise organization stacks up top performers and against your industry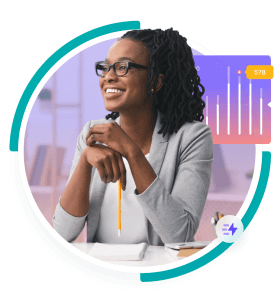 Ranking Factors
Google's algorithm encompasses more than 200 ranking factors, although many of them remain unconfirmed. As Google evaluates websites based on these factors, pinpointing the most effective areas to focus your franchise SEO strategy may appear daunting. To shed light on this matter, we conducted a comprehensive study aimed at identifying the website and webpage features that correlate with higher levels of organic traffic. To facilitate our analysis, we categorized these factors into four distinct categories that are known components of Google's algorithm: Content, Technical, User Experience, and Links.
Page Speed/Performance Score
Results
Analysis
In a fast-paced digital era, the performance of websites has become increasingly crucial for businesses across various industries. Today, we delve into an in-depth analysis of page speed performance scores within the franchise sector. These scores shed light on the online user experience and can significantly impact a company's success in the highly competitive digital landscape.
Based on the data obtained from the top 500 franchises, the average performance score stands at 36, indicating room for improvement in optimizing website loading speeds. However, it's important to note that the range of scores is quite vast, with the highest-performing franchise, Shelf Genie, achieving an impressive score of 98. Conversely, the lowest score among the top 500 franchises is a mere 7.
Examining the performance scores by category provides valuable insights into how franchises within different sectors fare regarding page speed.
The data reveals notable variations in page speed performance across different franchise categories. Home Improvement franchises stand out with the highest average performance score of 45, indicating a strong commitment to providing an efficient online user experience. On the other hand, Lodging franchises lag behind, showcasing the need for optimization efforts in this sector.
Financial Services franchises also demonstrate above-average performance scores (43), emphasizing their recognition of the significance of a speedy website in retaining and attracting clients. Conversely, Food, Pets, Recreation, and Retail franchises display lower average scores, indicating potential areas for improvement in enhancing their digital presence.
Implications and Recommendations:
In today's digital age, where consumers expect instant access to information, slow-loading websites can negatively impact user engagement, conversions, and overall business performance. Franchise businesses should consider the following recommendations to improve their page speed performance:
Optimize website assets, enable browser caching, and compress files.
Utilize content delivery networks (CDNs) for faster content delivery.
Streamline code and scripts to minimize server requests.
Regularly monitor and test website performance for ongoing optimization.
Core Web Vitals Assessment
Results
Analysis
In the fast-paced digital world, a website's performance is crucial for engaging users and ensuring a positive online experience. The Core Web Vitals assessment, which measures key metrics such as loading speed, interactivity, and visual stability, offers valuable insights into the overall health of websites.
Overall, the data reveals that only 31.9% of the top 500 franchise websites passed the Core Web Vitals assessment, while a staggering 68% failed to meet the required standards. Additionally, a significant portion, approximately 18.7%, lacked sufficient data for evaluation. These figures underscore the need for franchise websites to prioritize optimizing their performance for a seamless user experience.
Recommendations:
Prioritize Optimization: Franchise owners should allocate resources to optimize their websites' core web vitals, focusing on improving loading speed, interactivity, and visual stability.
User-Centric Design: Design websites with the end-user in mind, ensuring a seamless and engaging experience that aligns with core web vitals guidelines.
Continuous Monitoring: Regularly monitor and assess core web vitals to identify performance gaps and promptly address any issues.
Technical Expertise: Collaborate with web developers and technical experts to implement best practices and leverage tools for performance optimization.
Industry Collaboration: Share insights and collaborate with industry peers to learn from successful implementations and find innovative solutions.
Schema Markup
Results
Analysis
Among the top 500 franchise websites analyzed, it was found that approximately 54% had implemented some form of schema markup. This demonstrates a notable effort by franchisors to utilize this powerful tool to improve their online presence. However, a concerning 45% of franchise websites were found to be missing schema markup altogether, potentially missing out on the benefits it offers.
Industries such as lodging, personal care, and pets showcase relatively higher adoption rates, indicating a proactive approach to harnessing schema markup's benefits. On the other hand, industries like recreation and services lag significantly behind in implementing this valuable SEO tool.
Implications & Recommendations:
The data reveals that a considerable number of franchise websites are missing schema markup altogether, representing a missed opportunity to enhance their online visibility and user experience.
Industry disparities: There are notable variations in schema markup adoption across different industries. Some industries, such as lodging and personal care, have high adoption rates, while others, like recreation and services, lag behind significantly.
Competitive advantage: Franchise businesses that prioritize schema markup implementation can gain a competitive advantage by appearing in more relevant search results, attracting organic traffic, and potentially increasing conversion rates.
Implement schema markup: Franchise websites should prioritize the implementation of schema markup to provide structured data to search engines, enabling better understanding and presentation of website content.
Educate franchisees: Franchisors should educate franchisees about the importance and benefits of schema markup, empowering them to implement it effectively on their individual websites.
Conduct industry-specific research: Franchise businesses should conduct research on schema markup adoption rates within their industry to identify opportunities for improvement. Benchmark against industry averages and strive to surpass them.
Audit existing websites: Regularly audit franchise websites to identify gaps in schema markup implementation and make necessary adjustments to optimize its impact.
Seek professional assistance: Consider engaging SEO experts or digital marketing agencies with expertise in schema markup to ensure proper implementation and maximize its benefits.
On-Page Score
Results
Analysis
The On-Page SEO scores of the top 500 franchise websites have been analyzed, offering valuable insights into their optimization efforts. Using the Data for SEO API, this study provides a baseline assessment of content and technical optimization.
The average On-Page SEO score across the top 500 franchises is 83.5, indicating decent optimization overall. However, it's important to note that this score doesn't cover all potential issues on the sites.
Office Pride stands out with an exceptional On-Page SEO score of 99.3, showcasing their commitment to optimization and visibility.
On the other hand, the lowest score among the top 500 franchises is 0, highlighting the need for improvement in website optimization.
By category, Automotive and Business Services franchises score above average, with 85.5 and 89.13 respectively. Children's Businesses, Health & Wellness, Personal Care, Food, and Retail franchises fall below the average, signaling the need for enhanced optimization strategies.
Home Improvement, Maintenance, Pets, and Recreation franchises demonstrate competitive scores, while Retail and Food franchises struggle with scores of 79.54 and 79.53, respectively.
Tech Businesses excel with an impressive average score of 93.12, emphasizing their digital marketing expertise.
Implications & Recommendations:
The analysis reveals the significance of On-Page SEO optimization for franchise websites. A higher On-Page SEO score is associated with better visibility and potential for attracting organic traffic.
Competitive Advantage: Office Pride's exceptional score highlights the competitive advantage of prioritizing website optimization. Franchises with high scores are likely to outperform their competitors in search engine rankings and online visibility.
Industry Disparities: The variations in On-Page SEO scores across different categories indicate that certain industries are excelling in optimization efforts, while others lag behind. Franchises in lower-scoring categories should take note of the potential risks associated with subpar optimization.
Audit and Improve: Franchises with low On-Page SEO scores should conduct a comprehensive audit of their websites to identify areas for improvement. This includes optimizing content, improving technical aspects (e.g., page load speed, mobile responsiveness), and implementing relevant keywords.
Learning from Leaders: Franchises can learn from top performers like Office Pride and Tech Businesses by studying their optimization strategies. Implementing similar tactics and best practices can significantly enhance their On-Page SEO scores and overall digital presence.
Category-Specific Optimization: Industries with lower average scores, such as Food and Retail, should prioritize their optimization efforts. Tailoring strategies to the specific needs of their industry, understanding customer search behaviors, and leveraging relevant keywords can boost their On-Page SEO scores and attract more targeted traffic.
Seek Professional Assistance: Franchises struggling with optimization can consider seeking professional assistance from digital marketing agencies or SEO experts. These experts can provide guidance, conduct in-depth audits, and implement effective strategies to improve On-Page SEO scores.
Content Readability
Results
Analysis
An analysis of the top 500 franchise websites reveals interesting findings regarding content readability. The Flesch Reading Ease Score, a measure of accessibility, was used to assess these websites. Let's explore the key takeaways.
The average Flesch Reading Ease Score among the top 500 franchise websites was 73, indicating "fairly easy to read" content. However, there was significant variation within this group.
Taco Bell, Papa John's, Rosatis Pizza, Curry Up Now, and Totally Nutz achieved a perfect score of 100, placing them in the "very easy to read" category.
On the other hand, the lowest recorded score was 30.53, suggesting "hard to read" content. This highlights the potential barriers posed by technical jargon or complex sentence structures.
Implications & Recommendations:
The analysis of the top 500 franchise websites indicates a range of readability levels, with some websites scoring significantly higher or lower than the average. This suggests a lack of consistency in ensuring content accessibility across the franchise industry.
Accessibility Challenges: Websites with low Flesch Reading Ease Scores pose potential barriers to effective communication. Complex language, technical jargon, or convoluted sentence structures can alienate readers and hinder their understanding of the content.
User-Focused Approach: Franchise websites that prioritize readability and user-friendly experiences tend to fare better in engaging their audience. Websites categorized as "very easy to read" and "fairly easy to read" demonstrate an understanding of the importance of clear communication.
Plain Language: Franchise websites should adopt a plain language approach, using clear and concise language that is easily understood by a broad audience. Avoiding excessive technical jargon and simplifying complex concepts can greatly enhance content accessibility.
Simplicity in Sentence Structure: Employing straightforward sentence structures aids readability. Avoiding overly long sentences and incorporating shorter, well-structured sentences improves comprehension and facilitates a smoother reading experience.
Visual Elements: Integrating visual aids such as infographics, images, and videos can enhance comprehension and engagement. Visual elements break up text and provide an alternative means of conveying information, catering to different learning preferences.
Formatting and Organization: Implementing user-friendly formatting techniques, such as bullet points, subheadings, and white space, helps improve content scanability and navigation. Organizing information in a logical and structured manner enables readers to quickly find what they are looking for.
Domain Authority
Results
Analysis
The domain authority of a website is measured on a scale from 0 to 100, with higher values indicating stronger authority and influence. By analyzing the data from the top 500 franchise websites, we gain valuable insights into the domain authority landscape.
On average, the top 500 franchise websites boast a domain authority of 55. This figure serves as a benchmark for comparison and evaluation. However, it's crucial to note that the range of domain authorities within this group is quite diverse, spanning from 0.1 to 91. At the pinnacle of this ranking, Hilton shines with an impressive domain authority score of 91, setting a benchmark for others to aspire to.
The variance in domain authority across different franchise categories can be attributed to various factors. These include the industry's level of digital maturity, competition, and the effectiveness of digital marketing strategies employed by franchise owners.
Implications & Recommendations:
The analysis highlights the significance of a strong online presence for franchise websites across various categories. Higher domain authority indicates greater visibility, credibility, and potential for attracting a wider audience.
Competitive Landscape: The variance in domain authority within franchise categories reflects the competitive nature of the digital landscape. Franchise owners need to prioritize effective digital marketing strategies to differentiate themselves and establish a solid online reputation.
Digital Maturity: Industries with higher average domain authority scores, such as lodging and tech businesses, demonstrate a higher level of digital maturity. These sectors have effectively embraced digital strategies, resulting in stronger online authority.
Quality Content Creation: Creating and regularly updating high-quality, informative, and engaging content is crucial. Franchise websites should focus on providing valuable information, showcasing expertise, and addressing customer needs. This helps establish authority within the industry and attracts organic traffic.
Build Strong Backlink Profile: Building a robust backlink profile from reputable and relevant sources is vital for domain authority. Franchise owners should invest in outreach efforts to secure backlinks from industry influencers, reputable publications, and relevant websites. Quality backlinks contribute to increased domain authority.
Monitor and Analyze Performance: Regularly monitor domain authority using tools like Moz or Ahrefs, and track the impact of optimization efforts. Analyze the performance of different content types, keywords, and marketing strategies to identify areas for improvement and capitalize on successful tactics.
Collaborate with Influencers and Partners: Collaborating with influencers and strategic partners in the franchise's niche can help enhance visibility, reach a wider audience, and potentially secure valuable backlinks. Partnering with reputable brands or thought leaders can positively impact domain authority.
External Links (Referring Domains)
Results
Analysis
Backlinks play a crucial role in determining a website's visibility and authority in search engine rankings. Franchise websites, in particular, rely on effective backlink strategies to promote their brand, attract customers, and generate online traffic. By analyzing the referring domain backlinks of top franchise websites, we can gain valuable insights into their link-building efforts and the categories that dominate this landscape.
According to our analysis, the average number of referring domain backlinks stands at 5,474. This metric serves as an indicator of the website's popularity and the level of engagement it has garnered from other online sources.
Among the top franchise websites, Hilton emerges as the frontrunner in terms of referring domains, boasting an impressive count of 203,001. This exceptional number reflects Hilton's strong online presence and its successful link-building endeavors. It suggests that Hilton has effectively leveraged its brand reputation to establish valuable connections with other domains.
While Hilton claims the highest number of backlinks, the lowest count among the top 500 franchise websites is a modest 62. This disparity indicates that franchise websites adopt various strategies to build backlinks.
By carefully curating backlinks, franchise websites aim to improve their visibility, credibility, and online authority within their respective industries. The data also reveals that certain categories, such as food and financial services, have a higher concentration of backlinks, indicating the intense competition and the need for a strong online presence in these sectors.
How Does Your Franchise Stack Up Against Top Performers?
Get a free report card showing how your franchise organization stacks up top performers and against your industry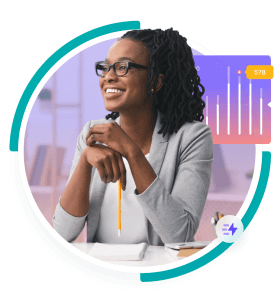 How to Use This Data in Your Franchise SEO Strategy?
Our comprehensive analysis incorporates data from all the domains referenced in the Entrepreneur Franchise 500 list. In order to identify the specific metrics that have a positive impact on increased organic traffic, we conducted further in-depth analysis focusing on the top 10% of the most highly trafficked websites. Through this process, we uncovered significant key findings:
The data indicated a positive correlation between website readability and traffic volume. Specifically, 70% of the top-performing websites achieved a Flesch Reading score of 70 or higher, while merely 8% of the top performers scored below 60 on the Flesch Reading scale.
The metric of Core Web Vitals assessment does not show a direct correlation with increased traffic. Surprisingly, 70% of the top performers did not meet the standards set by the Core Web Vitals assessment.
The analysis revealed a significant positive correlation between higher On-Page Scores and increased organic traffic. Among the Top Performers, 50% achieved a score of 90 or higher, while an additional 32% attained a score of 80 or above.
The presence of schema markup does not demonstrate a direct correlation with increased traffic. Among the top performers, 40% implemented some form of schema, while the remaining 60% did not incorporate any schema.
The analysis indicates a positive correlation between domain rating and website traffic. Notably, 90% of the top performers maintained a domain rating of 70 or above.
Our analysis revealed a significant correlation between the number of referring domains and website traffic. Among the Top Performers, 64% demonstrated an impressive count of 10,000 or more referring domains, while a mere 6% fell below the threshold of 5,000 referring domains.
Conclusion
The 2023 Franchise Industry State of SEO Report highlights various aspects of SEO performance within the industry. While some franchises demonstrate strong organic traffic, rankings, and technical implementation, others lag behind in areas such as page speed, core web vitals, and content quality. Franchises should focus on optimizing their websites to improve user experience, increase organic visibility, and attract more visitors. Emphasizing technical SEO factors, implementing schema markup, and enhancing on-page content can contribute to better search engine rankings and overall online success.
How Does Your Franchise Stack Up Against Top Performers?
Get a free report card showing how your franchise organization stacks up top performers and against your industry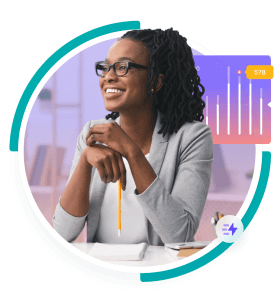 Methodology
To gather data for our analysis, we utilized web crawling techniques to explore and examine the consumer and franchise development websites of each franchise listed in the Franchise 500. Our focus was on evaluating various elements that are crucial in determining SEO performance and effectiveness. These elements included website structure, content quality, keyword usage, backlink profile, mobile optimization, site speed, and user experience.
Definitions of Ranking Factors Analyzed
Page Speed/Performance Score – Page speed has been a confirmed Google ranking factor since 2018. Using an overall page speed score out of 100, Google uses an open-source tool called Lighthouse that collects and analyzes lab data that's combined with real-world data from the Chrome User Experience Report used to test website performance.
Core Web Vitals Assessment – Core Web Vitals is a set of specific website performance metrics introduced by Google to measure and evaluate the user experience provided by a webpage. They focus on three key aspects of user interaction: loading, interactivity, and visual stability. These metrics are considered crucial for optimizing web pages and ensuring a positive browsing experience for users. Google uses these Core Web Vitals as important ranking factors in search results, emphasizing the significance of providing a fast, responsive, and visually stable user experience. By optimizing these metrics, website owners and developers can enhance the overall performance and usability of their web pages.
Schema Markup – Schema markup is a type of structured data markup that website owners can add to their HTML code to provide search engines with more detailed information about their content. It uses a specific vocabulary of tags or properties to describe different elements of a webpage, such as products, reviews, events, and more.
The importance of schema markup for SEO (Search Engine Optimization) lies in its ability to enhance search engine results by making them more informative and visually appealing. When search engines understand the context and content of a webpage better, they can display richer and more relevant results to users. Schema markup helps search engines interpret and present information from web pages in a more structured and meaningful way.
On-Page Score – On-Page Score is an OnPage API proprietary metric that estimates the quality of technical page optimization. It considers critical on-page errors and warnings detected on the page.
The score is provided on a 100-point scale. 100 is the highest possible score indicating that the page has no critical errors and warnings and thus is well optimized. 0 is the poorest score, meaning that the page accumulates all the possible errors and warnings and thus is not optimized.
As part of our analysis, we crawled up to 100 pages using the Data for SEO API on each domain to establish an On-Page Score. While this does not identify every error or warning on the site, it provides a good baseline of how optimized the website is from a content & technical standpoint.
Content Readability – Flesch Reading Ease is a readability formula developed by Rudolf Flesch, which measures how easily a piece of text can be understood by readers. It assigns a numerical score to a text based on factors such as sentence length and word syllables. The higher the score, the easier the text is to read.
While not a ranking factor outright, the Flesch Reading Ease is important for SEO (Search Engine Optimization) because search engines like Google consider user experience a ranking factor. Websites that provide content that is easy to read and understand tend to rank higher in search engine results pages. By optimizing your content for readability, you can improve the user experience, attract more readers, and potentially increase your website's visibility and traffic.
Domain Authority – Domain Authority is a metric that predicts the ranking potential of a website in search engine results. It is a score ranging from 1 to 100, with higher scores indicating a stronger and more authoritative website.
Domain Authority is important for SEO (Search Engine Optimization) because search engines like Google take into account various factors when determining the ranking of a website. These factors include the quality and quantity of backlinks pointing to the website, the website's overall trustworthiness, and its overall authority in the industry or niche. By having a high Domain Authority, a website is more likely to rank higher in search results for relevant queries.
External Links (Referring Domains) – Referring domains refer to the number of unique websites that link to a particular website. It is an SEO metric that indicates the quantity and diversity of websites that are linking to a specific domain.
Referring domains are important for SEO (Search Engine Optimization) because they play a significant role in search engine rankings. Search engines consider backlinks from other websites as votes of confidence or trustworthiness. When a website receives links from a variety of unique referring domains, it signals to search engines that the website is authoritative, trustworthy, and valuable to users.
How Does Your Franchise Stack Up Against Top Performers?
Get a free report card showing how your franchise organization stacks up top performers and against your industry