New Website SEO: 6 Steps to Future Success
Adam Heitzman
February 4, 2021
You're creating a new website for your business — how exciting!
These days, your website is the face of your organization, and you have an idea for how to show the world what you offer.
Of course, it won't matter if no one visits your site.
Google processes around 70,000 search queries every second. Will your new website turn up in the search results for any of them?
To make sure that it does, you need to pull out all the stops, optimizing for search engines.
SEO is complex, but very possible and affordable. Here are six steps to follow for effective new website SEO.
Step #1: Decide whether to DIY or outsource your new website SEO
SEO isn't optional. 53% of website traffic comes from organic search. If you're not attracting those visitors, you're missing out on a huge source of potential customers.
And your SEO needs to be good. On average, the first Google search result for a keyword has a 28.5% click-through rate. By the time you get to the 10th result, the CTR is only 2.5%.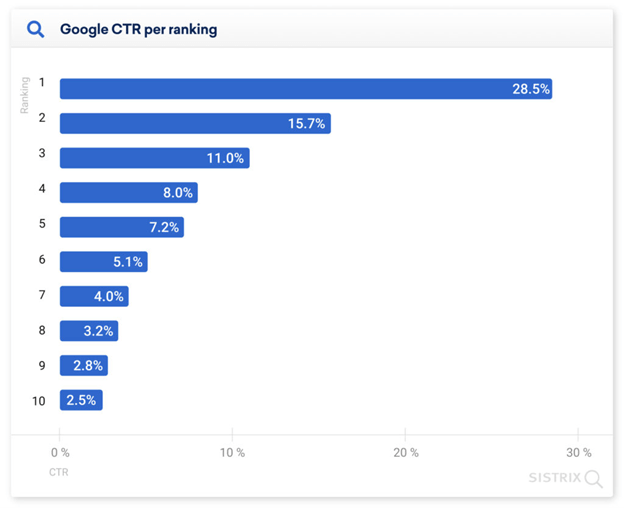 So, how can you get your page to rank as highly as possible? You have two choices: do SEO in-house or outsource it.
Pros and cons of doing SEO yourself
The main reason people choose to DIY Search Engine Optimization is cost. There are plenty of changes you can make — including several discussed in this article — without paying for expert help.
But SEO is a time-consuming, ongoing process, and you have a lot on your plate already.
Plus, if SEO isn't your area of expertise, you probably won't get the results from your hours of effort that an SEO pro would.
You don't want to skimp on SEO. 49% of marketers say that organic search is their most profitable channel. To reap those benefits, you need someone who knows what they're doing.
You could hire an in-house expert, but at $76,069 per year for a senior SEO manager, that tends to be more expensive than working with an agency or freelancer.
Another benefit of going with an SEO agency is that you have access to an entire team of experts rather than just one person.
If you choose to outsource your new website SEO, you should still be aware of basic SEO best practices. Discuss them with potential SEO agencies and make sure the company you go with has a plan that addresses each factor.
Is your traffic declining?
Since 2009, we have helped hundreds of local businesses grow their online leads and sales strategically. Let us do it for you!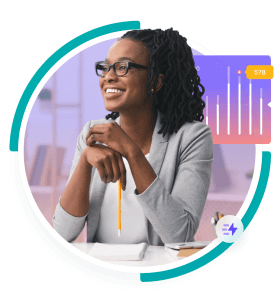 Step #2: Build a strong foundation with technical SEO
When you imagine doing new website SEO, you might think about things like optimizing for keywords or creating backlinks.
But SEO starts long before there's a single word or image on your site.
Technical SEO refers to optimizing a website for crawling, indexing, and visibility. Basically, the nuts and bolts of your site are as important to SEO as anything you write on its pages.
The technical factors that influence search engine rankings include, but are not limited to:
Domain name
Think about your domain name carefully. Changing it later will be painful and could negatively affect SEO.
Your business name dot com is usually the best choice. It supports your branding and is easy to remember.
If that's not applicable or available, you can try to incorporate some keywords. But be careful — spammy names like buy cheap widgets dot com make customers skeptical and are sometimes a poor initial user experience.
If at all possible, choose .com rather than another extension. Google doesn't rank .coms above other sites, but humans tend to trust them more.
Site structure and architecture
Your website should follow a structure that's logical to both humans and search engines.
The typical structure can be pictured like a pyramid.
Your homepage is on the top. The next level down contains a few of your most important pages. Each of those will lead to a few more pages, and so on.
None of your pages should be orphans. Users should be able to find all of them by clicking links elsewhere on your site. Think about what navigation path would be most intuitive to a potential customer. Google will reward you for being logically organized.
URL structure
Google likes short, simple URLs. Use a keyword that's relevant to the page's purpose and avoid things like long strings of numbers or punctuation.
Mobile responsiveness
These days you can expect that a lot of the visitors to your website will be on mobile devices. Google has moved to mobile-first indexing, which means that your search result rankings are based on the mobile version of your site rather than the desktop version.
In other words, if your mobile site has less content or doesn't function as well as the desktop site, it will hurt your SEO.
Google's not the only one that needs your site to be mobile-friendly. 45% of consumers noted that they typically abandon any piece of content displaying poorly on the device they are using.
Site speed
The visitors to your site are not patient. If page load time slows from one second to 10 seconds, the probability of a mobile site visitor bouncing increases by 123%.
Google doesn't like slow sites either. They have specifically stated that site speed is a ranking factor.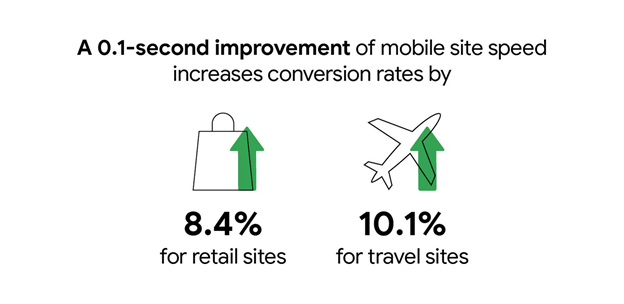 XML Sitemap
An XML sitemap is a list of the URLs on your website. It helps Google crawl and index your pages.
Submit your sitemap to Google Search Console and Bing Webmaster Tools. Your site will be discovered sooner and none of your important pages will be missed.
Whenever you create a new page on your website, plan to add the URL to the sitemap. There are tools that let you do this automatically.
Robots.txt
The robots.txt file lays out the rules for search engine bots. It indicates which parts of a website can be crawled.
You can use the file to prioritize which pages you want Google to index or keep it from crawling internal pages. But if you don't pay attention to your robots.txt, you could also end up accidentally blocking Google's access to something important.
Metadata
Meta tags help search engines classify pages. Make sure that all of your pages have a title tag and meta description and that each image has an alt tag.
Step #3: Do your research
SEO is all about having a plan. Before you create any content for your new website, build an SEO strategy based on keyword and competitive research.
Keyword research
Remember what we said about the first Google result getting most of the clicks? To bring in organic traffic, you'll have to show up near the top of the page for some keywords.
For the most popular keywords, this is virtually impossible. You could spend years trying to rank for "running shoes" or "pet supplies" or "cheap flights" and never beat the competition.
What you need to do is identify the right long tail keywords.
Long tail keywords are keywords with a low search volume. This usually means they are more specific. For example, rather than "pet supplies" you might try to rank for a keyword phrase like "personalized dog collars" or "natural reptile bedding."
Most searches are low volume. 92.42% of keywords get 10 searches per month or fewer. They're typically much less competitive to rank for, and if you rank for enough of them, you can bring in a lot of traffic.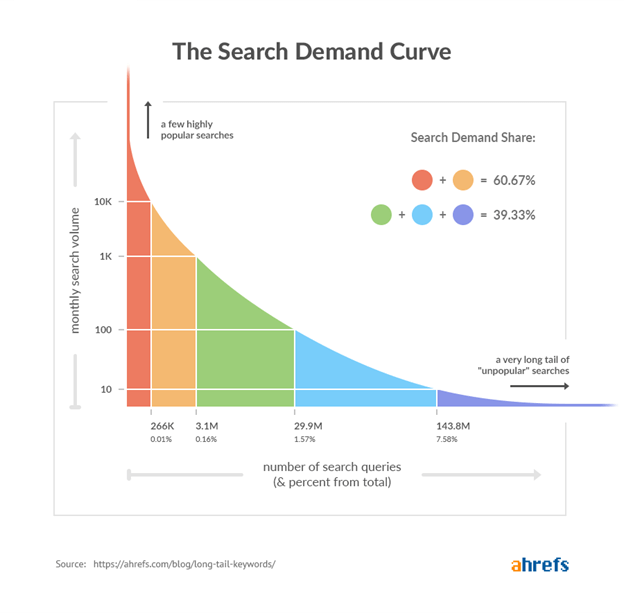 You can come up with some keywords manually. Just imagine what a customer might search if they were looking for a specific product or service that you offer. There are also many keyword research tools that can help.
If you're a brick and mortar business, local SEO is essential. Incorporate your location name or even some local landmarks into your keywords. Think "pet supplies in Minneapolis," or "personalized dog collars in Soho."
Competitor research
Look at the websites of your competitors (the ones you know about and the ones that appear in the search engine results for your keywords).
What search terms are they targeting and do they rank for them? Have they covered any relevant topics you haven't thought of? What backlinks do they have?
Some of the SEO tools linked in the previous section can help you analyze competitor sites.
Case study
Varco Pruden Buildings (VP) had just built a new website and needed a digital marketing strategy to increase the company's brand recognition and improve their SEO rankings.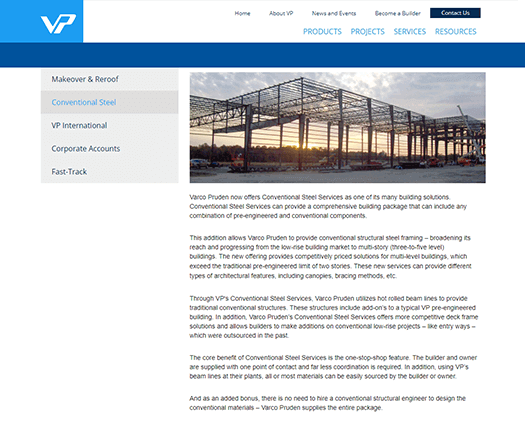 (Image Source)
HigherVisibility completed extensive keyword research and competitive analysis for VP before creating a plan for website optimization.
The research paid off.
HigherVisibility's updates resulted in a 700% increase in organic traffic and a 145% growth in page one rankings.
Is your traffic declining?
Since 2009, we have helped hundreds of local businesses grow their online leads and sales strategically. Let us do it for you!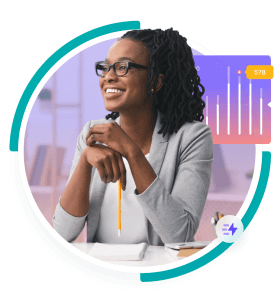 Step #4: Set up analytics
Your ongoing SEO strategy should be data-based. Google Analytics, Google Search Console and other tools let you stay on top of how your site is doing and which campaigns or activities are bringing in traffic.
Have your tracking tools ready to go before you put much work into your site. There's no point in creating a lot of content or optimizing existing pages if you have no way to measure your success.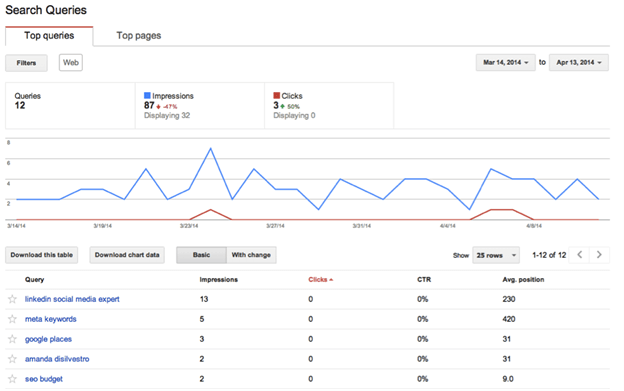 Step #5: Develop content
The best SEO content is simply content that's relevant and helpful to the user.
Google is getting better and better at detecting search intent and recognizing quality information. The days when you could trick search engines into promoting bad content are mostly over.
Since you've already planned your site structure, you have a roadmap for writing the most important pages. After that, you can create blog posts or pages on more specific topics.
There are some best practices for content.
You'll most likely create each blog post or landing page with a primary keyword in mind. Don't overuse the target keyword, just write in-depth content that would interest a visitor who searched that term.
The best blog posts for SEO are 2,100-2,400 words long.
Keep the reader on your site by including internal links to other content. And don't present your visitors with a wall of text — include images and video where possible. 88% of video marketers report that video gives them a positive ROI.
Content creation is an area where you can turn back to competitive research.
Which articles rank for your particular topic? Are there any aspects of the topic that other sites have failed to cover? Could you help explain the topic with images and video where your competitors have only used words?
Step #6: Make a plan for website SEO maintenance
SEO is never finished. Search engine algorithms change constantly and your business may change too. After your site is up and running, you should continue to monitor your site's performance and tweak your SEO.
You'll want to check regularly for technical issues that affect SEO. For example, a broken link, a redirect loop, or a lack of HTTPS security.
You should also be continually developing content. A lot of it. Companies that publish 16 blog posts or more a month receive 3.5 times the traffic compared to companies that blog less than four times a month.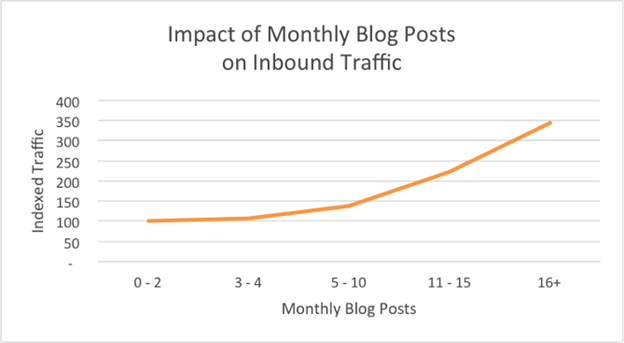 Finally are your link building strategies. Working to building your site's domain authority. It's important that these external links are from relevant, authoritative sources and not spammy.
Conclusion
If you take away one thing from this article, it should be to go into your new website SEO project with a plan since it could take months to start seeing results. (Read How Long Does SEO Take?) for more information.
Before your site is developed, make a plan to use technical SEO best practices. Create a content strategy based on extensive research. Once your site has launched, use analytics to continue adjusting your SEO plan.
Outsourcing your new website SEO to an agency is a great way to make sure your site is optimized right. You'll have an entire team of SEO professionals crafting and implementing your SEO plan.
Is your traffic declining?
Since 2009, we have helped hundreds of local businesses grow their online leads and sales strategically. Let us do it for you!