The Rise of The #CorporateGirlie
Alex Gillespie
September 26, 2023
The TikTok corporate girlie trend has taken over the internet, with thousands of videos of working women documenting their 9-5 day jobs with a feminine twist. With over 250 million views on the hashtag, it's clear that many women are applying this trend into their working lives.
We surveyed 1000 working women to find out their views on their careers, and delve into the the world of sass, style and smarts to uncover the truth of the #corporategirlie.
Through our research, we wanted to find out the reality of this TikTok trend, and see how many working women in the US feel inspired by this, and actively attempt to follow this lifestyle.
What is a Corporate Girlie?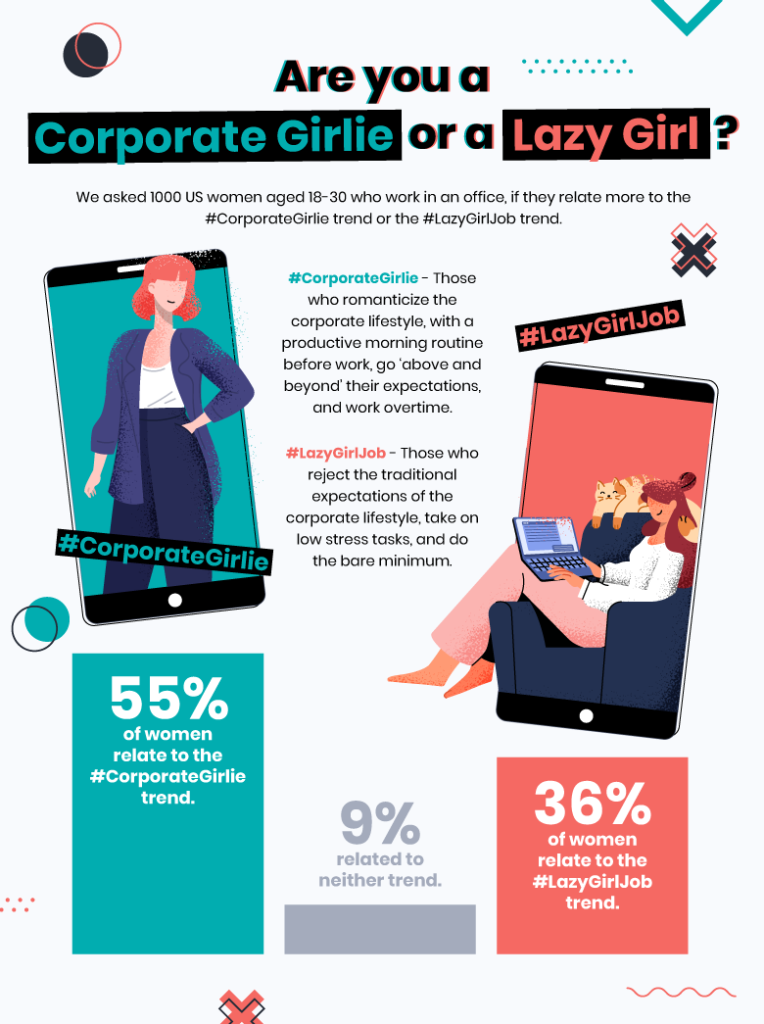 The corporate girlie is best described as a woman romanticizing her 9-5 job, exceeding all expectations at work, and consistently going 'above and beyond' to impress employers and advance in their careers.
Some common pursuits we see in these videos include:
Having a productive 5-9 before starting work – This can include exercise, making a healthy breakfast and a 'green' drink, journaling and cleaning.
Office outfits – A lot of these videos also center around picking the perfect outfit for work
Get ready with me videos – Such as doing your hair and makeup before work
Making lunch – Another common thing we see on the hashtag is people preparing and packing their lunch boxes to take to the office
The corporate girlie lifestyle is successful and productive, but do people really do this before work? According to our survey analysis, over half of women (55%) related to the #corporategirlie trend.
Furthermore, 24% of the women surveyed strongly agree that they have to work harder than their male peers at work in order to progress. In 2022, it was revealed that women make 82 cents for every dollar earned by a man, and as this trend continues year on year, it's no surprise that women feel the need to work harder than their male colleagues. Potentially, women are conforming to the #corporategirlie archetype in an attempt to stand out amongst their male counterparts.
In July 2023, another TikTok trend rose to popularity – the #lazygirljob. The qualities of this archetype include rejecting the traditional corporate lifestyle, even if they have a corporate/white collar job, doing the bare minimum at work, taking on low-stress tasks and quiet quitting. By analyzing the data, it was revealed that 36% felt more connected to the #lazygirljob trend, rather than the #corporategirlie.
Burnout at Work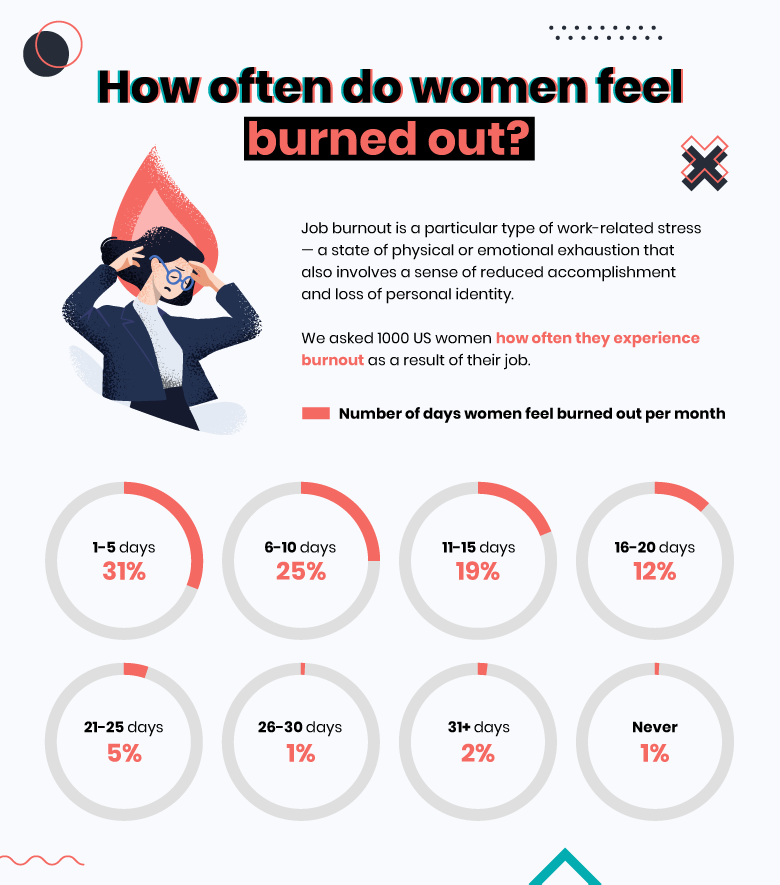 As part of the research, we wanted to investigate the effects of burnout on working women and if the corporate girlie trend contributes to this.
"Burnout" is a state of physical and emotional exhaustion, usually brought on by stress at work, and the common signs of this can include:
Feeling tired or drained most of the time
Feeling helpless, trapped and/or defeated
Being unable to cope
Feeling unappreciated and unfulfilled
To look further into this, we asked women how often they experience burnout in their jobs, and the results were shocking, with a quarter of all women (25%) revealing they feel burned out 6-10 days a month at work. Other findings from this were:
0 days – 4%
1-5 days – 31%
11-15 days – 19%
16-20 days – 12%
21-25 days – 5%
26-30 days – 1%
31 days or more – 2%
Never – 1%
With 31% of women revealing they feel burned out 1-5 days a month, this can equate to one day a week, further solidifying the importance of addressing this issue in the workplace and implementing effective strategies to support the well-being of working women.
Furthermore, taking a vacation is a great way to separate yourself from work life and have some well-rested time to yourself, so we asked women how often they take a vacation from work. 24% of the women surveyed stated they take 10-12 days of vacation time per year, whereas 23% take 7-9 days of vacation time, and a staggering 15% only take 4-6 days. This data contributes to the burnout issue amongst workers, and this needs to be vastly improved to ensure good mental health and well-being, which is vital for any person and any business to ensure success.
It's clear that working women are aspiring to be a corporate girlie, but with the effects of burnout showing for many of them, how easy it is to truly embody the spirit of this trend?
The Most Important Aspects of Work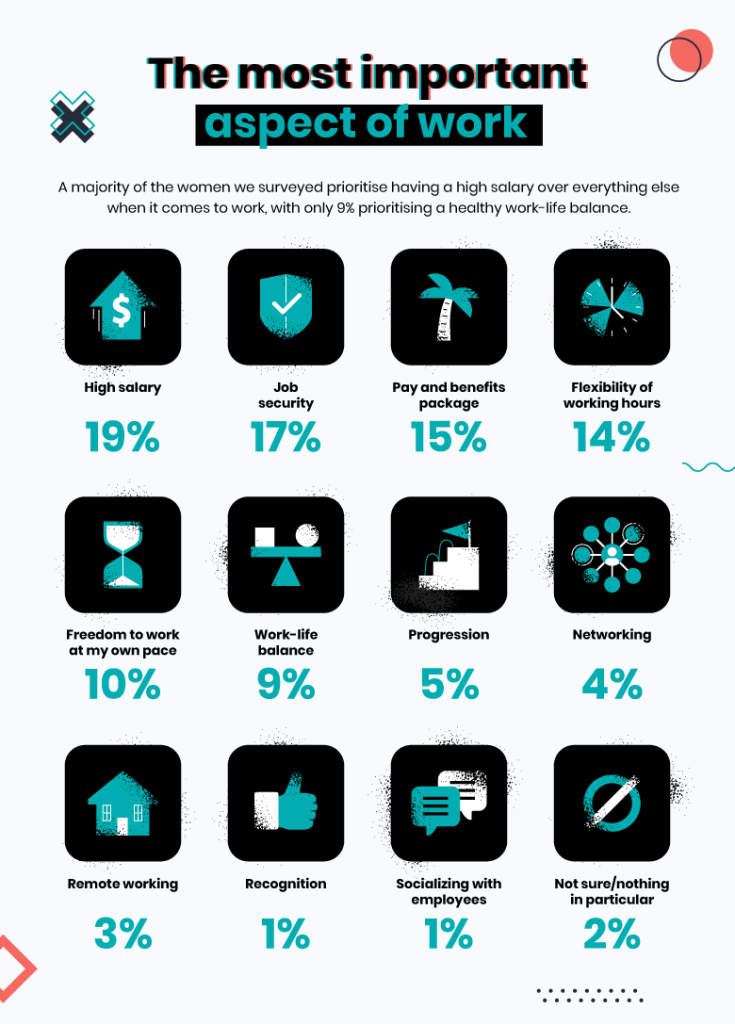 Continuing on with the #corporategirlie trend, the biggest motivators for working women were revealed by finding out the single most important aspect of work to them.
The study revealed that these included:
High salary – 19%
Job security – 17%
Pay and benefits package – 15%
Flexibility of working hours – 14%
Freedom to work at my own pace – 10%
Work-life balance – 9%
Progression – 5%
Networking – 4%
Remote working – 3%
Recognition – 1%
Socializing with employees – 1%
Not sure / nothing in particular – 2%
These insights underscore the nature of motivation among women in the workforce, with each individual prioritizing a unique set of values in their professional journey.

From the allure of the TikTok #corporategirlie movement to the emergence of the #lazygirljob, it's evident that working women are forging their unique paths in the professional realm and as we navigate this ever-evolving digital landscape, one thing is clear: the modern workplace is a dynamic setting where women, inspired by a multitude of trends and motivations, continue to shape their careers with passion.