Gen Z and The Rise of Influencer Culture
Scott Langdon
August 19, 2022
Since the inception of the World Wide Web in 1991, the role of the social media influencer has grown exponentially. Beginning with users gathering on web forums and blogging sites to discuss topics of interest and in more recent years, YouTube, Instagram, and TikTok, the way like-minded individuals have bound together has created the opportunity for those more out-spoken creators to lead the way online.
Approached by marketers who no doubt saw potential in some online users' reputations, influencers began to accept freebies in return for promoting products and services online. Money would later become a more frequently accepted payment; some influencers can now make over 1 million dollars for a single social media post.
Today, there are influencers worldwide, with armies of fans creating waves and movements on social platforms. The American Influencer Council was launched in 2020 by creators for fellow creators to support the influencer marketing industry. Enabling brands to connect with consumers on a level never seen before, there is no denying that influencers of this age have taken on a 'celebrity' status.
In fact, our study has revealed that over 1 in 4 (26%) Gen Z trust influencer reviews more than product page reviews.
With this in mind, we asked Gen Z about the impact influencers, and content creators have on their lifestyles, buying habits, and future prospects.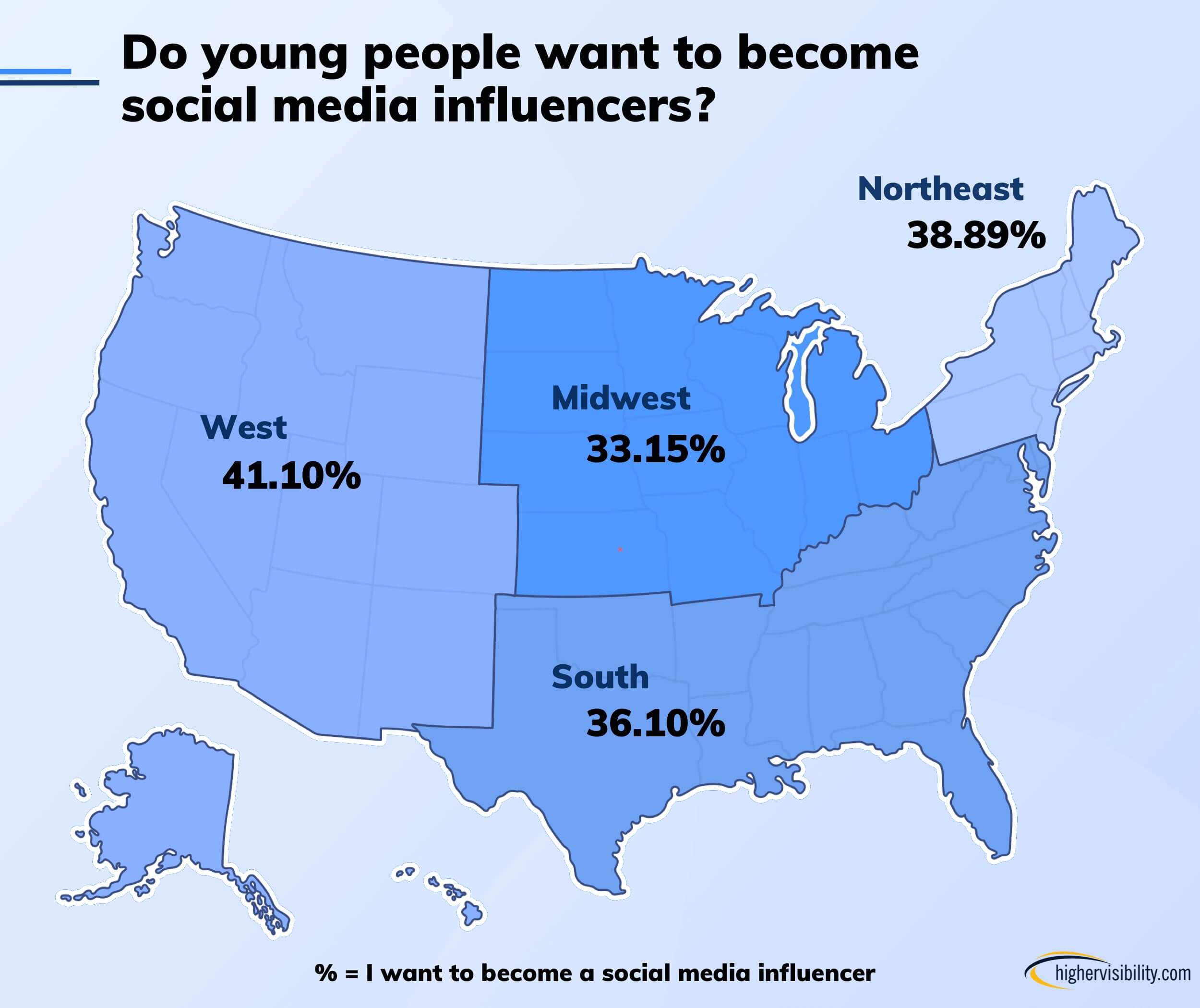 When it came to members of Gen Z wanting to become social media influencers, we saw mind-blowing results from all regions across the USA – the lowest percentage sitting at just over 30% in the Midwest. Those from the West saw the highest percentage of individuals admitting that they would like to become an influencer at some point in their lives, with over 2 in 5. The Northeast follows closely behind with over 38% of Gen Z.
Taking a look at individual states, 41% of New York Gen Zs intend on becoming an influencer in the future, whilst 30% from LA also feel the same way.
Perhaps even more shockingly, our study found that Gen Z males (20%) are more likely than females (13%) to believe that being a social media influencer is the only choice of career for them, with almost half of the males surveyed (49%) agree that being a social media influencer is a good career choice.
Overall over 1 in 4 Gen Z surveyed plan to become social media influencers, with 16% even claiming that they would pay to become one.

Of those surveyed, over 38% agreed that there is enough work to become a social media influencer, with 34% believing that they know what it takes.
Nearly 1 in 5 Gen Z told us that they would quit their job to become a social media influencer, with just under 15% believing that it would be the only career choice for them. Additionally, over 12% of Gen Z told us that they would quit college to become an influencer.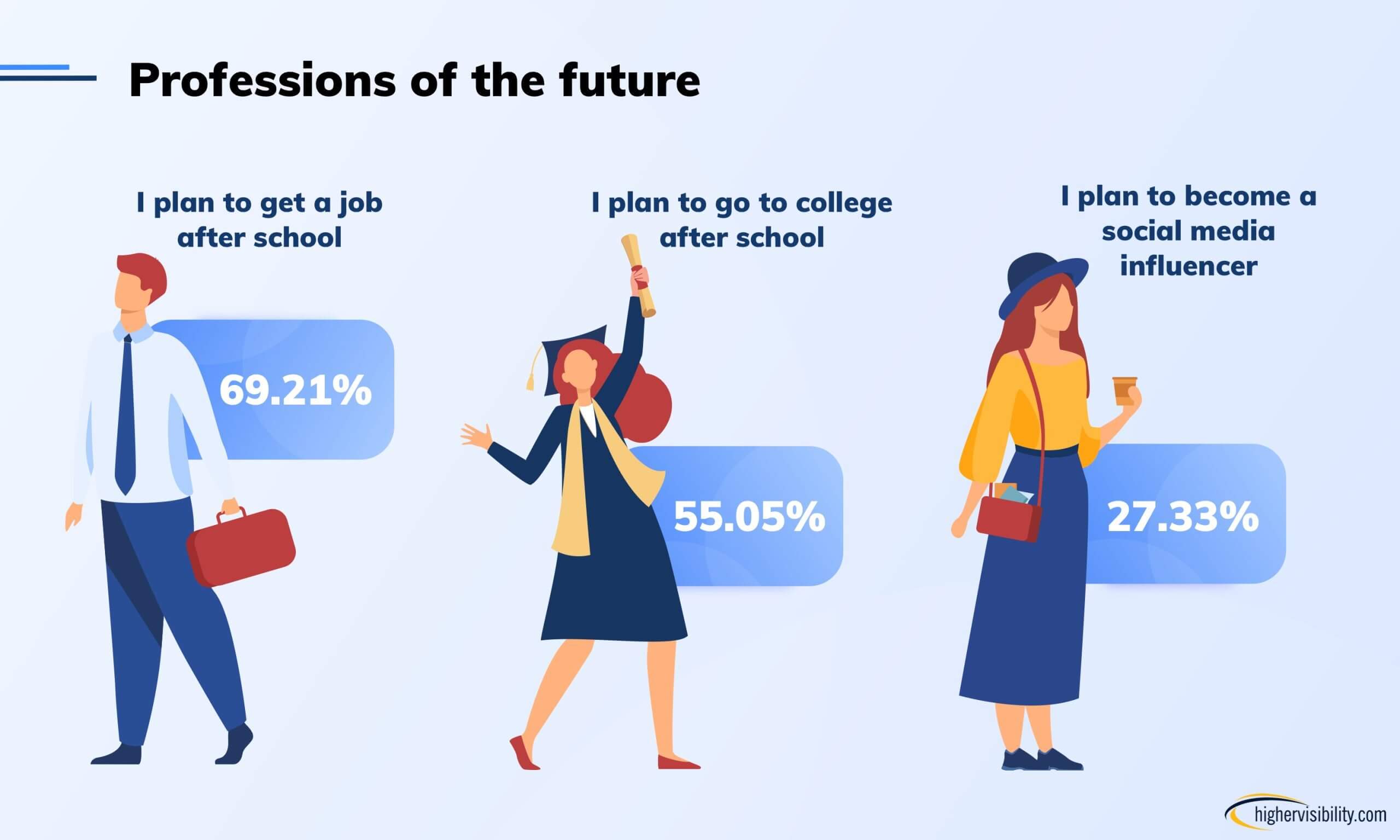 When asked whether members of Gen Z plan to get a job after they finish school, 69% agreed, with 55% planning to attend college after completing their school studies. Interestingly, just over 27% of Gen Z in America plan to become social media influencers after finishing school.
According to the results of the study, nearly 1 in 4 Gen Z believe there should be social media influencer training in school, with 6% of Gen Z actively choosing not to go to college to become an influencer.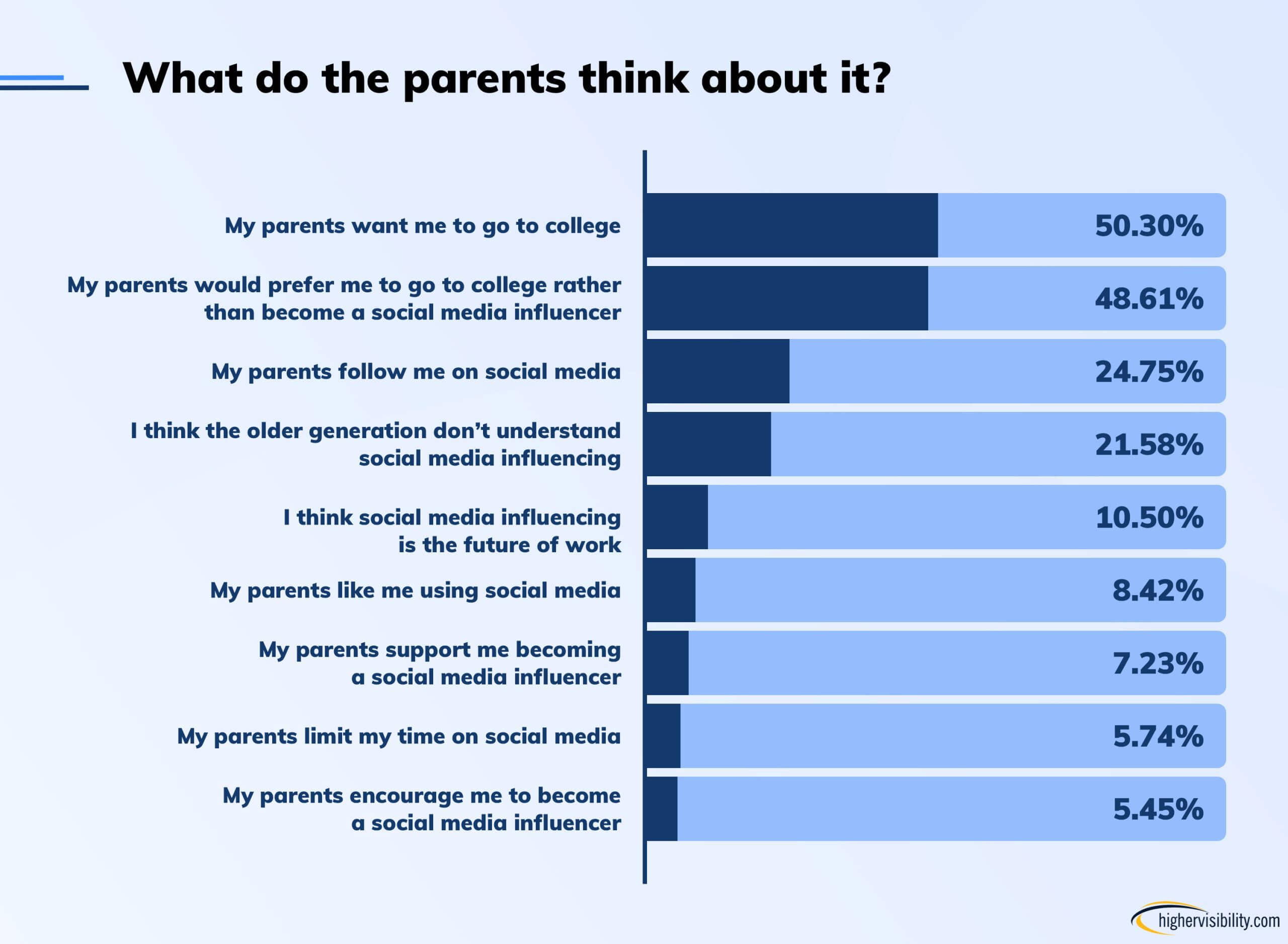 Results found that over 20% of Gen Z believe that the older generation doesn't understand social media influencing, with just 8% of respondents claiming that their parents like them using social media. Nearly 1 in 4 Gen Z claimed that their parents follow them on social media, with almost 50% agreeing that their parents would prefer for them to go to college than become an influencer.
The study also found that 27% of Gen Z believe that their parents would be unsupportive of them becoming social media influencers, preferring for them to go to college (50.30%).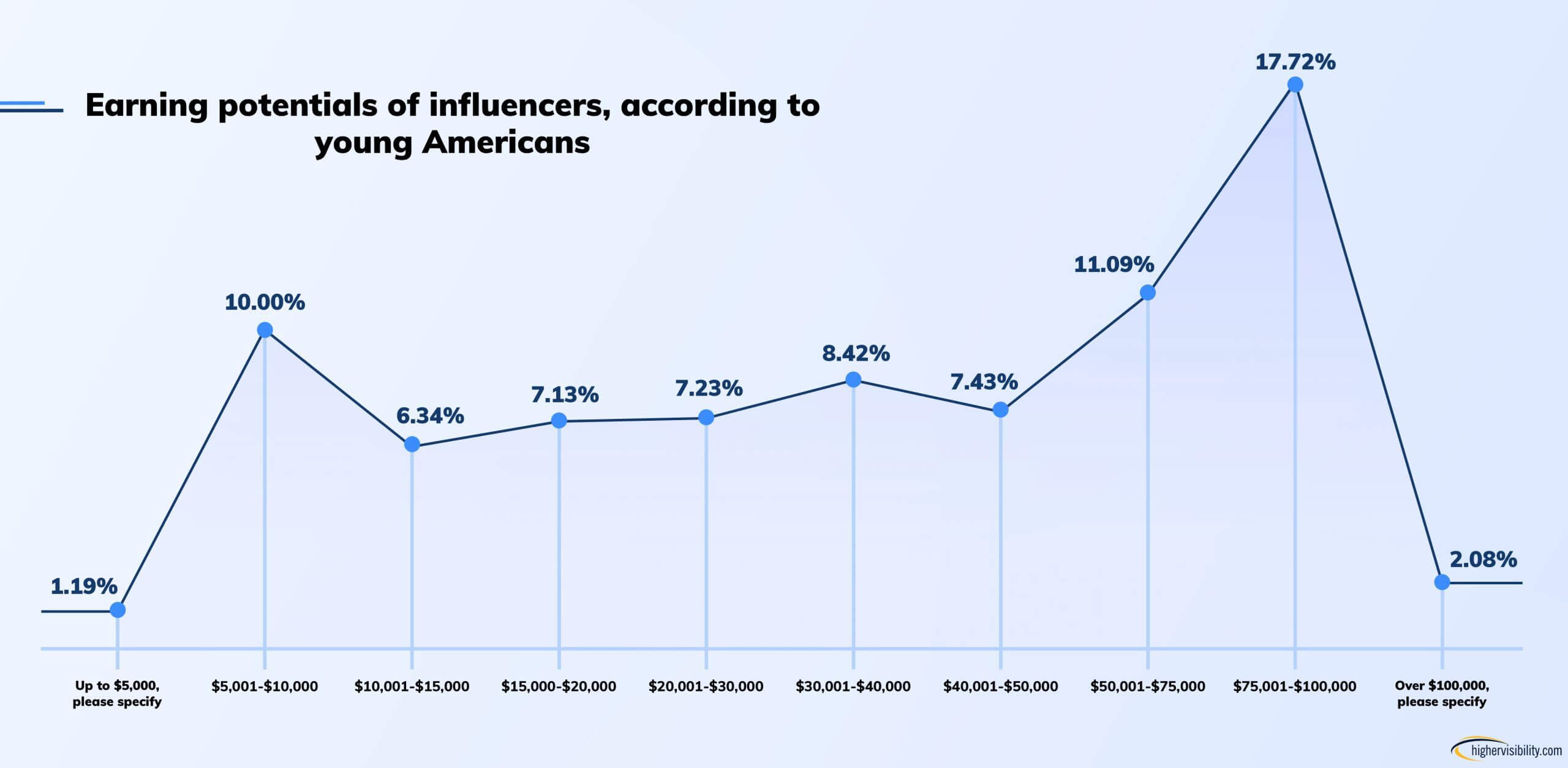 Of course, earnings are a huge talking point when it comes to being an influencer or content creator online. With this in mind, we asked Gen Z how much they thought an influencer would make in a year on average.
$75,001 – $100,000 was the most commonly guessed figure, followed by $50,001 – $75,000. Surprisingly, 10% of respondents told us that they thought influencers could earn between $5,001 and $10,000 per year, with just 2% selecting 'over $100,000'.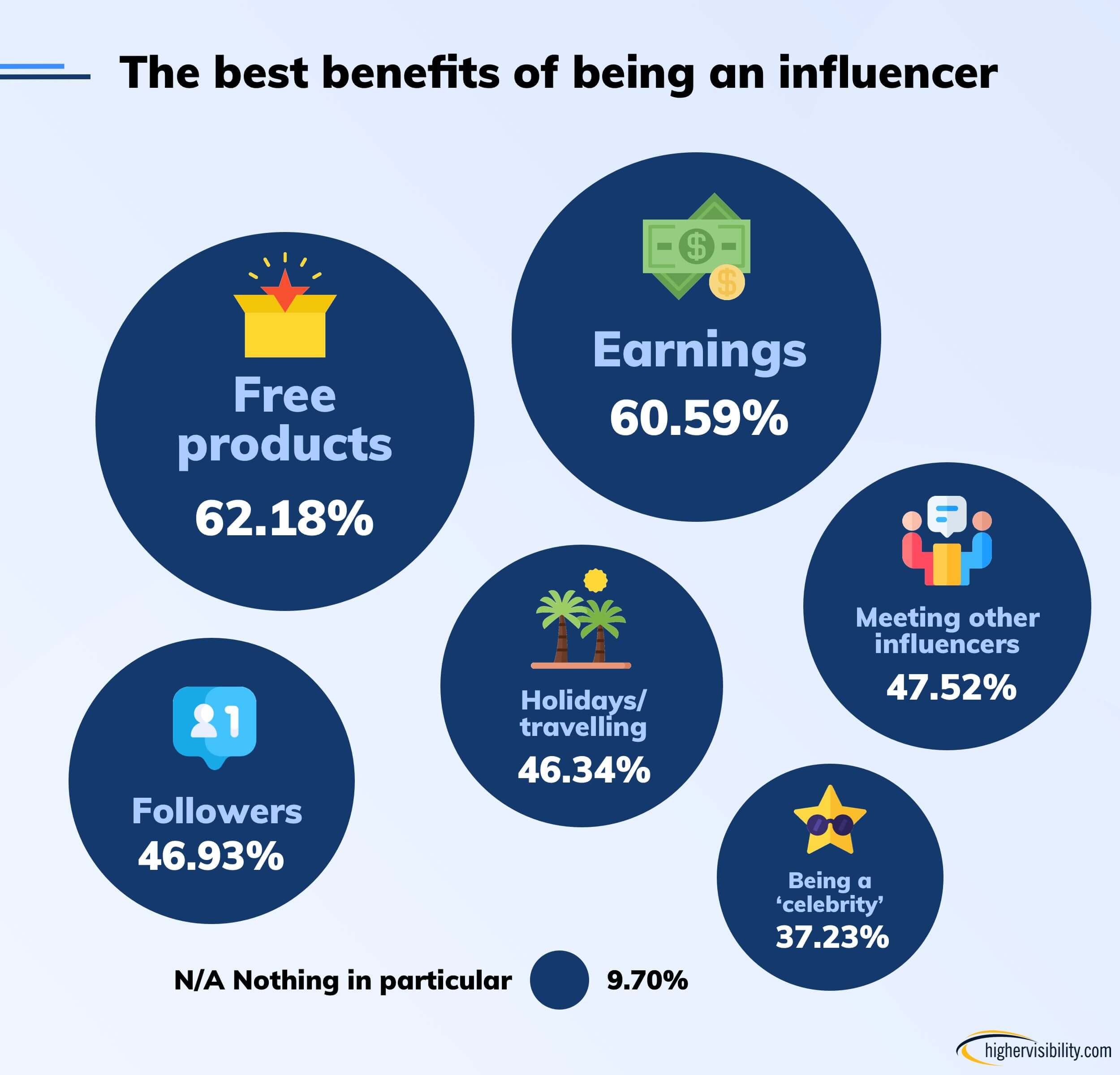 Now, it's no secret that with becoming an influencer comes a lot of benefits. We asked Gen Z what they thought the best benefits of being a social media influencer would be. In first place was "free products," with 62% of respondents agreeing that this would be the best part about being an Influencer. Next was 'earnings' with 60.59%, whilst 'meeting other influencers' came in third place.
Also included in the line-up were gaining followers, traveling and holidays, and being a "celebrity." When asked specifically about followers, we found that over 1 in 4 Gen Z post regularly on social media to gain followers, with men (35%) caring more about their follower count than women (31%).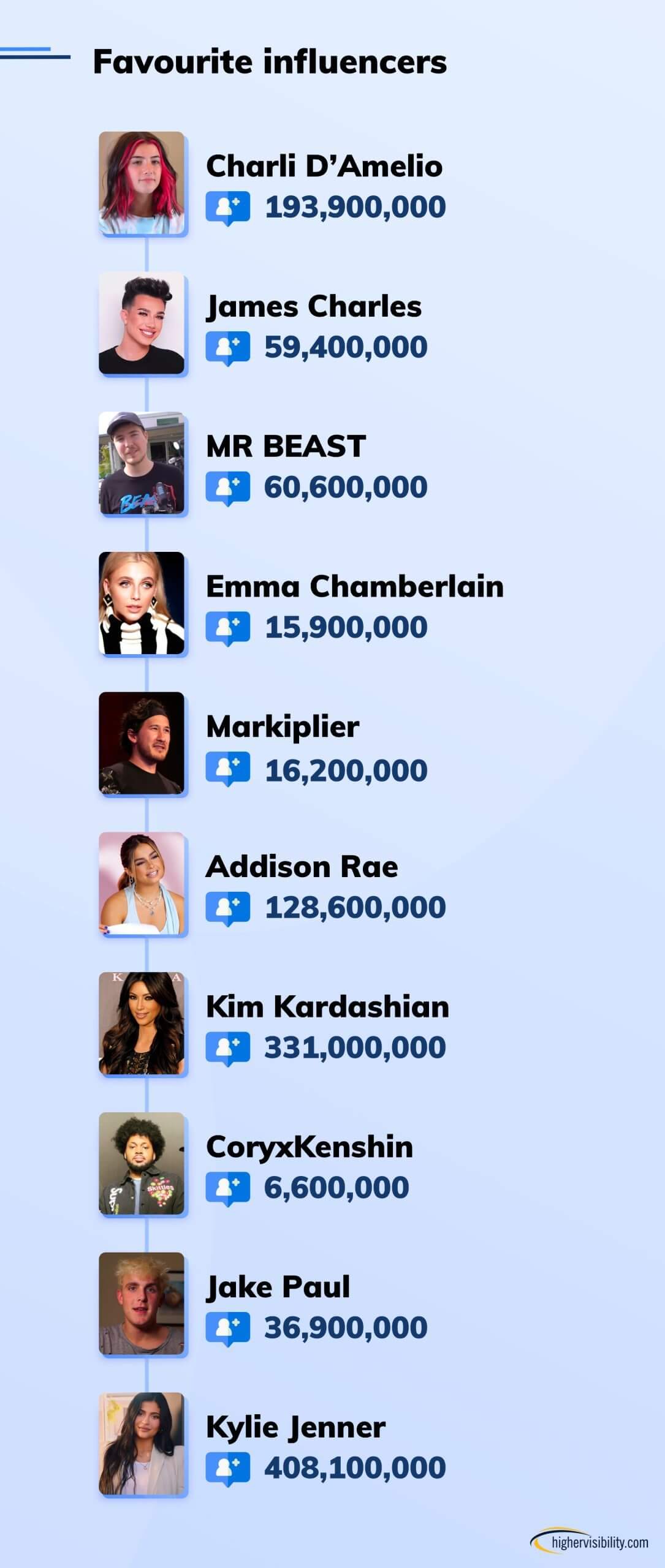 We then asked Gen Z who their favorite social media influencers were. In the top spot is Charli D'Amelio, beating both Kim Kardashian and Kylie Jenner as Gen Z's favorite content creators. The TikTok sensation who gained popularity for her dance videos on the platform has amassed a huge 193,900,000 combined followers on TikTok and Instagram.
In second place is James Charles, who rose to fame on YouTube before posting on TikTok when the app was launched in 2019. The 23-year-old is known for posting make-up tutorials and collaborating with celebrities.
Also included in the Top 10 are MR BEAST, Emma Chamberlain, Markiplier, Addison Rae, Kim Kardashian, CoryxKenshin, Jake Paul, and Kylie Jenner.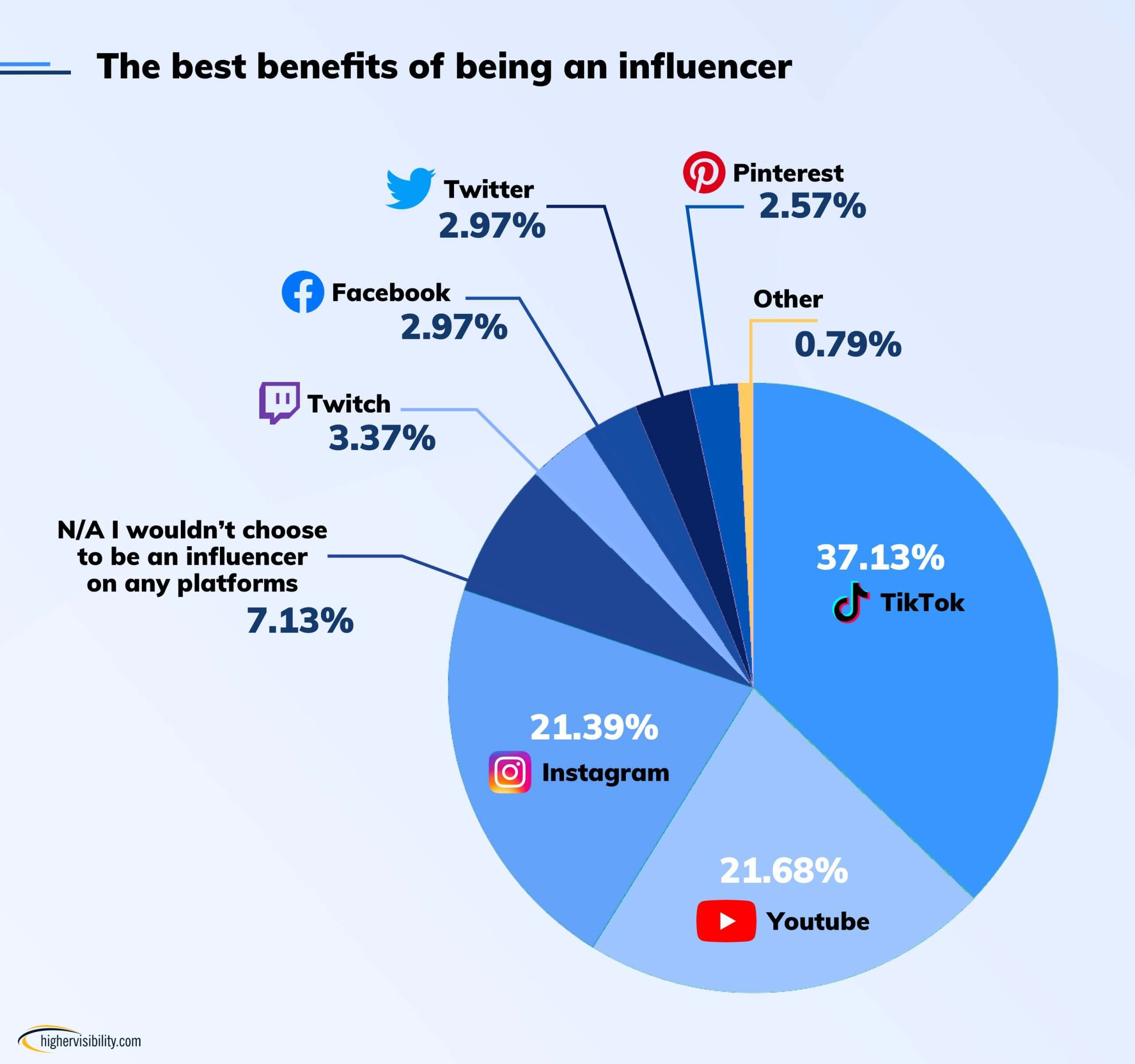 Of course, it is possible (and more common than not) to be a social media influencer across multiple platforms. However, for most, one platform, in particular, will dominate. So, we asked Gen Z which social media platform they would most like to be an Influencer on.
In response, nearly 40% of Gen Z told us that they would choose TikTok as their primary platform (37%), with over half (51%) believing it is easier to be a social media influencer on TikTok than on any other social media platform. Somewhat surprisingly, YouTube scrapes second place with 21.68%, whilst Instagram follows in third with 21.39%.
Just 7.13% of Gen Z responded that they would not want to be a social media Influencer.
It is safe to say that over the years, the line between 'influencer' and 'celebrity' has blurred. With influencer culture permeating the younger generations and becoming more prominent as time goes on, it is a movement unlikely to falter any time soon.
Influencer marketing has helped take brands to an entirely new level, increasing engagement among users online by creating content that resonates deeply with their followers. As popularity increases, so do instances of companies partnering with influencers; and our study has found that the majority of Gen Z feel that there is a place for them within this ever-growing, though saturated, industry.
Methodology
The research was conducted by Censuswide with 1,000 general consumers (nat rep) aged 16-25 in the USA between 26.07.22 to 28.07.22. Censuswide abides by and employs members of the Market Research Society, which are based on the ESOMAR principles.