How SEOs can Generate Traffic and Backlinks with Pinterest
Adam Heitzman
April 17, 2023
Editor's Note: This post was originally published in December 2011 and was updated for accuracy and comprehensiveness in March 2017, and later in April 2023.
SEO pros are constantly looking for new, unpaid sources of qualified traffic and quality links for their websites.
After all, good user engagement and a strong backlink profile are essential for ranking well in Google's search results.
Over the past decade or so, Google has come down hard on marketers who use shady tactics to artificially elevate search rankings. Gladly, black-hat tactics like link farming, cloaking, and comment spam are now (mostly) consigned to the dustbin of history.
But although Google's crackdown on spam has helped level the playing field for above-board SEOs, the task of attracting more traffic and building a diverse backlink profile hasn't gotten any easier.
Fortunately, there are still a few untapped goldmines out there. Pinterest is one of them.
In this post, we'll explain why you shouldn't sleep on Pinterest for SEO and cover some tips for using the platform to drive traffic and build links to your site.
Why SEO pros shouldn't ignore Pinterest
If you're wondering why you should even bother putting together a Pinterest strategy when you already use other social channels, these stats may sway you:
The thing is, Pinterest is more of a content discovery tool than it is a traditional social media channel. Instead of using the platform to keep in touch with friends or receive a fleeting dopamine hit, people tend to use Pinterest for inspiration. Need ideas for your next home improvement project, dinner party, or wardrobe upgrade? Pinterest has you covered.
This makes Pinterest an ideal environment for brands looking to extend their reach to a new audience of potential customers. Pinterest users are actively seeking new ideas and products, and you can gain a ton of new traffic and links if you know how to grab their attention.
Do links from Pinterest help with SEO?
Before we look at some best practices for using Pinterest for SEO, here's a quick note on Pinterest backlinks.
As with most social channels, links from Pinterest carry the "nofollow" tag. In other words, they don't necessarily pass any link equity to the destination page.
But don't let that discourage you. A significant chunk of any well-balanced backlink profile will consist of nofollow links. These links will still boost your brand awareness and send plenty of referral traffic your way.
And besides, in 2019, Google confirmed that its algorithm actually does take into account nofollow links when ranking search results.
"When nofollow was introduced, Google would not count any link marked this way as a signal to use within our search algorithms. This has now changed. All the link attributes—sponsored, ugc, and nofollow—are treated as hints about which links to consider or exclude within Search."
Is your traffic declining?
Since 2009, we have helped hundreds of local businesses grow their online leads and sales strategically. Let us do it for you!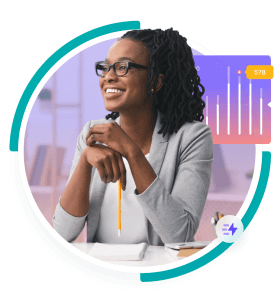 How to use Pinterest to generate traffic and links
Now let's dive into some tips to help you make the most of Pinterest for SEO.
Set up your profile
First, you'll need to create a free Pinterest business account. This will give you access to features like Pinterest Business Hub and Pinterest Analytics and also allow you to become a merchant.
Here's an example of IKEA's profile: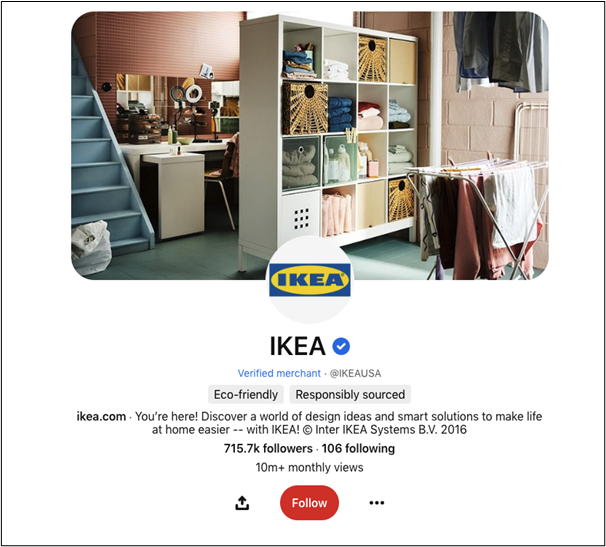 Finally, you should claim your website. This will give you access to analytics for any Pins created from on your site. Also, since Pinterest prioritizes Pins created by a website owner, claiming your website can help your Pins rank higher.
Research topics
Before you start sharing new pins, you first need to identify what topics people are interested in. This will ensure that the Pins you post and the keywords you use to tag them reflect what Pinterest users are looking for.
The best way to learn what topics are in demand is through Pinterest Trends. This will give you a detailed view of the top trends in your region over the past 30 days. For example, between March and April 2023, the top trends in the US included "spring nails," "festival outfits," and "spring meals."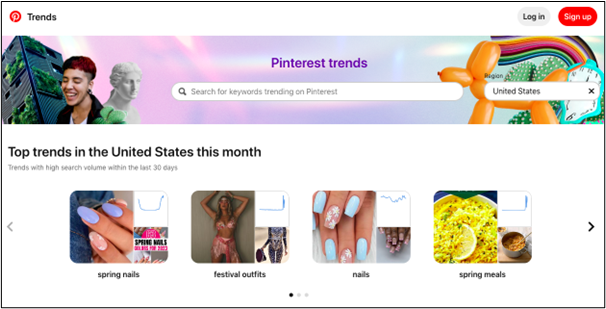 The tool also lets you drill deeper into trending topics by filtering for criteria like interest, gender, and age.
Understand the anatomy of a perfect Pin
To succeed at Pinterest, you need to develop a knack for creating visually appealing, easy-to-discover Pins.
First, you should ensure your Pins fall within the optimal aspect ratio. Since most Pinterest content is portrait-oriented (partly because this works best on mobile), the sweet spot for Pins is a 2:3 ratio or 1000×1500 pixels.
Since you'll be competing with thousands of other brands and individual Pinners for your audience's attention, it's also essential to consistently use enticing, high-quality images throughout your Pins. According to Pinterest, the best Pins are "visually compelling, tell a good story, and make people want to learn more."
Here's an example of a good-quality Pin for the keyword "stair workouts".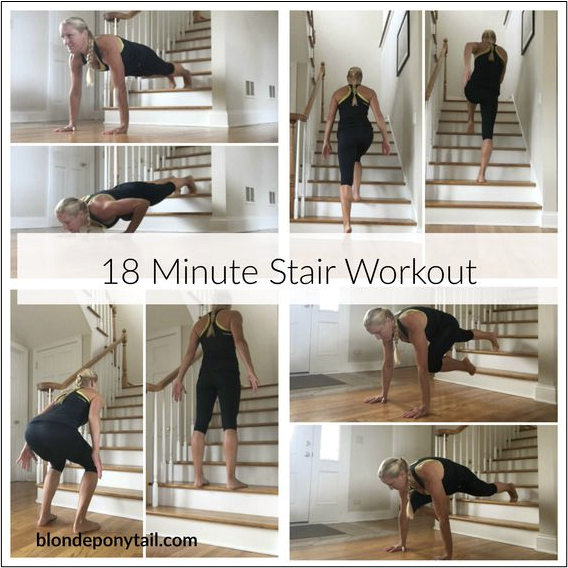 And here's a less-than-optimal example:

You also need to optimize your Pin copy to ensure your Pins are easily discovered when people search for related keywords. There's a 100-character limit for Pin titles and a 500-character limit for descriptions. Make sure these are descriptive and include appropriate keywords while staying as succinct as possible. Also, when adding a link to your Pin, make sure the destination page is relevant, live, and loads quickly.
Use different Pin formats
Pinterest allows you to post Pins in a range of formats, including Standard Pins, Collections Pins, and Video Pins.
Arguably the best format for driving customers to your site is the Rich Pin. Rich Pins contain additional, up-to-date information pulled directly from your website, such as product price and availability.
Check out Pinterest's guidance on how to enable Rich Pins on your site.
Create and Pin to relevant boards
The best way to ensure your Pins get maximum visibility is to add them to relevant Pinterest boards. You can think of these as collections of thematically-related Pins.
Personal boards have a single owner and can be used by brands to showcase product collections. For example, a clothing company might create a board for winter jackets.
When creating a personal board, you'll need to assign it a name (keep it simple and relevant) and specify whether other users can contribute to it.
Here's a snapshot of some of The North Face's boards.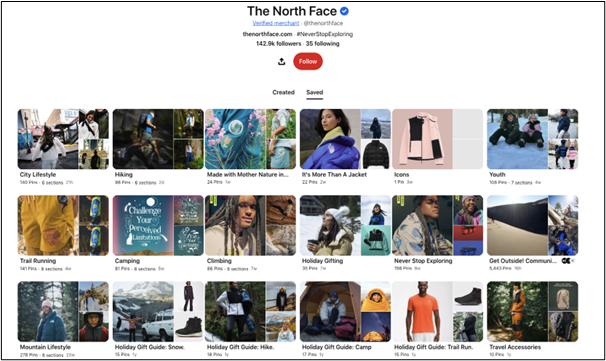 You can also participate in group boards. These boards are owned by someone else but you can also contribute to them. Group boards are a great way to place your brand in front of an even broader audience.
Aim for quality and consistency
Lastly, you need to commit to posting high-quality content on a regular basis to take full advantage of Pinterest for SEO.
Remember that people primarily use this platform for inspiration. Therefore, your Pins should tap into your audience's aspirations, spark excitement, and help them generate new ideas and possibilities.
The more regularly you post to the platform, the more users discover your content, and the quicker you'll work out what resonates most with your target audience. Pinterest's analytics suite can help with this process, giving you insights into what content, keywords, and designs work best.
Final thoughts
Brands often overlook Pinterest's ability to generate high-value traffic, leads and backlinks to their websites.
But the fact is Pinterest has a massive user base of idea-hungry consumers. This makes it an ideal stomping ground for businesses looking to promote their brand story and products to a new, motivated audience. Now it's time for you to get Pinning. By following the steps outlined above, you'll soon establish a new stream of traffic, leads, and links to your site.
Is your traffic declining?
Since 2009, we have helped hundreds of local businesses grow their online leads and sales strategically. Let us do it for you!