The Platform Creating the Biggest Full-Time Creators
Adam Heitzman
January 6, 2023
Working alongside a celebrity or well-known public figure in order to advertise a product or service online is not a new concept. Famous people with influence have been used by corporations as part of a larger advertising tool for decades. However, in recent years there has been a change, with brands eager to partner with more social media influencers and online creators to captivate an audience. But what made this the age of the influencer, and where did it all begin?
For a long time, television served as both the primary medium for entertainment and the most popular means of disseminating marketing and advertising messages. Until YouTube was founded in 2005, that is.
With approximately 2 billion active users per month, YouTube swiftly surpassed Facebook as one of the fastest-growing websites on the Internet. YouTube was first introduced as a platform for sharing videos with people across the world, and so became the first platform suitable for users to watch content created by like-minded individuals online.
Just 4 years after the launch of YouTube, 2009 saw the influencer phenomenon begin with the likes of Zoella, Alfie Deyes, Tanya Burr, and Caspar Lee sweeping the globe and starting the movement.
As the Internet has developed, social media platforms have become increasingly accessible to people. So, it comes as no surprise that influencer culture has spread to each of these, leading to today's most popular influencers finding their success utilising different online platforms.
In a bid to discover which social media platforms have produced the biggest full-time creators, Higher Visibility has analyzed the influencers with the highest follower count on each of the most popular influencer-led social media sites and traced back to where they began their influencer journey, to find out which social media platform has created the biggest full-time creators of all time.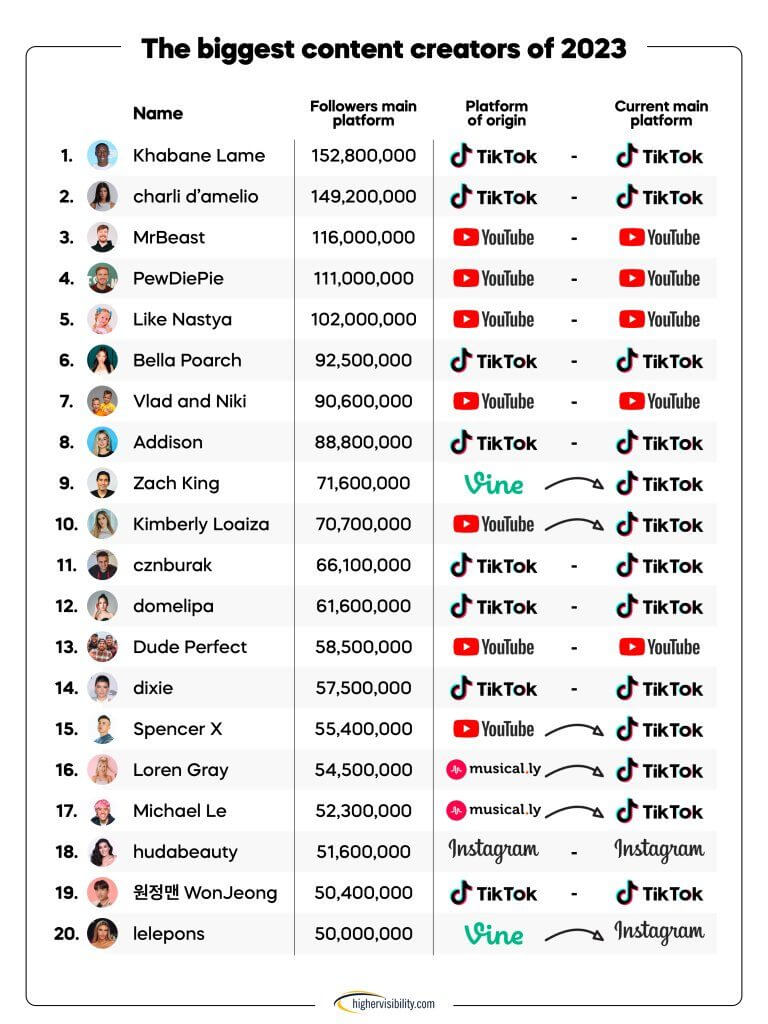 In order to discover which social media platform was creating the most full-time creators and influencers, we first needed to understand which of today's influencers had the highest number of followers.
Taking the top spot was Khabane Lame; a social media personality who rose to fame posting videos on TikTok under the name 'Khaby Lame' in 2020 after losing his job as a factory worker in Italy during the coronavirus pandemic. Making use of the stitch function on the app, Lame profited tremendously from viral, absurd 'life hack' videos. On 22 June 2022, he became TikTok's most-followed creator.
Fellow TikToker, Charli D'Amelio, also rose to fame on the video-sharing app, amassing 149,200,000 followers. Among the top 20 influencers with the highest follower counts, 8 began their full-time creator careers on TikTok.
Of those who began their careers on YouTube, there are 7 of the world's biggest creators included in the top 20. Those include MrBeast, PewDiePie, Like Nastya, Vlad and Niki, Kimberly Loaiza, and Spencer X.
Content creators who first rose to fame on the likes of Vine and Musical.ly also make an appearance in the list of today's most-followed influencers, including Zach King, LeLe Pons, Loren Gray and Michael Le.
Taking a closer look at specific platforms, many of the creators included in the top 10 on TikTok actually began their careers on the same app.
Despite TikTok only launching in 2017, the platform was reported to have landed its billionth user in 2021; just four years after its global launch. It had previously taken both Facebook and Instagram almost a decade to gain a user base the size TikTok amassed, so it is unsurprising that creators on this app are also growing at a rapid rate. In fact, of the top creators on the app, the average amount of followers sit at 82,570,000.
Also present within the top 10 TikTok creators are two who began their careers on Musical.ly, a platform first launched in April 2014 which allowed users to create short-form lip-syncing videos. Musical.ly was shut down in mid-2018 after being sold to ByteDance, and would eventually be amalgamated into what we know as TikTok.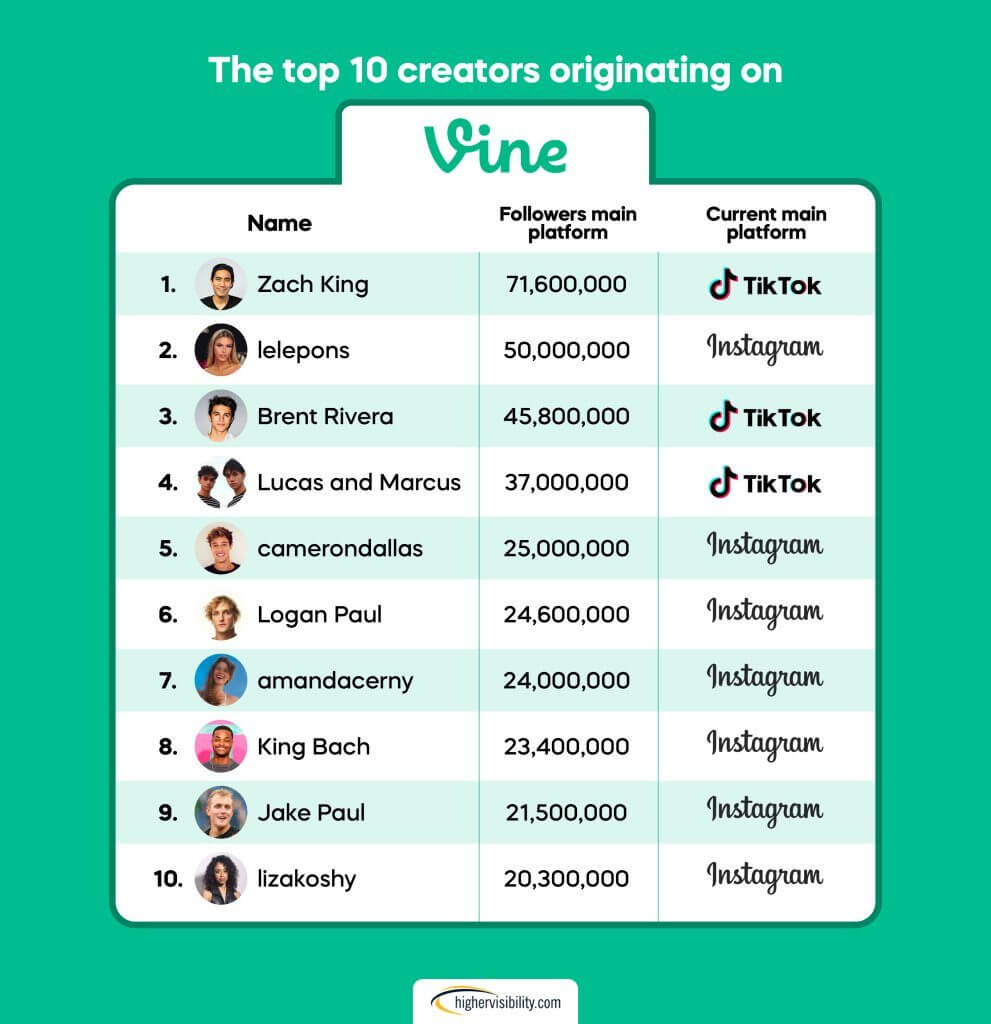 Vine saw rapid growth when it was first launched in 2013, and could be seen as one of the first social media platforms to embrace short-form video content over long-form, since the conception of YouTube 8 years prior.
Interestingly, though beginning their careers on a video-based platform, many of the top 10 Vine creators have gone on to accumulate the most amount of followers on their Instagram profiles, which began as a predominantly photo-sharing app.
Of the top creators on the platform, just 3 have gone on to find their main audience through TikTok. According to our research, the average amount of followers among the top 10 performers stands at 32,320,000.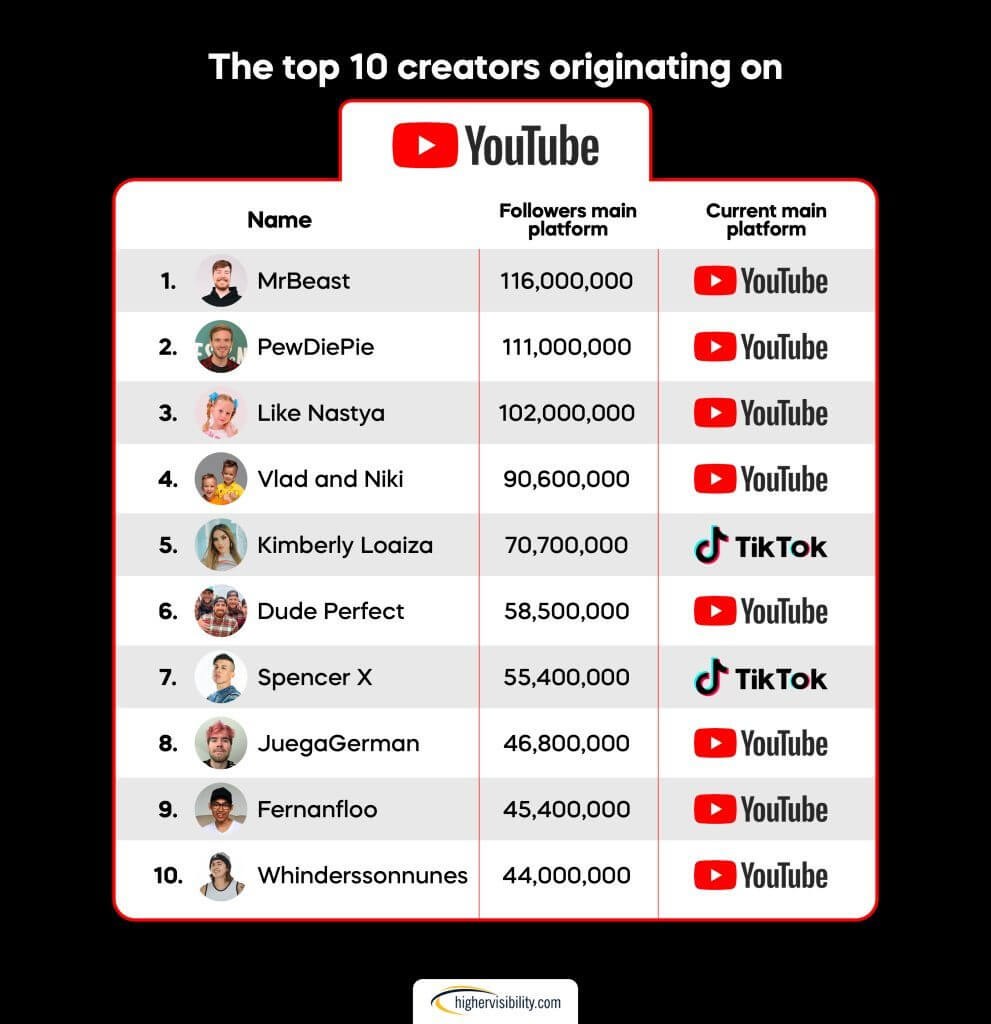 Interestingly, all of the most subscribed-to YouTube creators of today also started their careers with the platform as their main focus. This raises the question; is it harder to create a following outside of YouTube once you've begun your career as an influencer on this platform? And to have a successful career on YouTube, is it best to build your followers there from the beginning?
Of those most successful on YouTube at the beginning of their careers, just two have found more success in moving their main focus to TikTok; Kimberly Loaiza, now the 7th most followed person on TikTok, and Spencer X who has gained 1.3 billion likes on his TikTok account sharing his beatboxing skills with the rest of the world.
Of the top creators on YouTube, the average amount of followers sits at 74,040,000.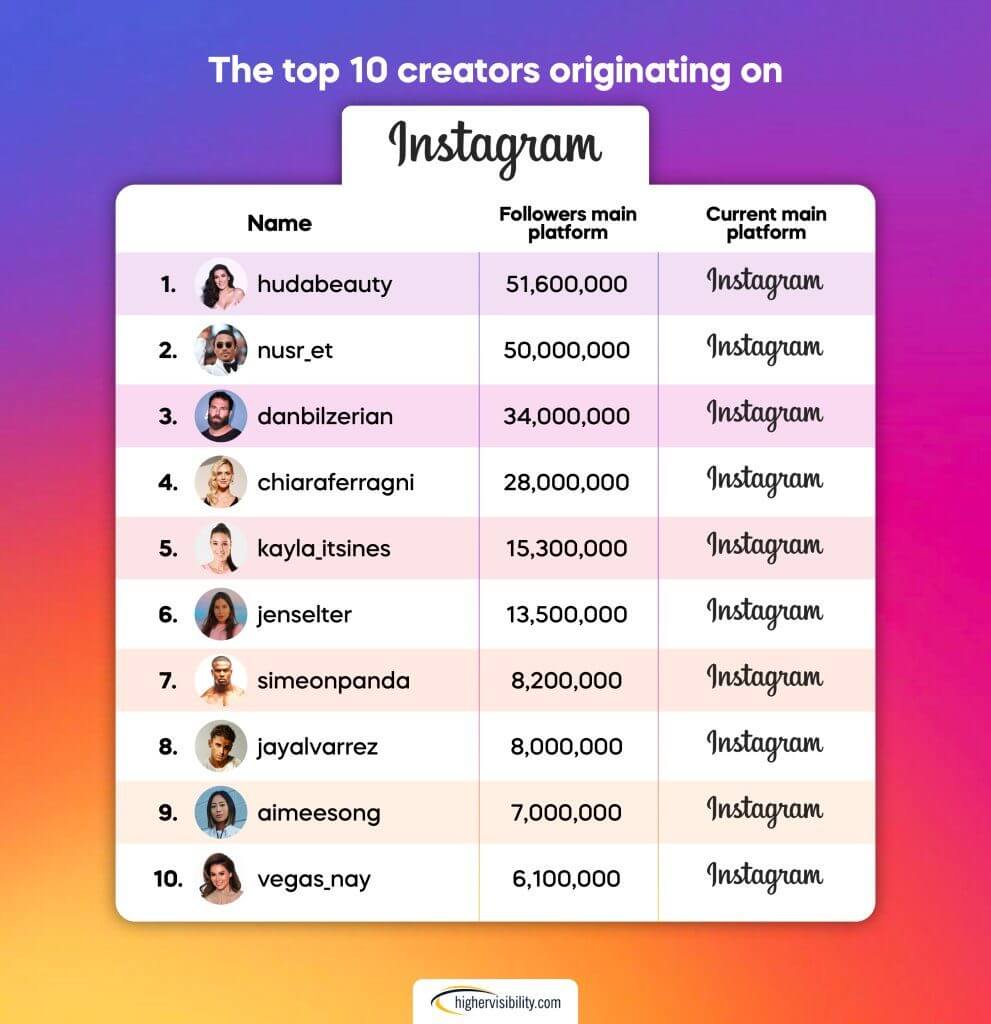 Instagram is often thought of as an 'influencers platform'. In fact, it was recently reported that the app still accounted for 94% of influencer marketing campaigns as of 2022.
Of all the social media platforms assessed throughout the study, Instagram was the only one that saw all of its top creators find their initial success on one platform, and stay there. However, the app was also the lowest-performing when it came to the average amount of followers held among those to gain success on the app at 22,170,000.
Does success on Instagram limit your success in gaining followers on other platforms? And whilst the rate of growth on TikTok far surpasses Instagram, is building followers on Instagram an opportunity to create more meaningful relationships with long-term followers?
Mass growth of followers on TikTok in a short period of time is not unheard of, but are the relationships formed between creators and followers as dedicated as those on different platforms?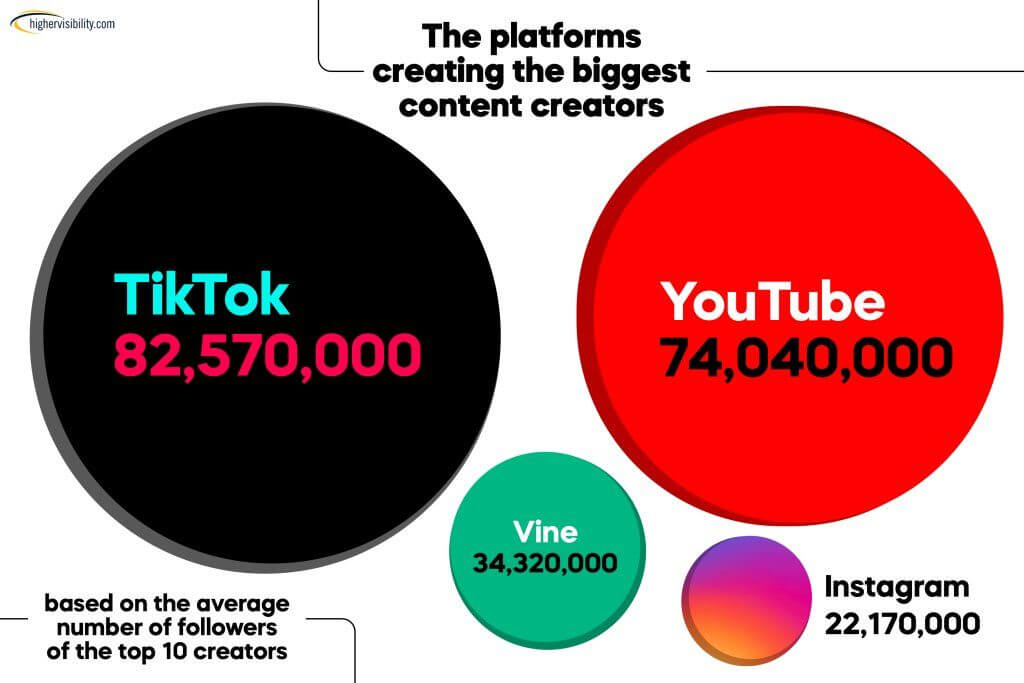 Overall, of all of the platforms studied, TikTok came in first place for the highest amount of followers on average across the top 10 performers on the app. Organic reach for brands on TikTok is reported to be 118%, and when compared to the likes of Instagram which is reported at 13.51%, the difference is astronomical. When taking this into consideration, how much of an impact does the 'virality' of content on TikTok combined with organic reach have on the success rate of full-time creators on the platform?
YouTube was among the first mainstream platforms created that enabled users across the world to create online video content, and though many feel that YouTube creator culture is declining, our research finds that it is a platform that attracts long-term, loyal subscribers. However, has the time to create a successful career on YouTube passed if you didn't build your main audience on the platform to begin with? Though some have moved to TikTok, the majority of full-time creators on YouTube have found less success on alternate platforms.
Following in third place is Vine, despite shutting down in 2016 after 3 years in circulation the platform still played host to some of today's most well-known creators. The majority of which have found further success on Instagram.
Instagram places last with the lowest amount of average followers among the top 10 creators on the app. It was said in 2019 that the Instagram aesthetic was 'over', with users on the lookout for more real-life, relatable content on other platforms instead of the glossy, idealised lifestyles promoted through carefully curated feeds on the picture-sharing platform. We can see from this study that although this platform may once have been the go-to app for influencer culture times are, without a doubt, changing.
————————————————————————————————————————
Methodology
We used SocialBlade and BuzzSumo to create seed lists of the most popular content creators across platforms, selecting those who have a following through content creation and not other elements of their career. We then analysed which platform these creators began their career on, calculating the average amount of followers to discover which platform is responsible for creating the biggest full time creators.