Best Places to Remote Work in America
Adam Heitzman
August 9, 2021
According to data from Upwork, the American workforce working remotely is estimated at 26.7% in 2021, and by 2025, 22% of the overall workforce will be remote workers. That means that 36.2 million Americans will be working remotely.  This is a staggering 87% increase from the number of remote workers in America prior to the pandemic.
These figures suggest remote working is here to stay for the American workforce, and without the commute and the need to stay in big cities traditionally known for their opportunities, here are the best places to live in the USA as a remote worker?
To work this out, we took into consideration the number of green spaces, average broadband speed, amount of coffee shops, the average house rent and house prices as well as WiFi hotspots to discover which places in America are the best overall for remote work.
Best Places to Remote Work in America with a Population of Under a Million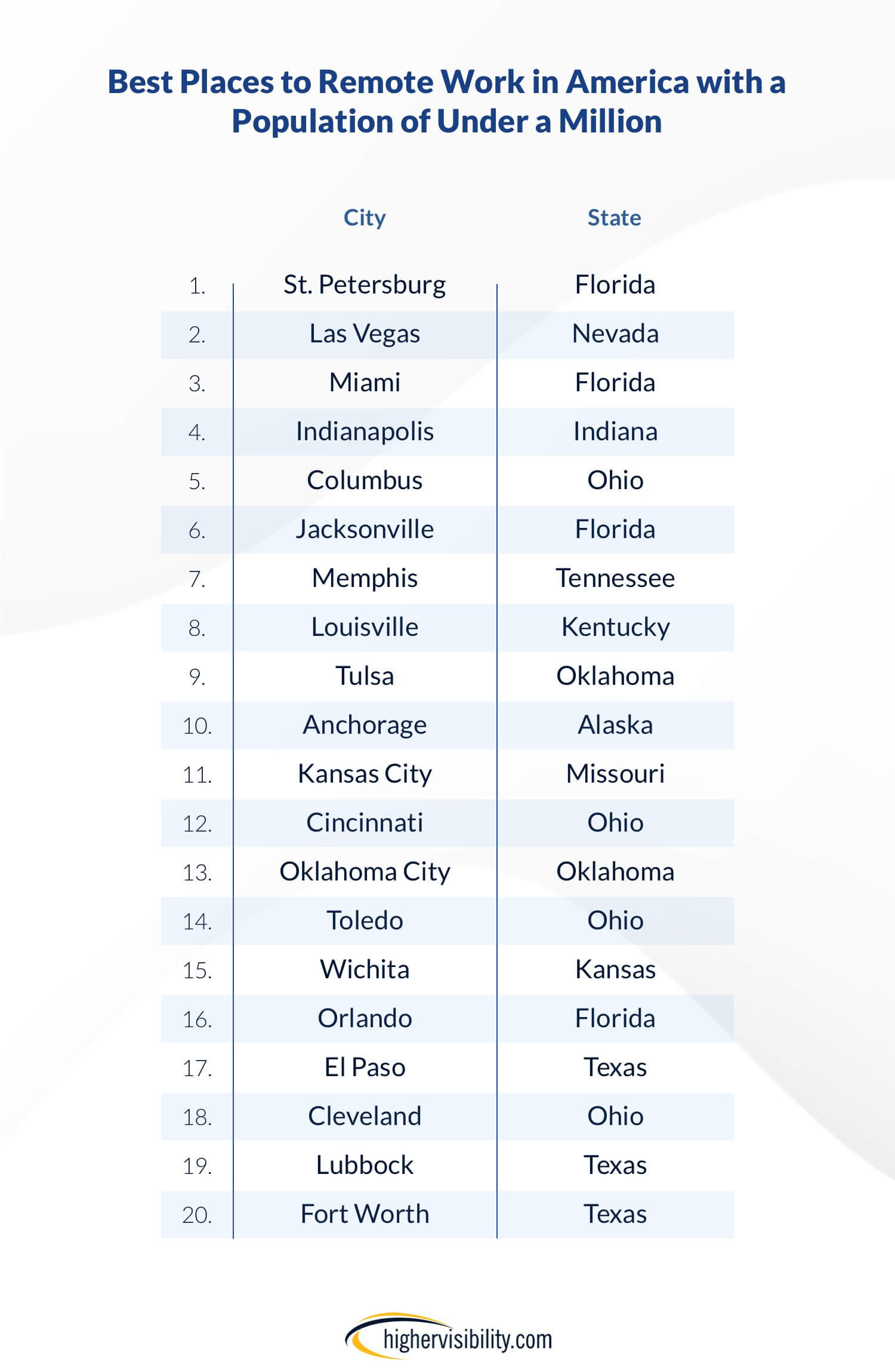 If you are looking for remote work in a town or city with a small population with all the needed factors for remote working, St Petersburg, Florida comes out at the top spot.
The average house price is $284,709 which is just over $10,000 cheaper than the average house price across the States in 2020, and with almost 5,000 free WiFi spots you will never be far from an internet connection.
Las Vegas comes in second. Surprisingly, Sin City, a destination for play not work is high on the list. Vegas may have a bigger population, however, this means access to more amenities with 269 coffee shops at hand for those remote workers who prefer to be close to a hot cup and a whopping 2,538 wifi-spots.
From one party centre to another; Miami, Florida is third on the list. Even though house prices are almost $100,000 dollars above the US average, Miami has access to high-speed broadband at 1,000 Mbps as well as almost 4,000 wifi hotspots meaning you can enjoy working on the move across various sunny locations across the city.
Best Places to Remote Work in America with a Population of Over a Million
For those who are still wanting the energy of a big city, we collated the best places to live for remote work in cities with a population of over a million people.
This also took into account the average cost of living and the Happiness Index.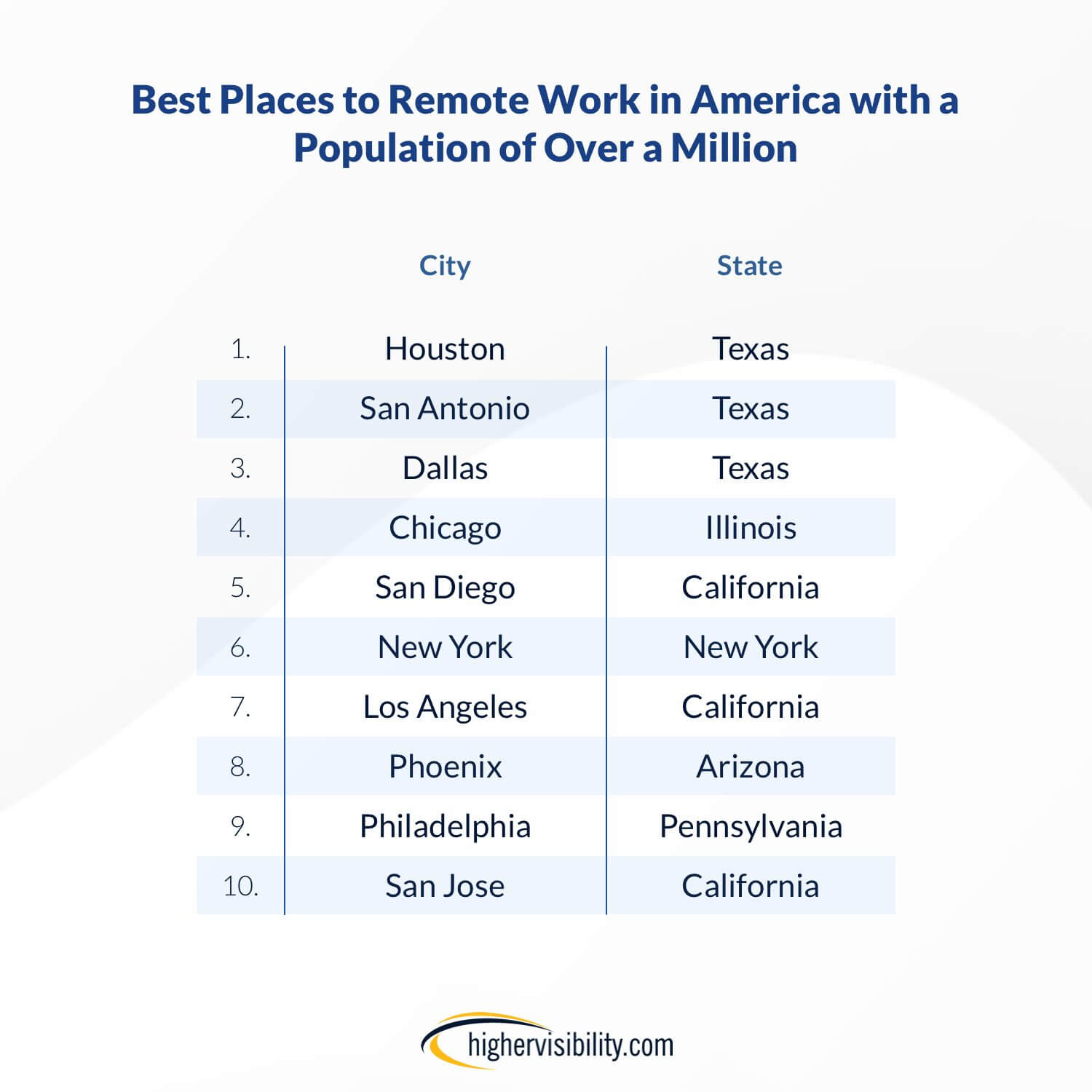 Texas cities dominate the top three spots, with the city of Houston out in front. Texas is significantly cheaper to live in in terms of housing. With both rental rates and houses much cheaper than California and New York whilst maintaining a WiFi and broadband infrastructure of other big cities making it the ideal place for remote workers.
Houston maintains around 17 acres per 1000 people of green space, meaning no shortage for a brisk walk to refresh the mind during the workday. San Antonio, where the population is smaller, means even more space for those who are pet owners or who like unwinding in nature, with 22.9 acres per 1000 people.
States With the Most Towns and Cities in the Top 30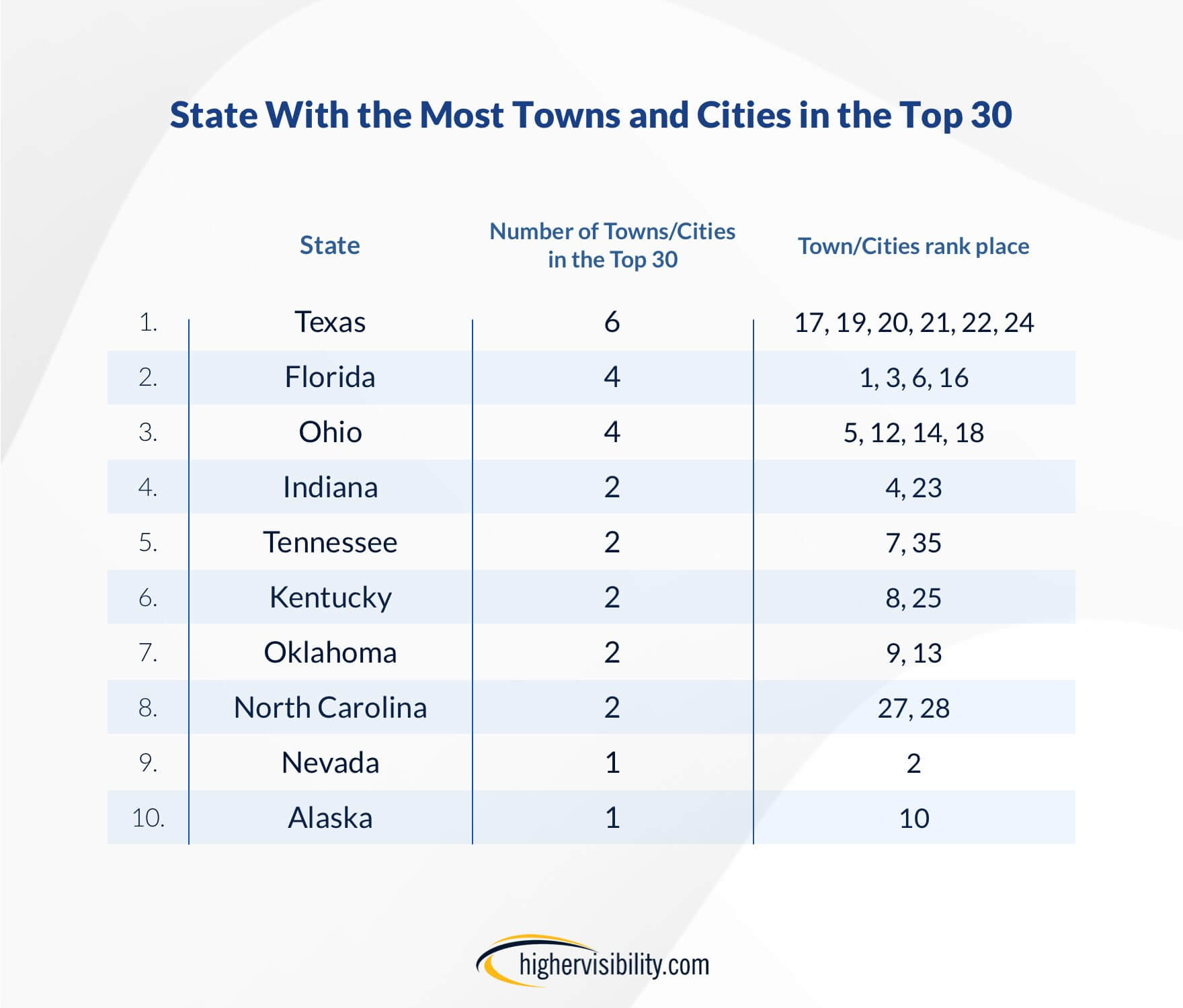 Texas may have six cities and towns at the top offering the largest number of places that are remote worker-friendly but the towns all rank 17 and above. Florida is home to four remote-worker friendly places with two in the top three, the weather being a welcome bonus!
Although the likes of Nevada having Las Vegas as the second most remote-friendly city, it ranks ninth in the overall states ranking as Nevada remaining towns and cities don't make the cut.
Methodology
To reflect the standard of remote working in cities located in the USA, we analyzed eight core different factors affecting remote working including WiFi hotspots, number of coffee spots, and the average monthly rent:
WiFi Hotspots – wifimap.io
Average Rent – rentcafe.com
Coffee Spots – tripadvisor.com
Green Space – tpl.org
Broadband – bandwidthplace.com
House Prices – zillow.com
Happiness Index – worldhappiness.report
Size – census.gov
We then created a scoring methodology to weighting these different factors.