What is the Value of Alexa Rank in SEO?
Adam Heitzman
April 1, 2018
Alexa is a global ranking system that utilizes web traffic data to compile a list of the most popular websites, the Alexa Rank. The lower your Alexa rank, the more popular (for example, a site with the rank of 1 has the most visitors on the internet). Alexa itself has been around since 1996, but was shortly thereafter acquired by Amazon in 1999.
Initially, Alexa was a toolbar that needed to be installed in a web browser. Once the toolbar was installed Alexa had access to browsing history, and that data would be used to compile a list of the highest trafficked sites on the web. While some claimed this was the be-all end-all of ranking systems, there was criticism that the data being compiled was inaccurate due to the fact that it only compiled information from those who have installed the toolbar.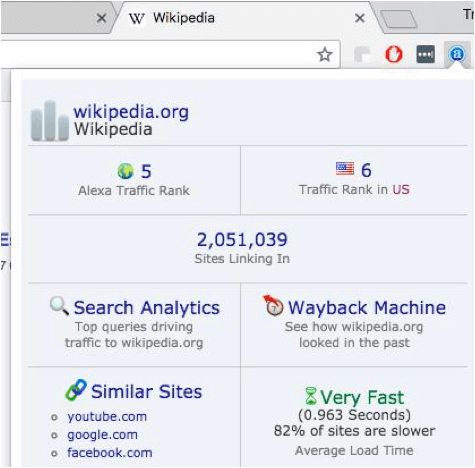 In response to this, in 2008 Alexa announced new practices in which they would not only use data from their toolbar, but thousands of other widgets, plug-ins and services.
Alexa's current toolbar extension
Alexa Rank Now
Fast forward to 2018. While an Alexa Rank was once a valuable asset for a website when pitching space to advertisers, the notion has somewhat gone to the wayside. Especially given that Amazon is very well known for another Alexa; their ubiquitous voice control system that graces the homes of millions. In keeping up with the times, Alexa now offers a full suite of digital marketing tools for a paid subscription, including; SEO Audits, analytics, PPC & keyword tools, and more. This software is very similar to (and no doubt in attempts to compete with) Google Analytics.
Is Alexa Rank something that you should still be concerned with for your SEO pursuits? There are several reasons that this dated early-new-millennium notion of being able to rank every website is quite irrelevant in the current state of digital marketing.
Is your traffic declining?
Since 2009, we have helped hundreds of local businesses grow their online leads and sales strategically. Let us do it for you!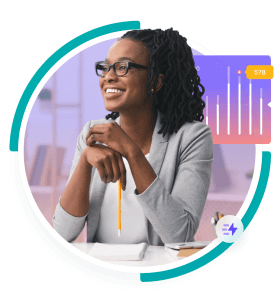 How is Alexa Rank Determined?
According to Alexa's site their free ranking system is based on traffic provided by their 'global data panel', which pulls from multiple browser extensions and websites that have installed the Alexa script. While traffic ranks are updated daily, a site's individual ranking is based on two items:
Unique daily visitors
Average pageviews over a 3 month period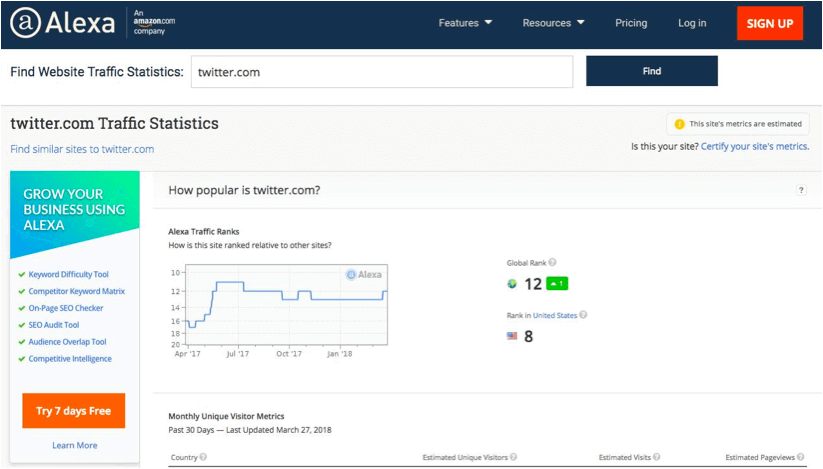 It has also been reported that Alexa sources data from 3rd party providers to give a broader spectrum of internet users. If you go to Alexa's site you can look up a website's rank (and a few other stats) without installing the extension or widget. Ranks are given both globally and for specific country.
Twitter's Alexa Rank
The Metrics of Alexa
Even though Alexa has come a long way, and now offers an entire 'software stack' of digital marketing tools, the source of their data is still ambiguous. They claim to have a sample of millions of users, but it isn't transparent where these users and sources come from. The data that they are transparent about (ie- a site's unique users and average pageviews) does not offer a comprehensive profile of a website either. Three months for average pageviews is a long sample period, especially in the world of SEO, when other free tools give you instantaneous information.
Everything is Easier When You're Popular….
Alexa admits rankings beyond 100,000 may not be 'statistically meaningful' due to limited data. However the closer to #1 a site is, the more reliable the ranking. That's all well and good for the Facebooks and Twitters of the world, but there are over 1.8 billion registered websites, and that number exponentially increases daily. With that high of a saturation, it is likely if you are working on SEO for website, it will not be one of the top 100,000 visited domains
Bias
If an average internet user was asked today if they've installed the Alexa extension (besides automatically thinking about Alexa, the voice-control product), they most likely will say no. Who does install Alexa's extensions and/or add the script to their site? Webmasters, SEO service professionals and marketers. Because active Alexa users are the largest resource tapped to compile the 'global traffic panel', many digital professionals find that rankings are skewed towards the SEO/Webmaster audience. Therefor the ranking of sites that are controlled by those in the digital marketing industry are inaccurately higher than others.
Sorry, Subdomains
If you would like to test how your subdomains fare against your primary domain, or a competitor's sites, you are out of luck. Alexa does not separately rank subdomains, only domains. Yet another disadvantage of Alexa Rank in consideration of SEO.
The Verdict
The foundation of Alexa Ranking is overall web traffic. So, if web traffic increases over a 3 month period, Alexa Rank will decrease. While traffic increase is always positive, it is not an accurate or robust representation of your website performance as a whole. Depending on the specific goals for SEO strategy there are many other KPIs that can define success. Alexa Rank can act as one tool for SEO audits, especially in comparison to competitors, yet most digital marketing professionals would agree that Alexa Rank is not something valuable in reference to overall SEO optimization and performance.
Is your traffic declining?
Since 2009, we have helped hundreds of local businesses grow their online leads and sales strategically. Let us do it for you!