SEO Certifications: Are They Beneficial & Do They Make You an Expert?
Adam Heitzman
August 16, 2021
Editor's Note: This post was originally published in March of 2018 and has been updated for accuracy and comprehensiveness.
If you're working on advancing your search engine optimization (SEO) career, you might have considered earning a certification in the field.
There are plenty of different certifications out there to choose from, but picking the right one isn't always easy — especially because there's a lot of conflicting information about these programs on the internet.
Just how useful are SEO certifications? Will earning one help you achieve your career goals?
The short answer: it depends.
Certifications aren't always necessary to work in SEO. In fact, many SEO experts manage just fine without ever earning a certification. But taking an online course can be helpful in some situations.
Read on to discover the best SEO certifications and to learn when you should (and shouldn't) consider earning one.
The purpose of certifications
Earning an SEO certification can serve multiple purposes.
First, getting certified creates official documentation of your learning.
Anybody can claim that they're an SEO specialist, no matter what their actual skill level is. Earning a certification gives you a way to back up your claims.
In a field like SEO, where many people are self-taught, this can be very helpful in getting employers to sit up and take notice of you.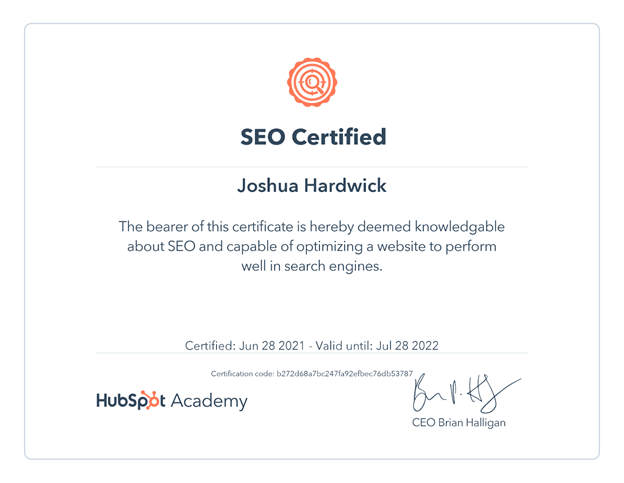 Earning some certifications can also help you fill out your resume.
If you've just launched your SEO career and don't have a lot of real-world experience to add, certifications can help you get a foothold in the field and land that first job.
Earning certifications as a newcomer doesn't just highlight the skills you've worked on. It also shows that you're committed to learning and able to follow through on what you start.
Finally, some employers prefer to hire people who have certain qualifications.
If you're shooting for a job that favors applicants with specific knowledge, earning a certification in that subject can give you a leg up over your competition. Some employers even require their employees to earn certifications as a form of training.
Do certifications make you an expert?
SEO certifications can be useful. But if you're currently a beginner, can getting certified make you an SEO expert?
Unfortunately, the answer is no.
Certifications can only teach you so much because true SEO mastery comes from doing hands-on work.
You can learn important SEO concepts by earning an online certification, but knowing how and when to apply those principles can only come from experience and practice. Think of certifications as a starting point, not as the culmination of your learning.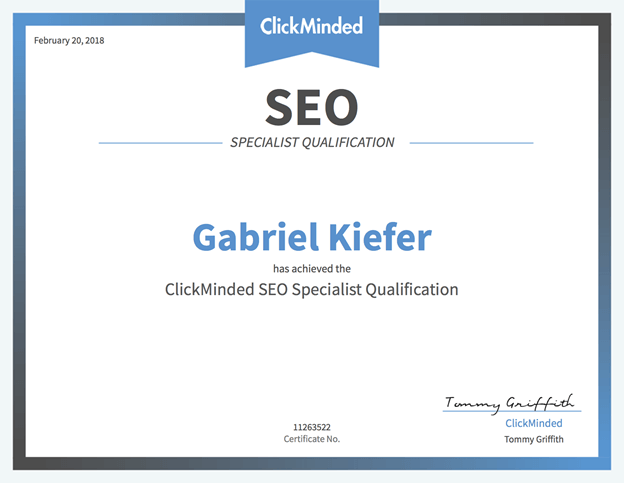 Taking an SEO course isn't guaranteed to land you a job, either.
Some people cheat on their certification tests, which makes many employers wary of trusting these credentials. Employers also prefer to hire experienced specialists who show real-world results in the field, regardless of their qualifications on paper.
None of this necessarily means that you shouldn't earn a certification. If you have gaps in your knowledge or weaknesses that you'd like to fix, SEO training can help you even out your profile of strengths.
Taking an SEO training course can also be a good choice if you like structured learning environments. However, if your goal is to impress employers or become an SEO expert, certifications are only part of the whole picture.
SEO certifications and courses you may want to consider
Do you think earning a certification might be helpful for you? Here's a list of popular online certifications and courses that you can look into.
Some are free, while others will run you hundreds or thousands of dollars. Of course, you should research any certification thoroughly to make sure it'll meet your needs before you sign up for it.
Cost: Free
If you want to try earning a certification without making a big financial commitment, HubSpot's free course is a good place to start. You'll take 12 classes on various aspects of inbound marketing and then complete a 60-question test to earn your certification.
Bear in mind that this course doesn't focus on SEO techniques per se but more on the general fundamentals behind inbound marketing.
It helps you to structure your inbound marketing strategy so that your social media marketing, content marketing, email marketing, Adword strategy, and SEO campaign align with your goals and drive organic traffic.
Cost: Free
Moz's free Udemy course is another ideal way to brush up on SEO fundamentals or see if online courses are a good option for you.
And since the video-based course is only three and a half hours long, you can try it out without making a major time commitment.
Not only does this free SEO course teach you how to structure your SEO strategy, but it also runs through a variety of technical SEO concepts, keyword research basics, on-page and off-page fundamentals, and analytics principles.
Cost: Starting at $33/month
Whether you're learning SEO from scratch or you want to patch some holes in your knowledge, DistilledU can help you. For a monthly subscription fee, you get access to more than 133 hours of video content about SEO.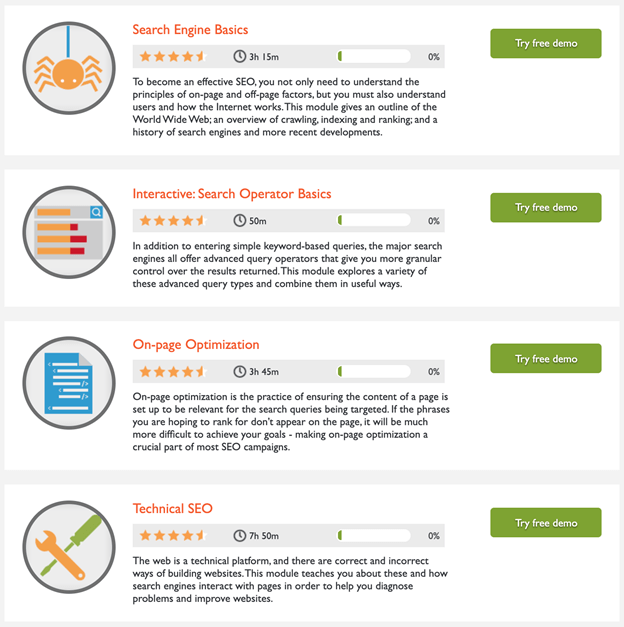 Choose from a beginner's course that covers everything from technical SEO to information architecture and an advanced SEO course that dives into more complex topics like link building and international SEO.
The cost is $33/month if you pay for an annual membership upfront, while a monthly membership is $40.
Cost: $997
ClickMinded's seven-course program provides an easy-to-follow introduction to all things SEO and digital marketing, led by AirBnB's SEO manager Tommy Griffin.
You'll learn technical SEO, search framework, keyword research, document relevance, SEO tool suggestions, link building, and more. You'll also get free access to five extra mini-courses on local SEO, Shopify SEO, Pinterest SEO, YouTube SEO, and Amazon SEO.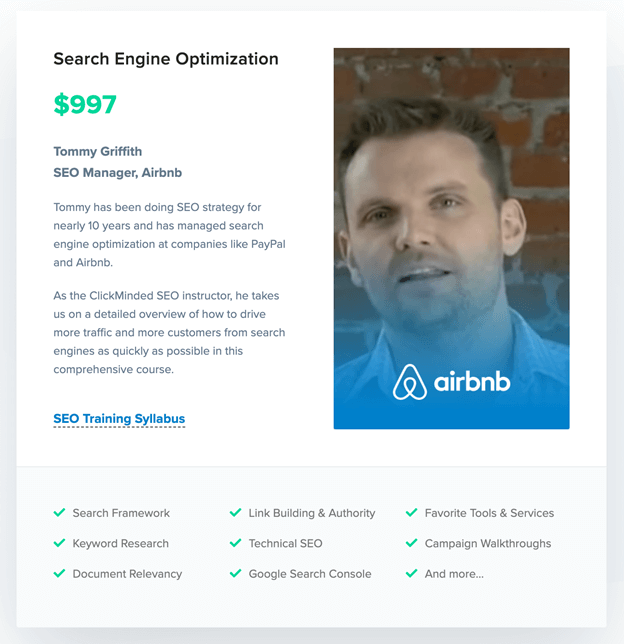 The one-time membership fee provides lifetime access to all of the program's content, so you can return and brush up whenever you need to.
Cost: $89/year
This course is created by Yoast SEO, one of the top SEO plugins for WordPress. It covers both the content marketing side of SEO and the technical side.
On top of that, you'll learn off-page SEO techniques, as well as extra digital marketing skills associated with social media, email marketing, and customer experience design.
You'll get three hours of video content, quizzes, and PDF files, along with year-long access to the materials. The cost also includes a year's access to the Yoast SEO Premium plugin.
Cost: Free
This free SEO course is designed for marketing professionals looking to get a better understanding of the basics of SEO.
The course covers SEO basics, link building, keyword research, on-page, and off-page SEO, technical aspects, and SEO reporting.
You'll get 24 videos over six lessons, equally two and a half hours of content. You'll be tested via five quizzes.
Cost: Starting at $25/month
The Online Marketing Institute's SEO certification program consists of 19 separate lessons split into five categories. Participants earn a certificate of completion after successfully finishing the course.
In this course, you'll learn about local SEO, content, consumer insights, and technical SEO.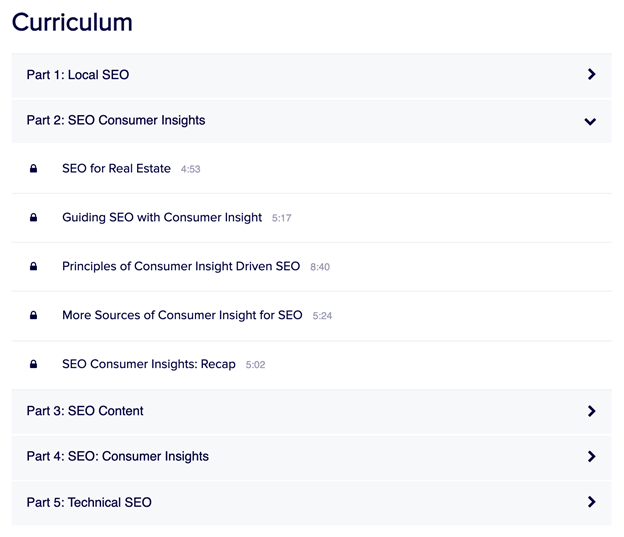 You should have some basic SEO knowledge before embarking on this course, as it's a little more advanced than other training sessions.
A basic subscription costs $25/month, while a pro subscription is $45/month.
Cost: Starting at $699
Market Motive's Advanced SEO Certification course offers four self-paced modules. With this course, you'll get access to 30+ hours of videos, 15+ hours of live instructor-led online classes, and 20 real-life, industry-based projects.
You'll learn SEO foundations, advanced SEO, advanced content marketing, and advanced analytics.
For $699, you'll get access to the course for 180 days.
Cost: Free
This beginner-level program takes roughly five months to complete, with around six hours of training per week.
The program is made up of five courses and a practical project led by Rebekah May, the head of Organic Acquisition at Fishbrain, and Eric Enge, co-author of "The Art of SEO."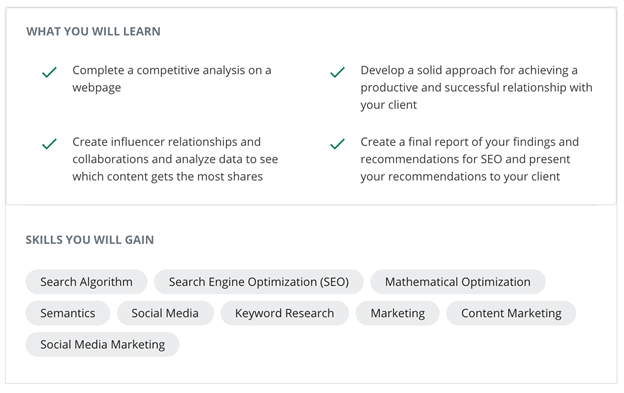 The five courses cover an introduction to Google SEO, Google SEO fundamentals, website optimization, advanced content and social media tactics, and a Google SEO Capstone project.
Cost: $3,538
If you want your SEO training to carry some serious weight, consider earning a certification or certificate from a university.
The University of California at Irvine is one university that offers an SEO certificate, and all the required courses can be taken online.
At an average cost of $3,538, this program isn't cheap, and you can expect to spend between six months and a year completing it. However, many employers will take your credentials more seriously if they recognize the institution that awarded them.
Cost: $1,464
This course covers more than just SEO. It's an SEO and Google Ads certification.
It delves into all different forms of search marketing, including Google Adwords, pay-per-click ads, and digital display advertising.
The course teaches the foundations of each tactic and has instructions on how to create an effective strategy for each technique. You'll also learn how to track, measure, and report your success using Google Analytics.

81% of people who take courses with Digital Marketing Institute say they were promoted after completing the training.
Course costs also include access for six months to a library of other digital marketing resources.
Cost: $1,325
This 10-week training course is quite hands-on, offering video lectures, live tutorials, weekly chat sessions, and online discussion forums. All course participants will receive in-depth course notes and will take part in practical assignments.
The course covers everything from SEO basics such as site structure and content to more advanced topics like link building, SEO audits and reporting.
There are eight modules, eight assignments, and a research project to complete. Participants are expected to spend six hours per week on the course.
Cost: $0
This quick-fire SEO course only takes an hour to complete and is 100% free. It comprises seven lessons across two modules.

You'll learn technical SEO concepts such as SEO audits, crawlability issues, and HTTPS problems in the first module. The second module teaches you about on-page signals, such as SEO-friendly content, on-page optimization, and SEO errors.
You'll get access to video lessons and reading materials followed by an online test.
Cost: $99
This is a four-module course that covers pay-per-click advertising, SEO, conversion rate optimization, and analytics. The course comprises step-by-step video tutorials, templates and guides, and training on SEO tools.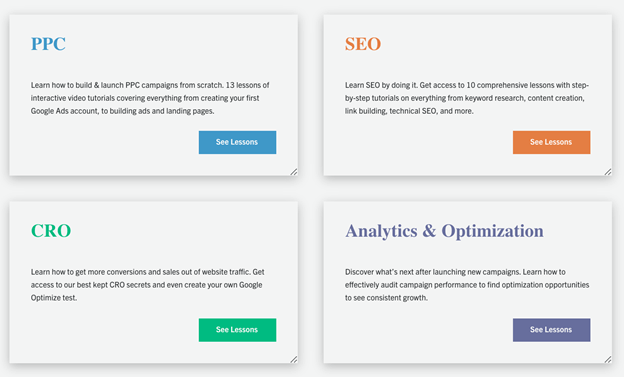 The SEO module is made up of 10 lessons that teach you the basics of SEO and how to set up your Google tools. You'll learn to create an SEO strategy based on on-page, off-page, technical, and local SEO techniques.
If you want to trial this course before buying, you can test four modules for free.
Cost: $0
This beginner-level certification course is made up of a free ebook that provides SEO training to pass an online exam. The ebook is 156 pages long and includes 50 sample questions.
This course would suit you if you have no prior knowledge of search marketing, as it gives in-depth explanations on how search engines work, focusing on Google's different algorithms.
You'll also learn about keyword research, link building, on-page optimization, and search engine tools.
The final exam is 60 minutes long, and you only need a score of 50% to receive your certification.
The bottom line
So, what's the final word on SEO certifications?
First, you don't need one to be successful at SEO. You don't even need one to understand what SEO is.
However, an SEO certification course can provide you with some credibility for future employers, as well as helping you brush up on your SEO skills. You may also learn a thing or two that you didn't know before.
If you're unsure whether you need an SEO certification or you simply want to take a hands-off approach to SEO, get in contact with the experts at HigherVisibility today.