The Most Stress-inducing Apps in the World
Scott Langdon
October 13, 2021
From dancing on TikTok to watching nostalgic shows on Disney+, in 2021 there's an app for everything. This year it was revealed that the average phone screen time is a whopping 7 hours and 11 minutes.
But, as much as we turn to our devices to pass time on these apps, how many of them are genuinely bringing us joy? There's the fun upsides of  having entertainment on demand, but there's also downsides are that some apps can negatively impact your mental health.
We have analysed which apps in 2021 make you the most stressed and the ones that make you the most relaxed in social media, streaming, communication and food delivery.
Social Media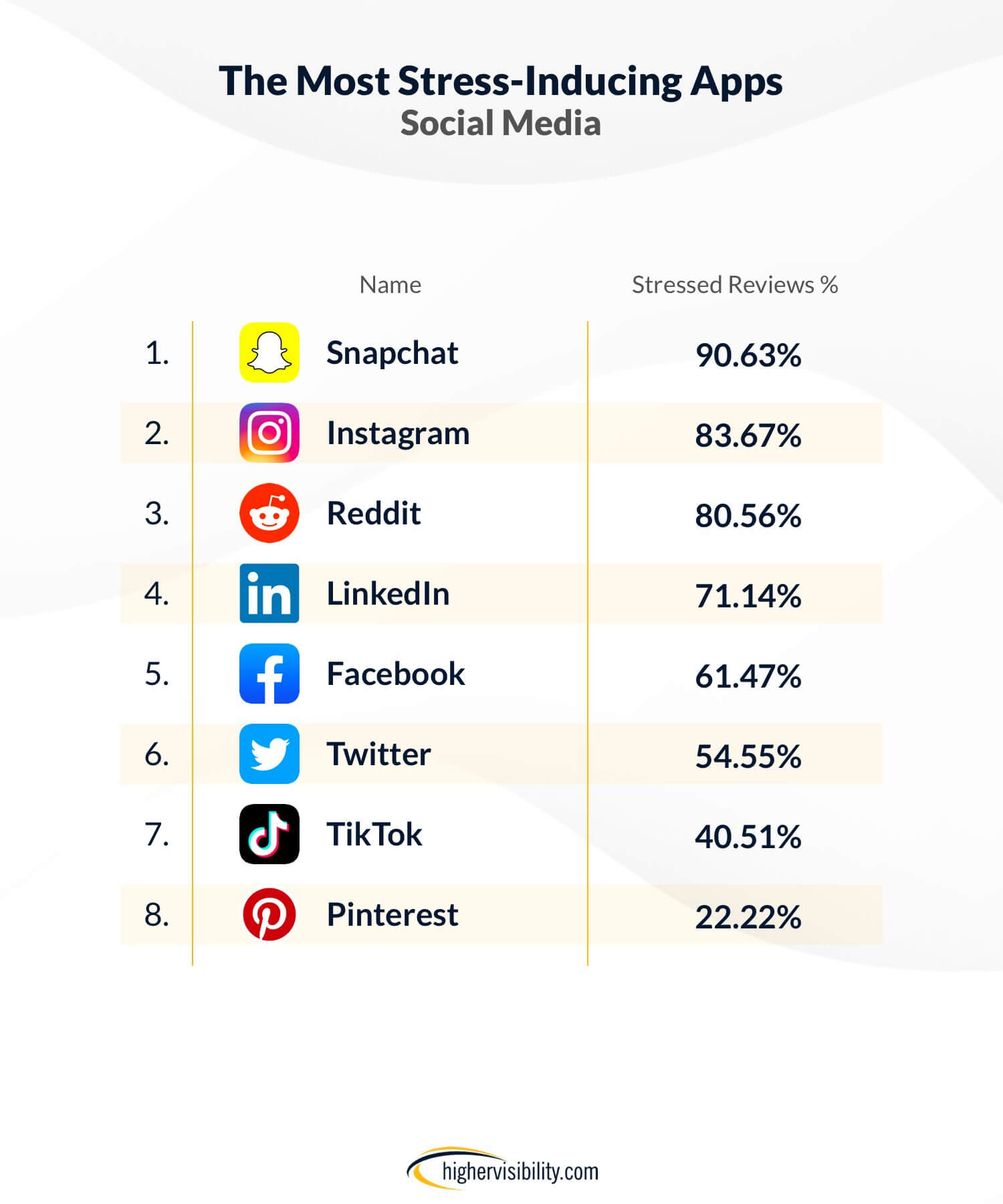 Social media users are finding themselves more stressed than ever from their time spent on social media apps like Facebook, Instagram, and Twitter. In recent years, it's known to have led to mental health problems, including depression and anxiety.
Top 3 Most Stressful Social Media Apps
With a whopping 90% of reviews on the AppStore being calculated as stressed, Snapchat comes in at our number one most frustrating social media app.
The negative reviews we found are mainly users frustrated with technical issues, such as the app not opening, not being able to log in and snapchats not sending. Some users stated that they don't like the latest updates of the app, and that it is trying to be "more like TikTok" but they shouldn't be trying to "ifx something that isn't broken".
Several users were found to be requesting a dark mode feature for the app. In September 2019, Apple introduced a darkmode that automatically applies across all your apps in order to change them from white to black. However, Snapchat doesn't support this feature and remains white and bright, which is not as easy on the eye.
Photo and video sharing app Instagram has 81.3% of stressed reviews, with many claiming it to be "addictive" and "damaging".
A recent survey carried out on 1,500 people between the ages of 14-24 by Royal Society for Public Health revealed that Instagram was found to have the most negative overall effect on young people's mental health. The popular photo sharing app is known to negatively impact body image and sleep, increases bullying, and lead to greater feelings of anxiety, depression, and loneliness.
That being said, we did find a portion of relaxed reviews, with even 8% of people that were stressed-out still pointing out something positive about the app.
Reddit is also causing people a lot of frustration. The app has endless forums that allows users to discuss interesting topics and vote on content that other users have submitted.
A lot of users aren't happy with the recent updates, and some are reporting inappropriate posts on the app around dark humor topics. Negative reviews that were left on the AppStore include "I'm really disappointed on Reddit as a whole and I'm really angry at you guys. I really don't appreciate the amount of bias and the bad acts and choices you've been making for the community. " and "I feel like every few updates a new bug appears, ".
Just 80% of reviews for Reddit were calculated as stressed.
Top 3 Most Relaxing Social Media Apps
Pinterest is the number one social media app for people to relax, according to our data. Only 22.22% of the reviews were found as stressed, whereas 55.55% of them were calculated as relaxed!
The app gets your creative juices flowing by allowing you to create endless pinboards of photos, videos and quotes that inspire you. It also has less of a connection with friends and family, allowing users to still make the most of the app in private mode, or anonymously.
The rise of TikTok in recent years has been astronomical. One billion people currently have profiles on the app, which is home to funny and creative short-form videos.
According to a survey, over lockdown, people have spent more time on the video-sharing app than any other social media platform. The reviews on the AppStore are only 40% stressed, with one user saying "Whenever we feel stress we open this and we will be stress-free".
Twitter is the third least stressful app, with 29.6% of users being calculated as relaxed in the reviews. It's widely known for letting off steam and ranting to your heart's content, while also being the home of funny memes.
Streaming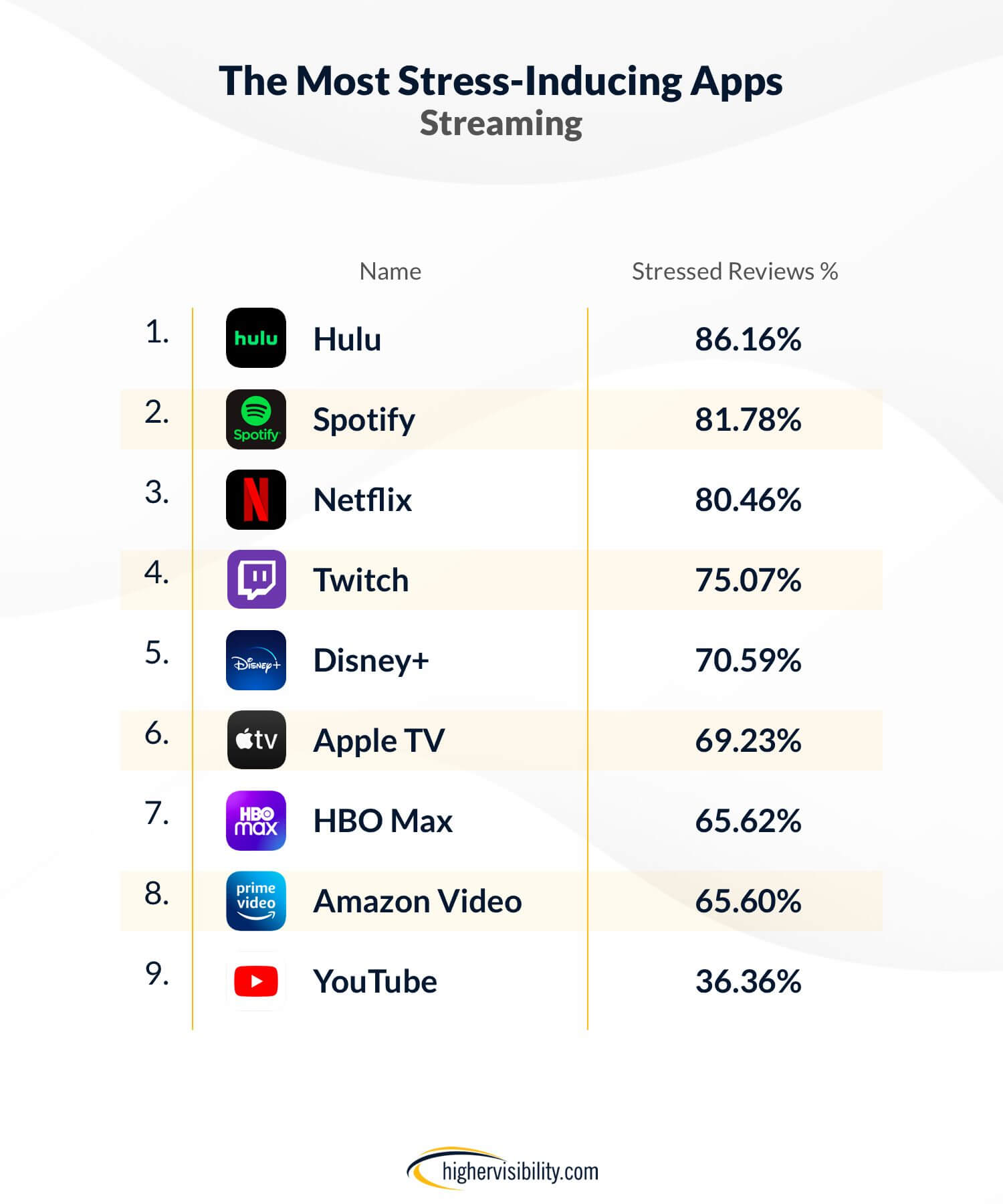 Surprisingly, Hulu ranks as the most stress-inducing streaming app!
Home to iconic TV Shows like Handmaid's Tale, Hulu has 39 million subscribers to date. However, several users took to the AppStore to complain about technical issues with the app. Users also are not happy that you have to watch clips of other shows before you can stream what you have selected!
Despite the negative reviews, other people were comparing the app to its competitor Netflix, arguing that they much prefer Hulu. One user leaving a review "This is SUCH a good app compared to Netflix! It has all the shows I love to watch and it's easy to use!  "
With 70.6% of the reviews on the AppStore being detected as stressed, Disney+ sits in the middle of the table. Disney+ is the newest of the apps only joining the market in November 2019. The powerhouse company that owns Marvel, Pixar, and even ESPN, enables you to stream thousands of shows and films for kids and adults.
However, when analyzing the reviews, we found some pretty furious users. One review said, "There are way too many issues for an app that you have to BUY."
We did also find a lot of positive reviews for Disney+. Scoring an average relaxation score of  2.2, many users came to reviews to show their love for having access to some of their favorite entertainment. It's also been a big hit for kids, "I LOVE this app and have really enjoyed introducing my kiddos to all of the classics!"
The least annoying app is YouTube, having only 22.22% of reviews on the AppStore being stressed. Owned by Google, the streaming service is widely popular for users to get free content from vlogs to music. People were most irritated about the introduction of double adverts on the app. "Too many ads." and "Why does youtube play two adverts now… next there will be three every 60 secs. Do better Youtube."
However, the positive reviews of YouTube were that it is a source of endless entertainment. "I love youtube…I can find everything…and I mean everything about everything". Any audience can find something to watch on the streaming service, making it such a timeless and popular app for device holders.
Communication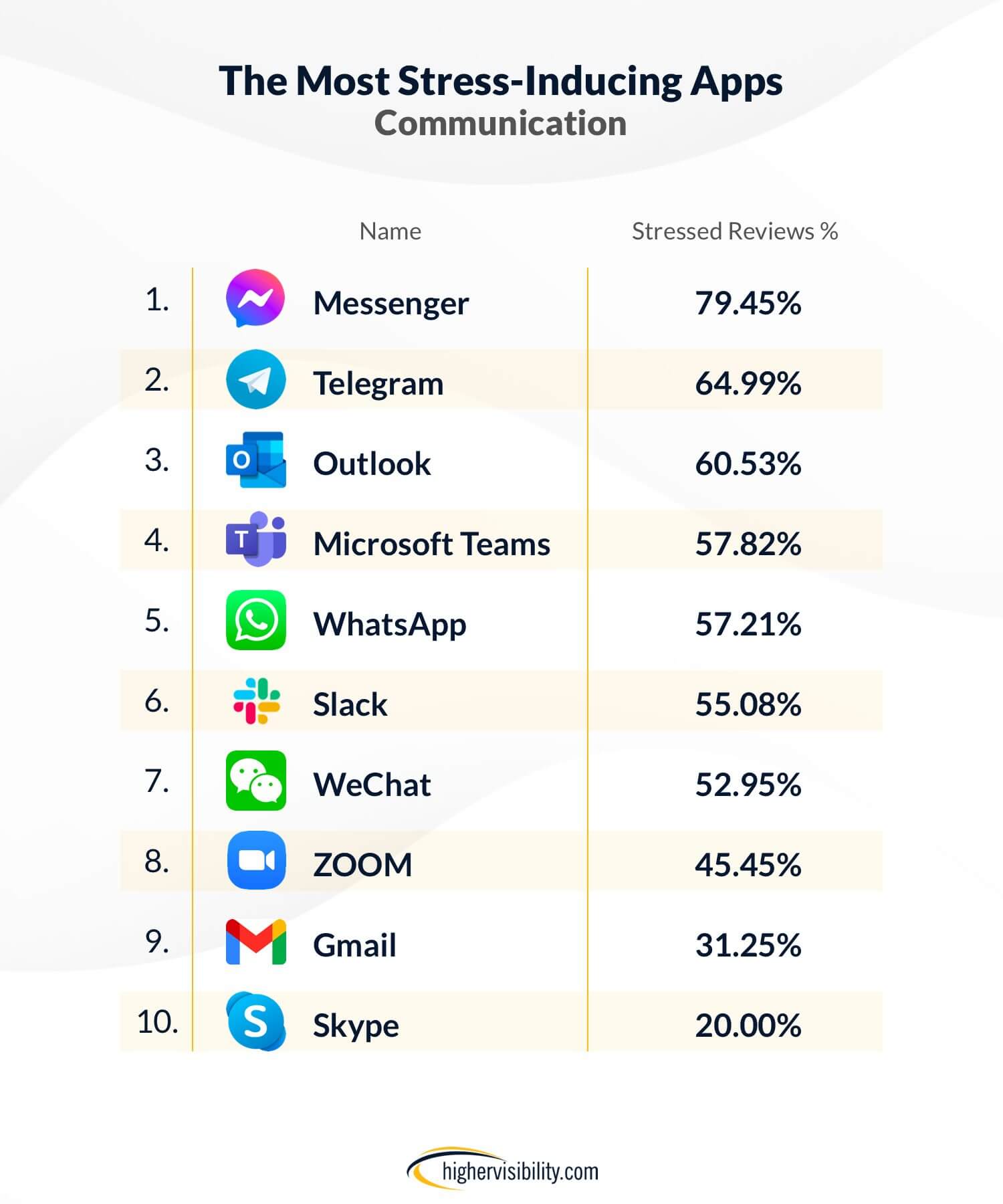 Messenger is ranked as the most stress-inducing communication app due to 79.5% of users leaving negative reviews of the app on the AppStore.
The instant messaging app is owned by Facebook and is well known for uniting groups of friends and family into conversation with each other. However, with key competitors against them like Whatsapp, multiple bad reviews on the AppStore can affect them massively.
Some reviews that were left read, "This app is shocking!" and even went on to criticize the sound effects used "​​The in-app sounds are, to be honest exceptionally annoying." A lot of users struggled to see their notifications and are keen for Facebook to update the glitches.
Many users with two accounts, such as a Facebook Business account, could not access both accounts at once on the app, creating a knock-on effect with not being able to communicate promptly with their customers.
Skype is the least problematic app in communications, with only 20% of reviews ranking as stressed. The app recently lost users to the rapid rise in ZOOM and Microsoft Teams, however, fans of Skype still remain. One positive user left a review stating that "[Skype has] Excellent service with tremendous improvements of late."
Food Delivery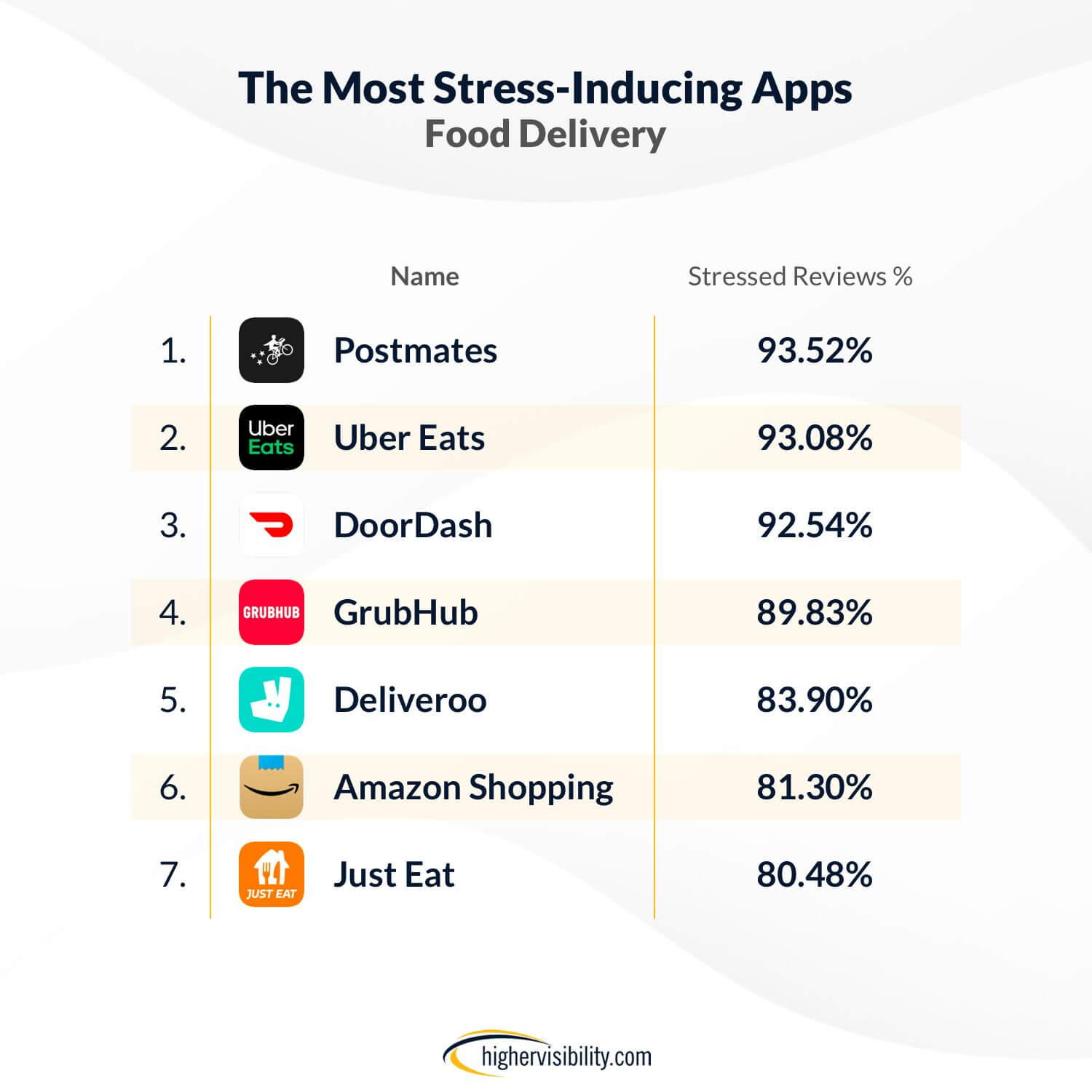 Ranging from 80% upwards in the amount of stressed reviews, food delivery apps are the most stress-inducing apps to use overall.
The 'least stressful' app is Just Eat, but it still has 80% angry reviews. It comes from the tonnes of complications customers are facing when attempting to have food delivered to their door. One user said "Ordered a meal and was over an hour late. They blamed Just Eat.. Just Eat blamed the restaurant."
The most annoying food delivery app to users is Postmates. The app is an American food delivery service owned by Uber that offers local delivery of restaurant-prepared meals and other goods. We calculated that a crazy 93% of the reviews had a level of stress in their tone. Some of the most frustrated reviews read, "Can't even begin to describe how angry I am after not getting what I ordered AND being robbed by hidden service fee! ", "DONT USE THEM! I rarely used this app and boy am I glad. " and "The most disastrous delivery and service experience I have ever encountered. ".
The app also sits at 1 Star on TrustPilot, which is full of furious customers that had satisfying service.
Methodology
We used a tool called TensiStrength to analyze short texts and assign them a score between -5 and 5 on how stressed to relaxed the user's comment was respectively. We used this tool on each mentioned app's reviews on the Apple AppStore. All reviews that received a score of -2 to -5 were counted as stressed, and all reviews from2 to 5 were counted as relaxed.