How Has Social Media Evolved Through Time?
Scott Langdon
September 21, 2022
When we consider successful social media, we think of platforms like Tik Tok that have seen astronomical success in their short availability, or perhaps YouTube and the ability for creators to generate a steady income from uploading content. These are platforms that many of us, or those around us, use daily, or we're at least aware of them.
What we don't consider are all of the platforms that came before, some successful, some 'failures', however, all paving the way to establish what we've come to know as social media. By analyzing those that have 'failed,' we can see glimpses of social media platforms that are now considered successful; some didn't have the right conditions, the right functionality, or simply were outgrown by a user base that had access to a new and more exciting option. Some of these didn't fail at all, achieving high monthly active users in their heyday but ceasing to exist now or gradually losing popularity.
In light of this, we analyzed social media sites over the past 30 years, the year they were created, their location, and their highest monthly active users where the data was available. We then monitored where these sat compared to modern social media platforms that continue to be widely used.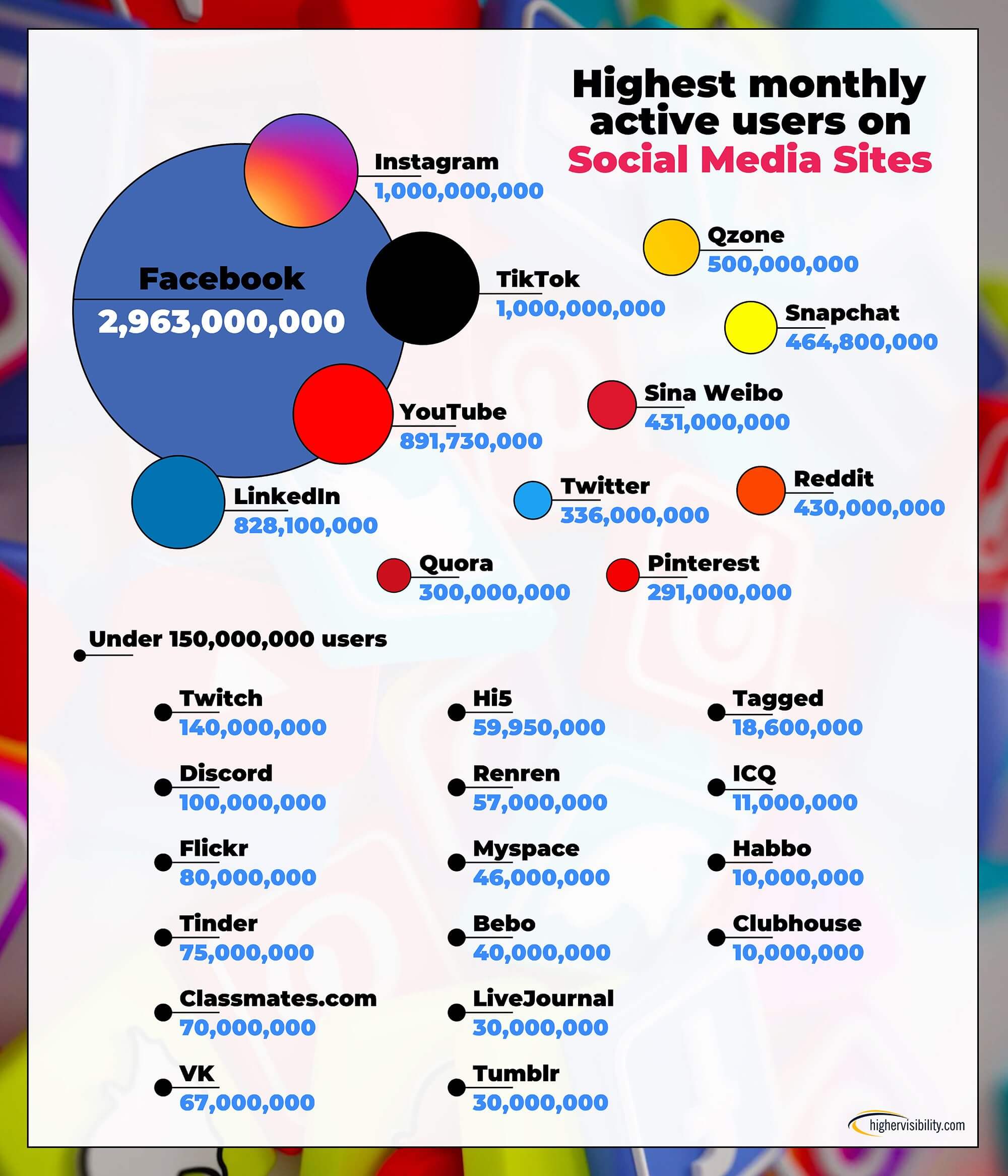 Not included due to insufficient data: Justin.tv, Periscope, Beme, Meerkat, Triller, and Parler.
Of all the 'successful' social media platforms of the past 30 years, we found Facebook to have the highest monthly active users. Launched in 2004 in the USA, Facebook is often seen as one of the 'early' social media platforms to see success. Facebook is often successful due to its ease of use and consistent upgrades that reflect changing user attitudes and desires, such as implementing the like button and pivoting to video content.
Instagram featured in the second position regarding the highest active monthly users, launching 6 years after Facebook in 2010 and gaining significant popularity in 2014. The platform has over 1.28 billion users worldwide. It has progressed from solely being a photo-sharing platform to introducing short-form video content such as Reels, taking inspiration from Tik Tok.
In the third position is the platform of our time that has seen the most explosive growth, Tik Tok. The platform launched in 2017 and was developed by ByteDance, located in Beijing. The app has a sense of community and humor that resonates with Gen Z and older generations.
The above timeline shows all of the social media sites of the past 30 years, including those that failed, and by failed, we mean ceased to exist or lost popularity. Whether they truly failed is contentious, though, as many of these platforms offer unique learning opportunities and paved the way for today's platforms.
First of all, Vine, a platform launched in 2013 that saw rapid growth due to 6-second looping videos that could be experimented with to achieve creative results. What was once the attraction point of the platform quickly became its downfall, with former executives citing the introduction of Instagram's 15-second video clips in 2013 as one of the big issues. Vine came in at the 15th most successful social media on our list, despite its 'failing.' They could be seen as some of the first to embrace short-form video content, inspiring other platforms to follow suit or launch something completely new.
One of the apps born from this new preoccupation with video content was Musical.ly. The platform allowed users to create videos lip-syncing to popular music, and there was a great emphasis on the promotional aspect of these through the app. They would highlight trending videos and have a leaderboard, allowing users to discover one another and even send direct messages. Musical.ly was ultimately wildly successful despite 'failing' due to closing down, as it went on to be acquired by ByteDance and eventually merged into Tik Tok.
Friendster is often touted as an 'early version' of Facebook, boasting 51 million monthly active users at its highpoint, paving the way for the platform. They took off in 2003, reaching up to 4.47 million, and received a 30 million dollar offer from Google to buy the site. The founder, Jonathan Abrams decided instead to pursue venture capital investment. Users fell out of favor with the platform as it wasn't able to manage the pace of new subscribers, paling in comparison to newer social media, like Myspace and eventually Facebook.
MySpace followed Friendster as the brainchild of Tom Anderson, Chris DeWolfe, and their friends. They modeled the site on Friendster, removing redundant features and centering the site around personal communities. MySpace was purchased in 2005 for $580 million; however, later suffered due to the rising popularity of Facebook.
Overall, while these sites 'failed' in their own right, the issues within them provided learning opportunities for other individuals and companies to innovate and produce the social media sites we use today.
Methodology
We researched all of the social media sites over the past 30 years and then gathered information from Statista and site information pages to discover the year they were created, the year they closed down or lost popularity (if applicable), and their highest monthly active users. We then ranked these according to peak monthly highest active users and researched why those that 'failed' lost popularity or ceased to exist.